Back-to-school time is officially here and this recipe collection features over 30 fast and easy breakfasts to get you and the kids going in the morning. Whether you're looking for eggs, muffins, breakfast sandwiches, pancakes, or something a little healthier, this roundup is perfect for just about anyone needing a simple and delicious meal!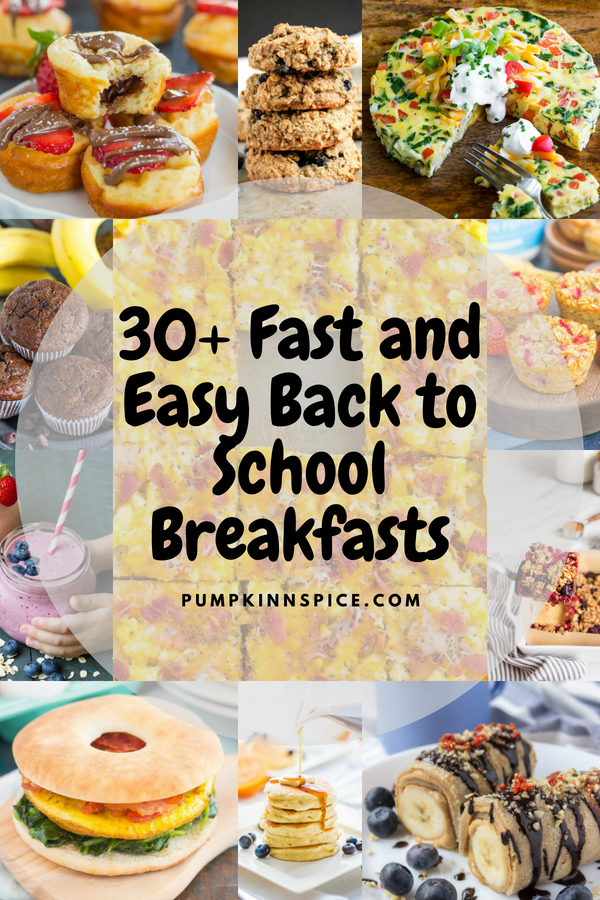 Hi, friends!
Can you believe that it's already back-to-school time? The kiddos in my area started last week, and in other places around the U.S., they started school the first week of August! Call me crazy, but that's just a little too early.
To be honest, I am so ready for fall and all things pumpkin and apple. It's my favorite season and time of year and it's almost upon us! But, don't get me wrong. Even though I'm ready for the fall decor, pumpkin spice lattes and everything else that goes along with it, I'm not ready to say goodbye to summer. I wish the temps would last longer (even though it will probably still be blazing hot here all through next month).
Anyways, if you're a parent and struggle to get breakfast on the table when school rolls around, or if you just aren't the best with eating breakfast in general (me!), I've got the perfect recipe collection for you today!
Since I'm all about those easy recipes, I've rounded up over 30 fast and easy breakfast ideas that are kid-approved and guaranteed to put a smile on their face!
A lot of these dishes can be made ahead of time and then heated up in the mornings. And that's always a winner in my book! So if you need some new breakfast recipes for your kids or just want some new inspiration in general, I hope you love this roundup!
Enjoy!