Caraway Cookware Review
Caraway Cookware Review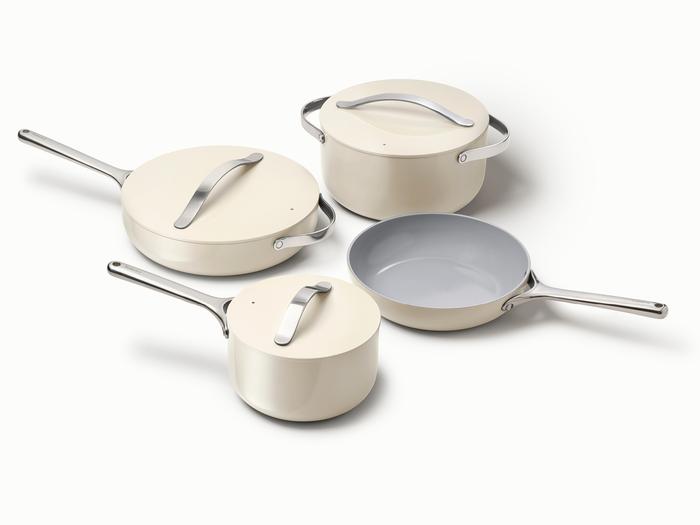 It's no secret that I love cooking.
Besides the obvious recipe site that I run, cooking has been a big part of my life for the past umpteen years. Being able to experiment in the kitchen and showcase my creativity is something that relaxes me.
And with good cooking means having good cookware, too.
Now, I never share reviews on my blog, but this one was too good to pass up. You can trust that if I'm sharing a review, especially of cookware, then it's a brand that I love, trust, and use.
In fact, you may have seen Caraway Cookware floating around on social media. It's a relatively newer company and one that is growing in popularity.
To be honest, I've been researching new cookware because my pots and pans are, well, old, used, and toxic, for lack of a better word. I heard about Caraway last year, and when my sister-in-law bought a set, I knew I needed to check it out.
You may be wondering why you need more pots and pans in your life, am I right? You probably have your tried-and-true favorites. And I did, too, until I tried Caraway.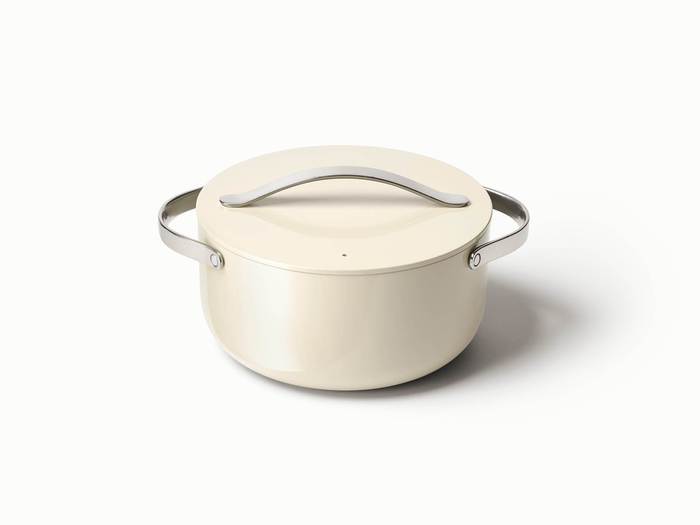 What's So Special About Caraway?
It's quality cookware, without chemicals. So, what does that mean? Teflon used to be what was in non-stick cookware to make it easy to handle. But it was eventually discovered that it leeched toxic chemicals into the foods you cook and in the air. With Caraway, there are no chemicals to worry about, which means you (and your food) are safe.
It's made from naturally smooth ceramic, not synthetics. That means you can use less oils and butter (or none at all) to achieve that silky smooth, non-stick texture.
Easy to clean! That was a big draw for me. I've used my pot and pans a good amount and water pretty much takes everything away (before I use soap to thoroughly clean). No scrubbing or nasty burns on the bottom of this cookware. Easy-breezy clean-up is a must!
Heat conductivity is great. The surface of the cookware heats evenly to avoid missed spots and uncooked food.
Versatile! Caraway cookware is perfect for your stove top or oven.
It's durable, colorful (there are currently six colors to choose from), and space-friendly for your countertops or cabinets.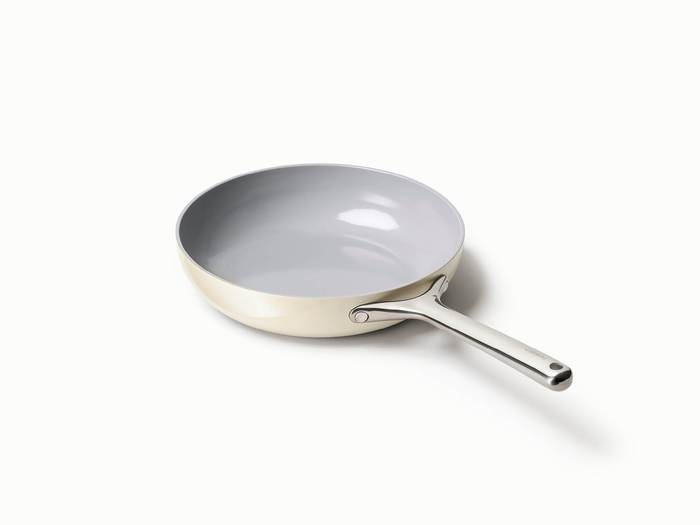 What Cookware Does Caraway Offer?
10.5″ Fry Pan
3 qt Sauce Pan
4.5 qt Sauté Pan
6.5 qt Dutch Oven
You can buy the cookware as a set or individually.
Caraway also offers a new baking line and linens, though I haven't tried those yet.
Ok, So…What's The Price?
Caraway Cookware is on the pricier side. It's currently $395 for the four-piece set; or you can buy the pieces individually. Expensive? Yes. Worth it? Absolutely.
Non-toxic; easy to clean; use of little to no oils/butter when cooking (if desired); aesthetically pleasing; durable…it checks all of my boxes.
Drawbacks to Caraway Cookware:
I wish there was more cookware and sizes to choose from. Just my opinion, but I wish a larger and smaller sauce pan and fry pan size was offered. Maybe in the future?
Price. Like I mentioned, expensive, but worth it. I know this cookware will last for years.
Not dishwasher safe. Now, this is not a con for me, as I always hand-wash every pot and pan, but if you don't, Caraway is not recommended for the dishwasher.
Is Caraway Worth It?
Definitely! I find myself using the fry pan and sauce pan quite often. I even got rid of my trusty Calphalon cookware that I've had for years. And the Dutch oven? I love it. Just perfect for roasts and cozy dinners.
Caraway Cookware is durable, functional, heats food evenly, non-stick, and non-toxic. What more could you ask for?