This post is sponsored by Brownie Brittle. However, all opinions are my own.
You guys, this is the ultimate dessert. The if-I-could-only-eat-one-thing-for-the-rest-of-my-life dessert, the one that makes my eyes glaze over and my mouth water, THE dessert.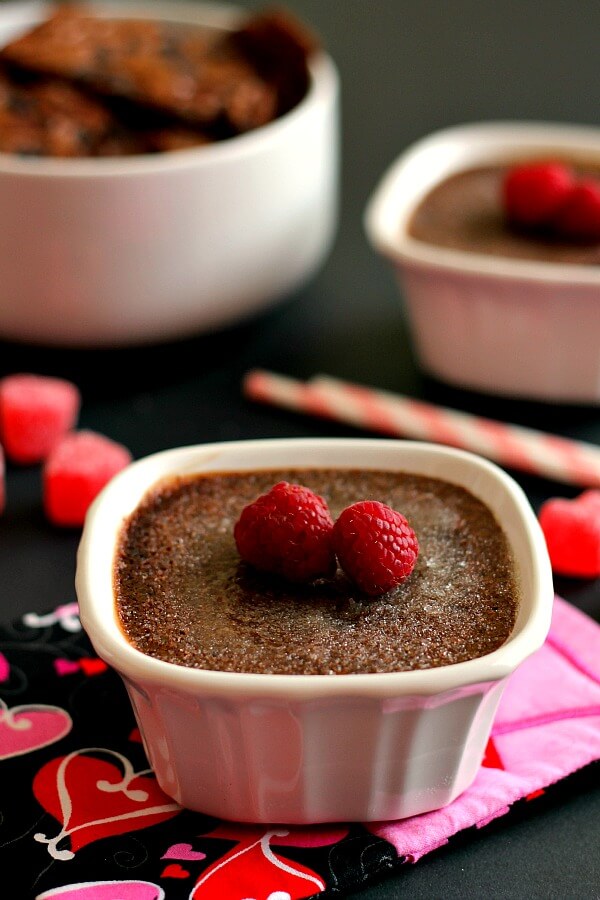 Can you tell that I'm just slightly in love with crème brulee? The pudding-like texture and rich flavors lure me in every single time I spot this item on a dessert menu. Do I go with classic vanilla or something more exotic? Decisions, decisions!
My love of this elegant dessert urged me whip up crème brulee dishes in my kitchen, testing flavor after flavor. And after I received a crème brulee kit for Christmas one year, complete with ramekins, special sugar for caramelizing the tops, and a mini blow torch, I knew there was no stopping me.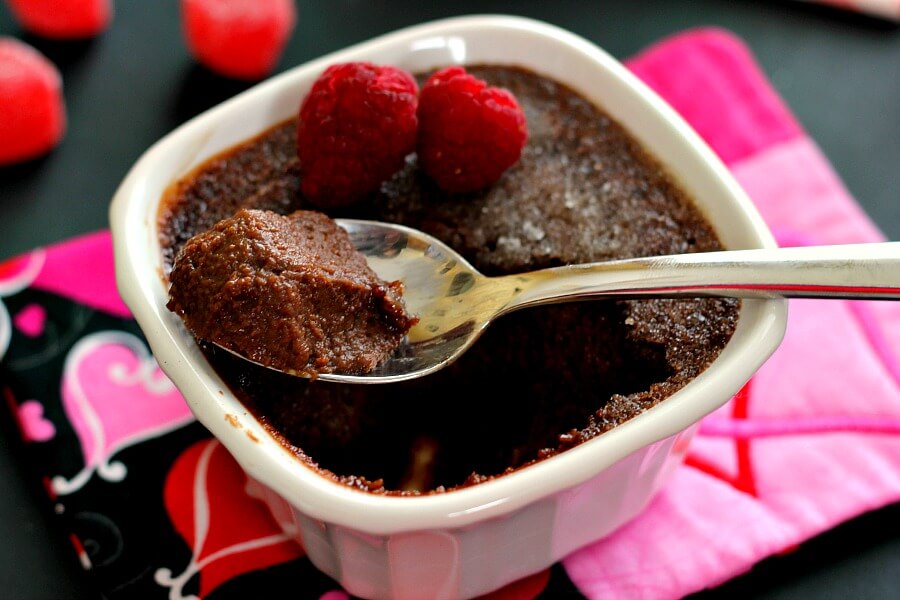 Nowadays, I'll look for any reason to whip up my favorite dessert. And I think I have the perfect reason to share this Chocolate Brownie Brittle Crème Brulee with you today. After all, Valentine's Day is just around the corner! Wouldn't this rich and indulgent dish impress your special Valentine's out there?
This Chocolate Brownie Brittle Crème Brulee is smooth, creamy, and filled with rich chocolate and brownie brittle pieces. It's a dessert that looks like it took all day to make, when it really took just minutes to whip up!
You may remember my love for Brownie Brittle from my Brownie Brittle Donuts and Brownie Brittle Yogurt Parfait. And if you haven't tried this crunchy treat, I suggest you run out the door and get it as soon as possible! Brownie Brittle is crunchy and chocolate-y, almost like eating the edges of a brownie. It comes in a variety of different flavors and each one is equally delicious!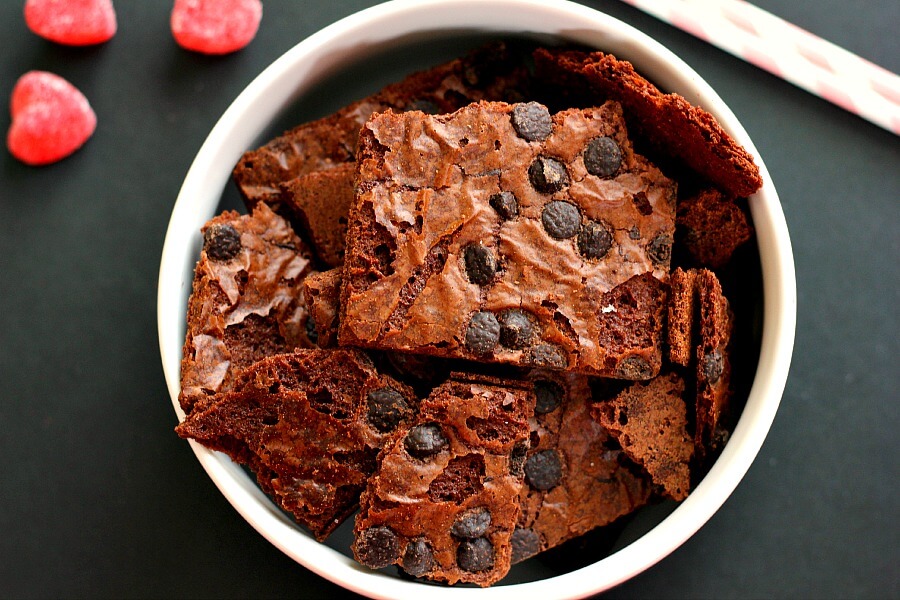 If you've never made creme brulee before, then you're in for a real treat! It's incredible easy to make, yet looks like a fancy dessert. And six ingredients is all that it takes to make this Chocolate Brownie Brittle Crème Brulee! In fact, you probably have most of these ingredients in your kitchen right now. Heavy cream, chocolate, Brownie Brittle (I used the Chocolate Chip flavor), vanilla extract, egg yolks, and sugar…that's it!
The hardest part is waiting for this Chocolate Brownie Brittle Creme Brulee to chill so that you can caramelize the top. And trust me friends, it's worth the wait! One of the best parts of eating this delectable dessert is cracking the top to dive into the smooth chocolate-y center. To carmalize the top with sugar, simple add about a tablespoon of super fine sugar (regular white sugar works, too) and torch with a kitchen torch. Alternatively, you can set your oven to medium broil and caramelize the top that way.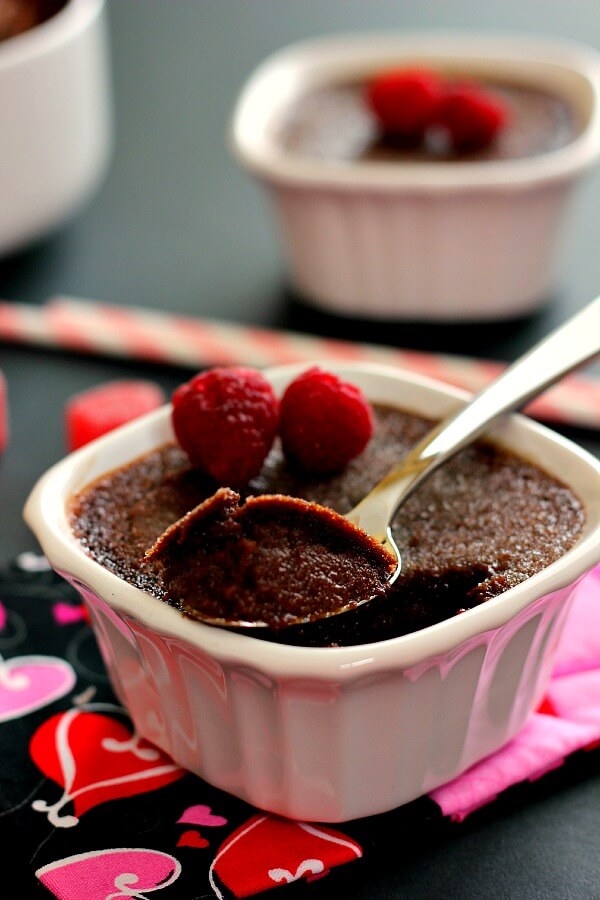 So grab your Brownie Brittle, pop into the kitchen, and whip up this Chocolate Brownie Brittle Crème Brulee for your special Valentine. I guarantee this will be a dessert they'll devour!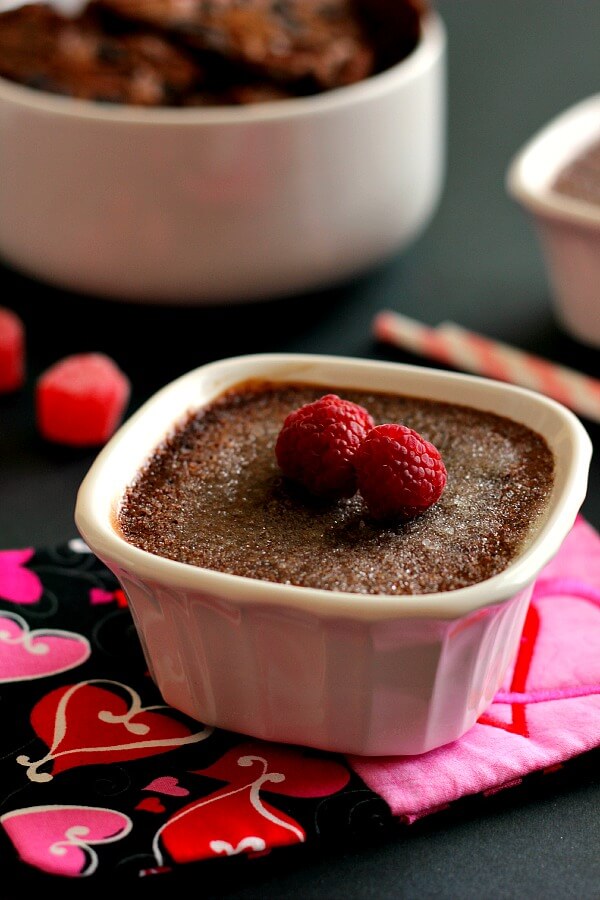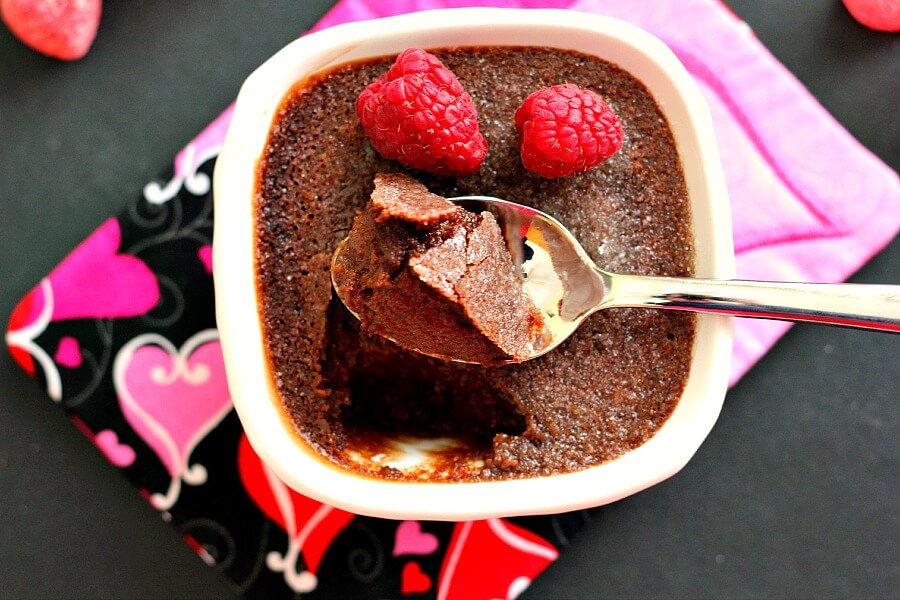 Want to find more delicious recipes or information about Brownie Brittle? Then head over to Brownie Brittle's website!
Yields 6 servings
Chocolate Brownie Brittle Crème Brulee
This Chocolate Brownie Brittle Crème Brulee is smooth, creamy, and filled with rich chocolate and brownie brittle pieces.
15 minPrep Time
35 minCook Time
50 minTotal Time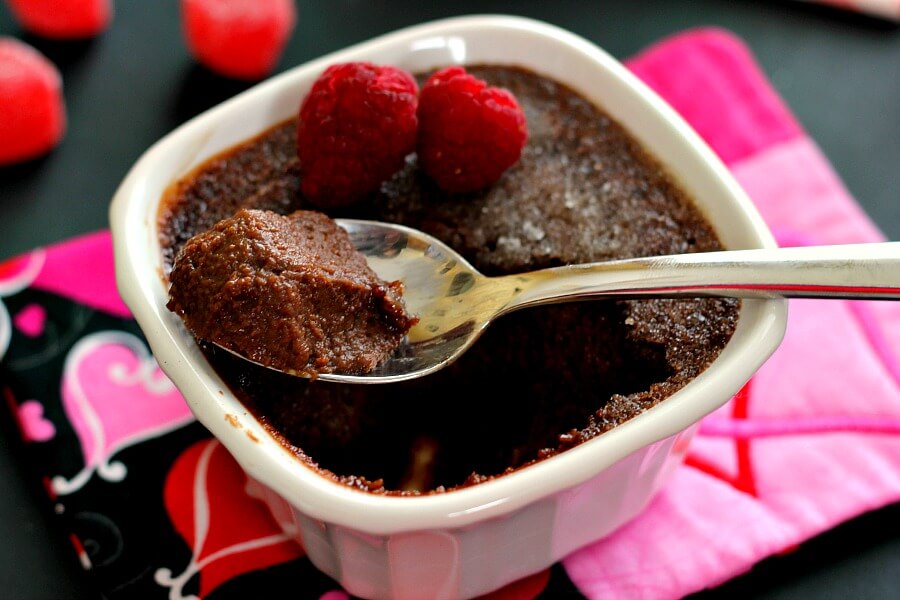 Ingredients
2 cups heavy cream
1/2 teaspoon vanilla extract
1 (4 ounce) bar bittersweet chocolate
8 Chocolate Chip flavored Brownie Brittle pieces, crushed into fine crumbs
4 egg yolks
1/3 cup white sugar
5 teaspoons superfine or regular white sugar
Instructions
Preheat oven to 350F.
Bring heavy cream and vanilla extract to a boil.
Remove from heat and stir in chocolate and Brownie Brittle crumbs until fully melted. Set aside.
In a separate bowl, whisk together egg yolks and 1/3 cup white sugar.
Gradually whisk chocolate mixture into sugar mixture until well combined.
Pour mixture through a fine mesh strainer to remove any lumps or bits of cooked egg.
Pour into 6 small ramekins and place into a 9x13 baking pan.
Pour boiling water halfway up sides of ramekins.
Bake for 35-40 minutes, or until centers are just slightly jiggly.
Remove from oven and allow to come to room temperature.
Refrigerate for at least 4 hours or until ready to serve.
Right before serving, sprinkle sugar on top and lightly tip dish to ensure that it spreads over entire surface.
Using a kitchen blow torch, torch tops until slightly browned and caramelized. Alternatively, you can set your broiler to medium heat and broil for about 2-3 minutes.
Garnish with raspberries or more Brownie Brittle Chunks, if desired.
Enjoy!
7.8.1.2
113
https://www.pumpkinnspice.com/chocolate-brownie-brittle-creme-brulee/