Another Wednesday is here, friends. Weekends always come and go so quickly, while the weekdays just seem to inch by! Don't you wish there was a fast-forward button that you could press to get you through those blah-weeks? Unfortunately, I'm not able to wave a magic wand to assist with that, but I do have a healthy treat to make your day just a teeny, tiny bit better!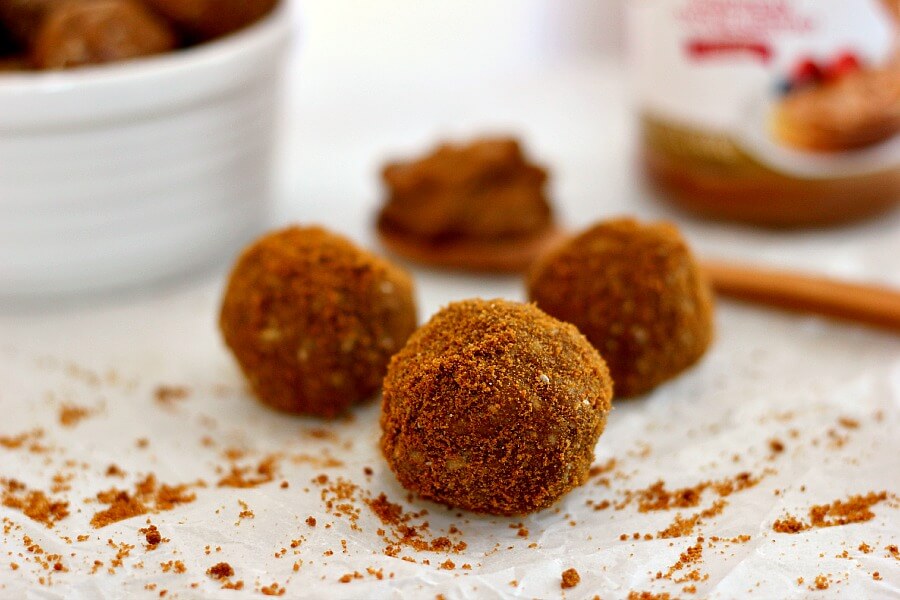 Well, it's that time again…cookie butter has been callin' my name! If you've tried this creamy spread before, then you know how delectable and addicting it can be. Cookie butter has the consistency of peanut butter, but is made from crushed cookies flavored with cinnamon and molasses.
Trader Joe's makes a delicious version, but my favorite is the Biscoff brand. Their cookie butter is made from crushed Biscoff cookies and is perfectly acceptable to slather on some toast, use on some fruit, or just to dunk into the jar with your trusty 'ole spoon!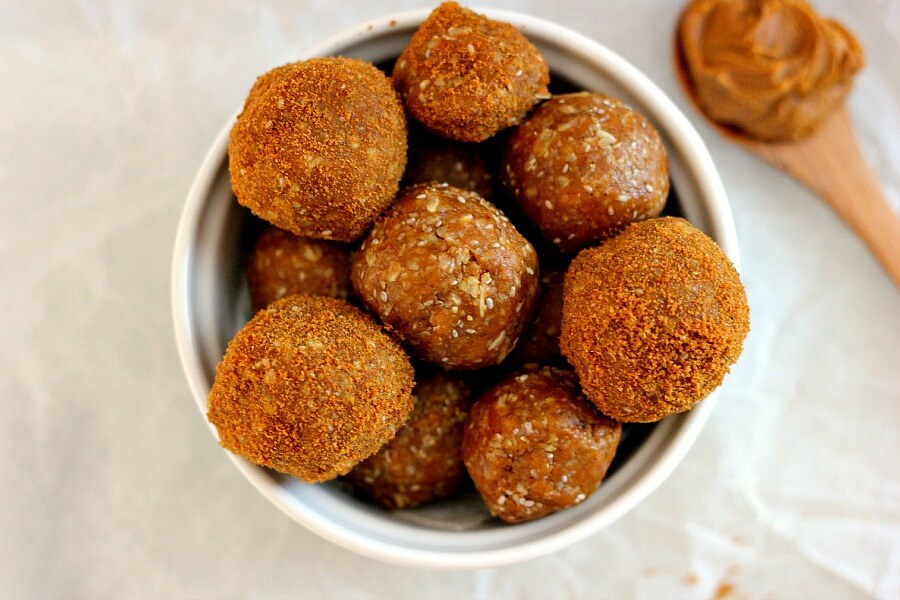 So because I'm kinda-sorta trying to be somewhat healthy in the new year, I decided to put a nutritious spin on one of my favorite treats and make these Cookie Butter Energy Bites! Jam-packed with cookie butter, oats, honey, and chia seeds, these no-bake bites will keep you going all day long.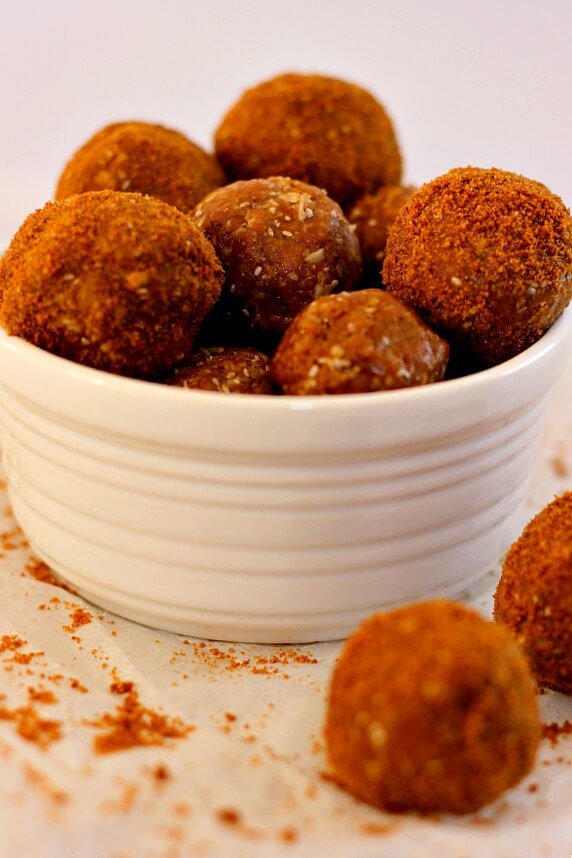 I modified these Cookie Butter Energy Bites from my Pumpkin Pie Bites (one of the most popular recipes on the blog) so that it oozes cookie butter goodness. And the prep work couldn't be easier! Simply mix together some ground up old-fashioned oats, cookie butter, honey, cinnamon, and chia seeds. Since the cookie butter is somewhat thicker than regular peanut butter, you may need to add more or less honey in order to keep the bites intact.
Chill the cookie butter mixture for at least an hour, and then roll into balls. Top with some crushed gingersnaps for extra flavor, and you have yourself and delicious and nutritious snack!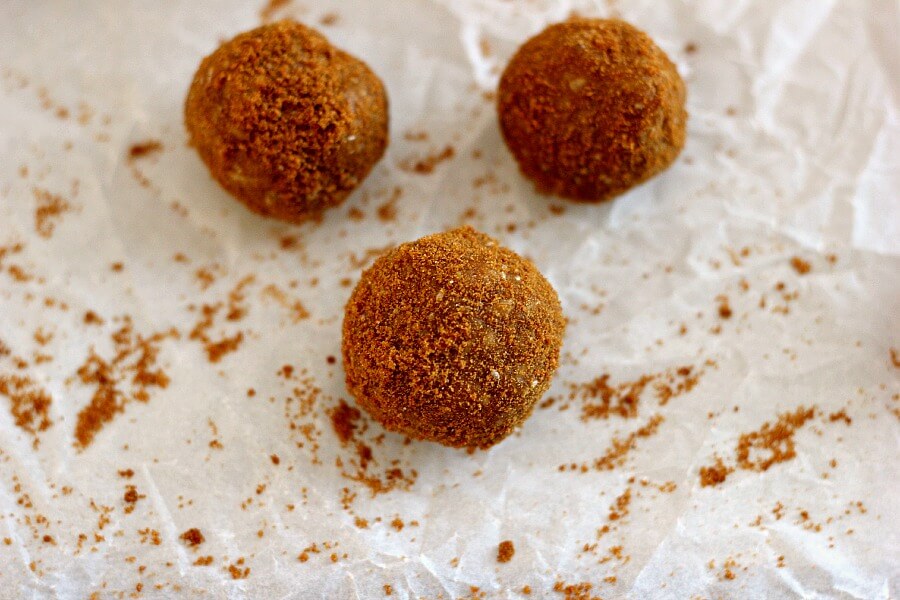 These Cookie Butter Energy Bites are creamy, full of flavor, and on the healthy side! Perfect to grab on the way out the door or for a mid-morning snack, these bites will keep you full, without all of the calories!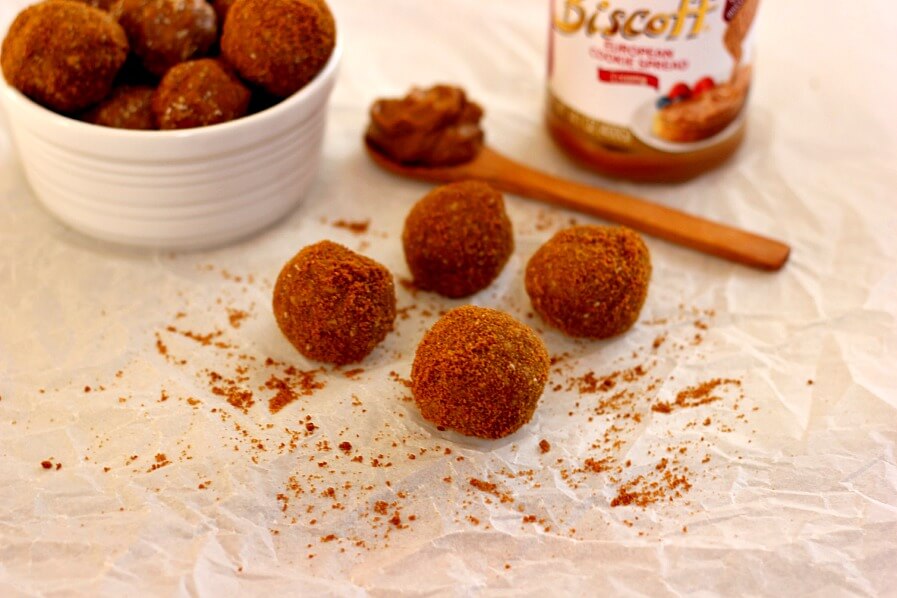 Yields 16 bites
Cookie Butter Energy Bites
Jam-packed with cookie butter, oats, honey, and chia seeds, these Cookie Butter Energy Bites will keep you going all day long.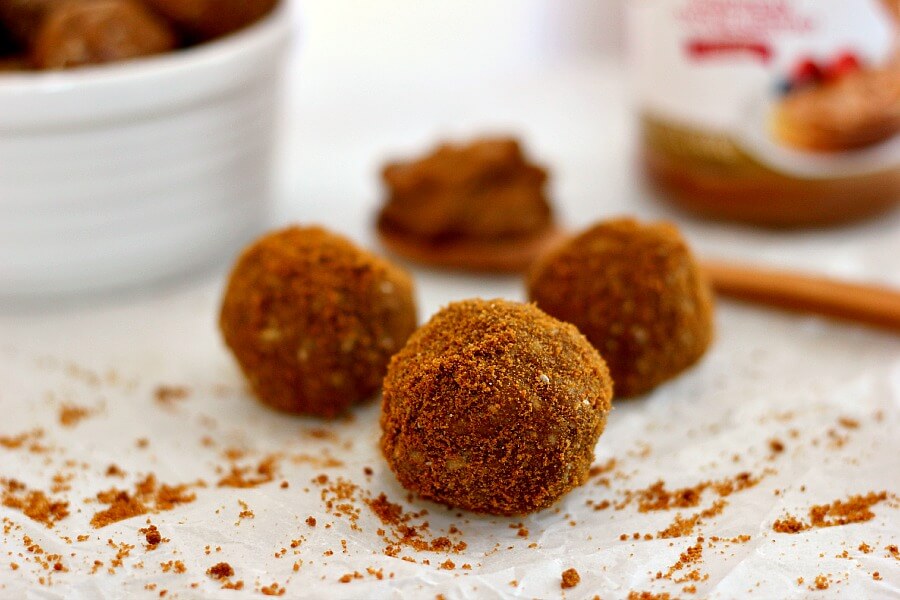 Ingredients
1/4 cup honey
1 tablespoon chia seeds
1/2 teaspoon cinnamon
3/4 cups cookie butter, slightly melted
1 cup old-fashioned oats, ground in food processor
12 gingersnap cookies, crushed for garnish
Instructions
In a large bowl, combine the honey and cookie butter.
Add in oats, chia seeds and cinnamon. Stir well.
Refrigerate mixture for 1-2 hours, or until firm so that it's easier to roll into balls.
Remove from refrigerator and roll into small balls.
Roll each bite into crushed gingersnaps, if desired.
Enjoy!
Notes
Energy bites will hold their shape best if kept refrigerated. If bites start to fall apart, add more honey to mixture.
7.8.1.2
108
https://www.pumpkinnspice.com/cookie-butter-energy-bites/