Well, it's finally here. December has rolled in and the holiday season is upon us. Can you believe it? In between stuffing myself with turkey last week and putting up my holiday decorations, I'm ready for the festivities.
The annual traditions of decorating gingerbread cookies with my family, going to the zoo with my husband to look at holiday lights, and watching Christmas movies fills me with excitement. Holiday parties, Christmas shopping, and cozying up by the tree at night are staples to this time of year.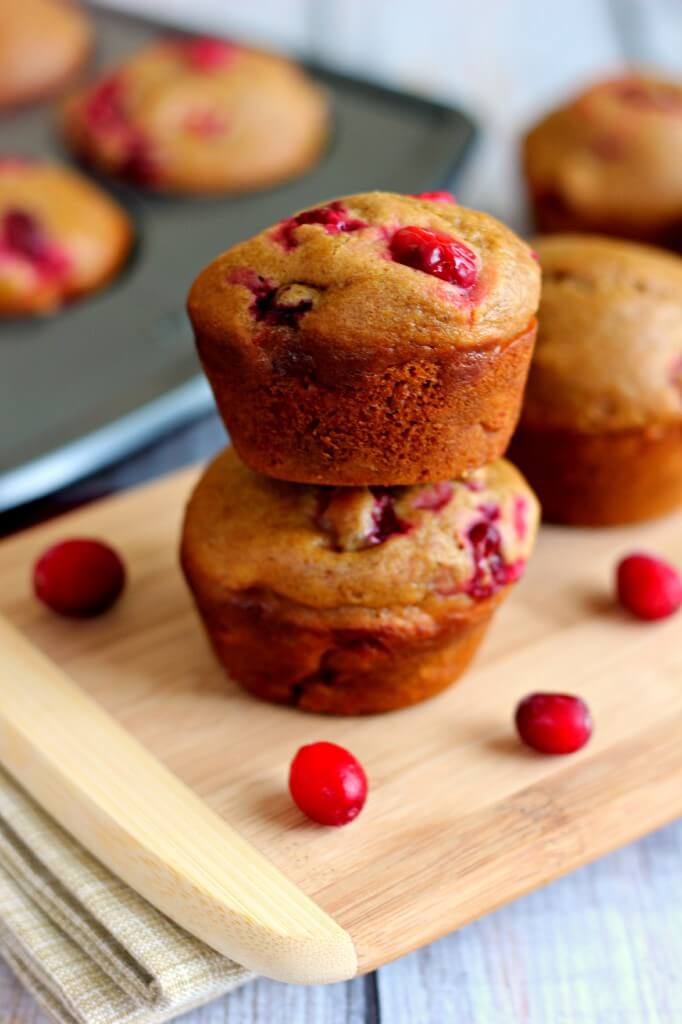 And along with that comes some delicious holiday treats. Cookies, cupcakes, fudge, and pies are always plentiful during December. My willpower goes right out the window while I happily indulge in the delicious desserts. That's what the holidays are for, right?
One of my favorite seasonal flavors is gingerbread. When I was younger, my brother, cousins and I would decorate homemade gingerbread cookies with my Grandma. She would bake the cookies ahead of time and then we would frost them, complete with festive sprinkles and decorative candy. After my Grandma passed away, my Aunt took over this tradition. And to this day, my cousins and I still decorate gingerbread cookies every December.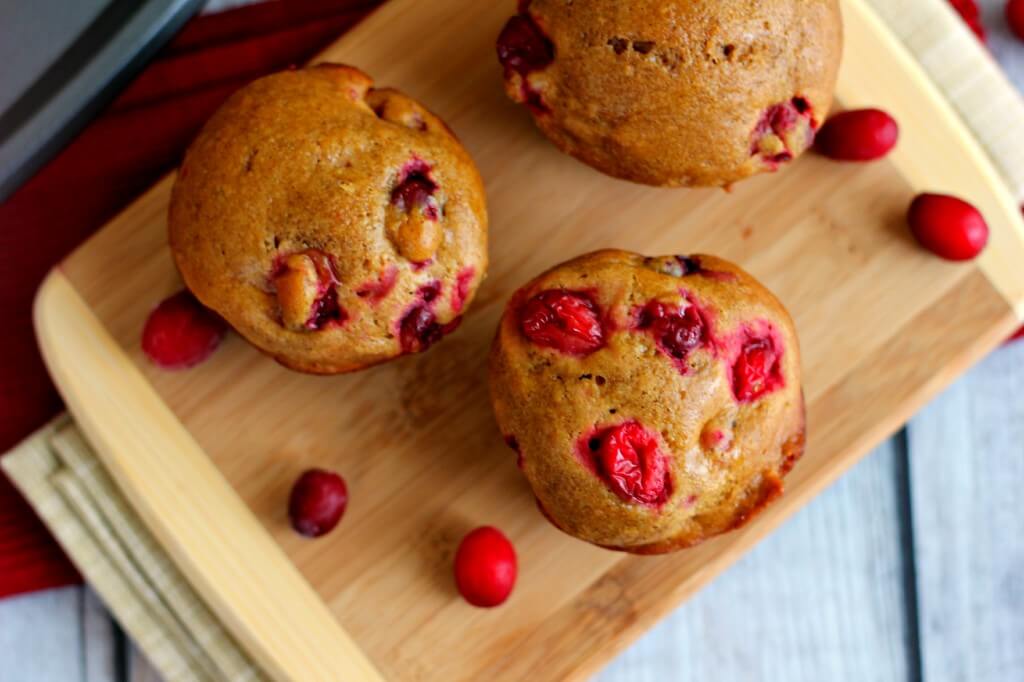 And while I can't make gingerbread cookies as well as my Grandma did, I can make some deliciously sweet Cranberry Gingerbread Muffins. Filled with plump cranberries, spices, and molasses, these goodies will remind you of your favorite cookie, in muffin form!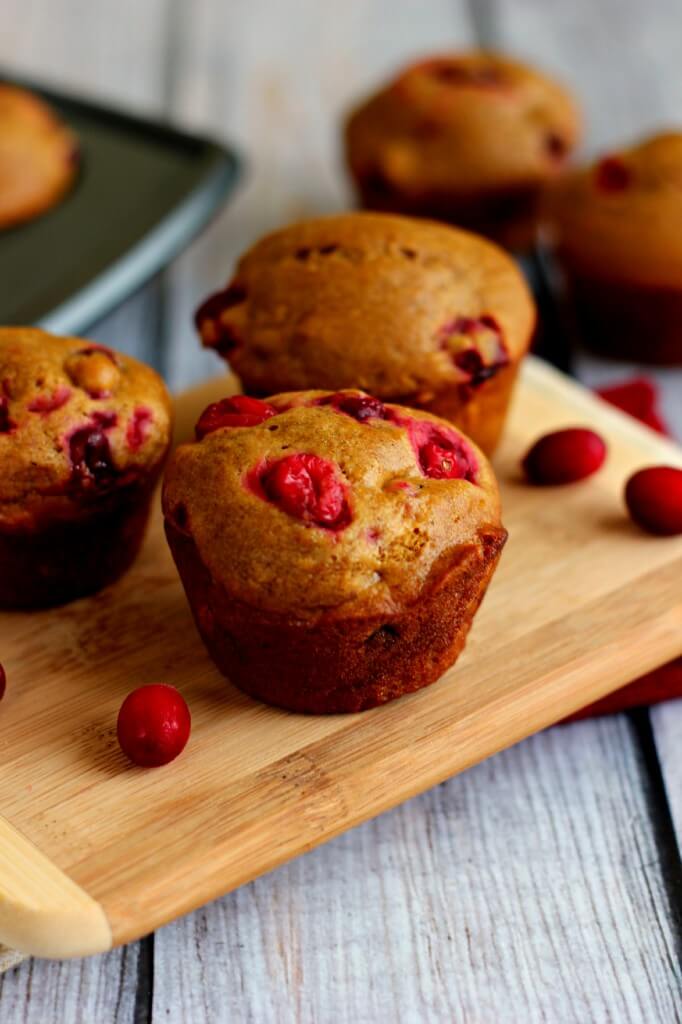 These Cranberry Gingerbread Muffins bake up soft and moist, with juicy cranberries sprinkled in and a cozy gingerbread flavor. If you've never baked with molasses before, these muffins are the perfect recipe for you! The gingerbread flavor isn't overwhelming and pairs perfectly with the sweet tang of the cranberries. Basically, cranberries and gingerbread are the perfect duo!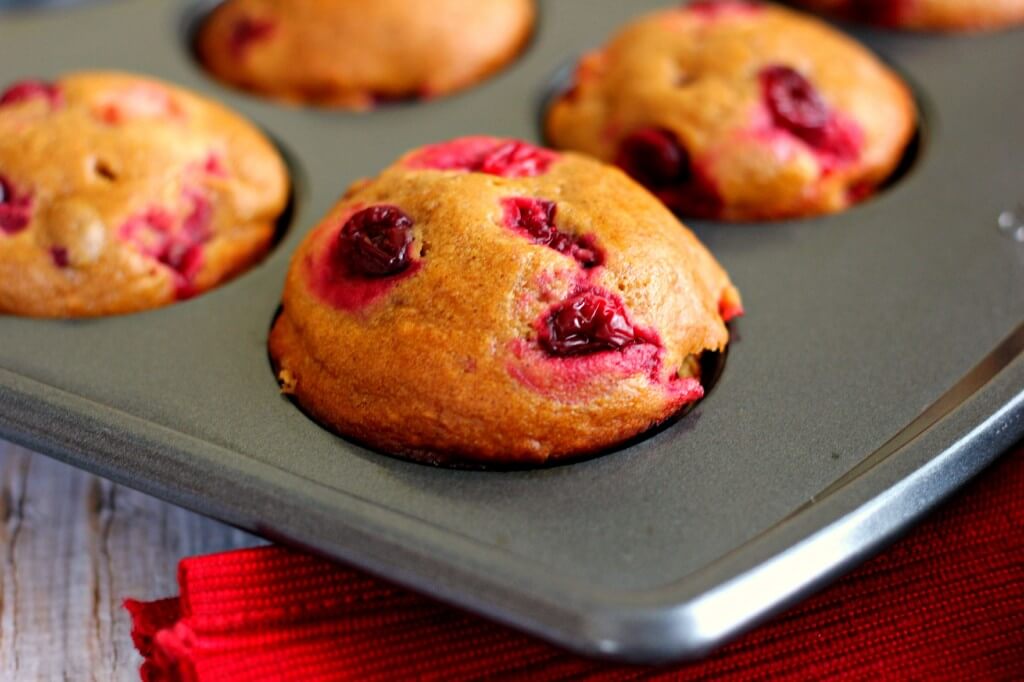 And like most of my recipes, these muffins are ready in no time. Simply mix your dry ingredients into the wet and then fold in the cranberries. I chose to use fresh ones, but frozen cranberries will work just as well. The secret to making these Cranberry Gingerbread Muffins look like they came from the bakery is from the temperature of the oven. I set the oven to 425F and baked them for five minutes, then turned the oven down to 375F and continued baking until they were done. The varied oven temperature results in the muffins rising into a puffy state, just like a bakery-style kind.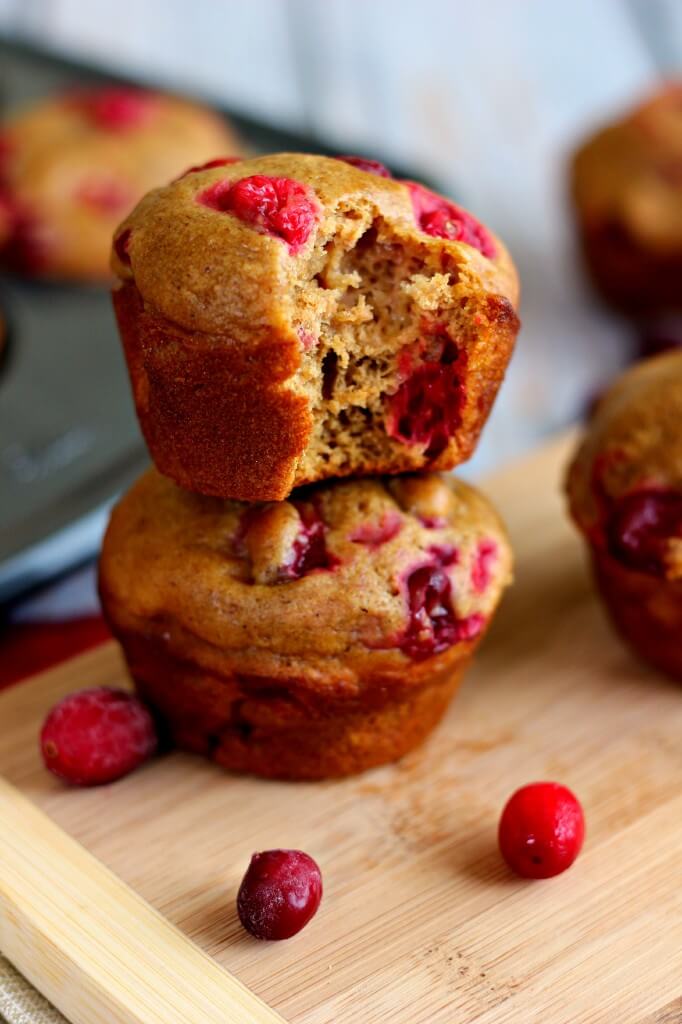 These Cranberry Gingerbread Muffins are my favorite seasonal muffins yet! Festive and full of flavor, they were quickly devoured at my house. So if you love cranberries and gingerbread just as much as I do, then give these muffins a try! I promise you won't be disappointed!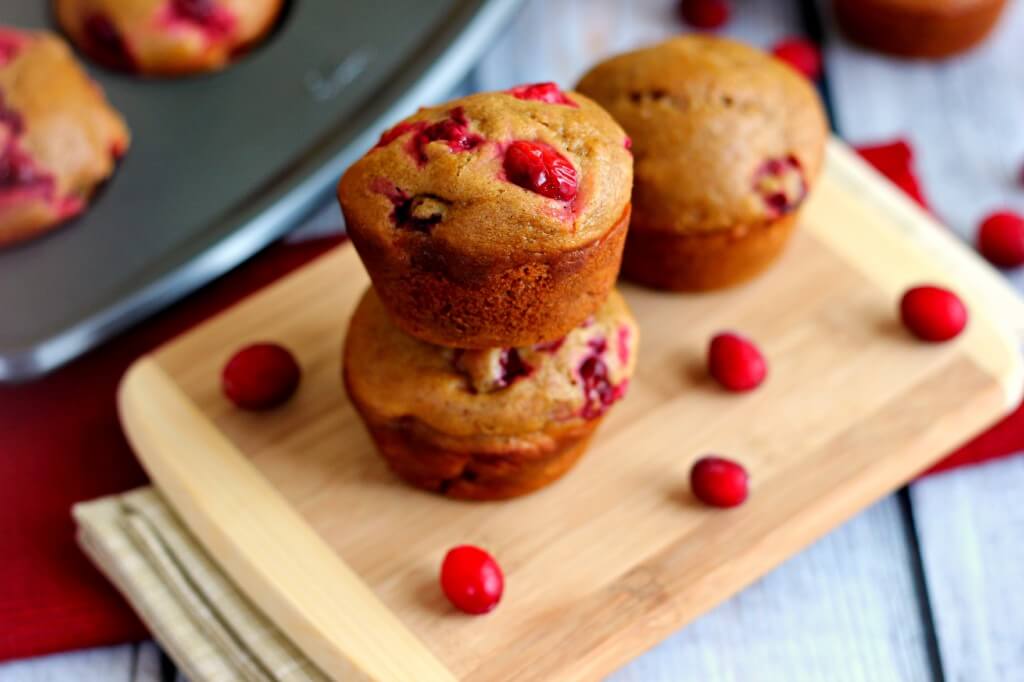 Yields 12 muffins
Cranberry Gingerbread Muffins
These Cranberry Gingerbread Muffins bake up soft and moist, with juicy cranberries sprinkled in and a cozy gingerbread flavor.
10 minPrep Time
15 minCook Time
25 minTotal Time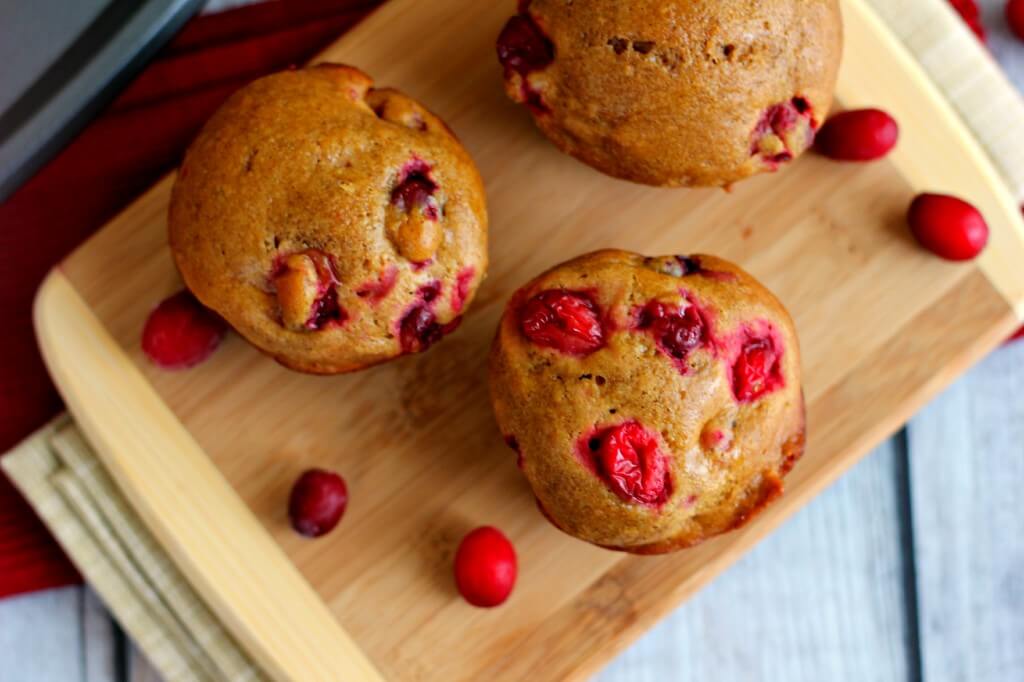 Ingredients
2 1/4 cups all-purpose flour
1/4 cup brown sugar
1/4 cup white sugar
1/2 teaspoon baking powder
1/2 teaspoon baking soda
1/2 teaspoon salt
1 1/4 teaspoon cinnamon
1/2 teaspoon ginger
1/4 teaspoon nutmeg
1 egg
1 cup milk
1/3 cup molasses
1/4 cup non-fat, plain Greek yogurt
1 1/2 teaspoons vanilla extract
1 cup cranberries, fresh or frozen
Instructions
Preheat oven to 425F. Lightly grease a 12 cup regular size muffin tin with non-stick cooking spray or line with paper liners. Set aside.
In a medium bowl, combine the flour, brown sugar, white sugar, baking powder, baking soda, salt, cinnamon, ginger, and nutmeg.
In a large bowl, whisk together the egg, milk, molasses, yogurt, and vanilla extract until thoroughly combined.
Slowly add the dry ingredients into the wet, whisking until just combined.
Gently fold in cranberries.
Spoon batter into prepared muffin tin.
Bake for 5 minutes only at 425F; then, without opening the oven door, lower oven temperature to 375F and bake for 12-14 minutes, or until muffins are golden brown and toothpick inserted in middle comes out clean.
Remove from oven and let cool for 10 minutes in muffin tin, then move to a wire rack to cool completely.
Enjoy!
7.8.1.2
81
https://www.pumpkinnspice.com/cranberry-gingerbread-muffins/