Creamy Corn Chowder
This Creamy Corn Chowder is hearty, thick, and full of veggies!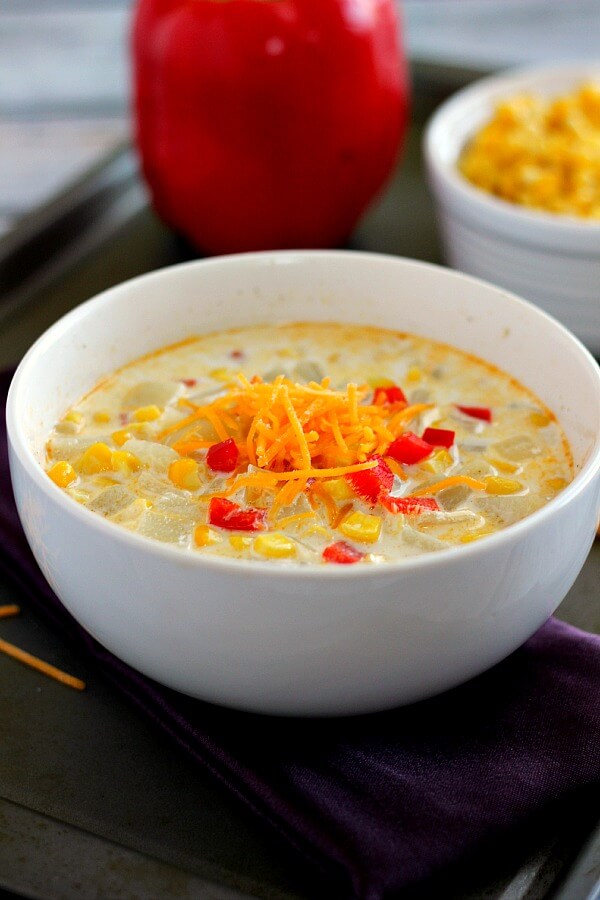 Now that the new year is officially here, it's really beginning to feel a lot like winter. The mild temperatures that we had over the holidays are now gone, and in its place are cold, snow, and more cold. Can you tell that I don't like winter?
It's also back to the daily grind for me. No more lazy days off or sleeping in past 8 am. My regular routine, including work, is now back on track. Is it the same for you, too? While I'm excited for all of the things to look forward to in 2015, I can't help but wish I could turn back time and go back to Christmas again.
But, now that's it's January, it means that spring is kinda-sorta on its way. Wishful thinking, I know! So to help me beat the winter-blahs, I did a lot of cooking over the holidays. I tested some soups, stews, and lots of baked goodies to share with you.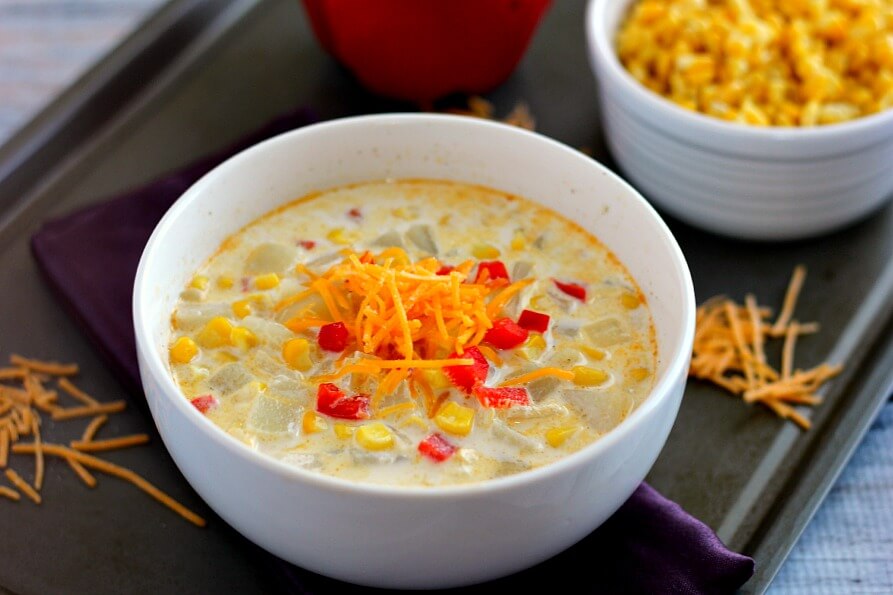 And one of my favorite recipes to warm me up over the past few weeks has been this Creamy Corn Chowder.
I used to only prefer broth-based soups growing up (besides cream of chicken), but now that I'm older and my palate is more well-rounded, cream-based soups hold a special place in my heart.
So back to this Creamy Corn Chowder. It's hearty, thick, and full of veggies. It's definitely the perfect soup to warm up with during the cold winter months.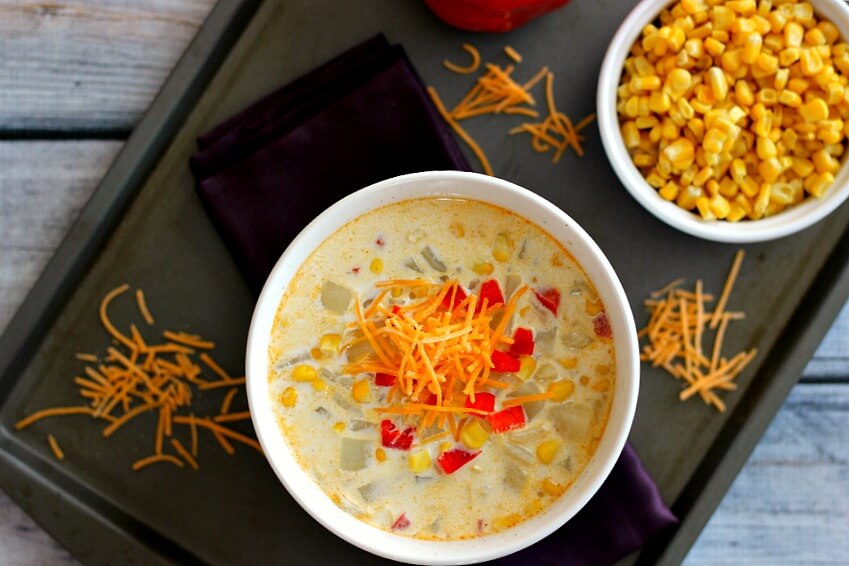 Chowder has been on my bucket list of recipes to make for quite some time now, and I'm happy to say that I created the most tasty, delicious, and filling chowder. Not to brag or anything, but this Creamy Corn Chowder is a sure winner!
And best of all, this soup is so easy to make! You knew that was coming, right?
I decided to add in some potatoes, onion, and red peppers to go along with the corn. You could also easily add in some chicken for extra protein, too. The base of the soup is made with chicken broth and heavy cream. Feel free to substitute half and half or whole milk for the heavy cream. But since this was my first time making chowder, I wasn't counting calories!
 This Creamy Corn Chowder comes together quickly and is full of flavor. It's jam-packed full of veggies and has just the right amount of seasonings to tickle your taste buds. One bite and you'll be hooked! Sprinkle some shredded cheese on top and you have yourself the perfect comforting and hearty meal!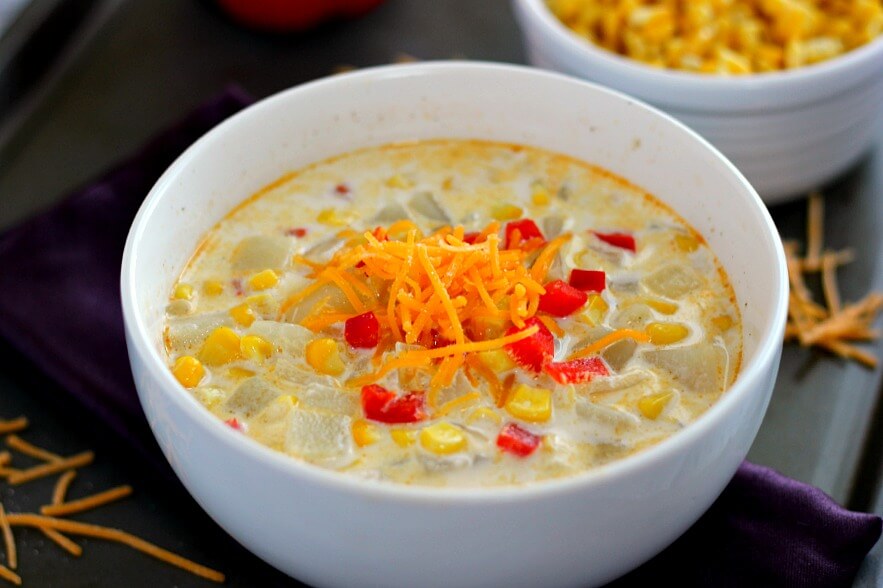 Looking for more soup recipes? I've got you covered!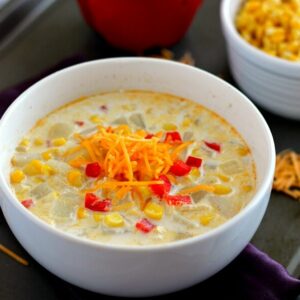 Creamy Corn Chowder
This Creamy Corn Chowder is hearty, thick, and full of veggies!
Ingredients
1 tablespoon olive oil
½ white onion, diced
1 red pepper, diced
2 medium red potatoes, diced
3 cups low-sodium chicken broth
3 cups frozen corn
½ teaspoon salt
¼ teaspoon dried thyme
¼ teaspoon black pepper
3 cups heavy cream
3 tablespoons shredded cheddar cheese for garnish, if desired
Instructions
In a large soup pot, saute onions and red pepper in olive oil until slightly browned, about 5 minutes.

Add potatoes and chicken broth to mixture and bring to a boil. Reduce heat and simmer for 15-20 minutes, or until potatoes are tender.

Stir in corn, salt, thyme, pepper, and heavy cream. Heat mixture thoroughly, but do not boil.

Serve immediately and top with shredded cheese, if desired.
Serving: 1g, Calories: 420.65kcal, Carbohydrates: 29.5g, Protein: 6.66g, Fat: 32.76g, Saturated Fat: 18.84g, Cholesterol: 108.69mg, Sodium: 264.31mg, Potassium: 667.14mg, Fiber: 3.32g, Sugar: 2.33g, Vitamin A: 1787.18IU, Vitamin C: 36.55mg, Calcium: 66.12mg, Iron: 1.19mg