My Favorite Amazon Finds ~ February
This post contains affiliate links.
It's finally here!
After teasing you for a few months on Insta-stories, I finally put together my favorite Amazon finds for February 2019. If you've been hanging around here long enough, then you know this was a series that I have been planning to start for a while.
Every month, I'm going to share my latest and greatest Amazon purchases. I'm going to try to do this monthly, but to be honest, some of my purchases are just plain boring (like printer ink, Swiffer pads for cleaning my floors, that sort of thing). So, if that's the case, I will skip a month and share more exciting finds next time.
I absolutely love Amazon prime and try to take advantage of the full benefits that it has to offer. When two-day shipping is provided, I love it even more. Don't you?
I am an avid review reader when I buy anything online. But, when it comes to Amazon, I am extra cautious, especially with certain items, like clothes. So know that I only share the items that I bought, love, and trust!
Since this is my first Amazon Finds post, I'm rounding up some of my favorite purchases from the past few months. So, let me know what you think! Do you have any of these items? Anything that I just need to add to my cart for next time? Let me know!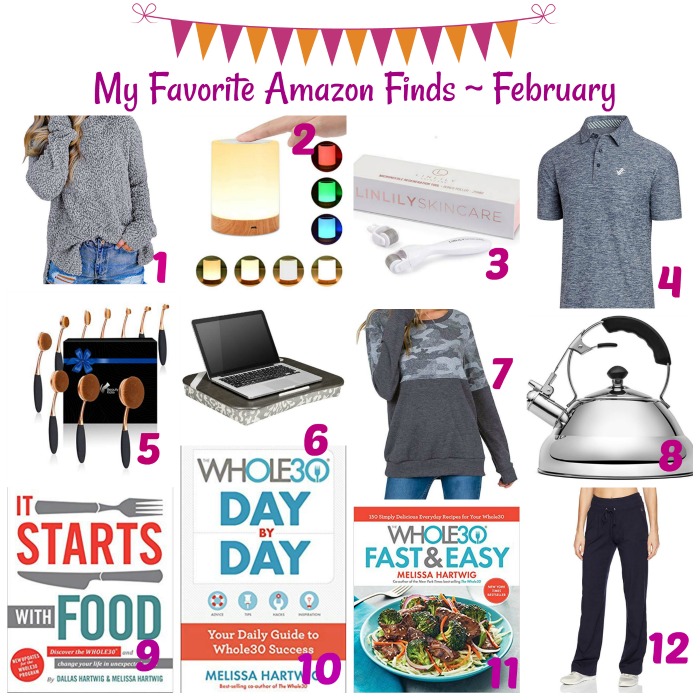 1. Sherpa Fleece Sweater: This sweater is so soft, cozy and long enough for leggings. It's not exactly fleece, but it's like that soft, popcorn sweater material. Comes in a bunch of colors and at a good price, too.
2. Portable Touch Lamp: This little lamp is such a fun find to spruce up your child'd bedroom, your office desk, or to carry around the houses. I bought this just for fun, and it charges through a USB port and changes colors, all through touch control. It's less than $20, looks modern and is the perfect size.
3. Microneedle Roller: I absolutely love this! I shared it on my holiday gift guide and use this several times a week.  I've always wanted to try microneedling, but wasn't ready to pay the hefty price tag, so this is a great alternative. Less than $25 and is so easy to use. I roll this over my face after cleansing and then immediately apply my serum or moisturizer. The microneedling makes the serum/moisturizer sink in immediately, which has definitely helped improve my skin.
4. Short Sleeve Polo for Men: I bought this shirt for my husband after reading some positive reviews. He loves it and I do, too! The material is nice, the shirt is a good quality, and the price tag is low. I would definitely recommend this for the men in your life.
5. Oval Makeup Brushes: I can't say enough about these makeup brushes. Seriously! I absolutely love them. If you have heard of the Artis makeup brushes (usually costs around $60-70 for one brush) these are a spectacular alternative, for such a great price. This set comes with 10 brushes, of various sizes, and is less than $15. I use it to apply my foundation and concealer and it blends SO well. Way better than a beauty blender or regular makeup brush.
6. Lap Desk: I bought this so that I could work on my laptop from the couch. I always use my mouse, and since I have the new MacBook Pro, my mouse needs to be plugged into a USB port that is also plugged into my laptop. This desk gives me the space for that, as well as a solid to write or work on. It's very comfortable, comes in a variety of colors, and is less than $30.

7. Camo Sweatshirt: I shared this sweatshirt as my first 'try-on' in my Insta-stories and you all seemed to love it! Camo is one of the latest trends and I love that this sweatshirt is all camo print. It's thinner than a regular sweatshirt, but cozy, and long enough to wear with leggings. I sized up to a medium for a loser fit.
8. Tea Kettle: I've been on the hunt for a solid tea kettle and this one received good reviews. I've used it several times to boil water for tea and love the whistling effect and how fast it heats up water.
9. It Starts with Food: I'm in the process of doing Whole30 and this book was recommended to read before I started the diet (or any diet in general). It covers how food affects everything, from how you look, feel, act, illnesses or ailments you may have, etc. Even if you're not following Whole30, I definitely recommend this book.
10. Whole30 Day by Day: This book is a great tool to track your daily meals if you are following Whole30. I bought this book in the flexibound option, though you can get it for your kindle or hardcover.
11. Whole30 Fast & Easy Cookbook: Even if you're not following Whole30, this cookbook as some delicious meals and side dishes. Similar to the paleo diet, the foods in the cookbook are gluten free, dairy free, soy free, grain free, and sugar free.
12. Women's Lounge Pants: If you're in need of comfy pants or lounge wear, this got great reviews. I sized up to a medium and bought these in navy. Since I work from home, I'm always on the lookout for new loungewear!

P.S. Make sure you are following me on Instagram! I share via Insta-stories daily, and you'll get a behind-the-scenes look of more about me. I also shared most of these Amazon finds there, too.
This post contains some affiliate links, which means that I make a small commission off items you purchase at no additional cost to you.