Besides Christmas shopping, decorating our tree, and watching countless Christmas movies during the month of December, there's another special tradition that the hubster and I take part in every year. We go to visit Santa! Yep, you read that right…even though my husband and I are fully grown, with no kids, we still sit on Santa's lap every year for a picture.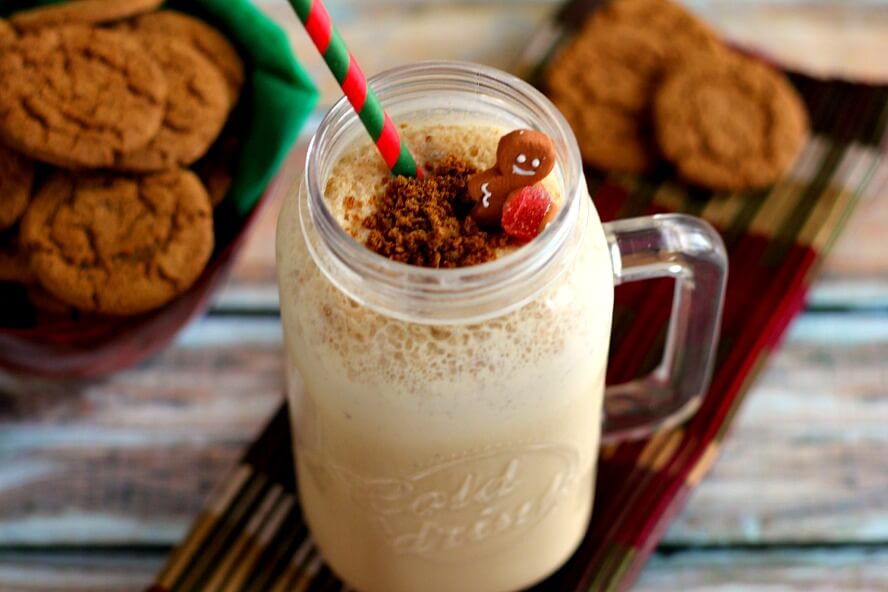 It first started back when the hubster and I were dating six years ago. We were at a mall during the holiday season and my now-husband casually asked me if I wanted to go see Santa with him. I must've looked at him like he was crazy because he quickly dropped the subject!
About a week later, we were at a different mall, finishing up some last minute shopping. The hubster again asked if I wanted to see Santa, but that time, I considered it! After realizing that he was serious and wanted to do something cute with me, I reluctantly gave in. Fast forward five years later, and it's become an annual tradition!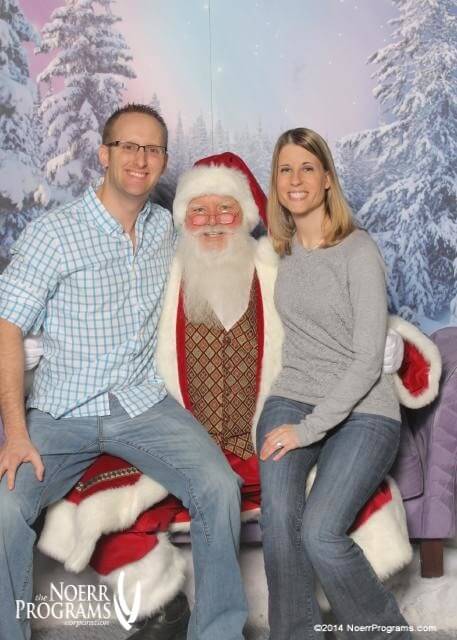 Remember how I told you on Wednesday that we took a day off to go Christmas shopping this week? Well we also went to visit Santa! We have now have six pictures from the past six Christmases to look back upon. It's such a fun memory to reminisce about every year!
And just like my sweet visit with Santa, this Gingerbread Smoothie is sure to warm your heart with cozy holiday flavors. If you're a gingerbread lover like me, then this smoothie is for you! Filled with healthy ingredients and a classic gingerbread flavor, this drink is creamy, delicious, and perfect for breakfast or a mid-morning snack.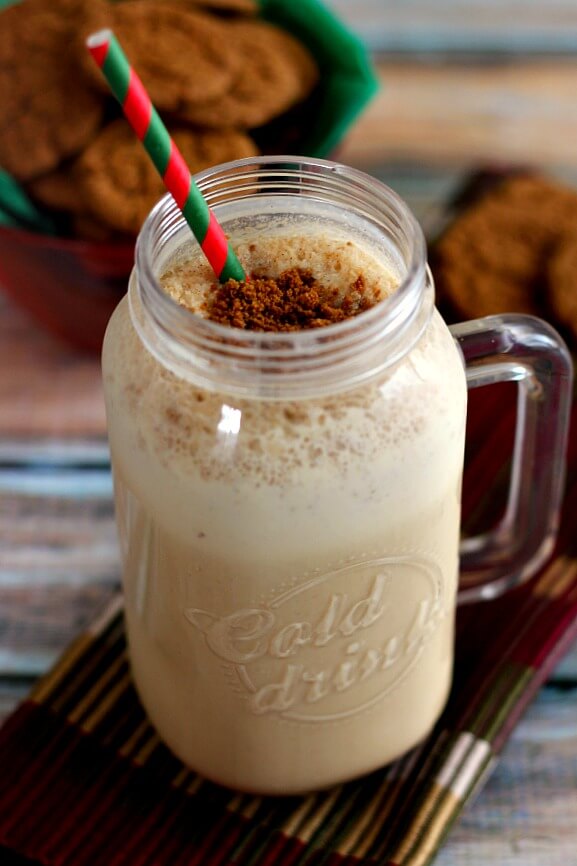 The ingredients in this Gingerbread Smoothie are simple. Greek yogurt, milk, spices, molasses, a touch of sugar, and some ice creates this thick and refreshing drink. I also added in some gingersnap cookies for extra flavor! And if you like gingerbread on the spicy side, feel free to add in more molasses. This smoothie is easy to customize depending on your tastes.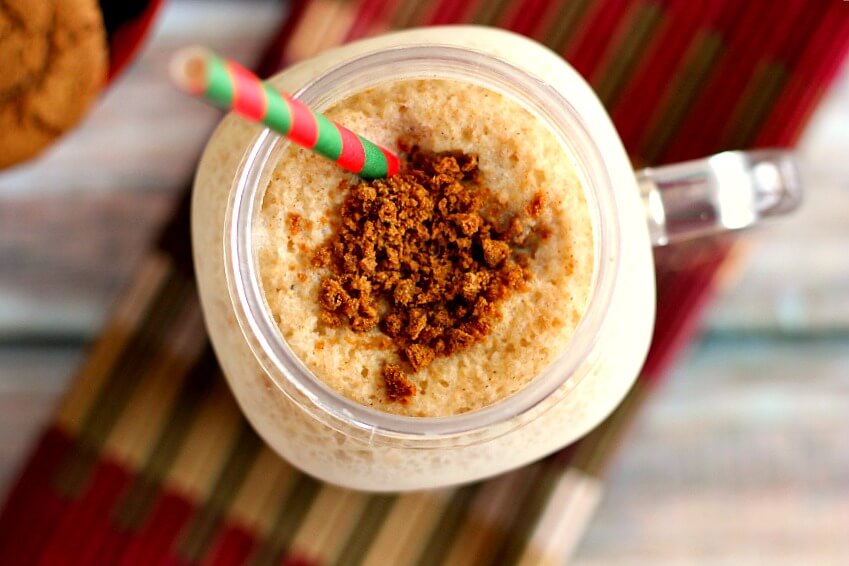 The flavors in this Gingerbread Smoothie will remind you of your favorite cookie, in drink form! The molasses and spices pair effortlessly with the creamy yogurt and milk, creating a healthy and filling drink. I've been whipping up this smoothie every morning for breakfast, and it hits the spot!
So if you're looking for a new smoothie to try out, then whip up these easy Gingerbread Smoothie! Perfect for the holidays and so easy to make, this will become your new favorite drink!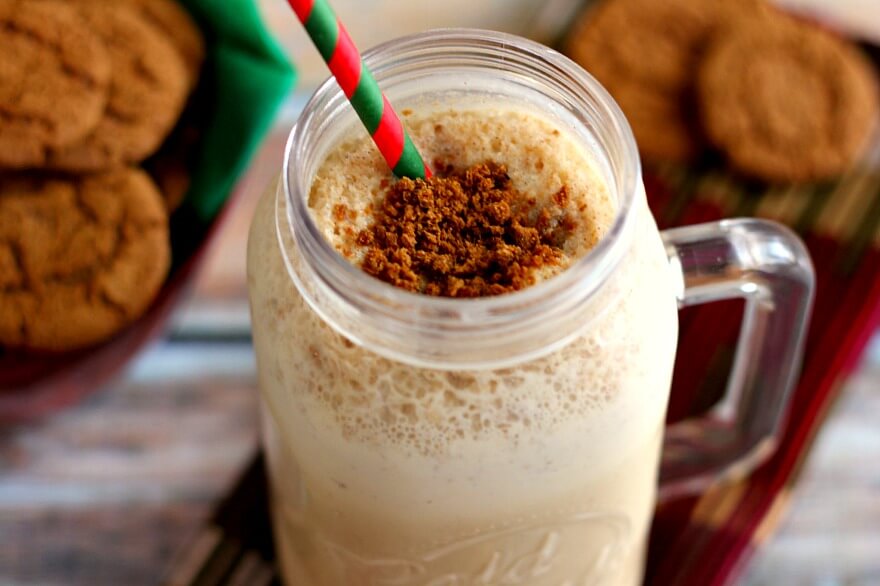 P.S. Don't forget to enter the $300 Amazon Gift Card Giveaway! It's here just in time for the holidays!
Gingerbread Smoothie
Filled with healthy ingredients and a classic gingerbread flavor, this Gingerbread Smoothie is creamy, delicious, and perfect for breakfast or a mid-morning snack.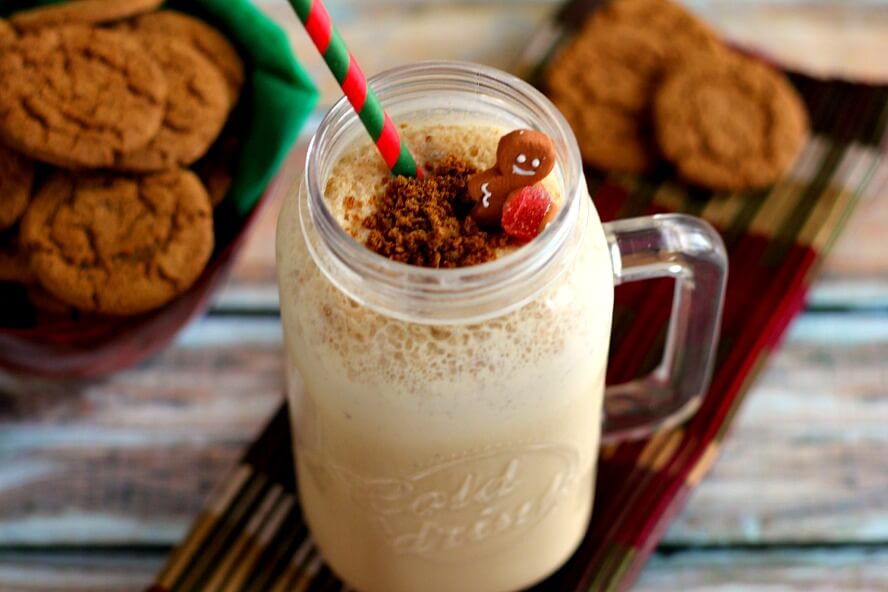 Ingredients
2 cups plain Greek yogurt
1 cup milk
10 ice cubes
8 gingersnap cookies (optional)
1/2 teaspoon cinnamon
1/4 teaspoon nutmeg
1/2 teaspoon ginger
Dash of cloves
1/2-3/4 tablespoons molasses
1/2 teaspoon sugar
Instructions
In the cannister of a blender, combine the yogurt, milk, ice, cookies, cinnamon, nutmeg, ginger, cloves, molasses, and sugar.
Blend until reaches desired consistency.
Pour into two glasses.
Top with a sprinkle of crushed gingersnap cookies, if desired.
Enjoy!
Notes
If you like your gingerbread flavor stronger, add in more molasses as necessary.
7.6.3
100
https://www.pumpkinnspice.com/gingerbread-smoothie/