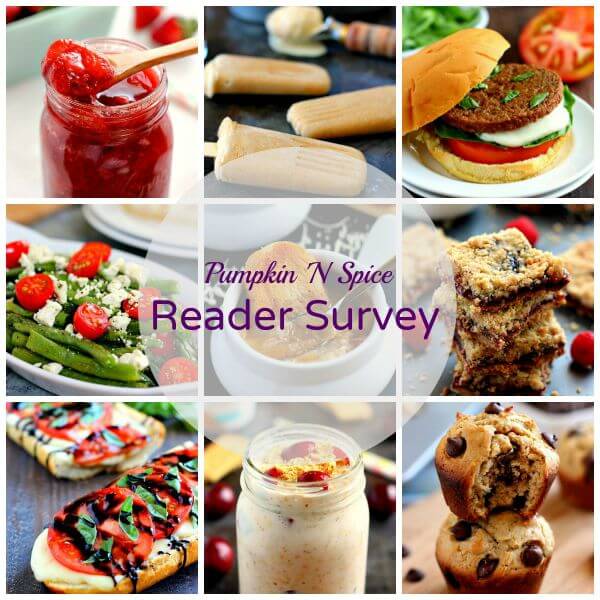 Happy Friday, friends! I'm keeping today's post short and sweet!
Today, it's all about YOU! I'm so excited to share my first-ever reader survey. Since blogging is now my official job, I want to make this a better place for you. I want to know what you like, what you don't like, and what you want to see more of from Pumpkin 'N Spice. Since I have more time to dedicate to my little corner of the internet, I want it to be a place where you look for new recipes, inspiration, and maybe laugh (or eye-roll) at my oh-so corny jokes!
YOU are what makes Pumpkin 'N Spice possible. Without your support, I would not be here, and my recipes would be forever lost in cyberspace. So THANK YOU from the bottom of my heart for choosing to try my recipes, read my stories, and for just being there.
I would really appreciate it if you could take this quick, 10 question survey about Pumpkin 'N Spice. All answers are recorded anonymously, and only the multiple choice questions are required (I would LOVE for you to fill in short answer boxes if you have the time). And please be honest, I really want to make Pumpkin 'N Spice the best that it can be! By completing this survey, I will have a much better idea of what recipes you want more of, what dishes you want less of, and what new features you would like to see added.
So grab your coffee, pull up a chair, and let me know what you think! THANK YOU, FRIENDS!
Create your own user feedback survey
P.S. Don't forget to enter the Krusteaz Baking Package Giveaway! It ends on Sunday, August 9th!