My Favorite Afternoon Break
This post has been sponsored by Kellogg's. All thoughts and opinions are my own.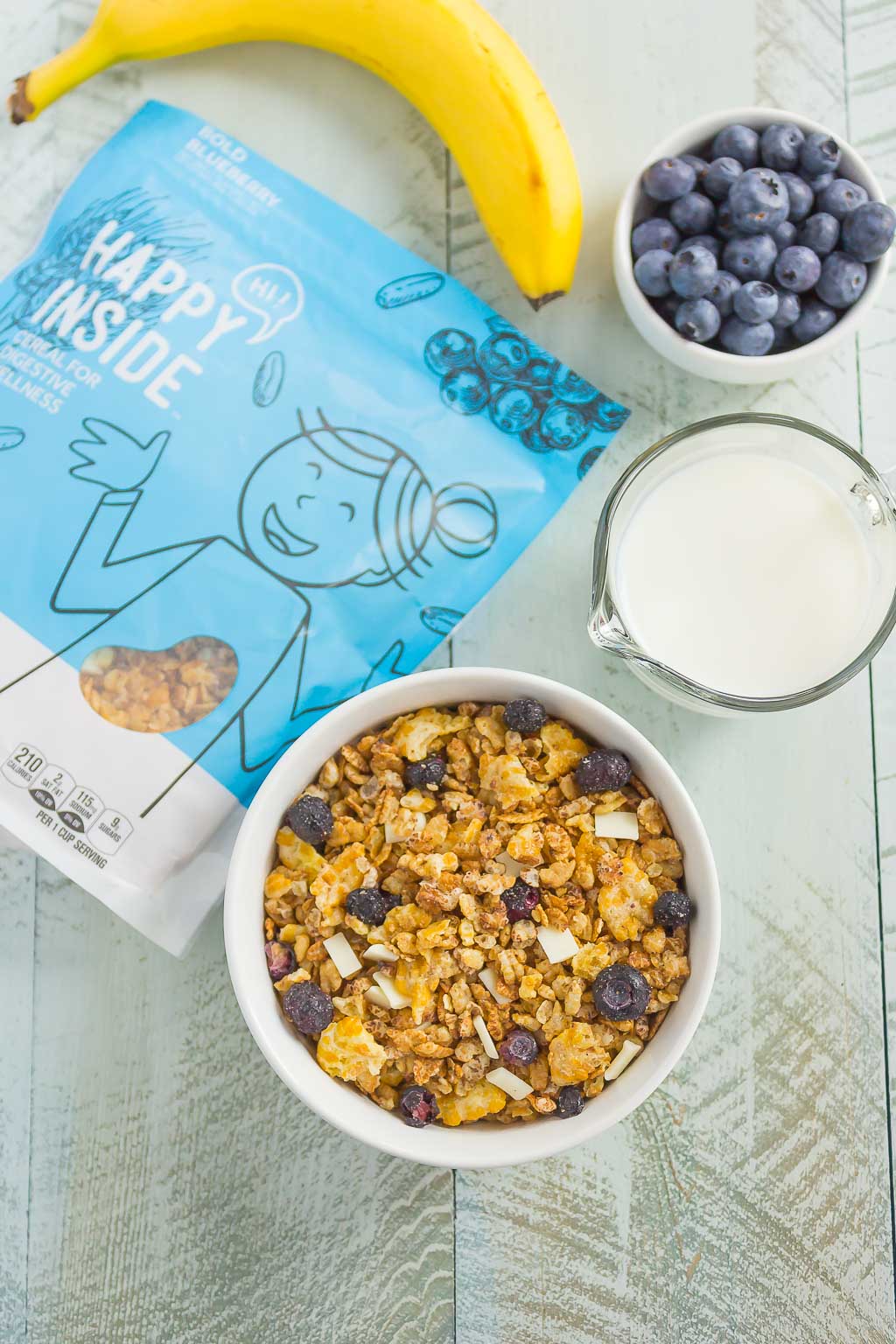 Let's face it…whether you're someone who works outside of the house, works from home (me!), works by being a stay-at-home parent, student, or anything in between, we all need a break from time to time.
Am I right or am I right?
When I was shopping at my local grocery store, Jewel-Osco, I came across Kellogg's  Happy InsideTM Cereal. Have you tried it? Not only does this cereal come in two delicious flavors, like strawberry and blueberry, it also contains three digestive-friendly ingredients in one: probiotics, prebiotics, and fiber. The power of 3-in-1 helps to support digestive wellness.
That alone was enough to win me over. I knew that I had to stock up on the Happy InsideTM Simply Strawberry and Bold Blueberry flavors. It would serve as the best afternoon snack when it's time to take a break. And did I mention that we all need a break?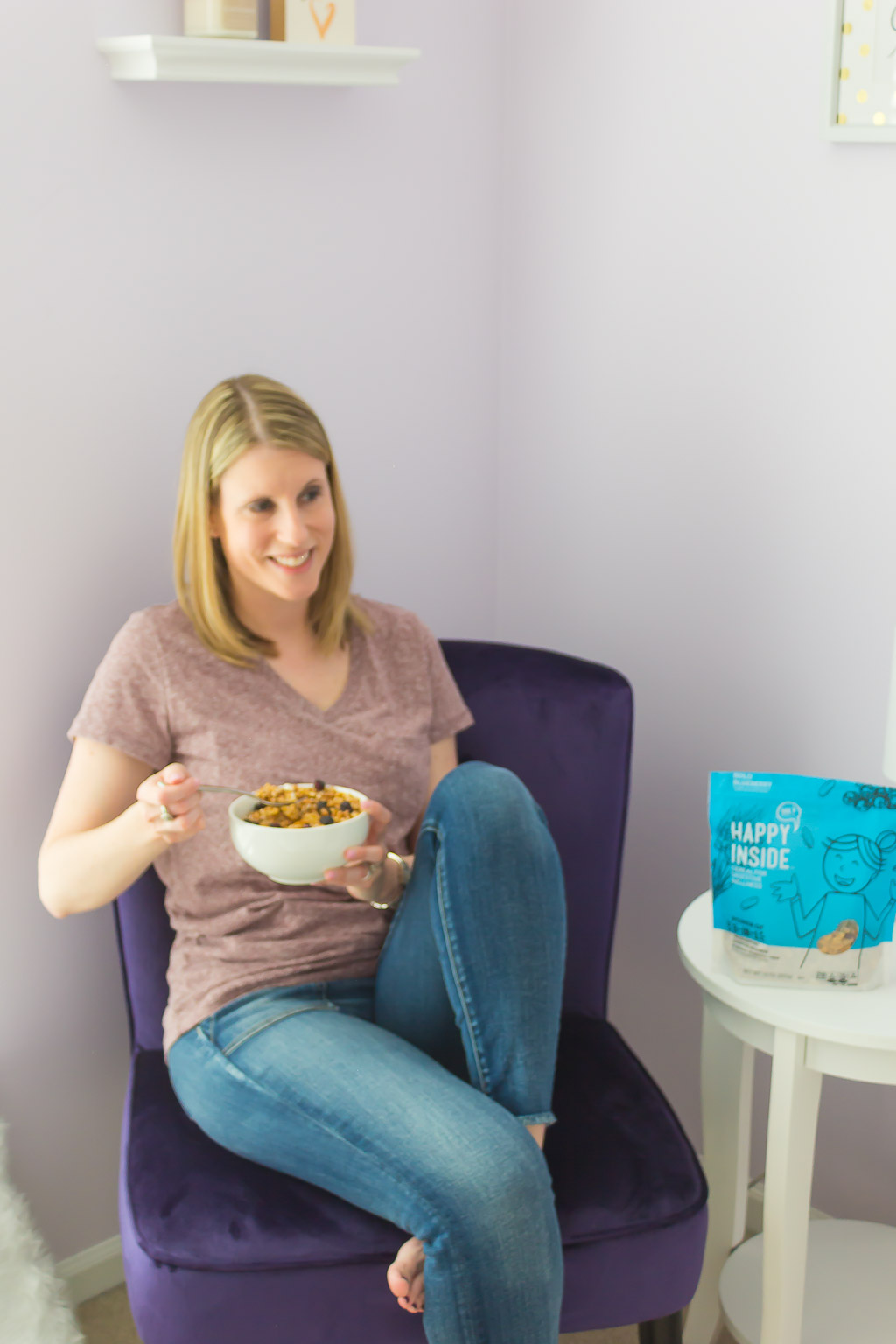 I love working from home. The flexible schedule, the ability to work in my comfy clothes, and recipe testing and photography (and editing, writing, etc.) are truly passions of mine, and I feel very fortunate that I'm able to do this.
However, working from home can sometimes be draining. Yes, it's not the same as an office environment. I worked in higher education for ten years, so I know how the hustle and bustle of a busy office full of meetings, phone calls, presentations, and endless projects work.
But, when I am working from home, it's hard to just flip the 'off' switch and forget about work. My computer is always luring me to come back for another 5 or 10 minutes, and I am constantly mulling over new recipes and ideas for the blog. I've gotten a little bit better about separating work and home time, but it can still be difficult come busy times.
And to get me through some long days, I make sure to take an afternoon break. A little time away from my computer, refueling my energy with a good book and a tasty snack.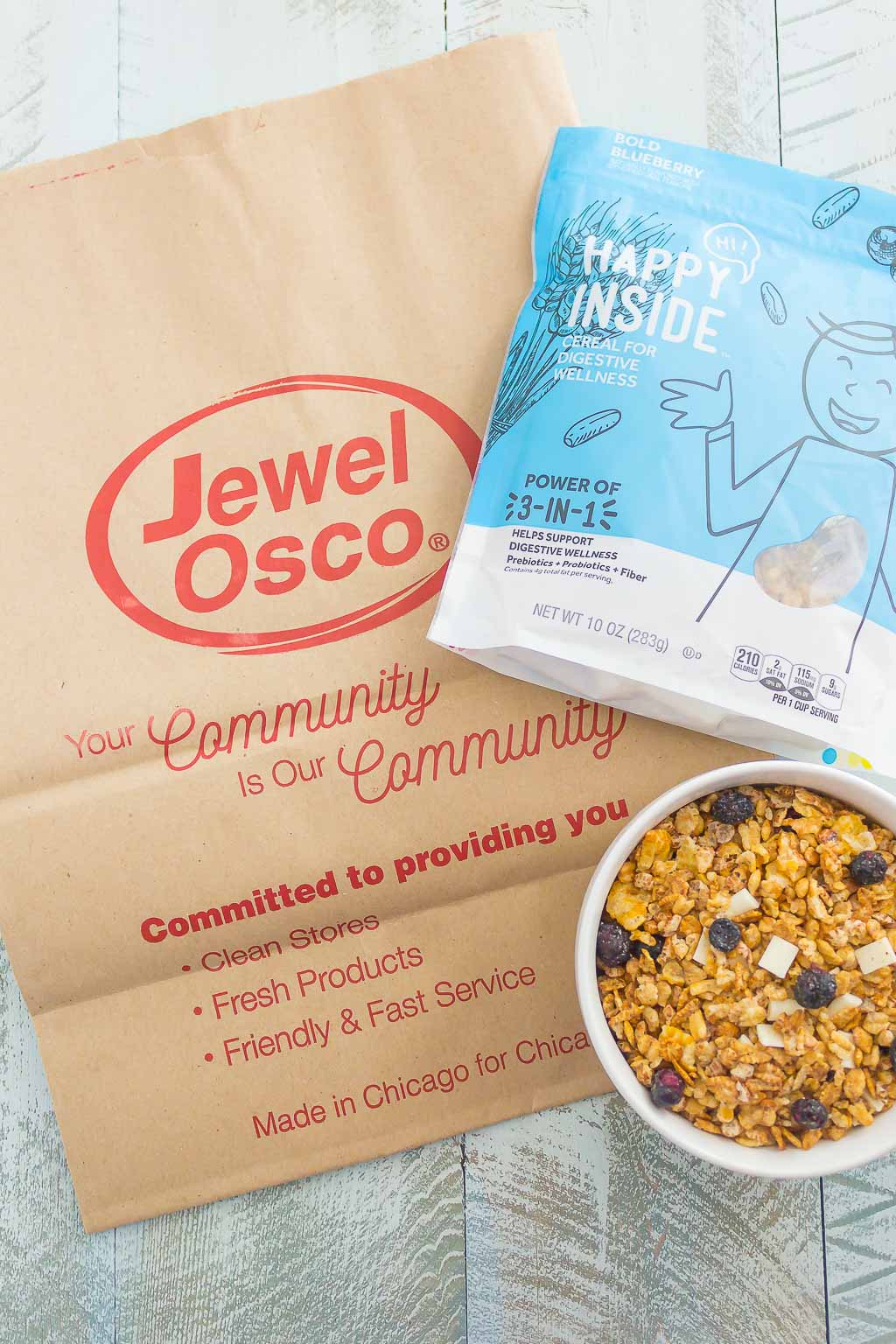 So you can only imagine my delight when I found  Happy InsideTM Cereal. Not only do I love the flavor and crunchy texture, but the prebiotics, probiotics and fiber are pretty great, too. It contains one billion probiotics CFU; is Non-GMO Project Verified; and has no artificial colors or flavors. It's a cereal that I can feel good about eating for breakfast or snack time.
I was so happy to find this cereal at Jewel-Osco. My family has shopped there for as long as I can remember, and the hubster and I have done our shopping there for years as well. There's a great selection of just about anything you are looking for, and the store is always clean and friendly.
I found  Happy InsideTM Cereal in the cereal aisle. However, you can also download the Jewel-Osco mobile app and do your shopping there, too. Easy and convenient!
Now, let's get down to the yummy stuff. Although I do like eating cereal for breakfast, it also works as the best afternoon (or late night) snack. Hearty, tasty and filling…just what I'm looking for.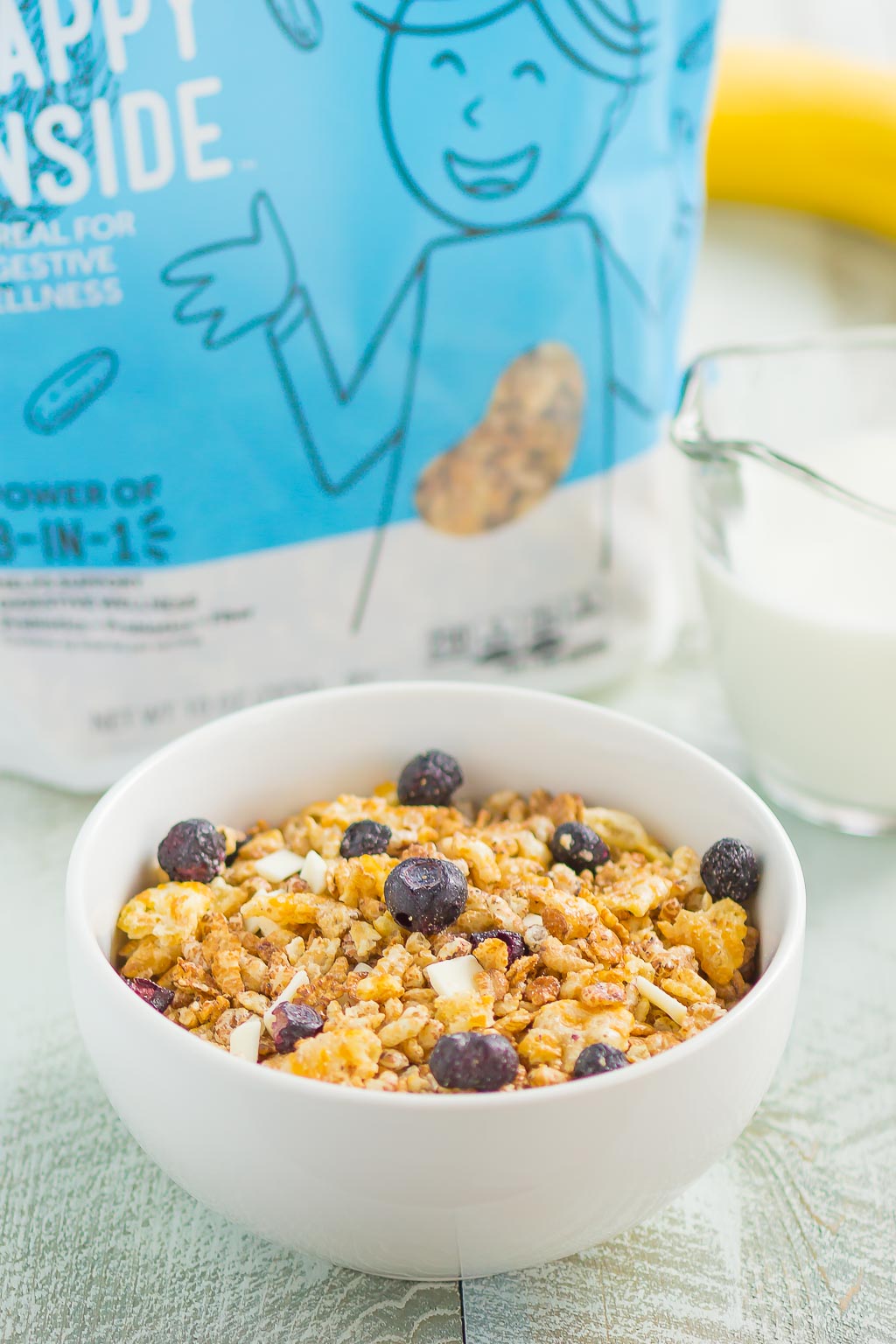 I will admit that I don't take breaks during the day as often as I should, so I've made a point to do that more. Around mid-afternoon, I like to step away from my computer and curl up with a good book, a magazine, or flip through my DVR to see what show I can catch up on. It helps to clear my mind and relax for a bit.
And, of course, a snack is not far behind, either. My favorite afternoon break involves a tasty treat!
I usually will reach for some yogurt, fruit, or granola, but now that I found  Happy InsideTM Cereal, it's been my new go-to snack. I can feel good about enjoying it because of the whole grains and delicious taste. Have I mentioned how good the blueberry flavor is? So good, friends!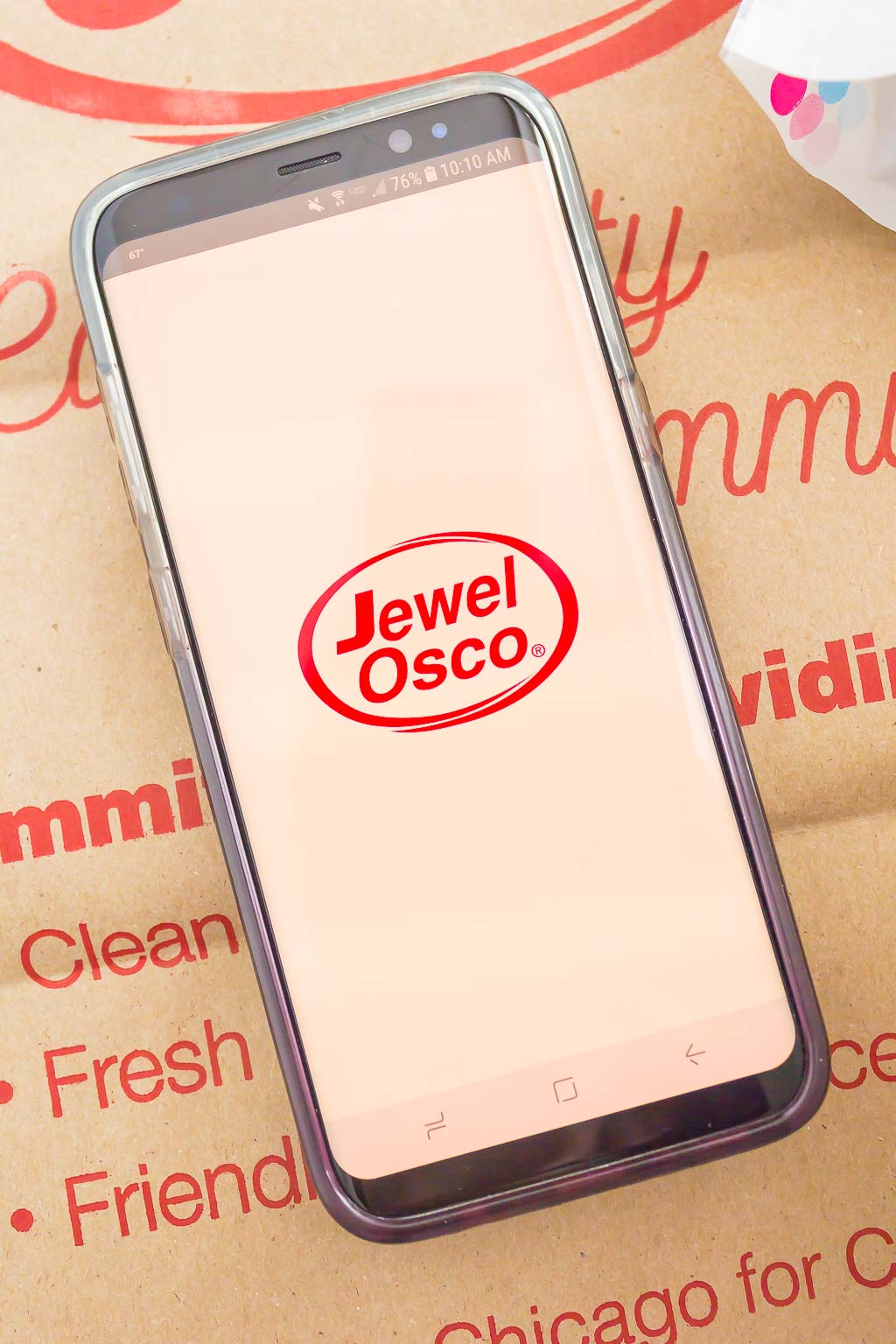 If I'm being honest, I actually like cereal more now as an adult than I did as a child. So you can bet that I always have a stash in my pantry. And the hubster loves  Happy InsideTM Cereal, too, so it's a snack that we can both count on to satisfy the munchies.
So, when the mid-day slump is upon you and you need that afternoon break, reach for this treat and clear your mind. Whether you get outside for a quick walk, read a book, or scroll through your phone, some time away will do you good!