My Favorite Amazon Finds ~ April
This post contains affiliate links.
Guess who's back? Back again?
Amazon Finds is back. Back again!
If you were a child of the 90's, then I'm sure you recognize Slim Shady's famous line. Trying to bring in a little bit of silliness today, friends. Is it working?
Ok, let's get down to business. I'm back with another Amazon Finds post for April! And just incase you missed the first post from February, you can view it here.
Like I mentioned before, I'm going to try to make this a monthly (or maybe every other month) series, depending on what and how much I buy from Amazon. Some months I buy boring stuff, like Swiffer refills or a printer ink. But, if my monthly purchases are more exciting, then I'll share with you!
Are you enjoying this? Want to see more? Something different? Have something I need to try from Amazon? Let me know in the comments below!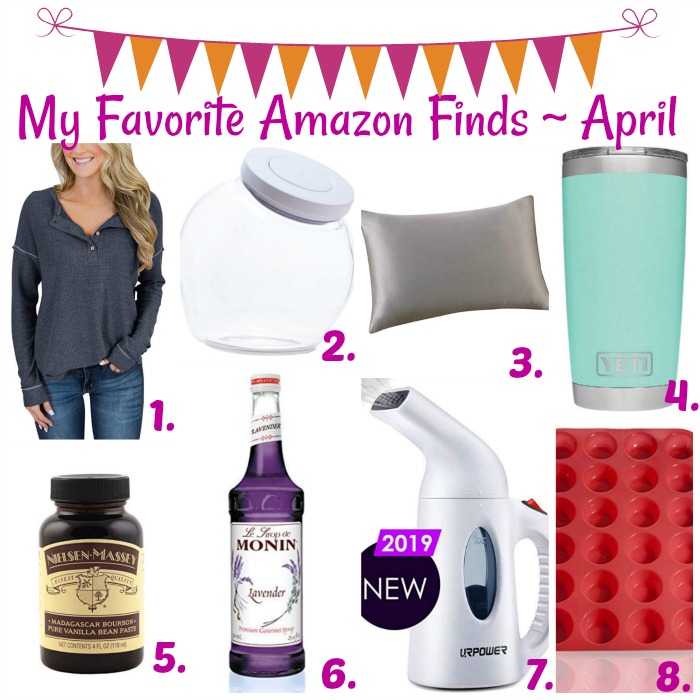 1. Long Sleeve Henley Top: This is another favorite clothing purchase from Amazon. If you love henley tops, this one is a keeper. Comes in a bunch of different colors and is under $20. It runs true to size (in my opinion) and isn't too baggy, or form fitting, just the way a henley top should fit.
2. OXO Good Grips Medium Cookie Jar: My husband is a cookie fanatic, so I finally bought a cookie jar! Instead of resealing the cookies in a large ziploc bag like we always do, we now keep our cookies in this airtight container, stored in our pantry. Sturdy, airtight, and inexpensive, too.
3. Natural Silk Pillowcase: I've been wanting to try the SLIP silk pillowcase for a looongtime now, but couldn't justify the $80 pricetag for just a pillowcase! So, instead, I tried this one and love the results. It keeps your hair from damaging or breaking, is good for your skin and wrinkles (especially if you're a side sleeper), and is helpful for dry skin and morning bedhead. I bought the standard size case in grey and you just can't beat the price, or the benefits.
4. YETI Tumbler: Do you own a YETI? This was my first one (I bought the the Seafoam color) and did not disappoint. While I don't travel to work anymore since I work from home, I sometimes like to pour my coffee into this YETI so that it stays hotter longer. I'm the type of person that likes their liquids (coffee, soups, teas) to be almost boiling hot, so this does the trick, for the most part. Definitely keeps my coffee hotter than a regular mug and comes in some pretty colors, too.


5. Madagascar Bourbon Pure Vanilla Bean Paste: If you've ever made one of my baked goods, then you probably recall seeing me link to this vanilla bean paste before. It's by Nielsen-Massey and the only vanilla extract that I use in my kitchen. It's like a thin paste, so thicker than an extract, but not gloppy. It doesn't water down your recipes and uses real vanilla beans (you can see it in the paste). It gives the most delicious vanilla flavor! It is a bit pricier than regular extract, but a little goes a long way. I highly recommend this!
6. Lavender Syrup: I've shared this before on my Instagram stories and continue to use this syrup. Whenever I go to Nordstrom, I always stop by their coffee shop to get a lavender chai. This syrup is about as close as you can get to Nordstrom's kind (in my opinion) and is great to add to chai tea, coffee, and more.
7. Portable Garment Steamer: I bought this steamer on a whim after reading the reviews on Amazon. I don't like ironing, and this steamer makes it much more tolerable to get wrinkles out of clothes. Plus, it looks easy to travel with and is less than $25.
8. Silicone Mini Muffin Pan: If you hate cleaning muffin pans like I do (even with liners it gets messy) then you need to try this silicone pan. It's BPA free, nonstick and super easy to clean!


This post contains some affiliate links, which means that I make a small commission off items you purchase at no additional cost to you.