Let's get down to kitchen business today, friends!
I've been talking about sharing my favorite gadgets for a while now, and a lot of you said that you wanted to see my picks based on my reader survey.
Ask and you shall receive!
This is certainly not an exhaustive list, but just some of my most-used kitchen tools that makes my life a little easier when it's time to cook or bake.
So tell me, do you have any of these tools? Anything I need to have in my kitchen? Let me know!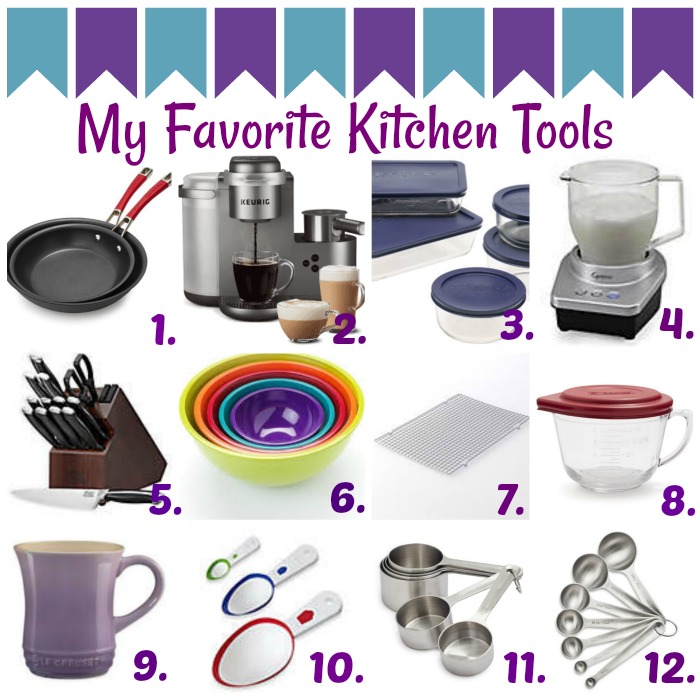 1. Non-stick skillets: I recently replaced most of my skillets with these durable (and inexpensive) non-stick skillets. The ones I have don't have a red handle like the one pictured, but other than that, everything is the same. I love these and use them all the time. The two sizes are perfect for just about any kind of dish.
2. Keurig K-Cafe: If you follow me on Insta-stories, you'll often get a sneak peak of my coffee (or at least a funny coffee meme on a daily basis). I love and use my Keurig every day! I upgraded to the K-Cafe last month and absolutely love it! You can make a regular cup of coffee, lattes or cappucinos. Plus, it's sleek looking and their newest model. This performs beautifully and makes the perfect cup of joe. Plus, if you buy from this site, you just might be able to snag a coupon!
3. Glass food storage containers: I have this exact set for 6 years now and absolutely love it! The entire set is less than $16 and holds up very well to the dishwasher and microwave. I prefer storing food in glass containers over plastic because certain foods won't stain the container like it would in plastic, and doesn't retain a smell after being washed.
4. Milk frother: If you follow me on Instagram, then you might have seen me use my frother for homemade lattes or hot chocolate. You can pour milk (or almond milk, coconut milk, ingredients for hot chocolate) into the frother, press a button, and it has an option to keep the liquid cold, warm it up, or make it hot. So nice for when I want to get a little fancier with my cup of joe!


5. Cutlery set: I just upgraded my kitchen knives to this set after Christmas and love the quality and versatility. The wooden block also comes with a built-in sharpener and a set of kitchen shears. It's also a pretty dark color and looks nice when sitting on your countertop. Plus, you can't beat the price!
6. Mixing bowl set: I've had these mixing bowls for over 5 years and these are holding up strong. Whenever I need to mix up a cake batter or stir together some meatballs, these bowls come in handy. The colors are fun, the sizings are versatile, and it's on sale, too!
7. Cooling rack for cookies, muffins, etc.: This is a must for me when making just about any kind of baked goods. After the goodies come out of the oven, I transfer them to this cooling rack to cook completely. It's easy to store, easy to clean, and at a great price point, too!
8. Glass Batter Bowl: I love using this bowl (with a handy pour spout!) when whipping up cakes, cupcakes or muffin mixes. It's big enough to mix everything together and makes it extra easy to pour into a cake pan or muffin tin. Definitely a must if you love to bake!


9. Le Creuset Mug: So this really isn't a kitchen tool per say, but it's a favorite of mine in the kitchen! Purple is my favorite color (and all Le Creuset dishes are gorgeous) so I just couldn't pass up this mug. I've this for about 8 years now and it's still going strong. Dishwasher and microwave safe, too. I love drinking my coffee and tea out of this pretty mug!
10. 3-Piece Batter Spoon Set: If you often struggle with how much batter to make for muffins, cupcakes, and even cookies, this set will solve those problems! I bought this over five years ago and it's still going strong. I always use this when I'm scooping batter into muffin tins so that I don't add too little, or too much.
11. Stainless Steel Measuring Cups: If you're looking for a durable, relatively inexpensive set of measuring cups, this one is it. I have several sets of plastic measuring cups, but always reach for these.
12. Stainless Steel Measuring Spoons: Like the measuring cups listed above, these are a great stainless steel option. Sturdy, lightweight, and inexpensive, too.


P.S. Make sure you are following me on Instagram! I share via Insta-stories daily, and you'll get a behind-the-scenes look of more about me. I also shared most of these tools there, too.
This post contains some affiliate links, which means that I make a small commission off items you purchase at no additional cost to you.