No-Bake Blackberry Cheesecake
This No-Bake Blackberry Cheesecake is creamy, flavorful, and easy to whip up!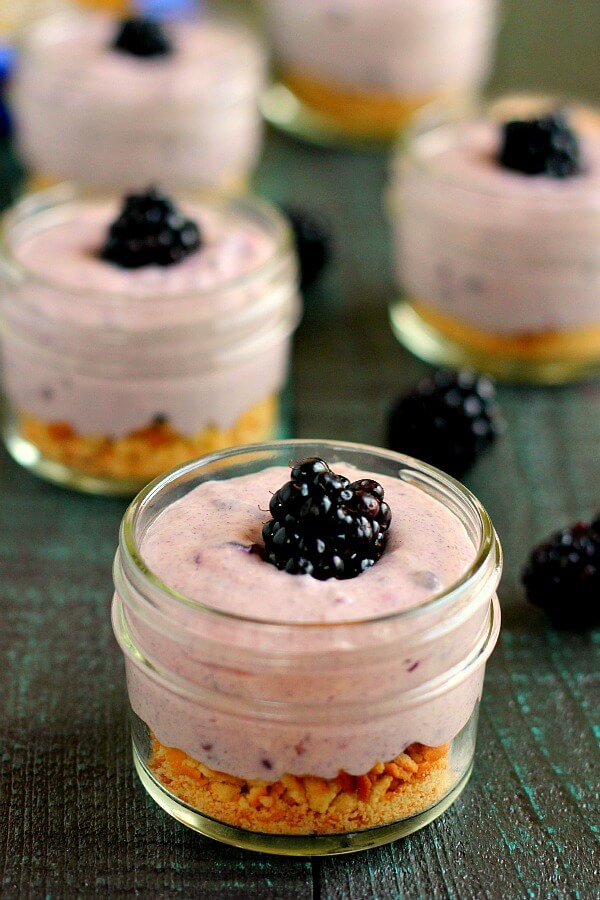 Memorial Day weekend is just around the corner, guys!
Can you believe it? It's the unofficial start of summer, which means that a lot of fun in the sun will soon be coming our way. And along with the holiday weekend comes parties, get-togethers, and barbecues. And that's one of my favorite things about summer…the food! Grilling burgers, eating pasta salads, and frozen drinks just scream warm weather to me. Are you the same way, too?
Along with the summer foods come the summer desserts. Fresh fruits and no-bake treats are the first dishes that pop into my mind.
This No-Bake Blackberry Cheesecake is creamy, flavorful, and easy to whip up. And because they're no-bake, that means there is no oven to turn on. And that's a bonus in the summer when it's 120 degrees out, right?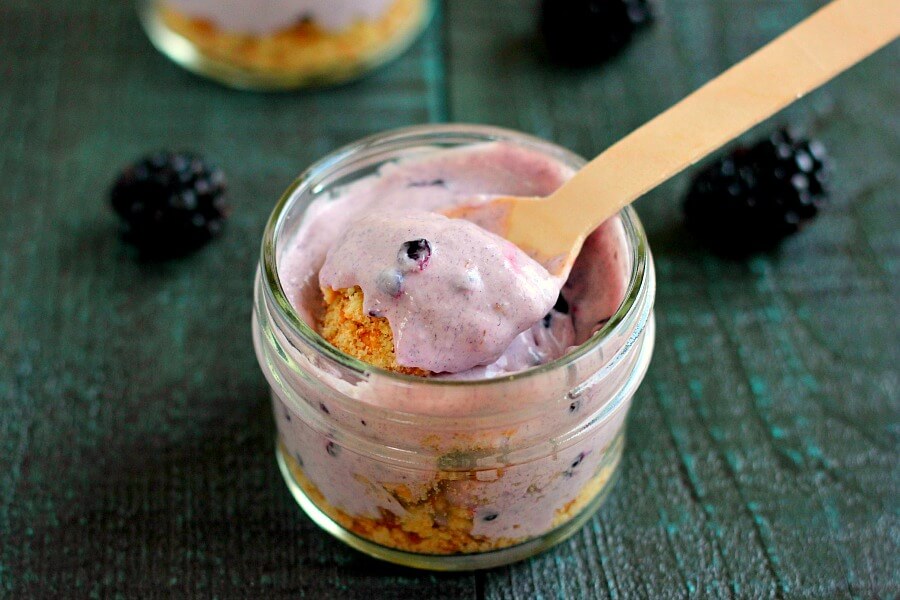 This No-Bake Blackberry Cheesecake is not only a delicious dessert, but it's also perfect for serving at parties or get-togethers.
Because you can make individual portions, it means that everyone gets just the right amount of mouthwatering cheesecake-goodness. And let's face it, mini foods always seem to taste better, right?
The creamy cheesecake batter is the perfect balance between the tart berries and sweet crust. And instead of using graham crackers for the crust, I got a bit fancier and used some crushed vanilla wafers.
And like most of my recipes, this No-Bake Blackberry Cheesecake is a breeze to whip up! The hardest part is waiting for the cheesecake to chill before devouring. Although, if you're like me and have no will power around tasty desserts, then feel free to indulge right away.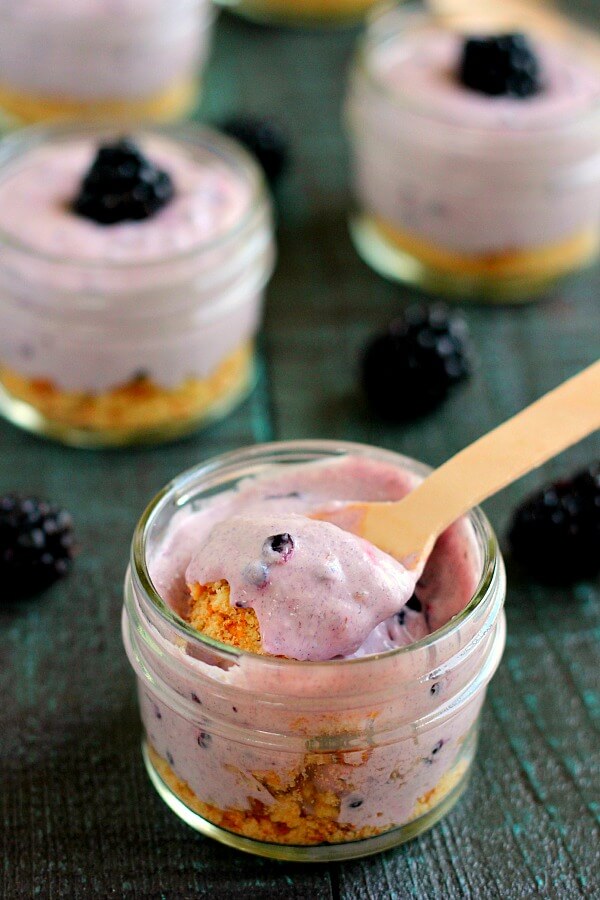 To start, you'll want to crush some vanilla wafers into fine crumbs. I usually mix my crust with some butter, but I decided to go the simple route and just use the cookie crumbs. Spread that onto the bottom of your trifle glasses and refrigerate while you make the batter.
Next, you'll want to whip some heavy cream until peaks form. Whisk together the softened cream cheese, powdered sugar, and vanilla. Drizzle with the blackberries and your No-Bake Cheesecake is almost ready. Assemble the batter over the vanilla wafer crust, refrigerate, and in about an hour, your dessert is ready to be devoured.
Filled with a sweet cheesecake batter and chunks of blackberries on top of a cookie crust, this No-Bake Blackberry Cheesecake is the perfect sweet treat to satisfy your cravings!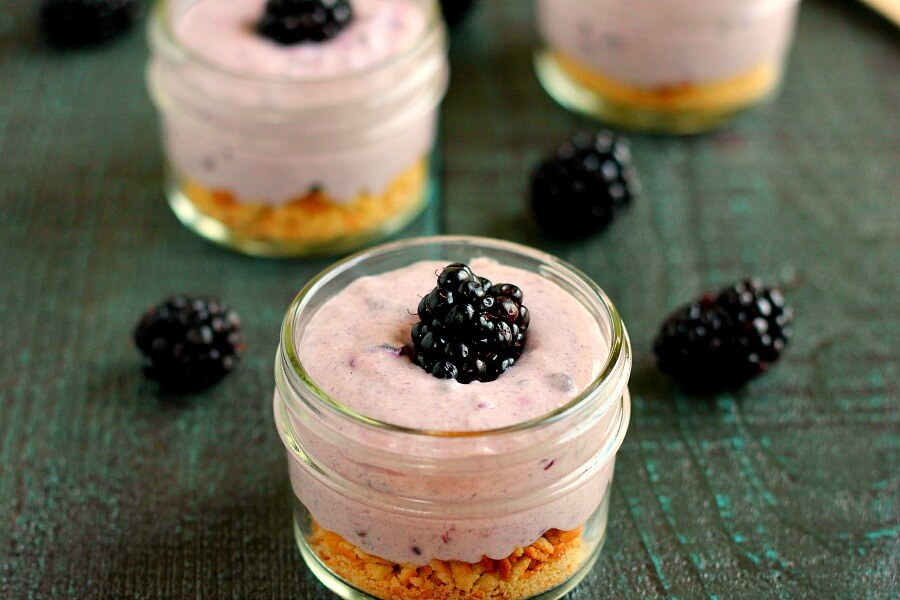 Looking for more cheesecake recipes? I've got you covered!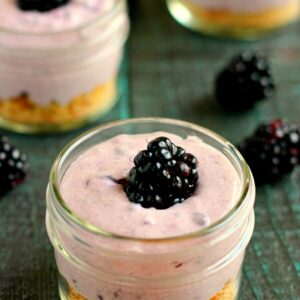 No-Bake Blackberry Cheesecake
Ingredients
15 vanilla wafer cookies
2 tablespoons unsalted butter, melted
1 block (8 ounces) cream cheese, softened
1 cup heavy cream
¼ cup granulated sugar
½ teaspoon vanilla bean paste, or vanilla extract
12 ounces fresh blackberries
Whipped cream for garnish, if desired
Instructions
In a food processor, blend vanilla wafers into fine crumbs. Alternatively, you can add wafers to a large ziplock bag and crush with a rolling pin. In a small bowl, mix crumbs and unsalted butter together. If needed, add more butter to hold together.

Spread cookie crumbs evenly on bottom of 6 small glasses or mini trifles. Refrigerate while preparing rest of dessert.

In a large bowl, whip cream cheese, heavy cream, sugar, and vanilla extract using a stand mixer with a fitted paddle attachment or hand mixer until smooth. Add in blackberries and mix until combined.

Spoon mixture into prepared glasses or trifles. Refrigerate for at least 30 minutes or until set. Top with additional blackberries and whipped cream, if desired.
Serving: 1serving, Calories: 265kcal, Carbohydrates: 26g, Protein: 2g, Fat: 18g, Saturated Fat: 10g, Cholesterol: 55mg, Sodium: 77mg, Potassium: 134mg, Fiber: 3g, Sugar: 16g, Vitamin A: 704IU, Vitamin C: 12mg, Calcium: 42mg, Iron: 1mg