Nutella Stuffed Chocolate Chip Cookies
These Nutella Stuffed Chocolate Chip Cookies are sure to satisfy your sweet tooth. Loaded with creamy Nutella and rich chocolate, you'll be baking these over and over again!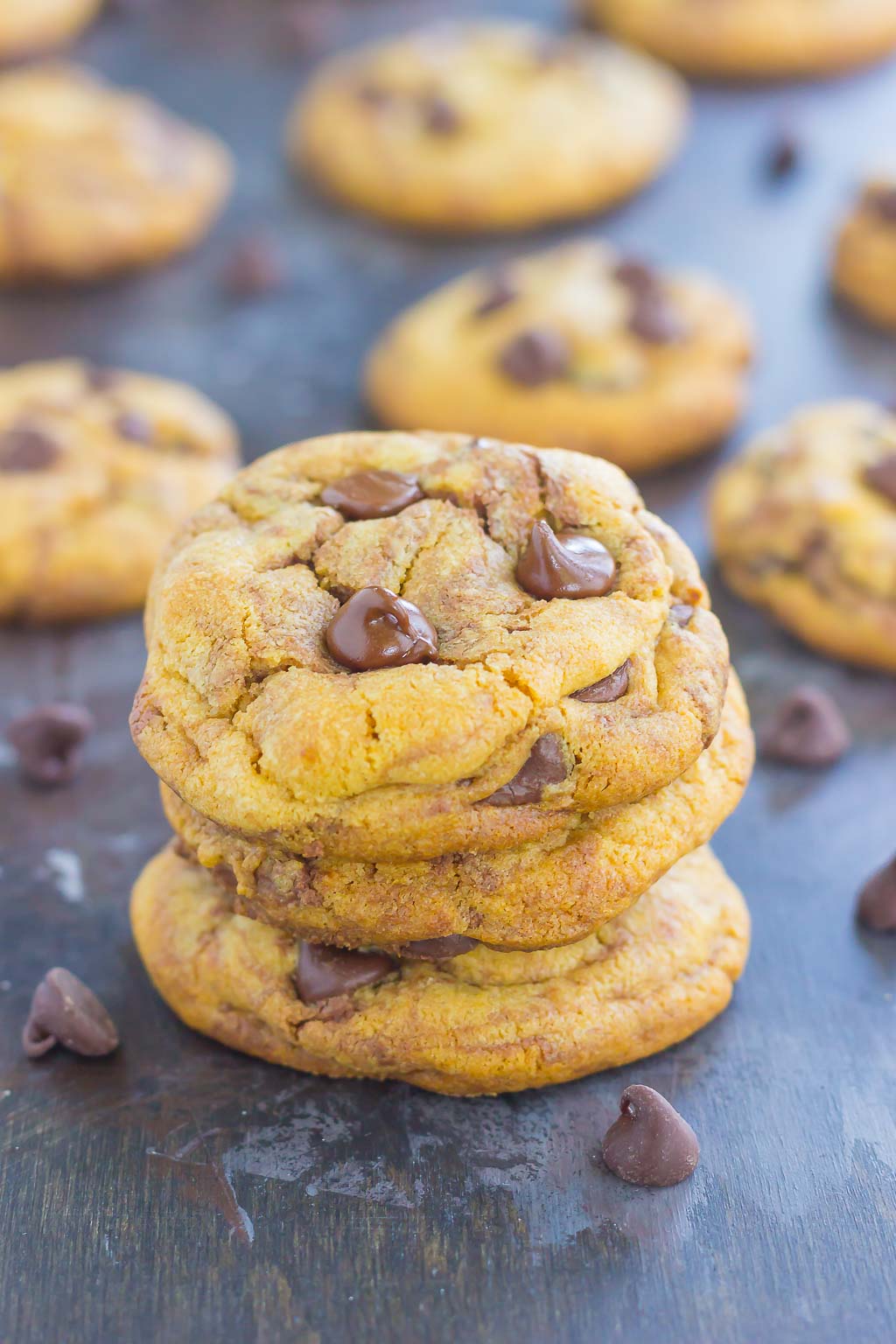 Chocolate chip cookies remind me of my childhood. It's a classic staple to me, one that most people adore.
I remember trips to the shopping mall with my brother, passing the Mrs. Field's shop. Does anyone remember that place? It was just a small storefront, where freshly baked cookies gleamed under the glass counters. And these weren't just any cookies, they were Mrs. Field's cookies. You could smell their home-made goodies a mile away.
And when my brother and I were extra good during our family shopping trip, we got to pick out a cookie of our choice. I always chose the milk chocolate, chocolate chip cookie. As soon as I got it, my mouth began to water in anticipation. The cookie was warm and the chocolate was all gooey and melted. One bite and I was in cookie heaven!
Nowadays, Mrs. Field's still remains in a few spots around my area, though I haven't tasted a cookie from there in years. But it will always take me back to my childhood and provide me with special memories. And as you can probably guess, chocolate chip cookies are my favorite.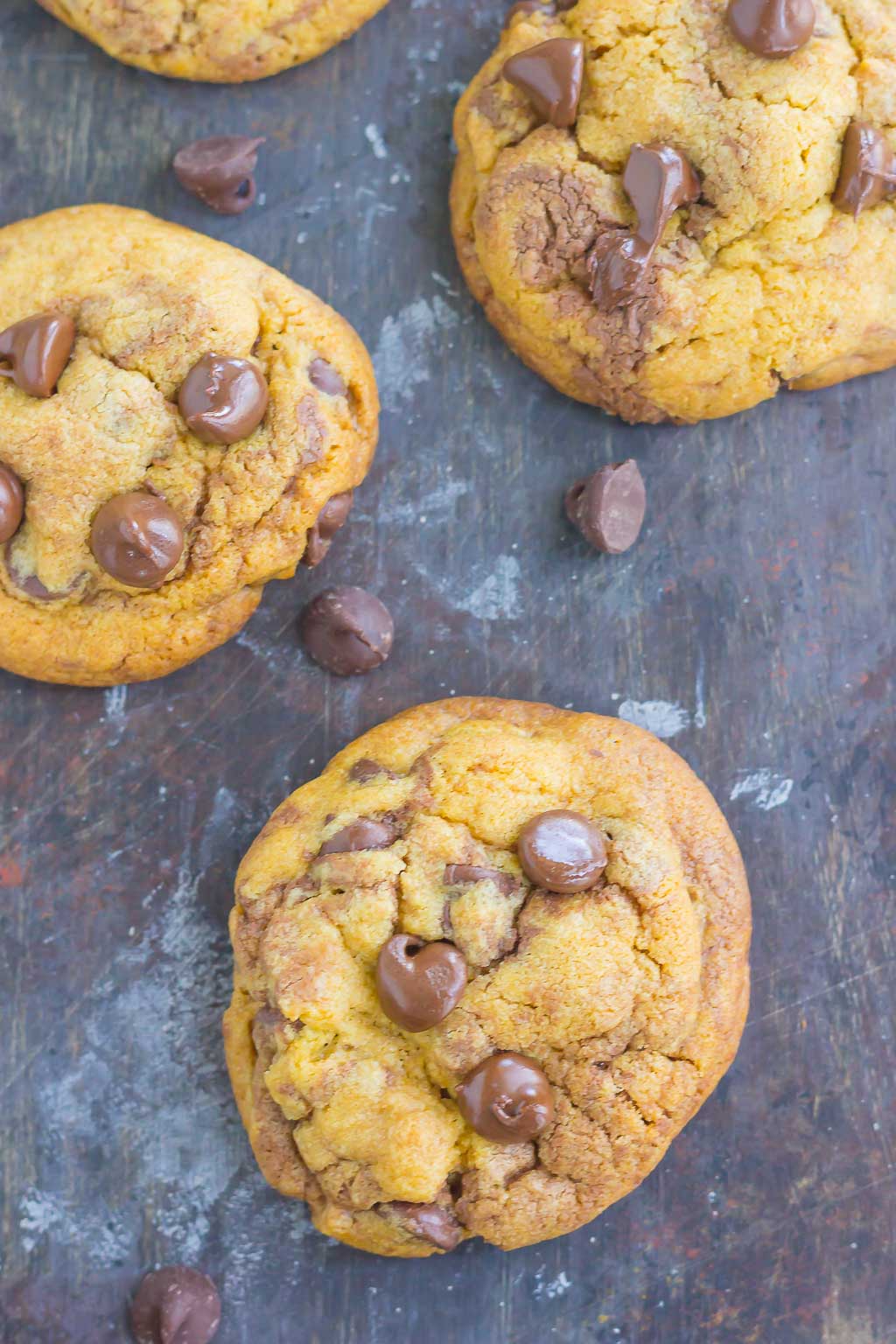 But do you want to know what my new favorite cookie is? Nutella Stuffed Chocolate Chip Cookies! Is there a better combination? Ok, maybe peanut butter and Nutella or caramel and Nutella…basically anything with Nutella. Am I right? I think all you Nutella fans out there are nodding your head in agreement.
So when I was deciding what kind of cookie I wanted to create last week, the first thought that popped into my head was chocolate chips, followed by Nutella. I still had almost half a jar left from my previous creation, so it seemed like a no-brainer to me.
Nutella is my new favorite spread. I say "new" because the first time I tried it was a little over a year ago. I know, where have I been? But needless to say, I am a huge Nutella lover now. So much, in fact, that I try not to buy it, otherwise I'm constantly eating it straight from the jar. I have no shame, guys. I'm really that addicted. But I was happy, almost relieved, that I thought to combine it with my favorite cookie. That way, it gets used up in the cookies and doesn't go straight from the jar into my mouth! Side note, I'm working on my self-control of Nutella, don't you worry!
Let me just say that these Nutella Stuffed Chocolate Chip Cookies turned out AH-MAZING! And I'm not just being biased because I made them. Really! The cookies baked up with the perfect balance of chocolate and Nutella, while remaining soft, moist, and chewy. Those are a definite must in my baked goodies.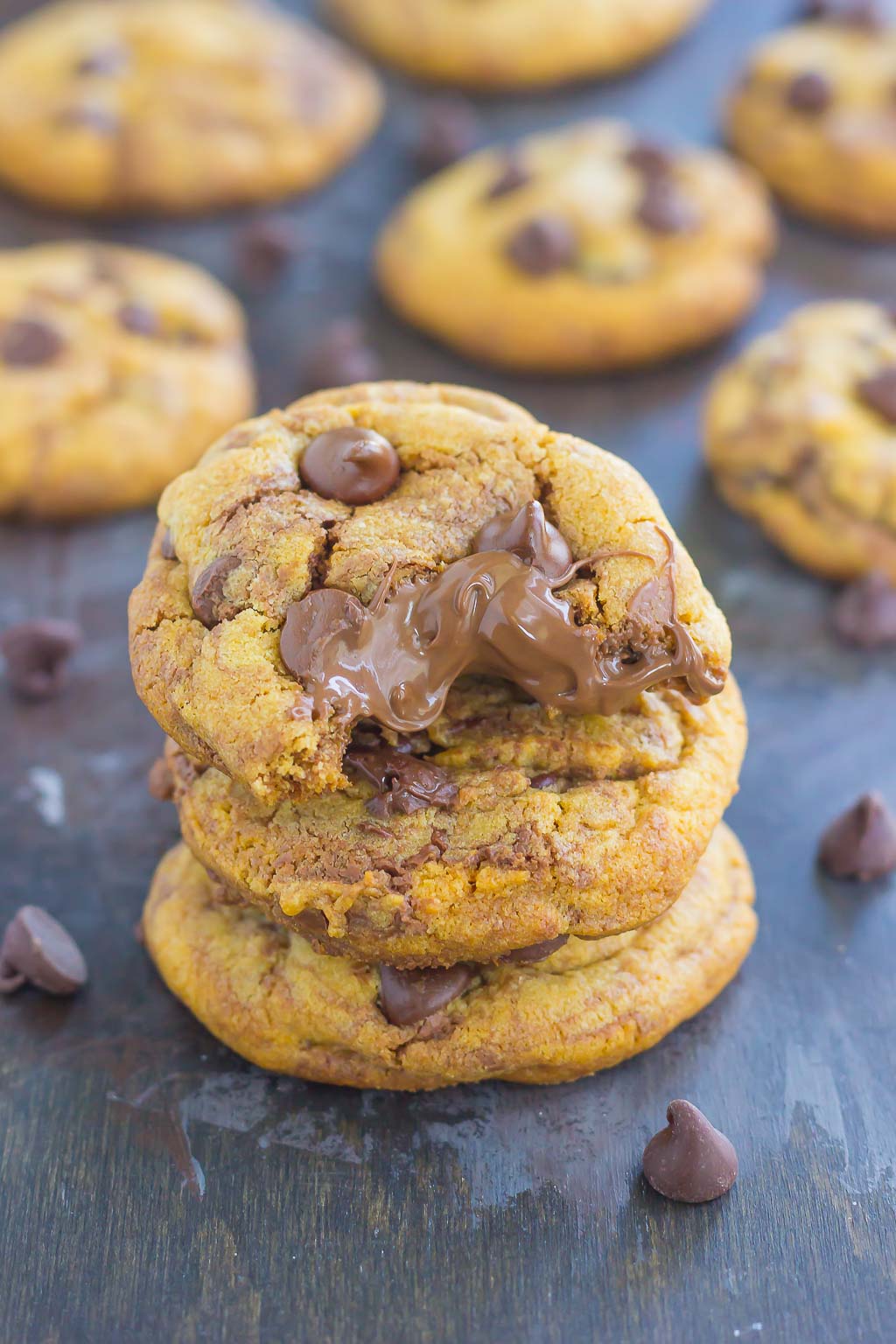 If you don't like slightly under-baked cookies, then look elsewhere, because you won't find them here. My standard chocolate chip cookie recipe has the same basic ingredients as most others, except for one teeny, tiny secret ingredient.
Ready for it?
Instant vanilla pudding mix. While it doesn't provide much of a vanilla taste, it contains starch, which makes the cookies soft and chewy. I'm sure you've seen some cookie recipes that call for cornstarch, right? And while that is a good ingredient to add, the vanilla pudding mix does just the same, with a touch of added flavor. And it's easy to switch up, too. If you're making chocolate cookies, try chocolate pudding mix instead!
Now that we've got my secret (shhhh) ingredient out of the way, let's get down to business. These Nutella Stuffed Chocolate Chip Cookies bake up the same way as regular cookies, except that I chilled the batter first.
In fact, I usually chill most types of cookie dough batter for at least an hour. The reasoning? It will help make your cookies bake up round and puffy, rather than flat and spread out. So with the added ingredient of Nutella in these babies, chilling is mandatory. Because the Nutella is swirled in, it makes the dough more wet and heavy. Therefore, chilling the dough will ensure that you are able to shape these into round balls, and also so that they bake up nice and beautiful.
Be sure to have a glass of milk handy when these cookies come out of the oven because they will fill you with chocolatey-Nutella-y goodness! I promise you will love these Nutella Stuffed Chocolate Chip Cookies. I pinky swear! So what are you waiting for? Go make these today, and hurry!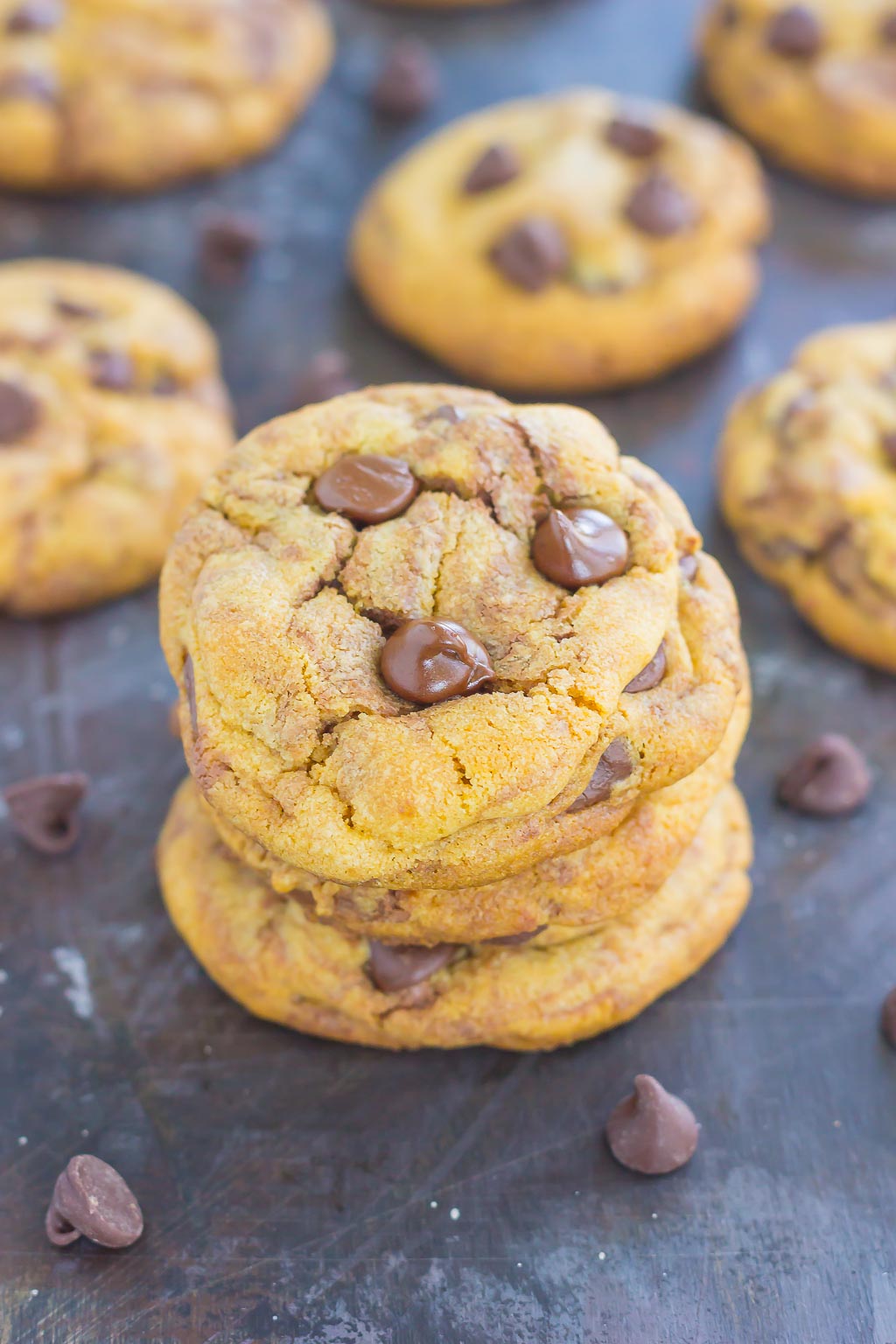 Looking for more nutella treats? I've got you covered!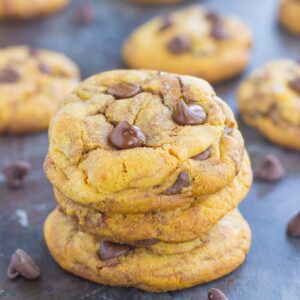 Nutella Stuffed Chocolate Chip Cookies
These Nutella Stuffed Chocolate Chip Cookies are sure to satisfy your sweet tooth. Loaded with creamy Nutella and rich chocolate, you'll be baking these over and over again!
Ingredients
1 cup unsalted butter, softened
¾ cups packed light brown sugar
⅓ cup granulated sugar
2¼ cups all-purpose flour
1 teaspoon baking soda
1 (3.4 ounce) package instant vanilla pudding mix
2 eggs
1 teaspoon vanilla bean paste, or vanilla extract
2 cups semi-sweet chocolate chips
½ cup Nutella
Instructions
Preheat oven to 375°F. Line two baking trays with a silpat mat or parchment paper.

In a large bowl, cream together the butter, brown sugar, and white sugar until light and fluffy. Add pudding mix, eggs, and vanilla. Mix well.

Slowly add in the flour and baking soda, ½ cup at a time, so that mixture absorbs well. Fold in chocolate chips, then swirl in Nutella. Refrigerate for at least a half hour, or up to two hours (See note below).

Shape dough into rounded balls and drop onto baking trays. Bake for 12-15 minutes, or until the edges are golden brown.

Remove from oven and let cool on baking pan for 10 minutes, then move to a wire rack to cool completely.
Notes
It's best not to refrigerate dough for more than two hours, otherwise will become too hard and difficult to shape into balls.
Because of the extra moisture of the Nutella, these cookies take slightly longer to bake than regular chocolate chip cookies. Be sure to monitor your oven closely, as baking times will vary.
Serving: 1cookie, Calories: 182.83kcal, Carbohydrates: 20.27g, Protein: 2.01g, Fat: 10.49g, Saturated Fat: 6.71g, Cholesterol: 23.25mg, Sodium: 38.91mg, Potassium: 93mg, Fiber: 1.24g, Sugar: 12.36g, Vitamin A: 175.78IU, Calcium: 18.56mg, Iron: 1.25mg