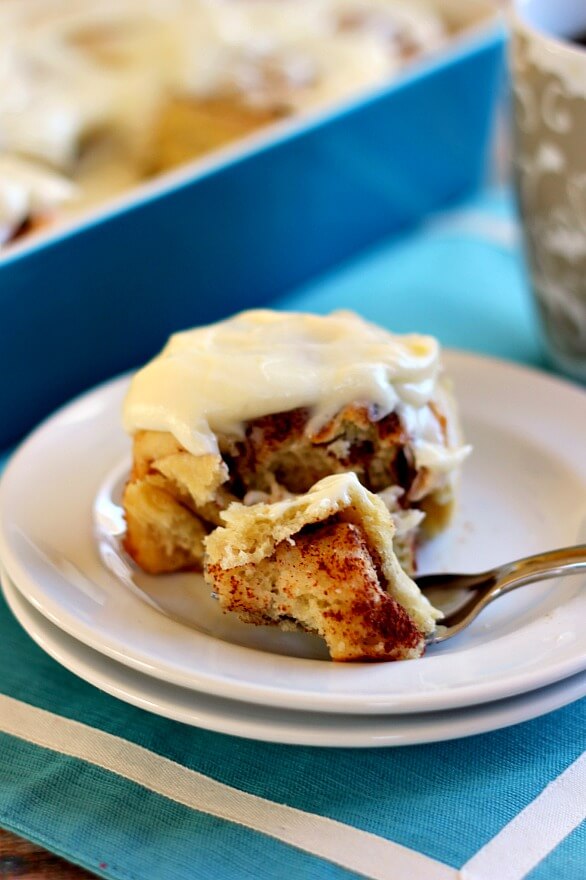 Now don't flip out, guys, but when I was younger, I didn't really like Cinnabon cinnamon rolls all that much.
Sure, I would eat one if my parents' bought a four pack from the mall after a long day of shopping, but it just wasn't my favorite. Even though I have always been a huge fan of cinnamon, those rolls just didn't appeal to me. And if I had a choice between a cinnamon roll or cookie, I always picked the latter.
Stop shaking your head now, because guess what? I finally discovered my love of cinnamon rolls years later. I'm just a teeny tiny bit late to jump on the bandwagon, but I do love those ooey gooey treats. And while I never buy Cinnabon rolls just for myself, I will gladly eat one if offered to me.
But up until now, I didn't discover a true cinnamon roll. You know, the home-made kind, with thick frosting, a warm center, and cinnamon-y goodness oozing out of it.
Sure, Cinnabon rolls are good for the store-bought kind, but the ones that you make in your own kitchen are even better. They really are! And I can prove it to you with these Overnight Cinnamon Rolls with Cream Cheese Frosting.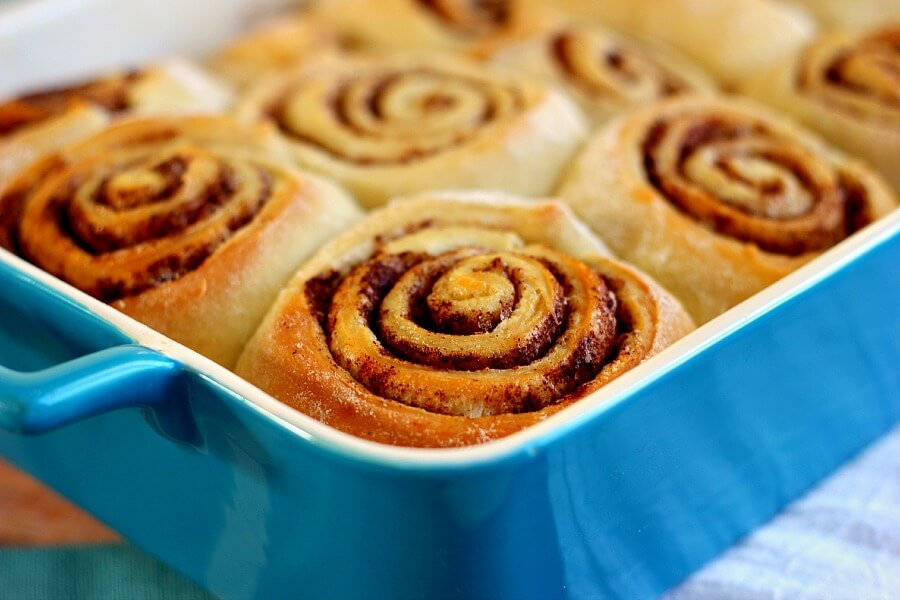 I was in the mood for some home-made cinnamon rolls last weekend.
The kind that takes some prep work and sits overnight. Do you get into kicks like that? I'm all about whipping up easy treats (that's mainly what my blog focuses on), but once in a while, you just gotta make those time-consuming dishes that are totally worth the effort.
And because the hubster and I whipped up those canned cinnamon rolls that you just pop into the oven several days before, my cinnamon cravings weren't quite satisfied.
Enter in these Overnight Cinnamon Rolls with cream cheese frosting. They're soft, fluffy, and bursting with just the right amount of cinnamon.
These rolls are made the night before and then put in the oven to bake in the morning, resulting in a sweet roll, oozing with flavor and cream cheese frosting. After all, that's a requirement for cinnamon rolls, right?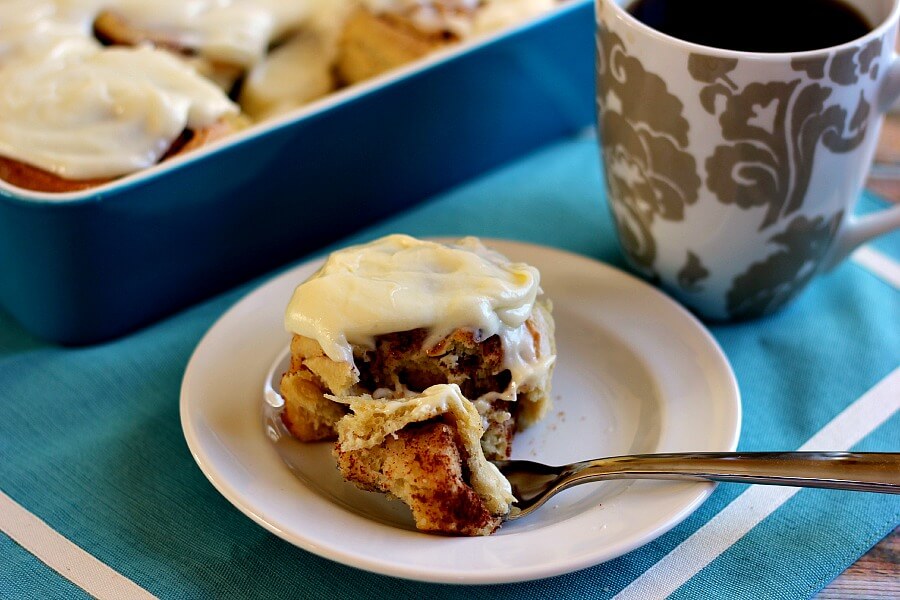 And while these Overnight Cinnamon Rolls do take a little bit of preparation, it's definitely worth it, friends! After the dough is made, it requires at least an hour and a half of rising time.
Then comes the fun part: rolling and sprinkling! Most recipes call for the dough to be rolled into a rectangle, but mine was more of an oblong shape. If you can roll the dough into a rectangle, you get bonus points!
After the rolling, slather on a stick of butter (I didn't say this recipe was healthy, did I?) and sprinkle some cinnamon and sugar on top.
Starting with the long end, roll the dough tightly. Using a serrated knife, cut into twelve rolls and place into a lightly greased 9×13 baking pan. Then pop it into the refrigerator overnight!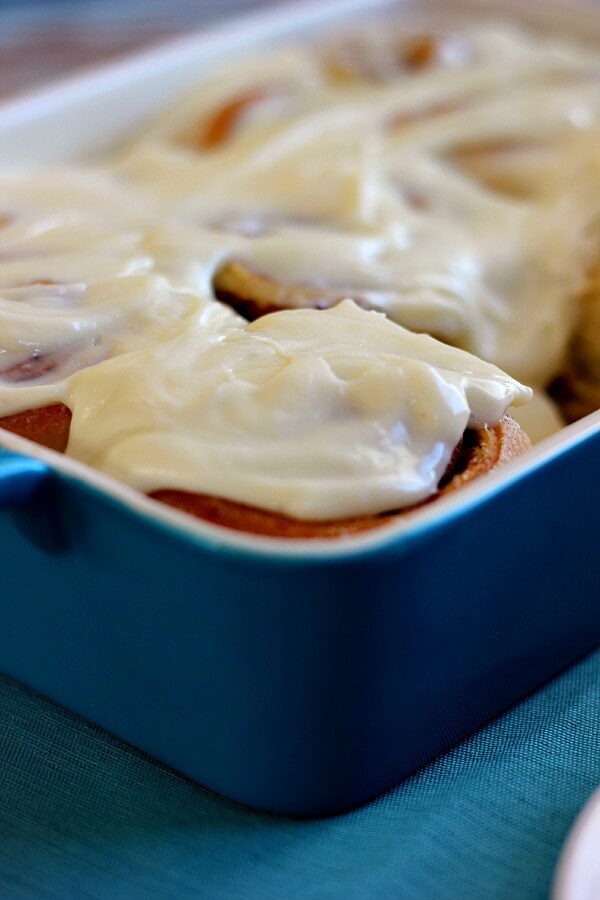 When you wake up in the morning, these Overnight Cinnamon Rolls are almost ready to be baked. It's important to take them out of the refrigerator and let rest in a warm spot for about a half hour so that they can rise slightly.
Once the rolls are ready, place them in the oven to bake for about 25 minutes. As the cinnamon rolls are working their magic, prepare the delectable cream cheese frosting. And I won't tell if you sneak a spoonful or two of that delicious spread!
 Once these cinnamon rolls come out of the oven, prepare to be amazed. Move over Cinnabon, there's a new roll in town! Buttery, full of sweet cinnamon and sugar, and slathered with cream cheese frosting, these cinnamon rolls will be your new favorite breakfast, guaranteed!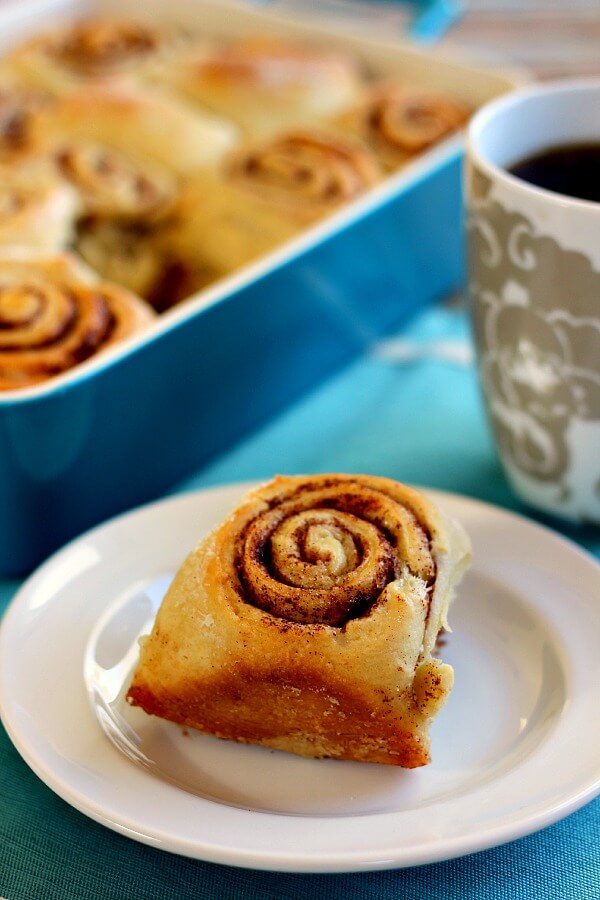 Overnight Cinnamon Rolls
These Overnight Cinnamon Rolls are soft, fluffy, and bursting with just the right amount of cinnamon!
Prep Time 30 minutes
Cook Time 25 minutes
Total Time 55 minutes
Servings 12 rolls
Ingredients
DOUGH
2¼ teaspoons (1 packet) dry active yeast
2 tablespoons warm water
1 cup milk any kind
¼ cup sugar
1 egg beaten
3½ cups all purpose flour
¼ teaspoon salt
6 tablespoons melted unsalted butter
FILLING
½ cup (1 stick) butter softened
½ cup white sugar
5 tablespoons ground cinnamon
CREAM CHEESE FROSTING
4 tablespoons unsalted butter softened
8 ounces cream cheese softened
2 cups powdered sugar
¼ cup heavy cream
Instructions
DOUGH:
In a large bowl, combine yeast and warm water. Stir to dissolve.

Add milk to yeast and combine. Add in sugar and egg, mixing thoroughly.

Gradually stir in 1 cup of flour and mix well. Pour in melted butter and salt and combine by hand.

Add in rest of flour (2 1/2 cups) and combine by hand until dough forms a large bowl and pulls away from sides of bowl.

Cover the dough and let rise for about an hour.

Once dough as doubled in size, lightly flour a working surface.

Turn dough out and knead several times, adding flour to top and bottom of dough to ensure that it doesn't stick, if needed.

Roll dough out to be about 1/4 inch thick, into a large rectangle or oblong shape.
FILLING:
Spread the softened butter all over dough, coming right to edges.

Sprinkle cinnamon and sugar over top of butter.

Using the long edge, roll dough all the way up. Using a serrated or other sharp knife, cut dough into twelve pieces.

Place into a lightly greased 9x13 baking pan with swirl side up. Cover and refrigerate overnight (or at least 8 hours).

In the morning, remove rolls from refridgerator and uncover. Let rest for about about 45 minutes in a warm place.

Preheat oven to 350F. Bake cinnamon rolls for 20-25 minutes, or until tops are golden brown.

Remove from oven and frost with cream cheese frosting.
CREAM CHEESE FROSTING:
While cinnamon rolls are baking, cream together butter and cream cheese with an electric mixer or stand mixer with fitted paddle attachment.

Slowly add in powdered sugar, 1/2 cup at a time. Once everything is combined, beat in heavy cream and mix until smooth.

Frost cinnamon rolls once done baking.