The Ultimate Foodie Holiday Gift Guide
This post contains affiliate links.
It's that time of year when the cookies are overflowing, eggnog is enjoyed by the Christmas tree, and the stores are overcrowded with people trying to find the perfect gift for that special someone.
No matter who you are shopping for, it can often be a daunting task. Take my dad, for example, he's a hard person to buy for! He always says he doesn't need anything, so I try to stretch my imagination year after year for a somewhat exciting gift.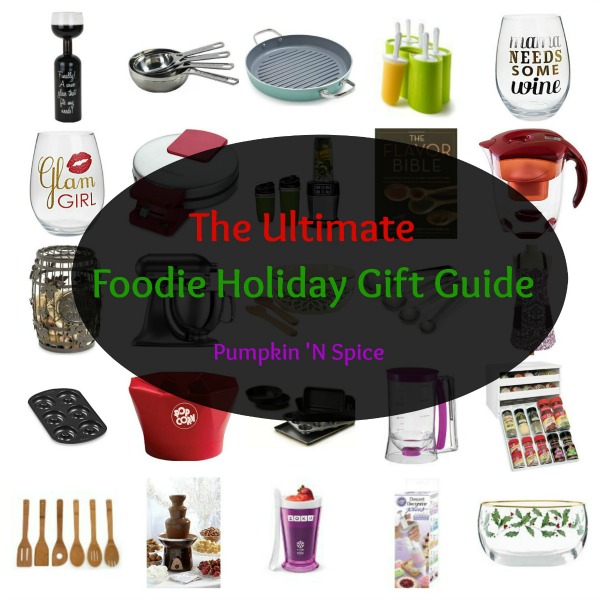 If only my dad was a foodie, then I would have lots of ideas! And that's where The Ultimate Foodie Holiday Gift Guide comes into play. If you have people to buy for that love to cook and bake, but you're struggling for ideas, then I've got the perfect list for you! This list is hand-picked by me and is set to fit any budget, big or small!

For the wine lovers:
Ultimate Wine Bottle Glass: This glass holds a full bottle of wine and is sure to be the hit of any party!
"Mama Needs Some Wine" Stemless Wine Glass: A perfect gift for all of those moms who need some wine time!
Ozeri Maestro Electric Wine Opener: This high-tech opener comes with an infrared wine thermometer and digital LCD. It's perfect for the wine expert in your life!
Wine Barrel Cork Cage: This decorative piece is perfect to store those leftover wine corks in!
Tovolo Cocktail Shaker: This stainless steel shaker is perfect for mixing sangria, mixed drinks, and more!
"Glam Girl" Stemless Wine Glass: For the glamorous girls in your life!

For the chefs:
Non-stick 11″ Ceramic Grill Pan: This grill pan is sturdy and performs like a cast iron skillet, but with easy clean-up!
Cuisinart Round Classic Waffle Maker: For those lazy days when you just need those waffles!
Lodge Miniature Skillet: Grab that skillet and cook, bake, sear, and more!

For the bakers:
KitchenAid Artisan Series 5 QT Stand Mixer with Pouring Shield: Every baker needs a KitchenAid Mixer, and this just happens to be my favorite one!
Norpro Nonstick Mini Pie Pans, Set of 4: With these mini pie pans, you can whip up an adorable dessert that is sure to please everyone!
Cake Batter Dispenser with Measuring Label: No more messy cupcake tins or spilled batter, this dispenser is easy to use an gives you the perfect amount of batter!
Calphalon Nonstick Bakeware Set, 6-pieces: This set is perfect for the beginning baker or for the seasoned pros that just need an upgrade. Filled with a variety of pans, there's something here for every baker!
Le Creuset Stainless Steel Measuring Cups, Set up 4: Everyone needs good quality measuring cups and these definitely do the trick!
All-Clad Stainless Steel Measuring Spoons, Set of 4: Ditch those plastic measuring spoons an upgrade to these quality silver, stainless steel ones!
Wilton Dessert Decorator: Frost those cakes and cupcakes like a pro with this handy kit from Wilton!
Wilton Nonstick 6-Cavity Donut Pan: Now you can whip up your own donuts at home with this non-stick pan!

Other Must-Have Items:
Zoku Teal Ice Cream Maker: This makes the perfect gift for those ice cream fanatics!
Nutri Ninja: This easy blender is perfect for smoothies, shakes, juices, and more!
YouCopia Chef's Edition SpiceStack 30 Bottle Spice Organizer: Grab those spice bottles and get organized for the new year!
Chef'n Pop Top Microwave Popcorn Popper: Now you can make your own, healthier popcorn at home in just minutes!
Zoku Slush and Shake Maker: You can make a variety of drinks in a matter of minutes with this fun and eye-appealing shake maker!
Zoku Classic Pop Molds: Get ready for summer and break out the fun flavors by using these pop molds!
Wilton Chocolate Pro 3-Tier Chocolate Fountain: This fun dessert item is perfect for the chocolate lover and is sure to be a hit at any party!
Printed Damask Chef Kitchen Apron: A must-have for an cook or baker!
MAVEA Elemaris 9-Cup Water Filtration Pitcher: An easy and convenient way to filter water!

Seasonal Serving Pieces:
Lenox Holiday Glass Bowl: This bowl is the perfect piece to serve alongside your holiday parties!
Lenox Holiday Salad Bowl with Wooden Servers: This salad bowl makes those leafy greens look even better!
Spode Christmas Tree Mitten Dishes, Set of 2: These festive dishes are perfect for appetizers, dips, and more!

Cookbooks:
The Pioneer Woman Cooks: Dinnertime
Fifty Shades of Chicken: A Parody in a Cookbook
The Unofficial Harry Potter Cookbook: From Cauldron Cakes to Knickerbocker Glory
Happy shopping, friends!
P.S. Don't forget to check out Gin Creek Kitchen and enter to win a Grocery Scale Kitchen Clock!