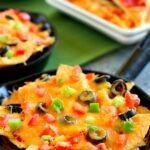 Print Recipe
Pizza Skillet Nachos
These Pizza Skillet Nachos are packed with two kinds of cheese, hearty pepperoni, black olives, tomatoes, and green peppers. Filled with classic pizza toppings, this is the perfect snack to munch on while relaxing on game day!
Preheat oven to 375F. Place chips onto the bottom of a nine inch cast iron skillet or 4 mini cast iron skillets.

Top chips with pepperoni, black olives, green pepper, tomatoes, onions and cheese.

Place skillet(s) into the oven and bake until cheese is melted, about 15 minutes.

Remove from the oven and top with a sprinkling of tomatoes and black olives, if desired.