Packed with fiber, whole grains, and chia seeds, these Peanut Butter Energy Bites are sure to fuel you up and keep you going all day long!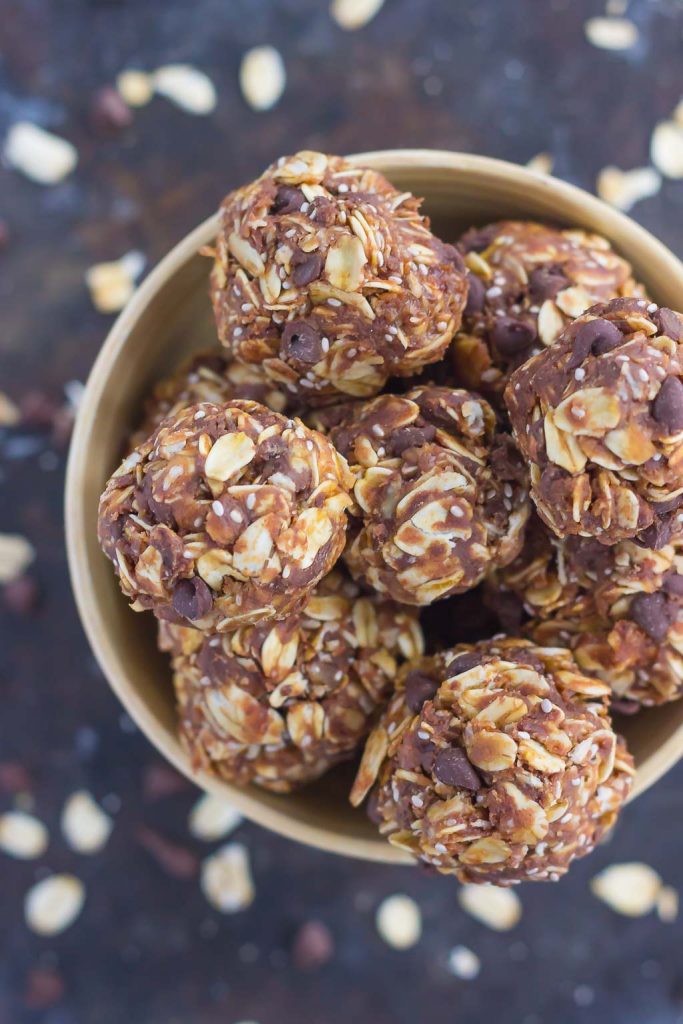 *May 2017 Update!** This recipe was originally posted in May 2014. I decided that the photos desperately needed updating, so I reshot the recipe (but still kept the ingredient list and directions the same). I also kept the original post/story below that I wrote three summers ago!**
I wish I was a morning person. Rise with sun, be productive bright and early, and have the energy to last all day. Sounds great, right? Unfortunately, that's not me. As much as I try, I will never get used to waking up early. My alarm clock goes off at 4:45am during the week for work and it never gets easier. You see, I love sleep too much. Way too much.
But I blame it on my body needing more than the average person, say for example, the hubster. He can go to bed at midnight and be up around 6:30am, bright-eyed and bushy-tailed. Craziness, I tell ya! But lil 'ole me, who likes to go to bed around 10pm, can easily sleep until 8 or 9am.
And in my younger days? I would stay up until 1 or 2am, and then sleep until noon! Go figure! And while I definitely can't sleep that long anymore (or even stay up that late), I still love sleep. Are you the same? 
Needless to say, I can be a bit of a grump in the mornings. Don't talk to me. Don't look at me. Forget you know my name. All I want is to talk to my pillow. Got it? Fortunately enough for the hubster, I'm usually not this grumpy on a daily basis. But growing up, that was me. My family got the brunt of it and I knew it. Nowadays, I'm a tad less monster-ish and just a little bit sleepy-ish, with a bit of a grump mixed in. Not too horrible, right? I think you non-morning people will agree with me, while you rise-with-the-sun-on-your-own folks are shaking your head in disgust.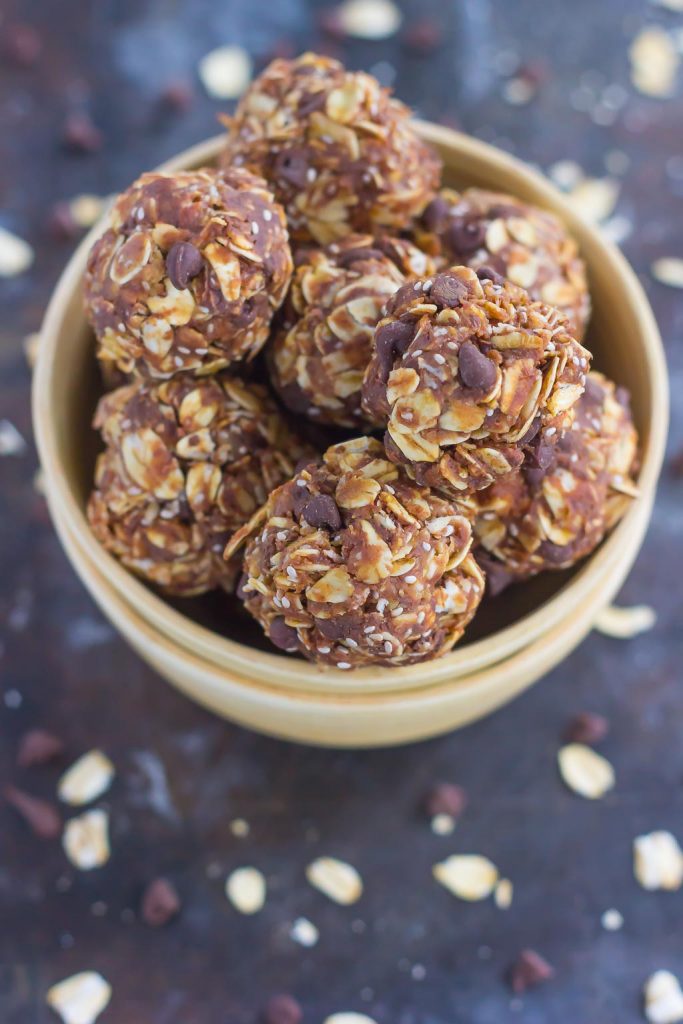 But one thing I think we all can agree on are devouring these Peanut Butter Energy Bites. These little guys are a special treat that gets me going in the mornings and clears my head out of the fog just a little bit earlier than normal. Packed with fiber, whole grains, and chia seeds, these energy bites are sure to fuel you up and keep you going all morning (or afternoon) long!
And the best part, besides being healthy? You don't have to bake them, simply refrigerate and that's it. And like my Peanut Butter Granola and Vanilla Chia Seed Pudding, these energy bites contain simple ingredients. So you can whip up these Peanut Butter Energy Bites and have them ready to go so that you don't feel sluggish later in the day.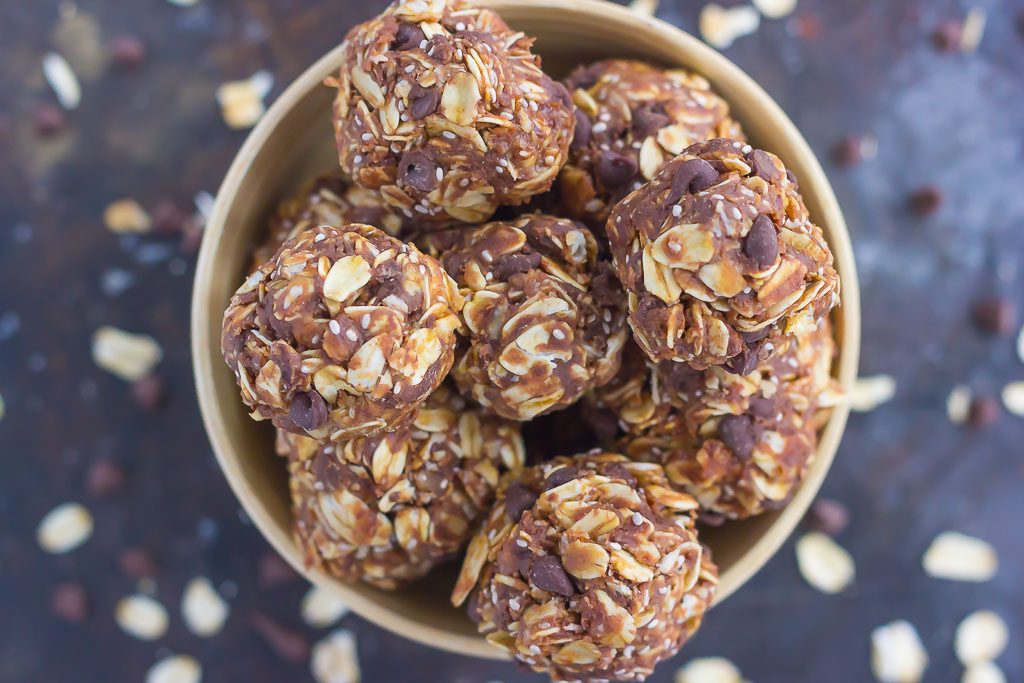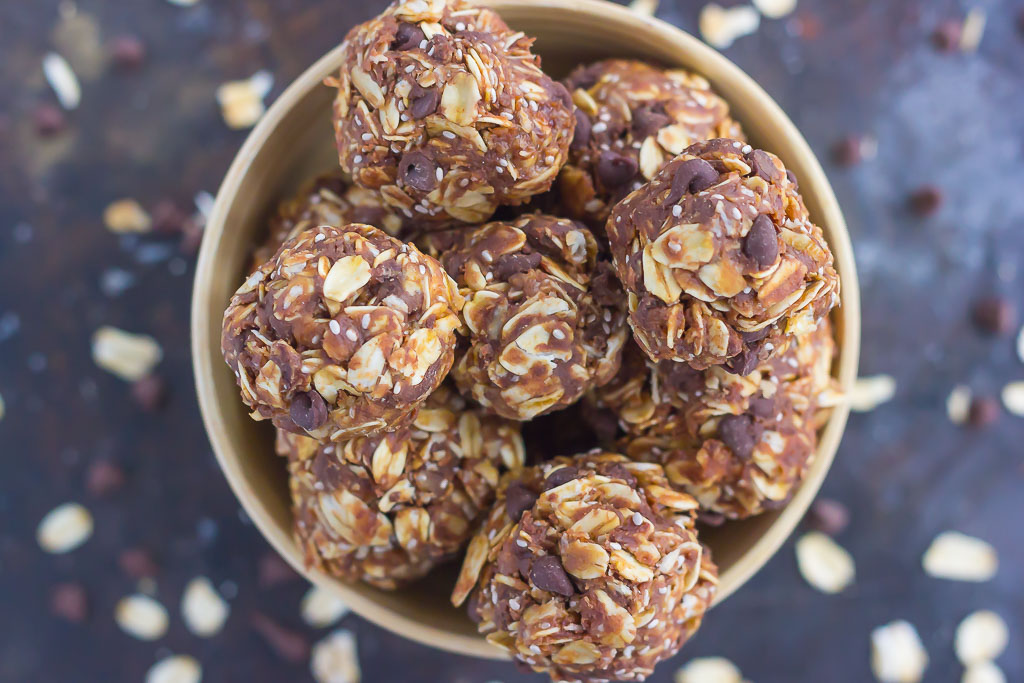 So have I convinced you to try these yet? Creamy peanut butter, hearty oats, chia seeds, honey, vanilla, and chocolate chips…lots of chocolate chips! Combine all of the ingredients into a bowl, mix well, shape into balls, and they're done! I keep my Peanut Butter Energy Bites in the fridge so that they stay nice and firm. But these babies don't have to be refrigerated, so feel free to leave them in an air tight container on the counter.
Right after I tasted these energy bites, I knew I would be making these on a regular basis. Chock full of healthy ingredients, plus energy to get you moving, and what more could you ask for? And with the addition of chia seeds, these are sure to make you feel energized. I take a few to work in the mornings (along with sneaking a bite before I leave). It gets me going and out of my grumpy stage, much appreciated by the hubster! 
So are you ready to make these?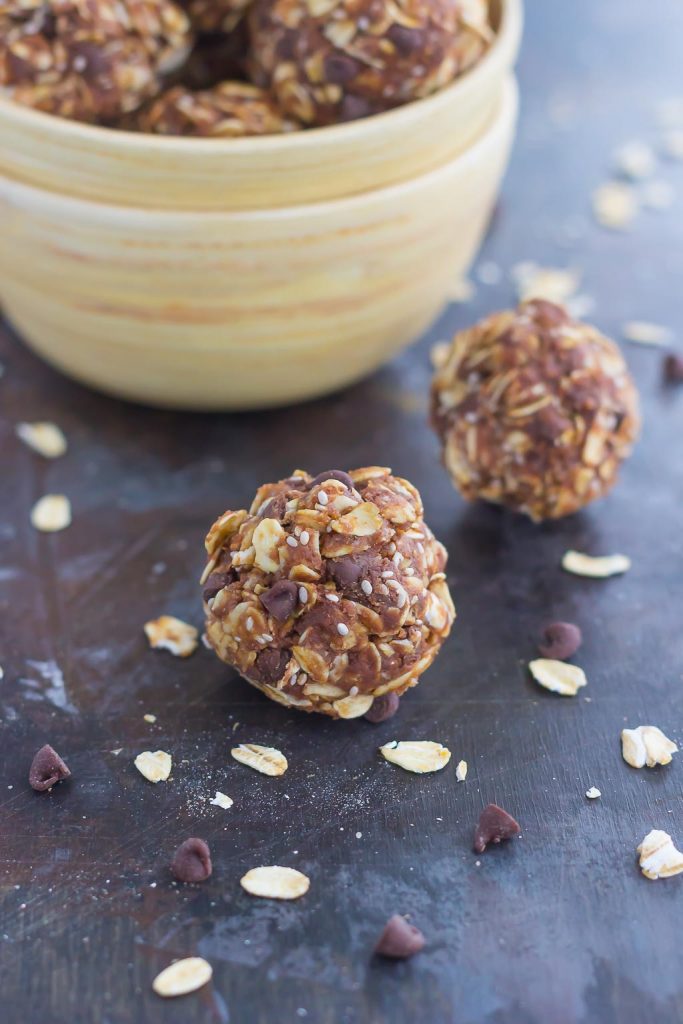 Looking for more energy bite recipes? I've got you covered!
Peanut Butter Energy Bites
Packed with fiber, whole grains, and chia seeds, these Peanut Butter Energy Bites are sure to fuel you up and keep you going all day long!
Ingredients
1

cup

old-fashioned oats

½

cup

creamy peanut butter

¼

cup

honey

1

teaspoon

vanilla bean paste

or vanilla extract

2

teaspoons

chia seeds

½

cup

milk chocolate chips
Instructions
In a large bowl, combine the oats, peanut butter, honey, vanilla, and chia seeds. Mix well until thoroughly combined. Add in chocolate chips and stir well.

Shape into 18 small balls. Refrigerate until firm, if desired.
Notes
If you find the mixture too dry, add a bit more honey to keep these bites sticking together.
The energy bites keep best in the refrigerator in an airtight container for up to two weeks. They can be left on the counter, but will soften up.
Nutrition
Serving:
1
g
|
Calories:
101.88
kcal
|
Carbohydrates:
12.1
g
|
Protein:
2.72
g
|
Fat:
5.21
g
|
Saturated Fat:
1.54
g
|
Cholesterol:
0.75
mg
|
Sodium:
36.82
mg
|
Potassium:
65.25
mg
|
Fiber:
1.17
g
|
Sugar:
7.87
g
|
Vitamin A:
11.2
IU
|
Calcium:
14.03
mg
|
Iron:
0.44
mg