Despite my bitter feelings towards winter (read: it's been in the negative and single digits here within the past few weeks), I do love that this time of year makes me want to whip up warm and comforting meals. There's just something about a hearty dinner that fills me up and keeps me satisfied, even if there is three feet of snow outside (ok, so I'm exaggerating just a little).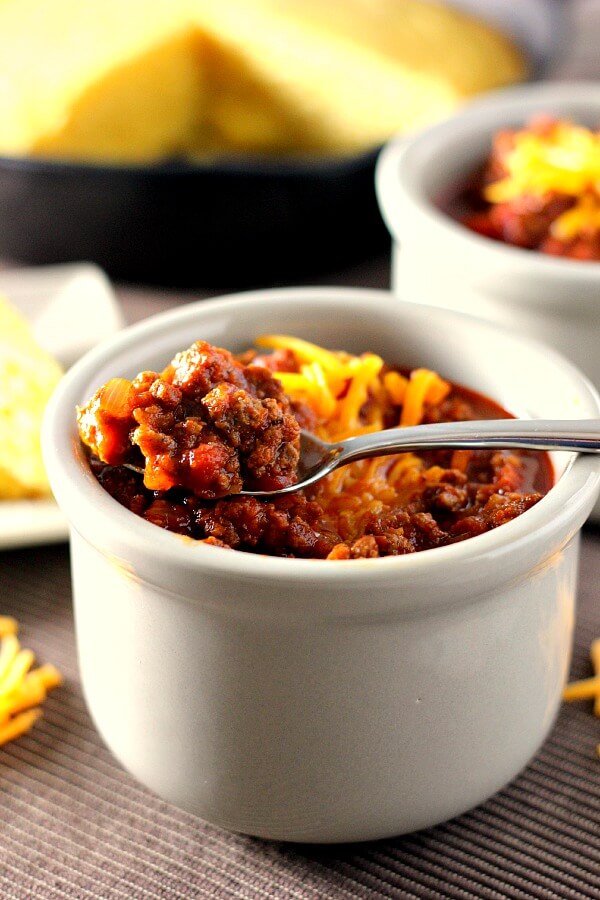 And nothing screams comfort food more to me than chili. I've been a chili fanatic for as long as I can remember! The spicy flavor and mixture of meats, veggies, and beans fits perfectly with a hunk of cornbread. And while I'll eat chili any time of the year, I only make it in the winter. It just seems more appropriate, right?
Now enter in the hubster. He loves chili too, though not as much as myself. However, he doesn't like it with beans. Yep, you heard that right, friends…no beans! It must be a texture type thing, because you really can't taste the beans once they're cooked. Am I right? I can't really blame him, though, because I wouldn't eat those beans just on their own either, though I do love them in chili!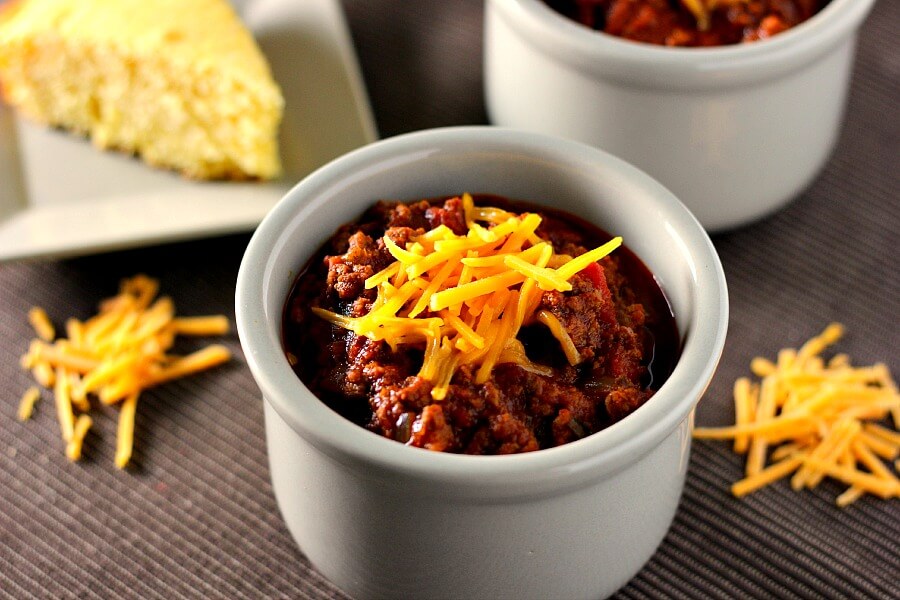 So when we both got a craving for chili years ago, I compromised and made this Slow Cooker Hearty No-Bean Chili. Made with two types of ground beef and loaded with flavor, you'll never miss the beans in this chili! In fact, this is my favorite chili and I almost prefer it sans the beans.
I've been making this Slow Cooker Hearty No-Bean Chili for about five years now, as it's a staple in my household during the winter. While you can certainly make this on the stove in a little over an hour, I love whipping out my slow cooker for this dish. The flavors blend together and create such a delectable taste. And it makes your house smell wonderful, too!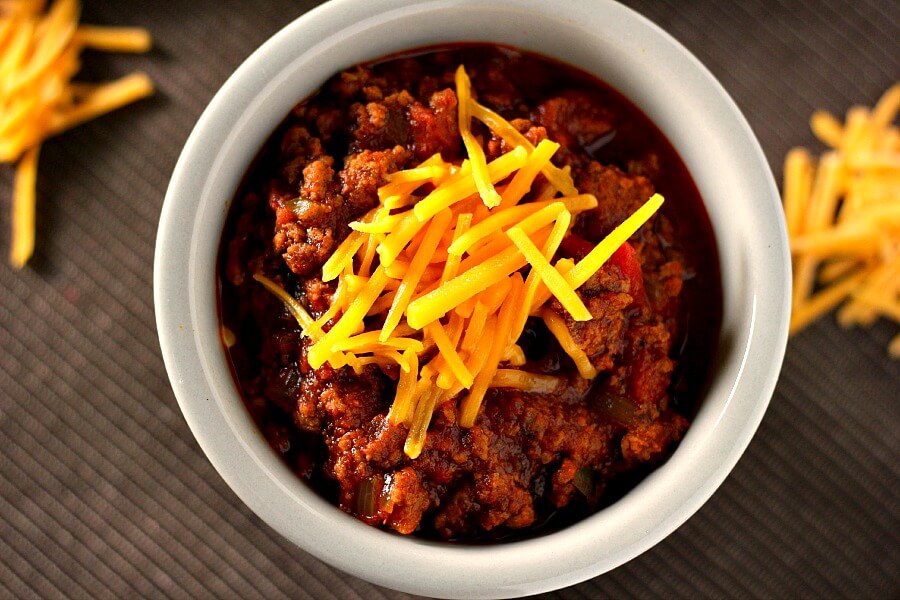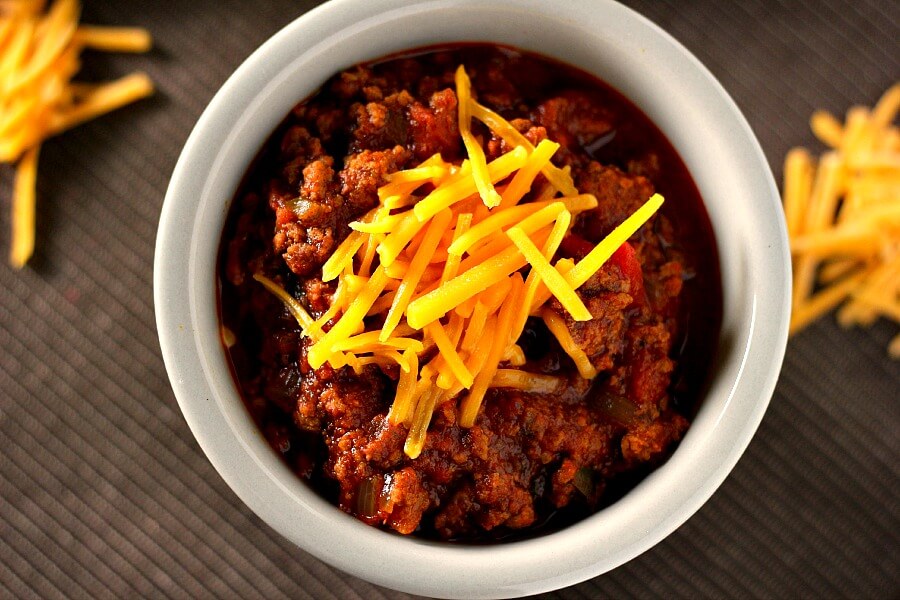 Besides being out-of-this-world good, this Slow Cooker Hearty No-Bean Chili is a breeze to whip up! Because I omitted the beans for the bean-loathing hubster, I used one pound of ground beef and one pound of ground chucks. This makes it extra meaty and definitely makes up for the lack of beans. Of course, you can definitely add in beans if that's what you prefer, it's delicious either way!
It's also very easy to customize this chili based on your preferences. You can add in as much or as little chili powder and spice as you would like. I've played around with this recipe a lot over the years and found the perfect combination for me.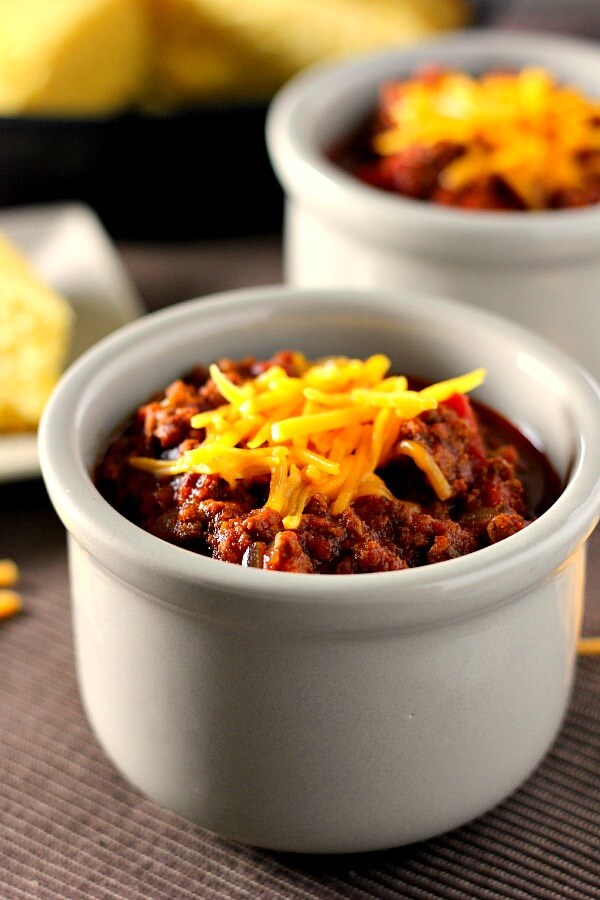 Serve this Slow Cooker Hearty No-Bean Chili with a side of my homemade Skillet Buttermilk Cornbread, and you have yourself a delicious meal, perfect to beat the winter-blahs!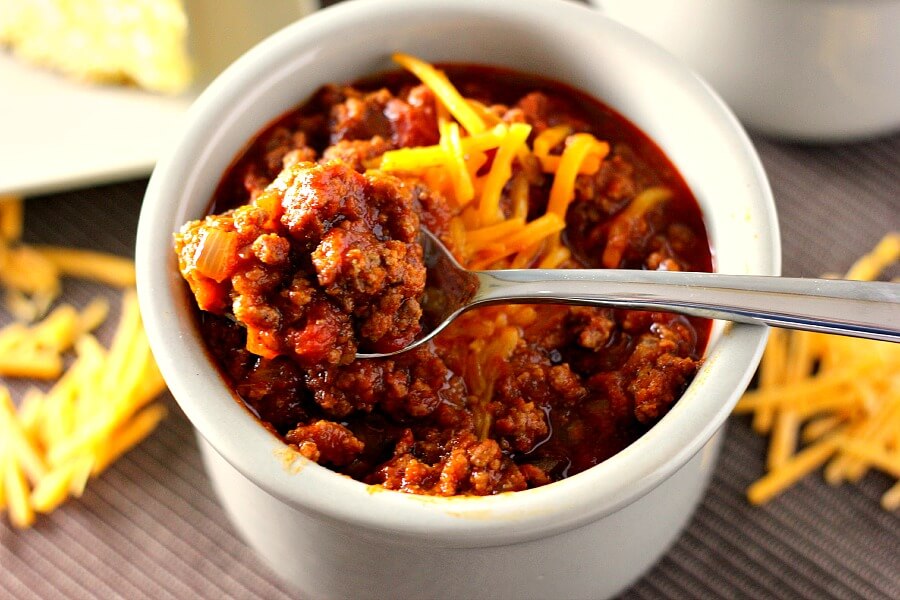 Looking for more slow cooker recipes? I've got you covered!
Tools I used to make this recipe:
P.S. Check out my very first E-CookBook, 30+ Twenty Minute Meals: From Breakfast to Desserts and Everything in Between, designed with you in mind!
Slow Cooker Hearty No-Bean Chili
Made with two types of ground beef and loaded with flavor, you'll never miss the beans in this Slow Cooker Hearty No-Bean Chili!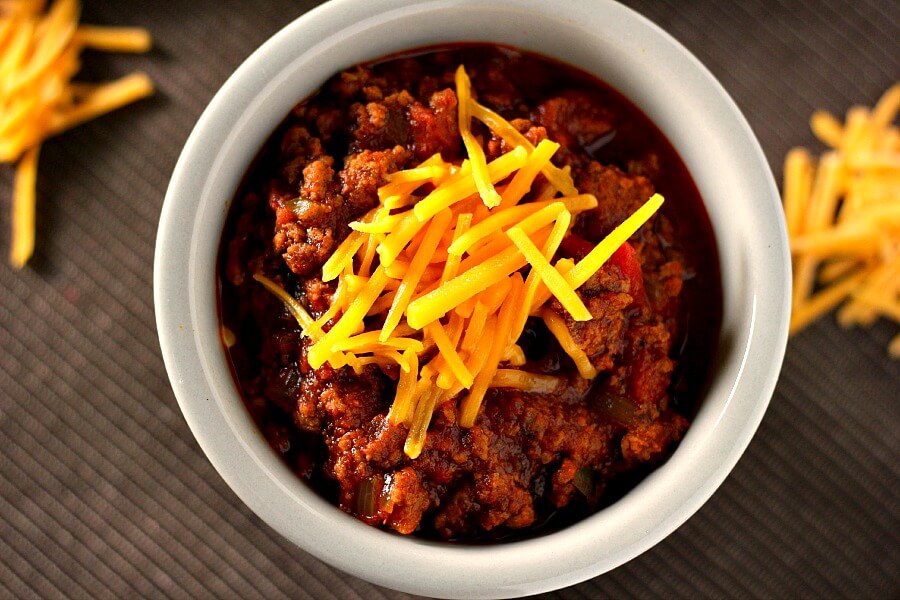 Ingredients
1 pound lean ground beef
1 pound ground chuck
2 (29 ounce) cans tomato sauce
2 (15 ounce) cans diced tomatoes
1 (6 ounce) can tomato paste
1/2 white onion, diced
1 green bell pepper, diced
1 teaspoon minced garlic
1/8 teaspoon cayenne pepper
1 1/2 teaspoons ground cumin
5-6 tablespoons chili powder
1/2 teaspoon white sugar
3/4 teaspoon dried oregano
1/2 teaspoon black pepper
Instructions
In a large skillet, brown and crumble ground beef and ground chuck until cooked through. Drain and add to slow cooker.
Add tomato sauce, diced tomatoes, tomato paste, onion, pepper, minced garlic, cayenne pepper, ground cumin, chili powder, white sugar, oregano, and pepper to slow cooker.
Stir to combine.
Cover and cook on low for 8 hours or high for 4 hours.
Serve with shredded cheddar cheese and sour cream, if desired.
Enjoy!
7.8.0.1
112
https://www.pumpkinnspice.com/slow-cooker-hearty-no-bean-chili/