20 Boneless Skinless Chicken Thigh Recipes
Use these Boneless Skinless Chicken Thigh Recipes for future meal planning. Each recipe is quick and easy to prepare, not to mention packed with flavor! Who knew chicken was this versatile?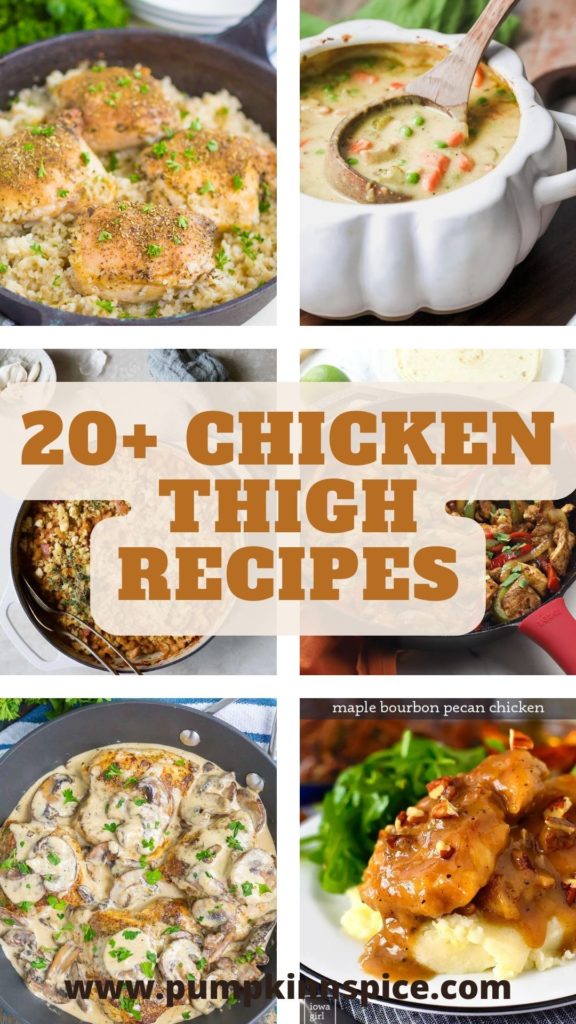 20 Easy Recipes Using Boneless Skinless Chicken Thighs
If you've stumbled across this post during your quest to find truly delicious but simple recipes using chicken thighs, welcome. You won't be disappointed!
Although I cook with chicken breasts often and can appreciate their place in the kitchen, I think chicken thighs are the superior cut of meat. Thighs are considered to be dark meat; they're not as lean as chicken breasts and as such are more difficult to overcook.
This list of boneless skinless chicken thigh recipes is my personal homage to what I consider to be the easiest protein to cook with. If you think chicken is "boring," well, this list of recipes should be able to convince you otherwise!
1. One Pan Chicken and Garlic Parmesan Rice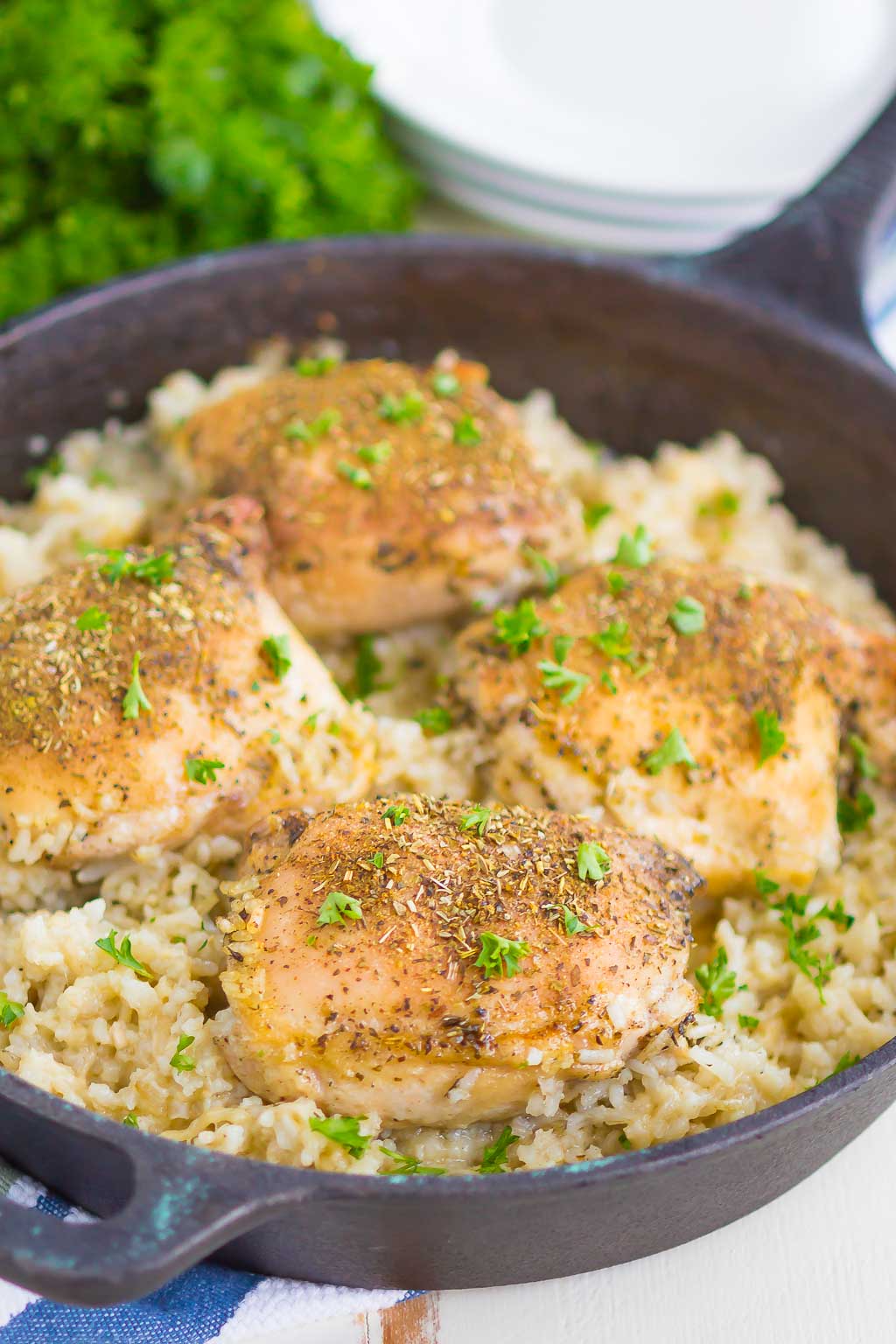 This Chicken and Garlic Parmesan Rice has a little bit of everything: cheesy rice, juicy chicken, and plenty of butter and garlic. The rice cooks alongside the chicken in the oven, so there's no need to dirty any extra dishes!
2. Creamy Parmesan Mushroom Chicken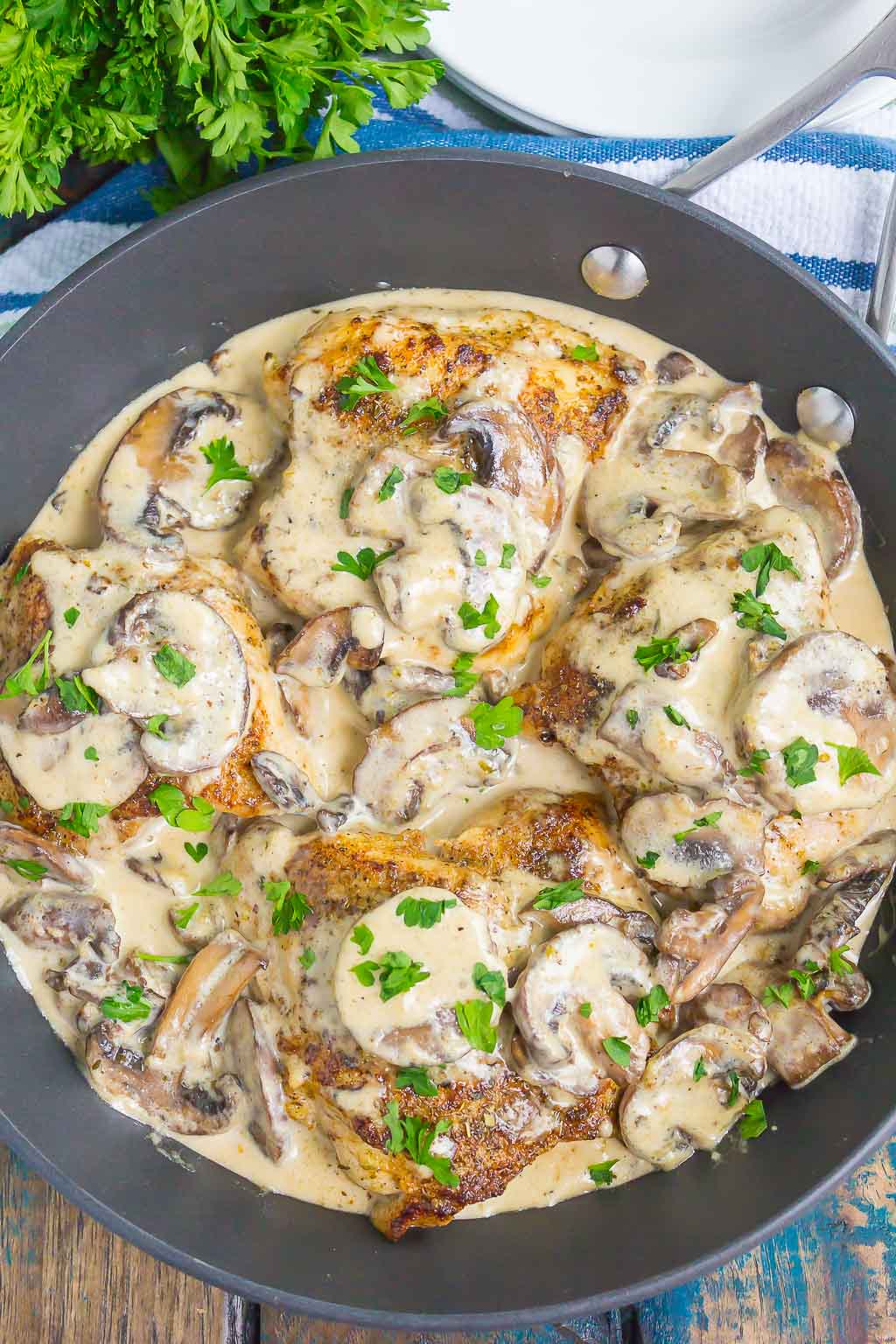 Every nook and cranny of this skillet Parmesan Mushroom Chicken is coated in the silkiest cream sauce. Serve this boneless chicken thigh recipe with rice, buttered noodles, or mashed potatoes for complete meal.
3. Slow Cooker Teriyaki Chicken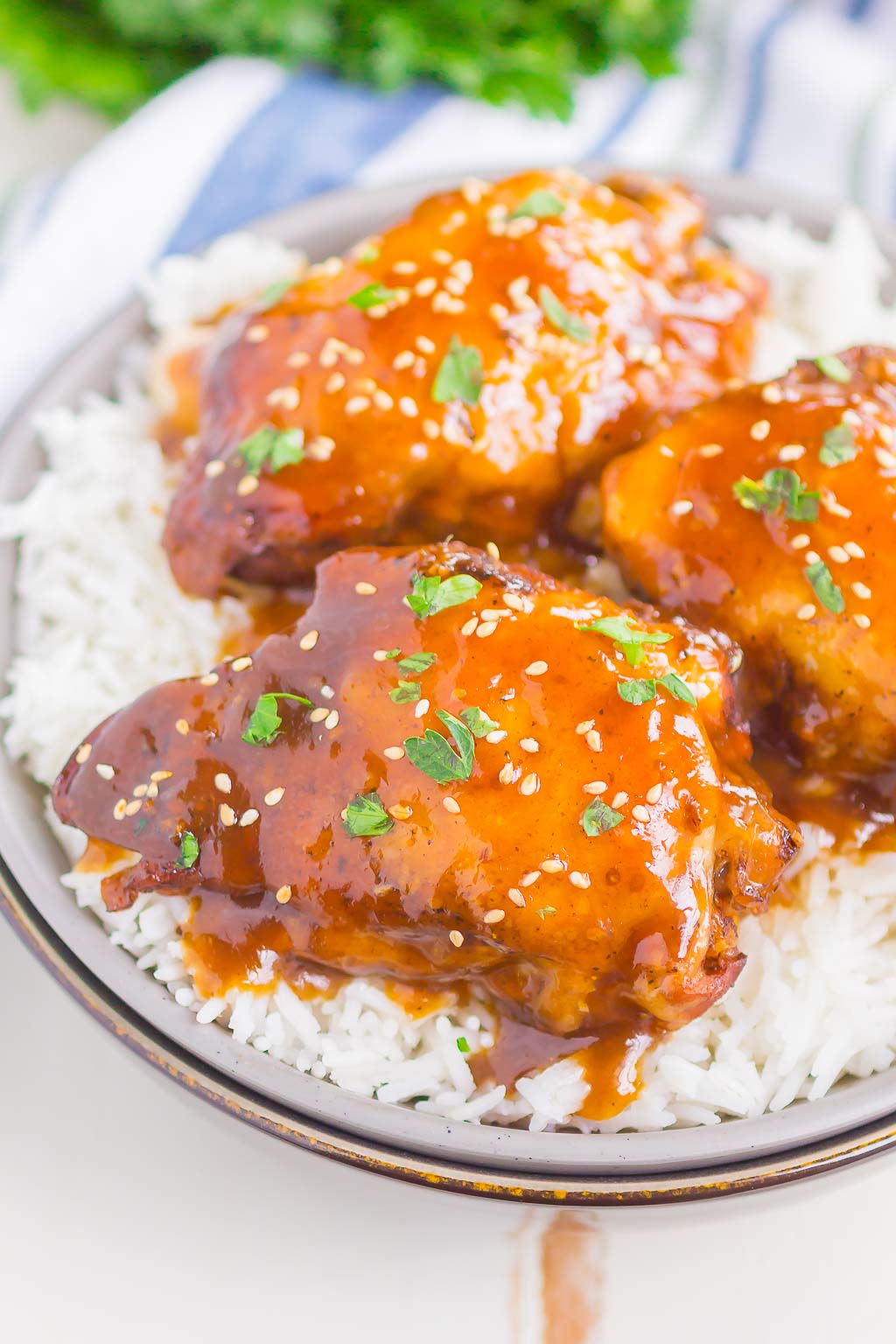 As the recipe title promises, your Crockpot does the hard work for you in this Slow Cooker Teriyaki Chicken recipe! The sweet and tangy teriyaki sauce is homemade but comes together quickly. Serve over a bed of white rice with a side of steamed broccoli for an easy weeknight dinner.
4. Chicken and Sausage Stew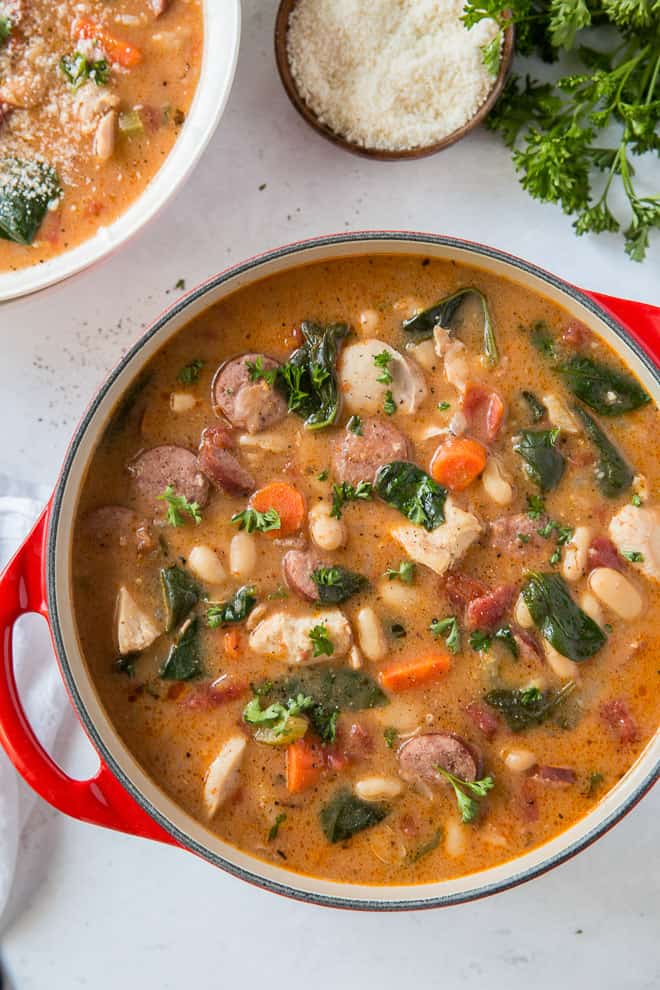 This Chicken and Sausage Stew from Valerie's Kitchen is is packed with protein three ways — cannelini beans, smoked sausage, and, of course, boneless chicken thighs. It tastes like it was slow cooked, but the entire recipe takes about an hour to prepare!
5. Five Spice Cream Cheese Chicken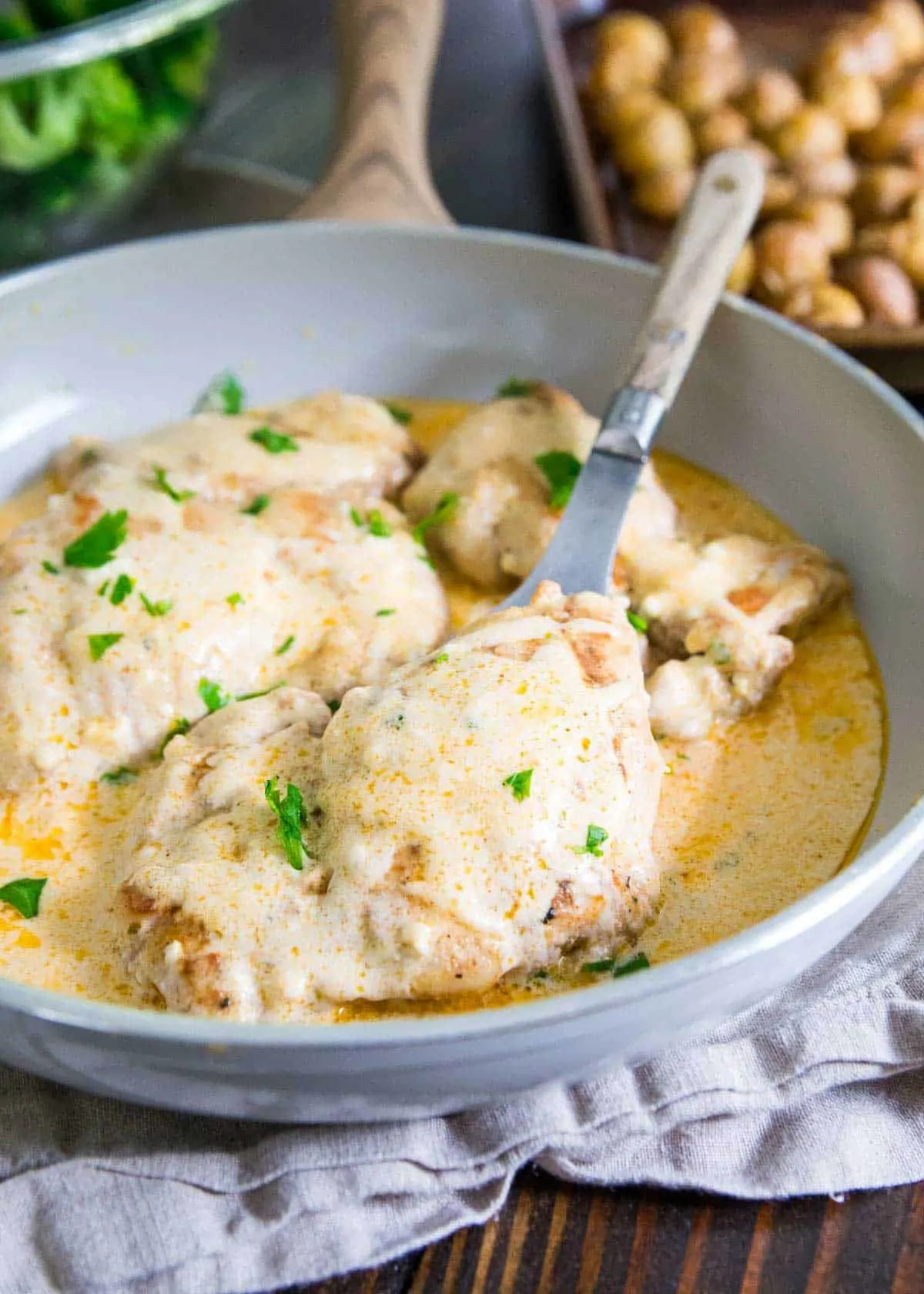 Five Spice Cream Cheese Chicken from Running to the Kitchen is a quick chicken thigh recipe that takes just 20 minutes to make. Five kinds of spices flavor the chicken, and the pan sauce is made ultra decadent by the addition of cream cheese, heavy cream, and butter.
6. Maple Bourbon Pecan Chicken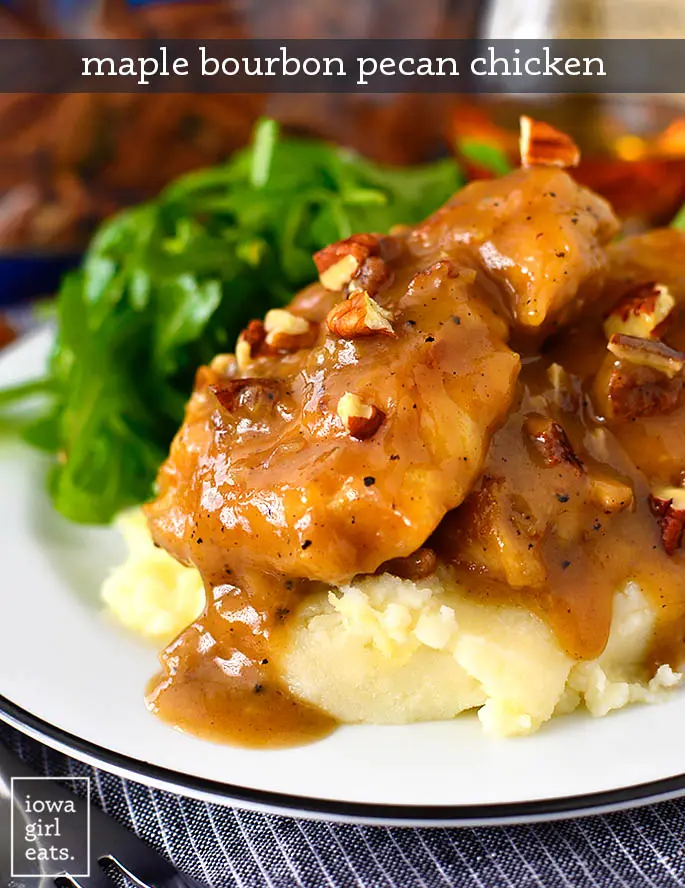 Iowa Girl Eats delivers big flavor with this Maple Bourbon Pecan Chicken recipe. The maple-Dijon sauce is spiked with bourbon and simmered until syrupy and sticky — YUM.
7. Tuscan Slow Cooker Chicken Thighs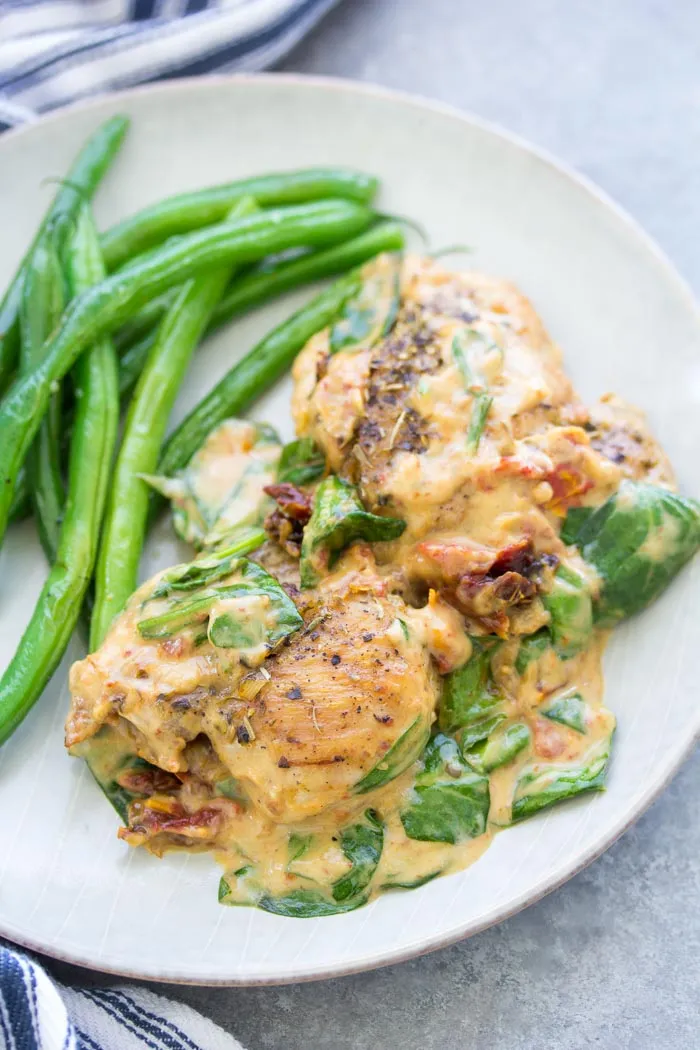 Tender chicken thighs are coated in a creamy spinach and sun-dried tomato sauce in this Tuscan Slow Cooker Chicken recipe from Kristine's Kitchen. A sprinkle of freshly grated Parmesan finishes the dish off nicely.
8. Cilantro Lime Chicken Thighs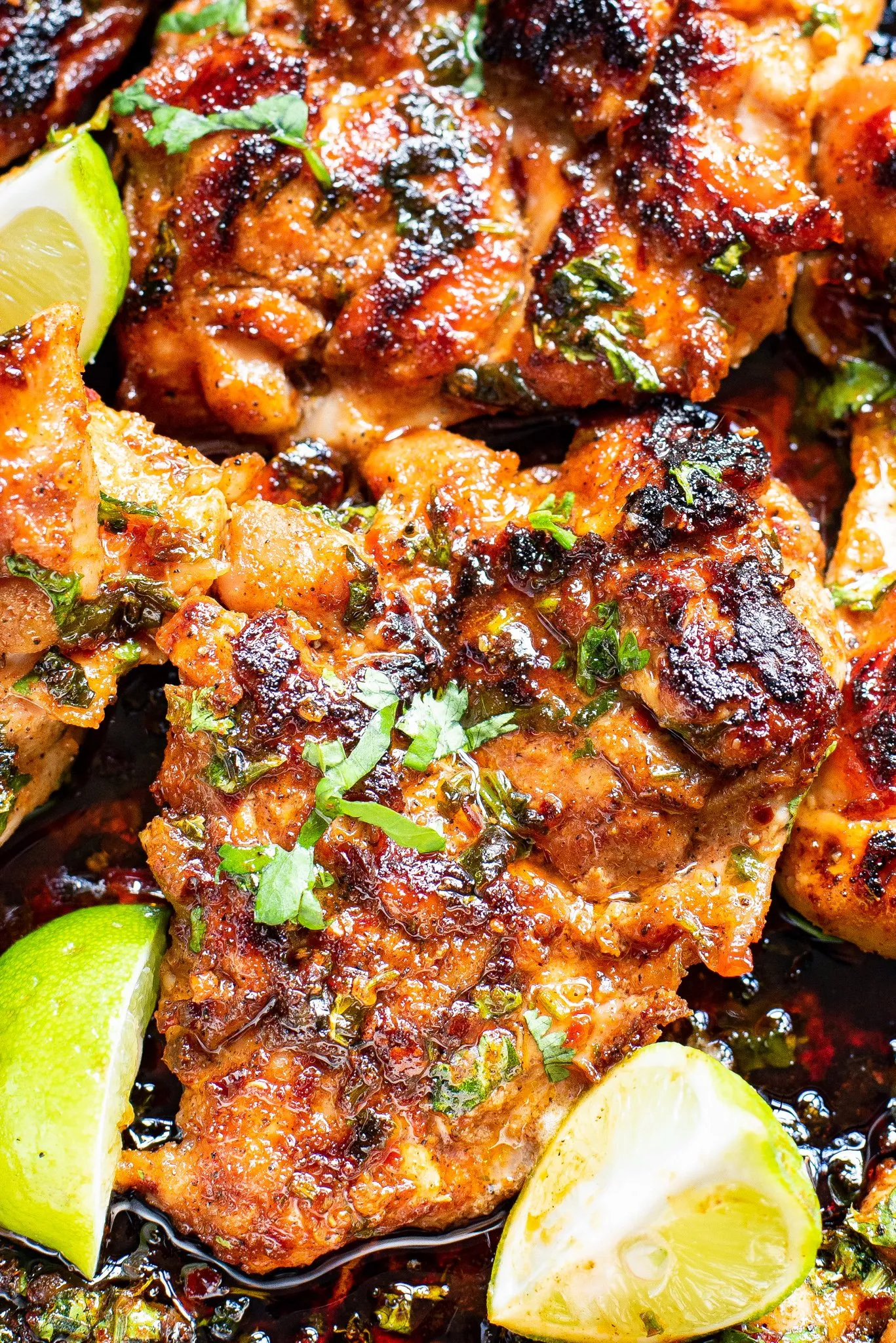 Add this 30-minute chicken thigh recipe to your weekly meal rotation! The Cilantro Lime Chicken Thighs from Wonky Wonderful can be enjoyed as a main dish with a side salad or veggies on the side. Or, chop up the chicken to use in burrito bowls, chicken tacos, and more!
9. Grilled Chicken Caesar Salad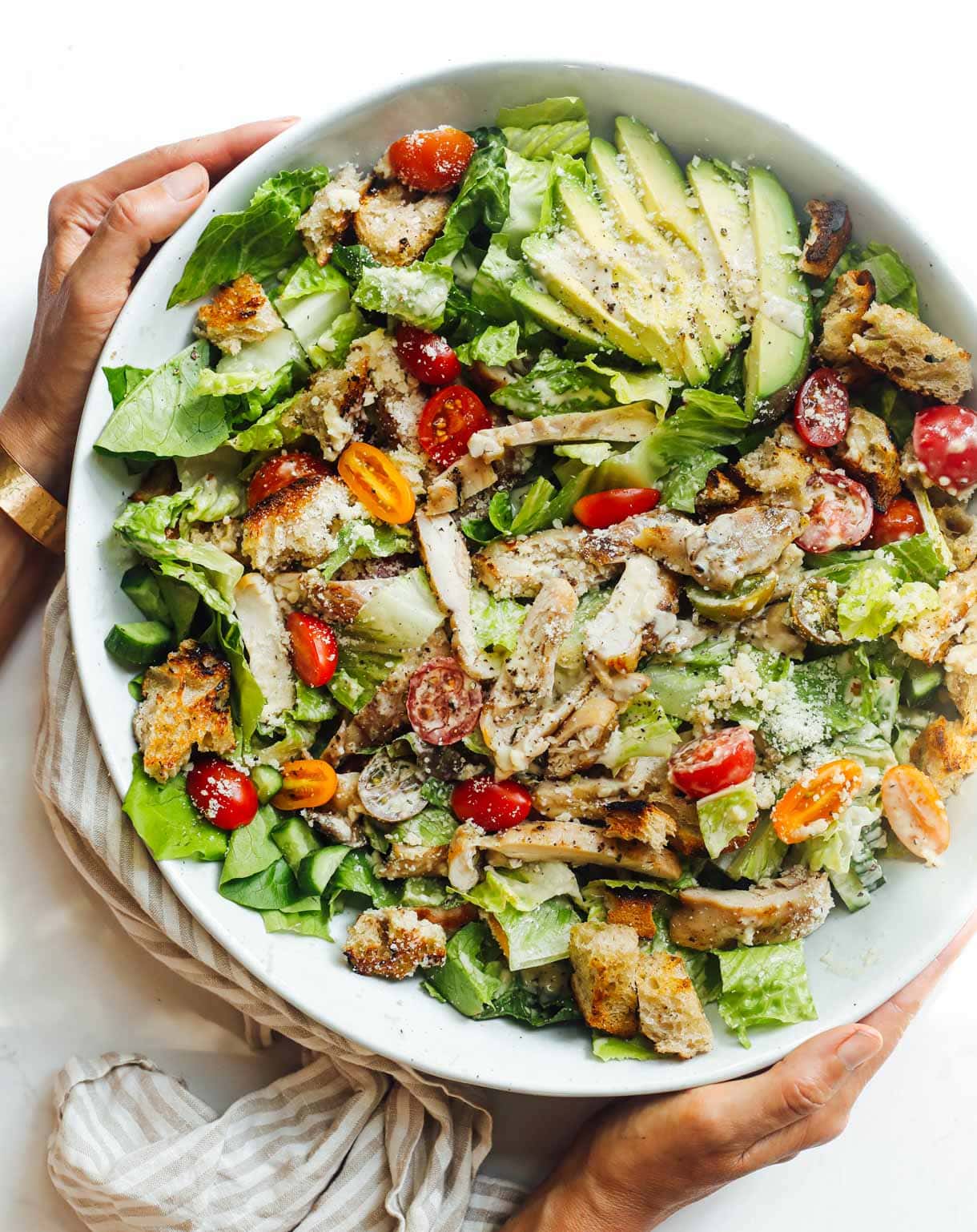 This isn't your average Caesar salad! In this Grilled Chicken Caesar Salad from Heartbeet Kitchen, chicken thighs are grilled until they reach juicy perfection before being tossed with sourdough croutons, fresh avocado, and a creamy homemade Caesar dressing.
10. Smoked Butter Chicken Thighs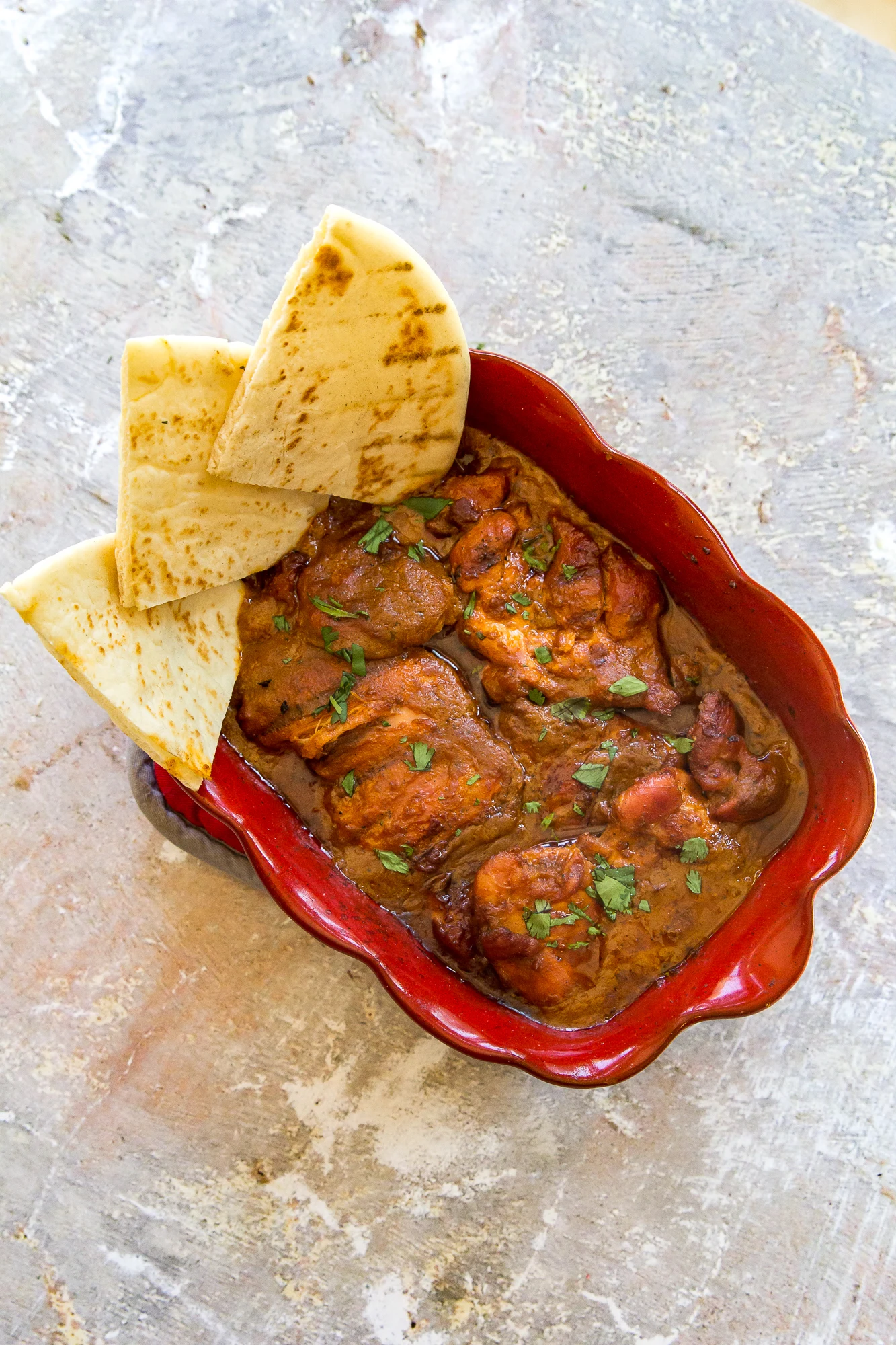 This Smoked Butter Chicken Thighs recipe from Or Whatever You Do takes Indian butter chicken to a new level. The chicken is marinated in butter chicken marinade before being smoked on a pellet grill and finished in a butter chicken sauce.
11. Greek Sheet Pan Chicken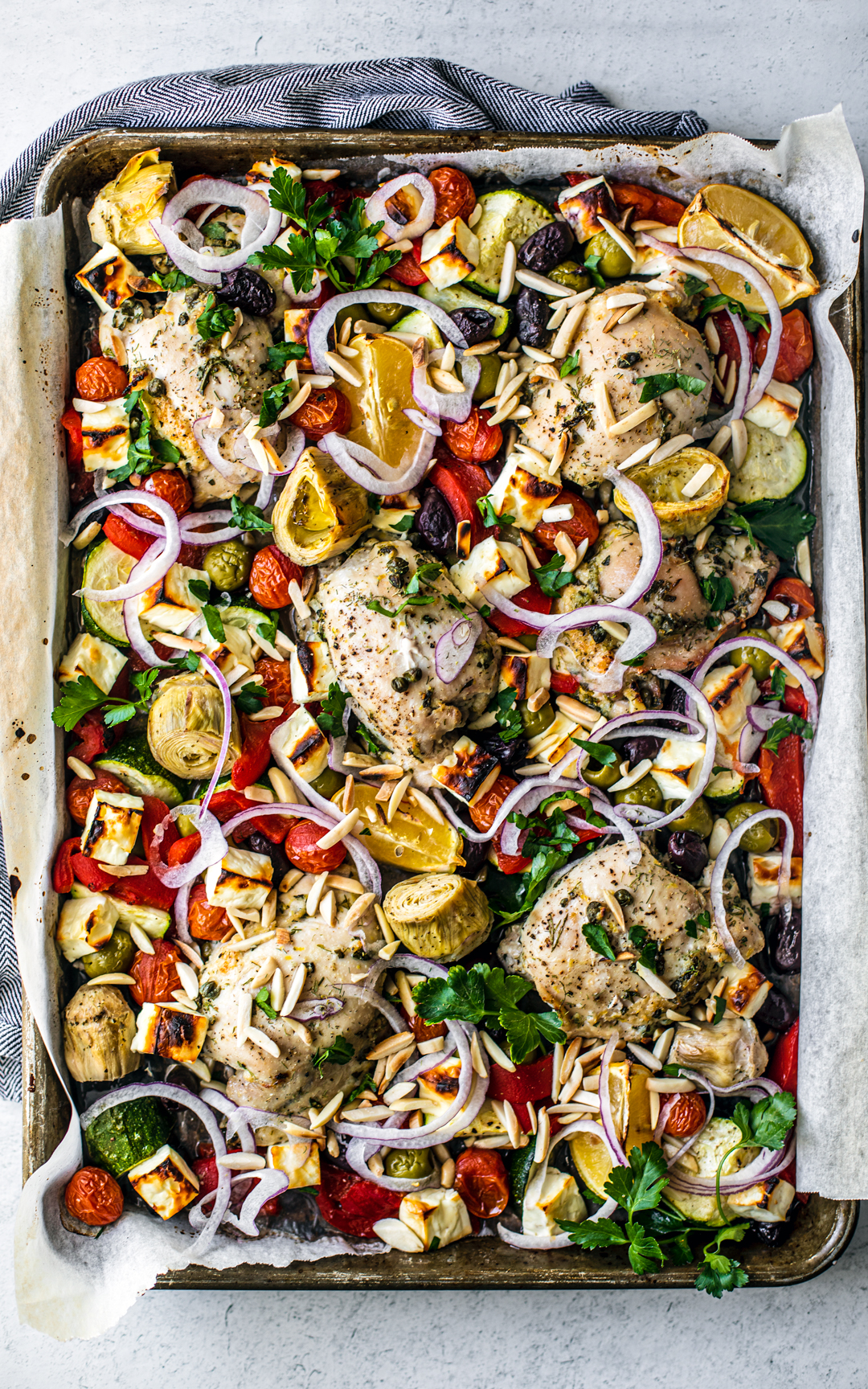 Looking for a healthy but easy chicken thigh recipe that you can quickly toss together? Make Killing Thyme's Greek Sheet Pan Chicken! It features Greek veggies like tomatoes and zucchini, plus creamy feta cheese and salty capers.
12. Baked Lemon Pepper Chicken Thighs
Lemon Pepper Chicken Thighs are a must-make dinner recipe no matter the season. This version from Kindly Unspoken flavors the chicken with not only lemon pepper seasoning, but also chili powder, Italian seasoning, and a few more choice spices to add layers of flavor to the simple dish.
13. Skillet Chicken Fajitas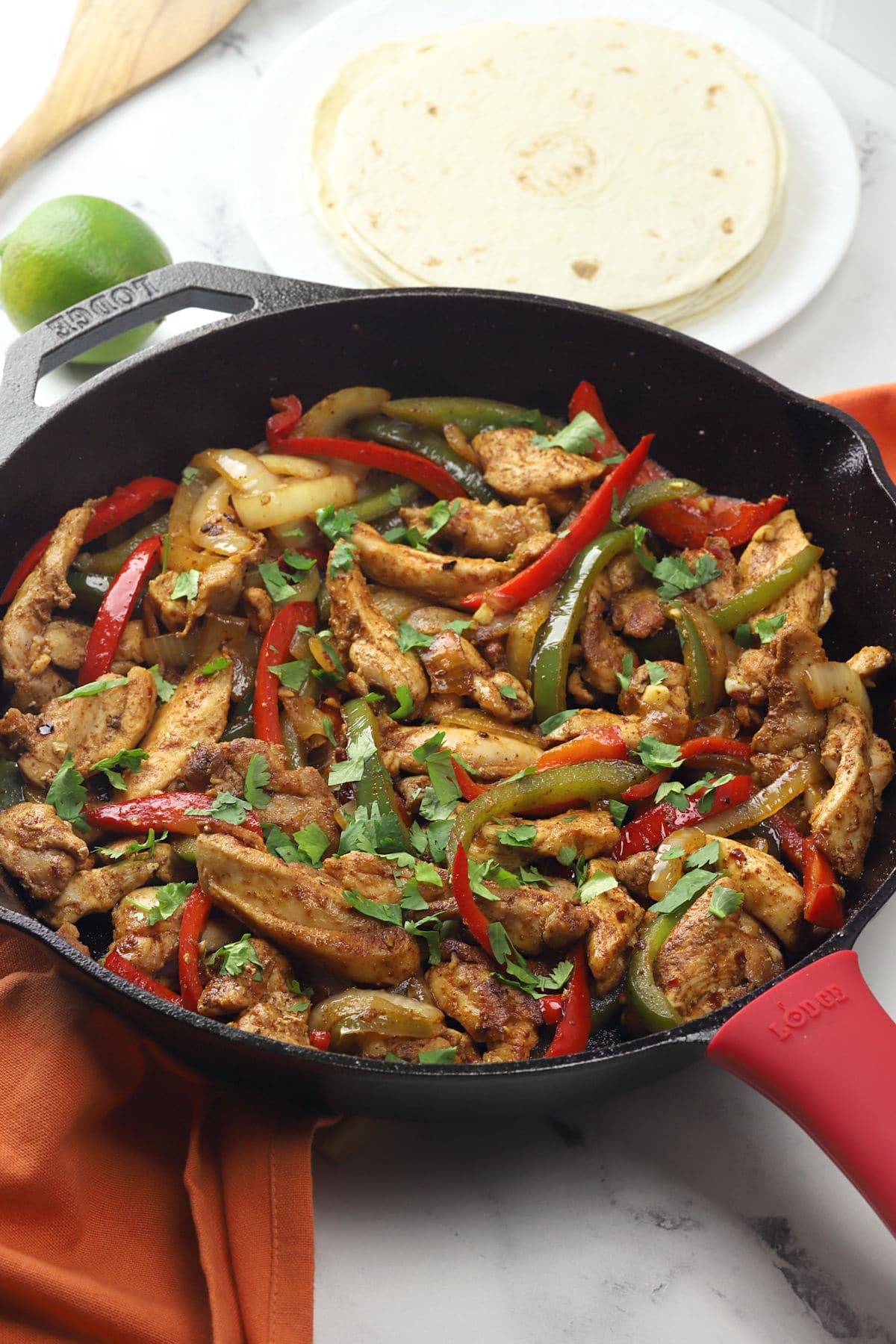 Crisp-tender bell peppers, sharp onions, and seasoned chicken thighs make for the best Skillet Chicken Fajitas. In her recipe, Heather (of The Toasty Kitchen) even explains how to make homemade fajita seasoning so you don't have to make a trip to the store to buy it.
14. Chicken Barley Soup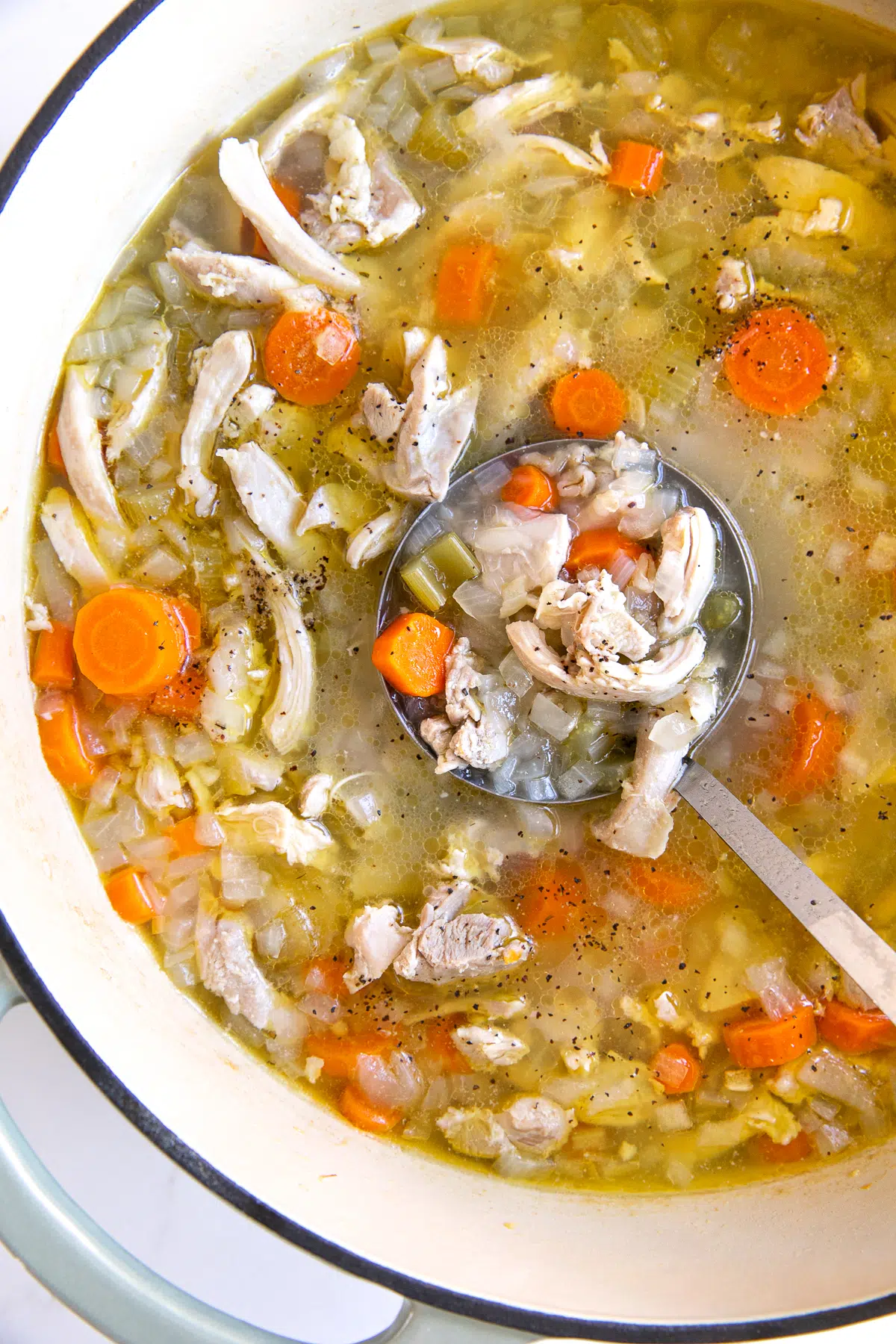 A bowl of this Chicken Barley Soup from The Forked Kitchen will warm you from the inside out. It's full of chewy barley, chunks of chicken, and healthy veggies like celery, onion, and carrots.
15. Creamy Lemon Dill Butter Chicken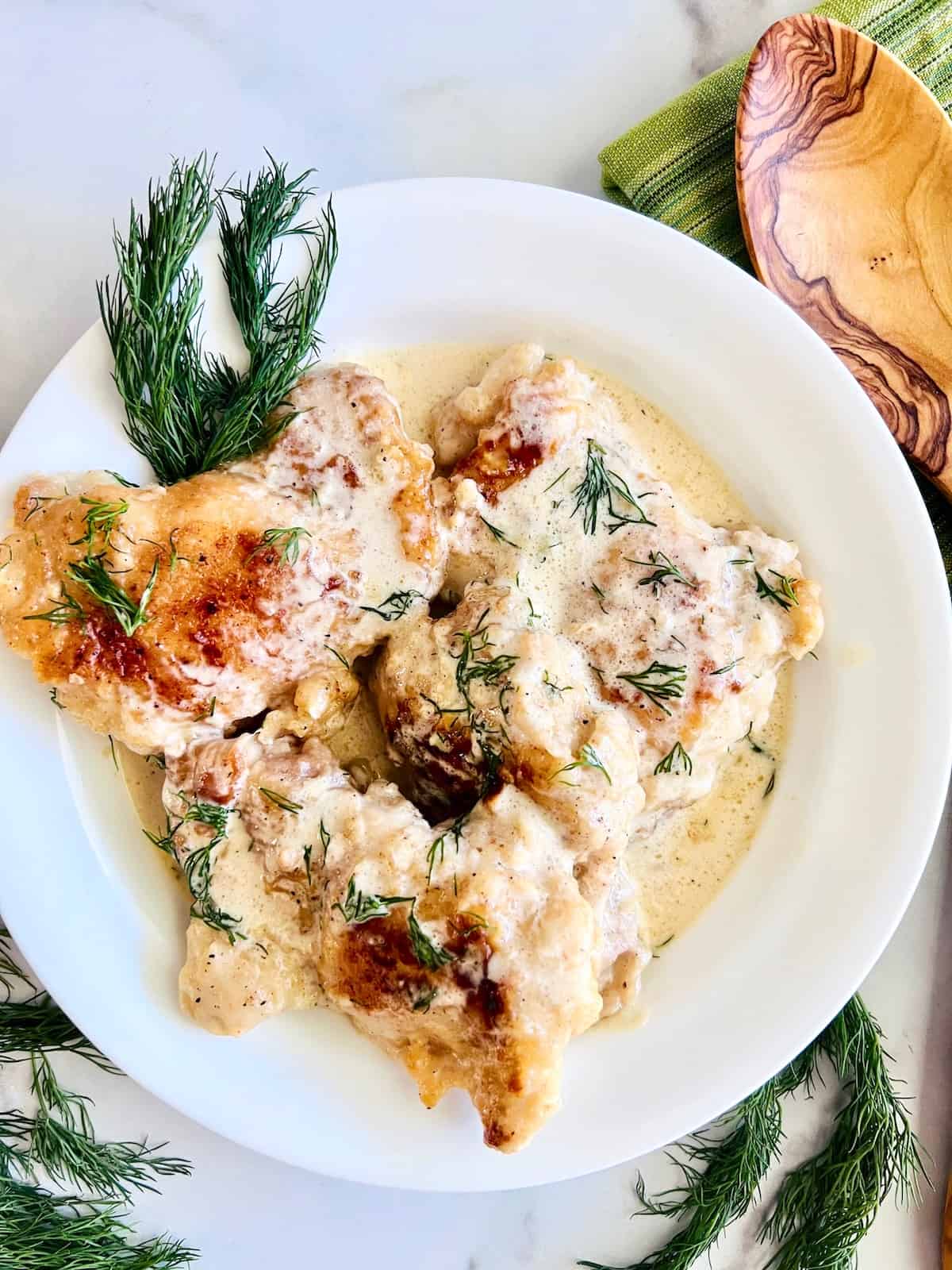 I feel like I've said this about every recipe on this list, but this Creamy Lemon Dill Butter Chicken from The Short Order Cook may just be one of my favorite recipes using chicken thighs! The chicken is pan-seared in an ultra creamy lemon-dill sauce. Serve this with mashed potatoes or noodles, or have a spoon ready to slurp up all that sauce!
16. Slow Cooker Apricot Chicken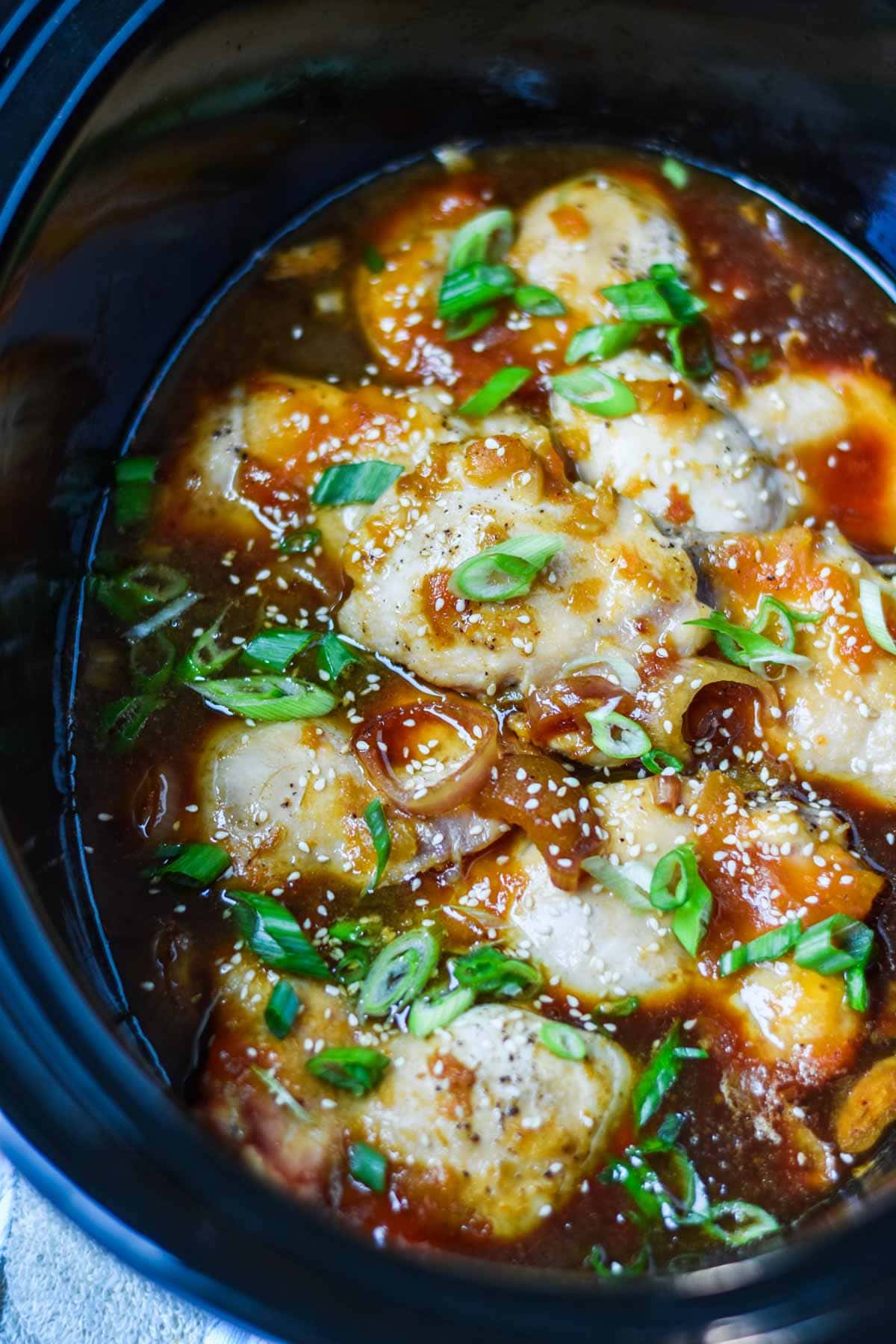 7 ingredients and 5 minutes of active prep is all that stands between you and a batch of this Slow Cooker Apricot Chicken from The Dizzy Cook. After that, your slow cooker handles the rest!
17. Air Fryer BBQ Chicken Thighs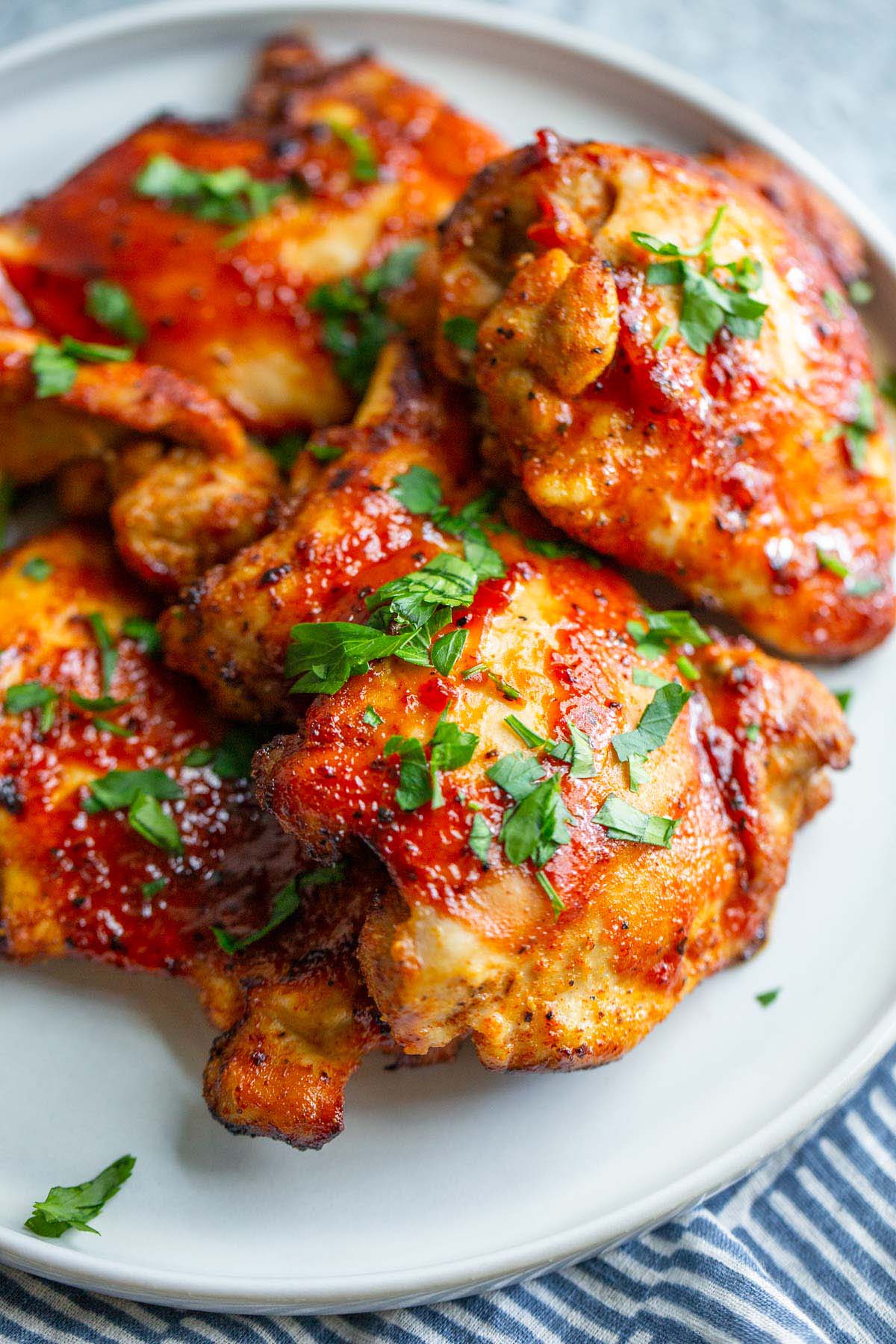 Chicken thighs are seasoned with a homemade spice blend and brushed with BBQ sauce before being air fried.
Like all of the recipes on this list, these Air Fryer BBQ Chicken Thighs by Food Banjo are yet another boneless skinless chicken thigh recipe — so don't expect the thighs to crisp up greatly in the air fryer. However, they will turn out beautifully moist and flavorful!
18. Deconstructed Chicken Pot Pie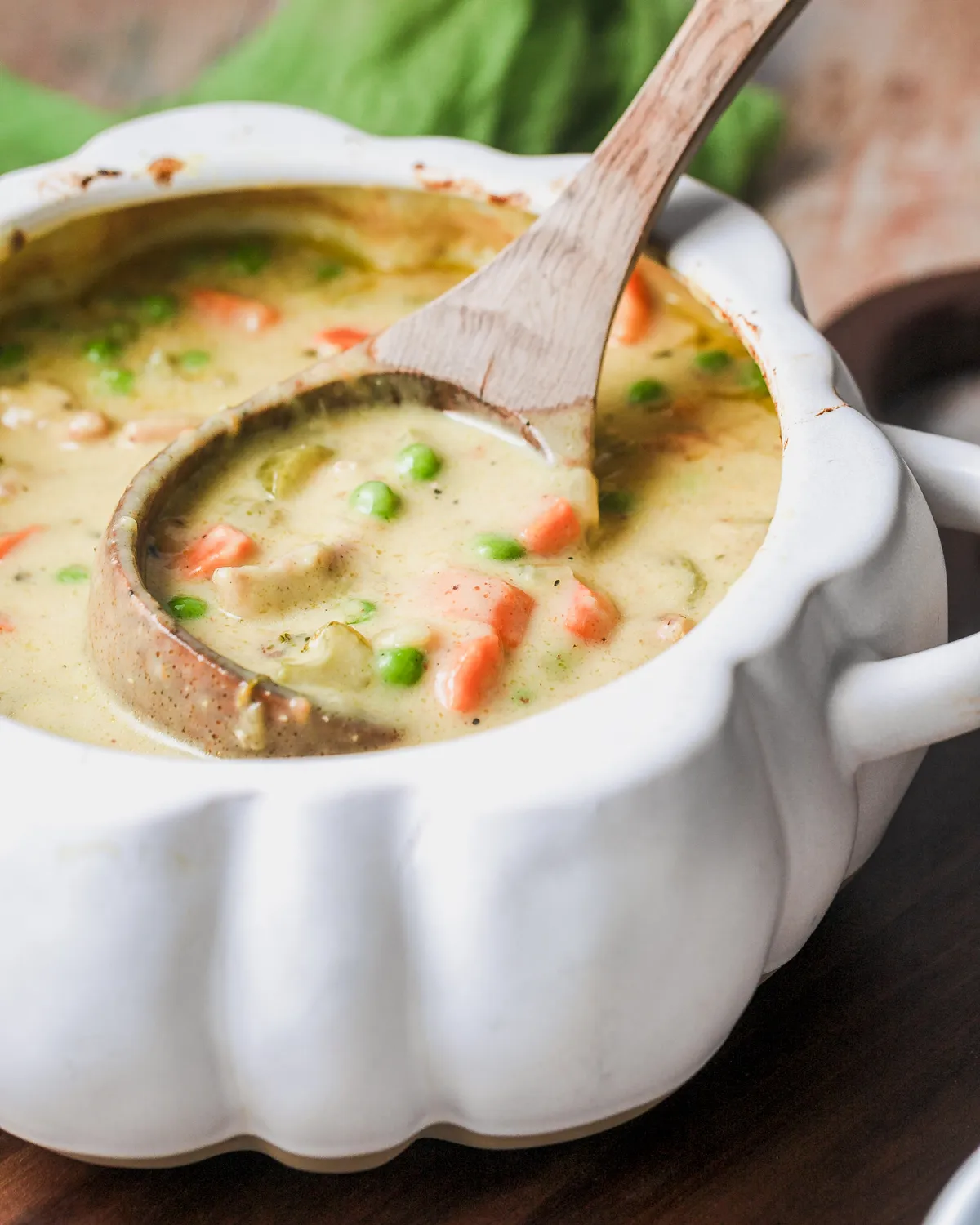 I love eating chicken pot pie as much as the next gal, but making it from scratch? No thanks! All of that pie crust shaping makes my head spin.
Enter: Deconstructed Chicken Pot Pie by Sweet Tea & Thyme. There's no pie dough to fuss with, just a sheet of store-bought puff pastry that's popped onto bowls of chicken pot pie soup and baked until golden brown on top. Easy!
19. Instant Pot Lemon Rosemary Chicken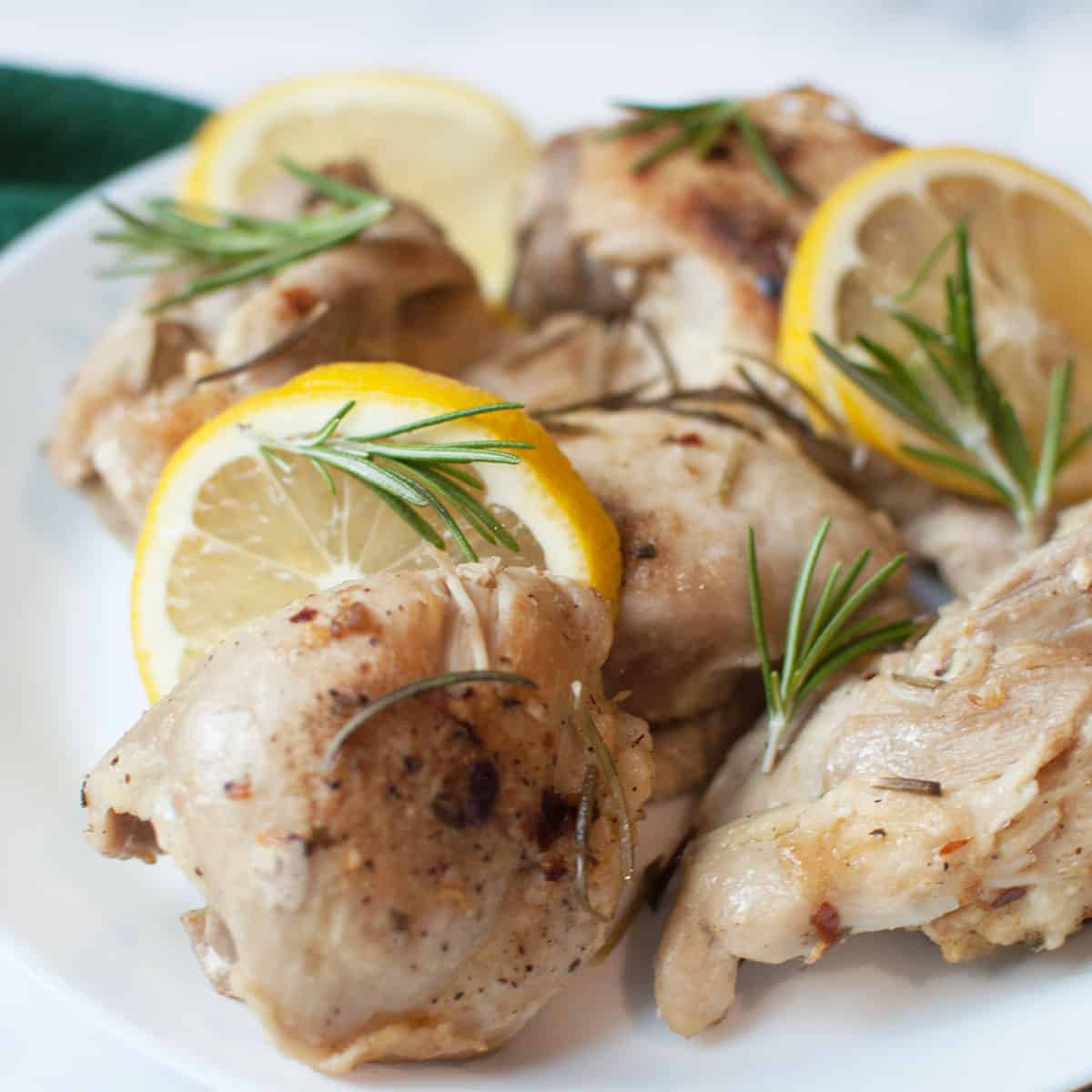 Get dinner on the table fast with this recipe for Instant Pot Lemon Rosemary Chicken from Two Pink Peonies. I love that this recipe can be made with fresh or frozen skinless chicken thighs. If you forgot to defrost your meat in the morning, it's no big deal!
20. Easy Chicken and Sausage Cassoulet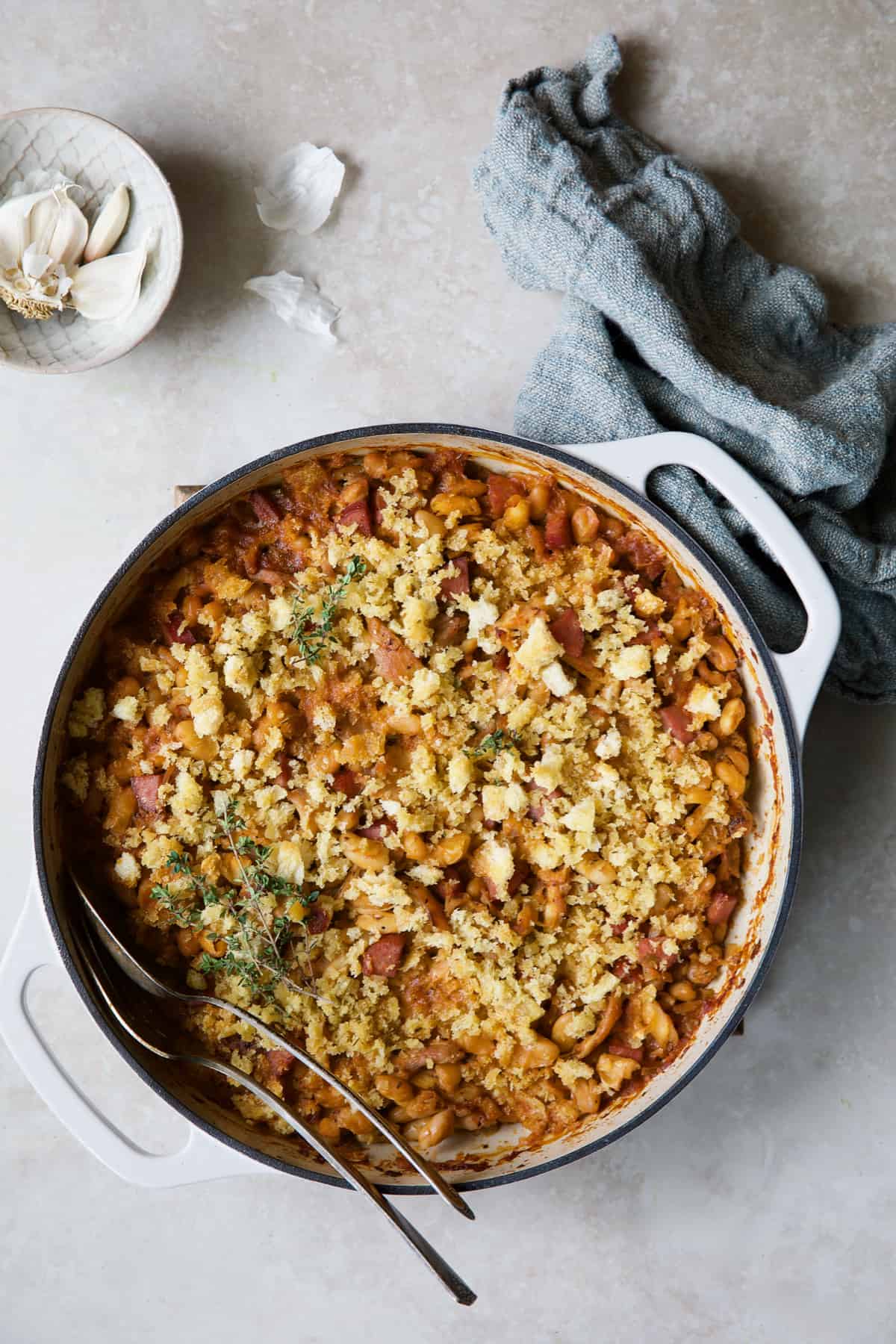 Traditional French cassoulet can take days to prepare (really!), but From a Chef's Kitchen's 1-hour Chicken and Sausage Cassoulet speeds up the process enormously. It's made with ingredients like cannelini beans, smoked sausage, chicken thighs, coarse breadcrumbs, and white wine.
Looking for Even More Chicken Recipes?
These are just 20 of the best recipes for chicken thighs. All are quick and easy to prepare, and they're each a crowd pleaser!
If you need even more chicken recipe inspiration, be sure to check out my entire collection of chicken recipes. If you make any of the recipes I shared in this post, please leave me a comment below letting me know how it turned out!