Slow Cooker Whole Chicken
A chicken is nestled among potatoes and carrots and slow cooked to tender perfection in this no-fuss recipe! Slow Cooker Whole Chicken is an easy dinner recipe that can be prepared in the morning. Let your slow cooker do the hard work for you!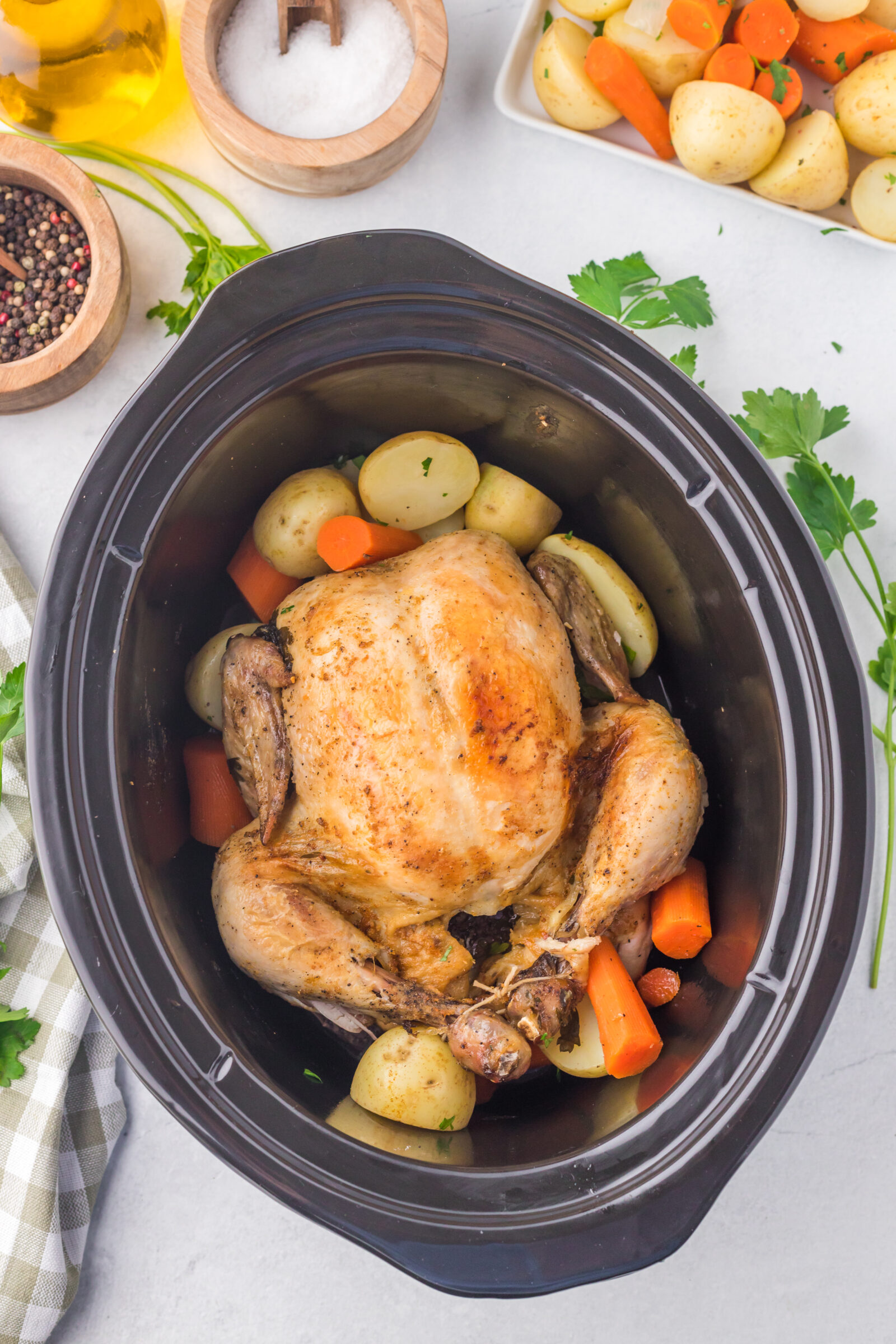 When life gets busy and I need to get dinner on the table fast, I actually find it best to cook my food slowly. More specifically, I whip out my slow cooker, fill it with my preferred veggies and protein, set it, and forget it!
Today I'm sharing my go-to method for cooking a whole chicken in a slow cooker. As much as I love the crispy skin that results from roasting chicken, I find that slow cooker chicken is more tender, juicier, and requires less babysitting.
Plus, I can add my favorite veggies like carrots and potatoes to the slow cooker to cook at the same time. As the veggies cook, they soak up all the chicken drippings and are infused with the most incredible flavor that no amount of herbs, spices, or olive oil could replicate in the oven.
This slow cooker whole chicken recipe is a meal-in-one! Serve it with a green side salad for freshness, or devour as is on a chilly evening.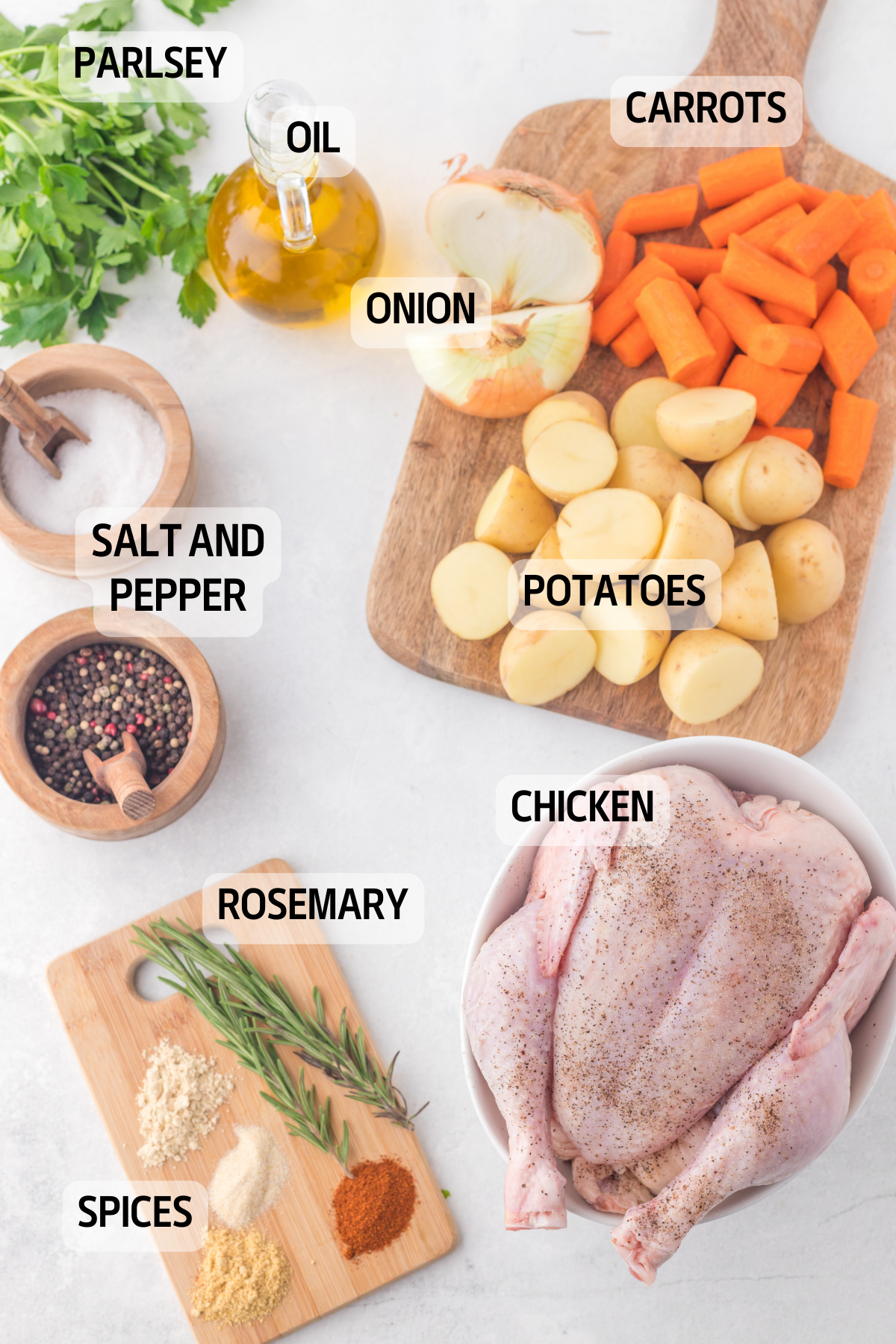 Recipe Ingredients
Cooking a whole chicken in a slow cooker requires very few ingredients. To make Crockpot whole chicken with potatoes and carrots, you'll need the following basic ingredients:
Olive oil
Salt and pepper
Garlic powder
Dried minced onion
Paprika
Ground mustard seeds
Onion
Baby potatoes
Carrots
Whole chicken
Fresh rosemary
Fresh parsley
How to Make a Whole Chicken in a Slow Cooker
The prep work for this recipe is minimal, so you can easily pop the chicken and veggies into the slow cooker before going to work or sending your kids off to school.
Full instructions are provided in the recipe card below, but here's an overview of my tested method for slow cooking a whole chicken:
In a bowl, whisk together the olive oil and spices.
Add the prepared vegetables to the bottom of your slow cooker.
Place the chicken, rosemary, and parsley on top of the veggies. Rub the chicken with the prepared spice mixture.
Cover and cook until the chicken is done and the vegetables are tender.
If desired, you can crisp up the chicken skin by broiling the chicken for a few minutes prior to serving.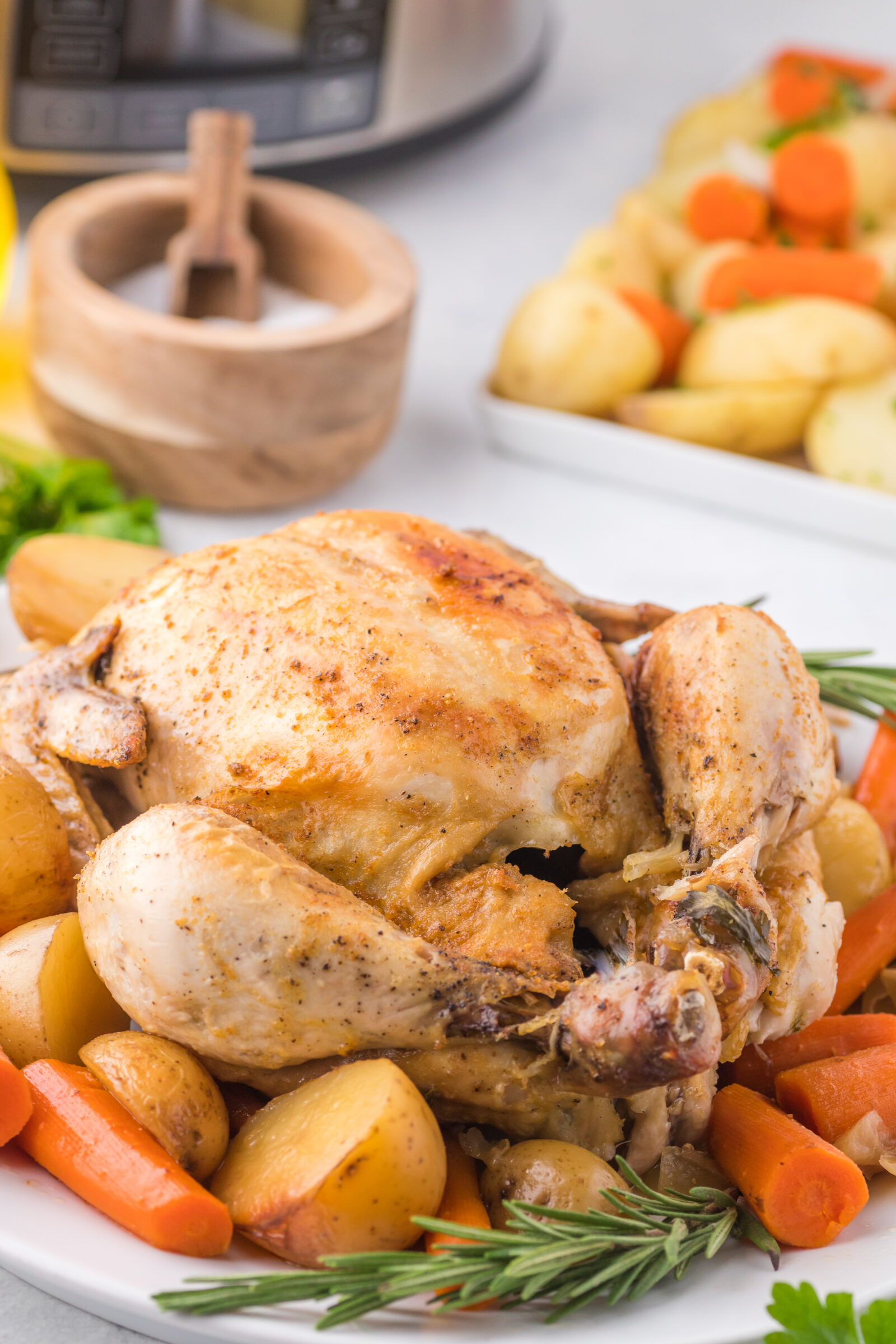 How Long Does a Whole Chicken Need to Be Slow Cooked?
You'll need to cook the whole chicken and vegetables on low for 4 hours or on high for 8 hours.
How to Tell When Slow Cooked Chicken Is Done
You'll know the chicken is done when the juices run clear when it's pierced with a fork. If you have a meat thermometer, check that the chicken has an internal temperature of 165ºF.
What Size Slow Cooker Is Needed?
You need to use a 6-quart slow cooker or larger for this recipe. If you only have a smaller slow cooker, this might not be the recipe for you.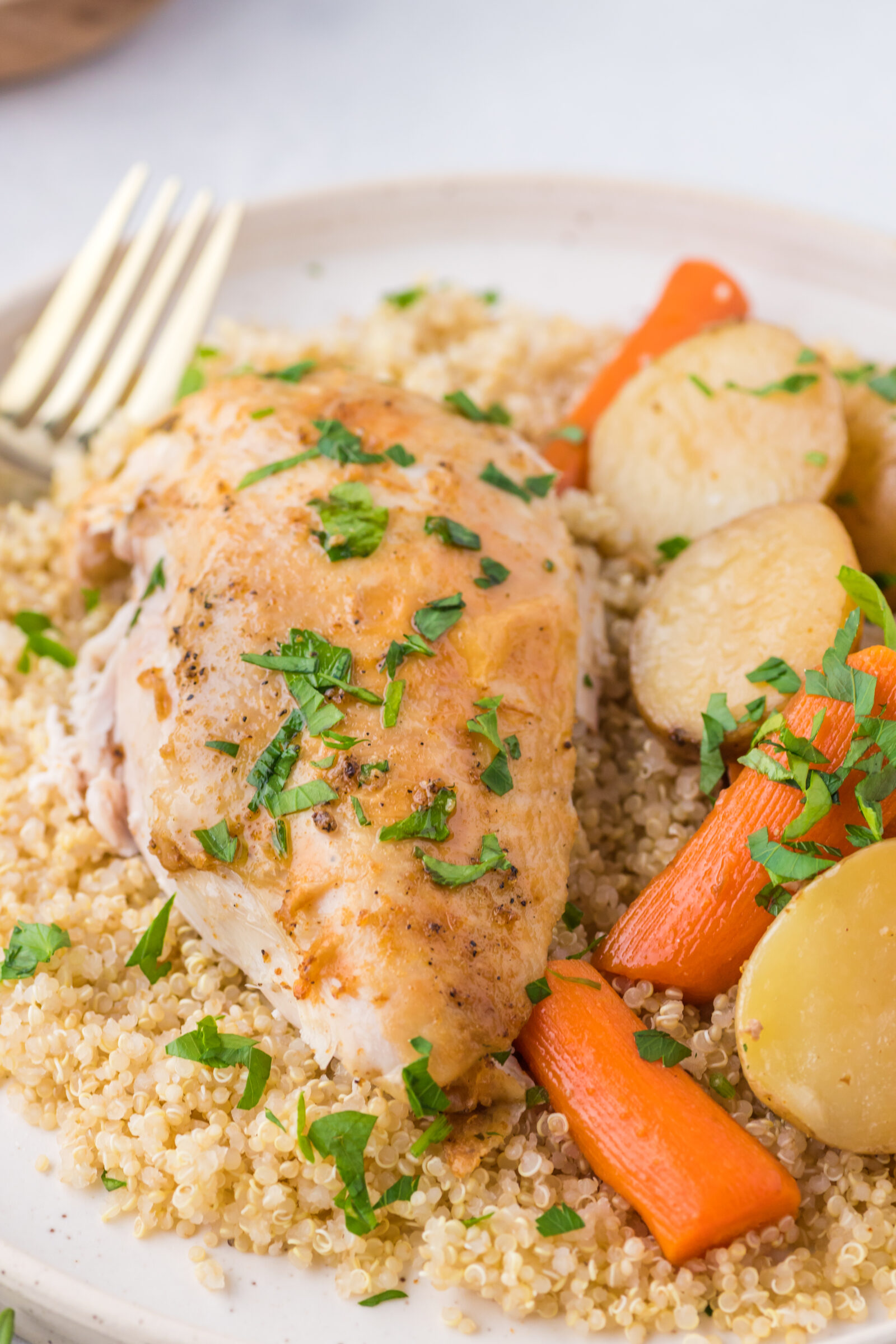 Tips for Slow Cooking a Whole Chicken
For easy cleanup, I recommend lining your slow cooker with a liner.
If you love crispy skin on your whole chicken, broil the chicken for a few minutes just before serving. Watch it closely, as you don't want the skin to burn!
If your carrots or potatoes don't cook in the specified amount of time, it's likely that you cut them too big. Next time, cut them into smaller pieces so they cook at the same rate as the chicken.
Looking for Slow Cooker Chicken Dinners? I've Got You Covered!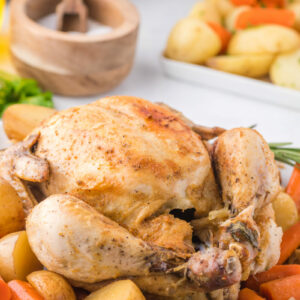 Slow Cooker Whole Chicken
In this Slow Cooker Whole Chicken recipe, a chicken is slow cooked to tender perfection with potatoes and carrots in this no-fuss recipe!
Ingredients
2 tablespoons olive oil
1 teaspoon salt
½ teaspoon black pepper
1 teaspoon garlic powder
1 teaspoon dried minced onion
1 teaspoon paprika
1 teaspoon ground mustard seeds
1 white onion, (chopped)
3 cups baby potatoes, (halved)
2 cups carrots, (sliced)
5 pound whole chicken
2 sprigs fresh rosemary
Fresh parsley
Instructions
In a small bowl, add the olive oil, salt, pepper, garlic powder, minced onion, paprika, and ground mustard. Mix everything until all the ingredients are well combined.

Place the vegetables in the bottom of the slow cooker, add the chicken, rosemary, and parsley on top. Rub the chicken with the spice mixture.

Cover and cook on high for 4 hours or low for 8 hours, or until the chicken is fully cooked (the internal temperature should reach 165°F) and the chicken flesh pulls away easily from the bone.

Transfer the chicken to a baking sheet and broil it in the oven for a few minutes until golden brown, if desired. Transfer the chicken to a serving plate with the vegetables and serve.
Notes
If you are using a frozen chicken, make sure that the chicken is completely thawed before you cook it. This will help it cook evenly.
The chicken will release a lot of juices as it cooks. You can remove some of the excess liquid halfway through cooking if desired.
You can make a sauce to go with the chicken. Try a simple BBQ sauce or honey mustard glaze.
Chicken and vegetables will keep in an airtight container in the refrigerator for up to four days.
See my tips and tricks for making this Slow Cooker Whole Chicken above the recipe box.