These Brownie Bites with Nutella Frosting are thick, fudgy, and chewy. Topped with a creamy Nutella frosting and made in bite-sized form, these make the ultimate treat!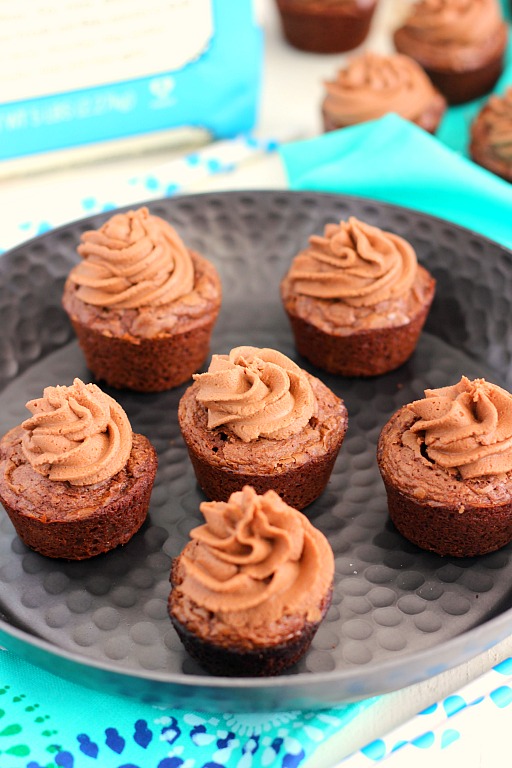 I feel like I say this all the time, but this year is really flying by so far!
At the beginning of every year, I silently curse the months of January and February. Since I'm from the Midwest, we often get brutal winters, filled with negative temperatures and lots of snow. Yuck.
But when March rolls around, my spirits start to lift a little. Even though the cold and snow often still comes in March, and even April, it helps to know that spring officially starts soon and Easter is on its way.
And now that we're in the second week of March (hooray!), I always look forward to baking some Easter goodies to share. And whether you celebrate this holiday or not, it's hard to resist all of the pastel and spring decor that pops up at just about every store.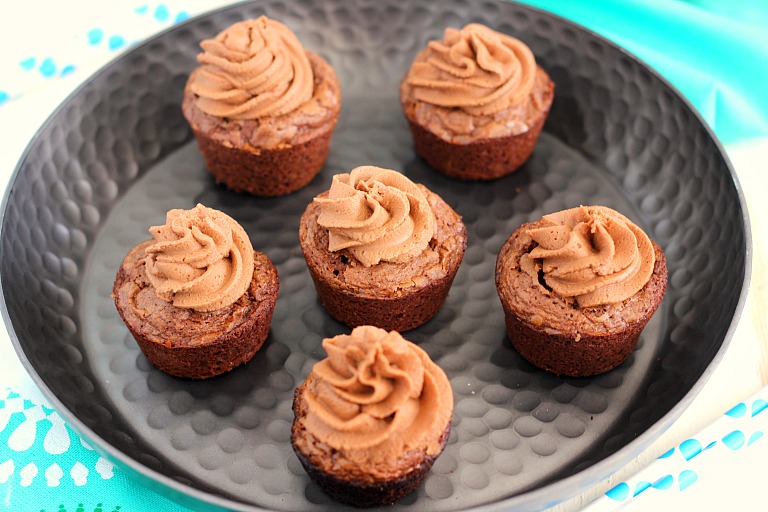 Since the hubster and I always spend Easter with both sides of our family, I try to think of a creative sweet treat to share every year. After all, I feel that's my duty as a food blogger.
Now, you may have noticed that I don't have any brownie recipes on Pumpkin 'N Spice. Well, I have one, but it's a creative take on a boxed mix, so that doesn't really count.
Even though I haven't had any brownies to share with you (until now), I have been thinking about it quite often. You see, it took me so long for me to finally perfect the best brownie recipe. I've been working on this for quite a while…months! And I could never get the consistency quite right.
Some were too dense, some too cakey, or not fudgy enough. And let me tell you…my qualifications for the "perfect brownie" is one that is thick, fudgy and chewy. Sure, I like the cakey kind, but my ultimate treat is the fudgy kind. You know, where you need a glass of milk to wash down all of the chocolate. That kind.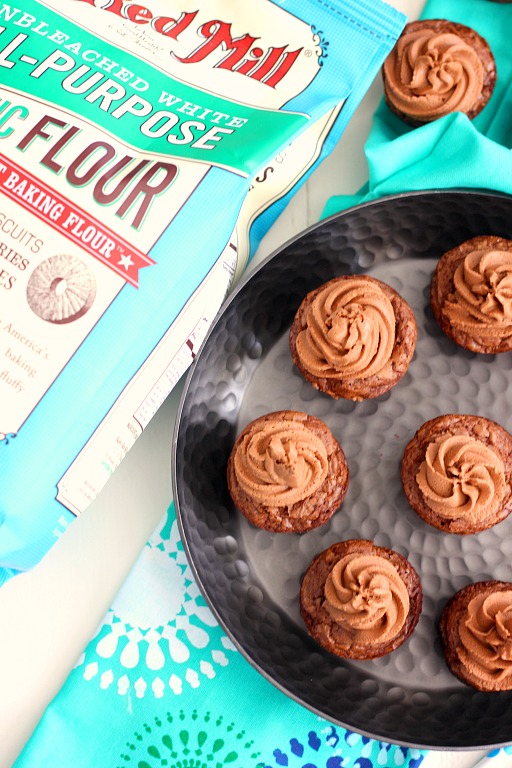 So when I finally got the recipe just right, I knew it would be the perfect debut for Easter. These Brownie Bites with Nutella Frosting are thick, fudgy, and chewy. Topped with a creamy Nutella frosting and made in bite-sized form, these make the ultimate treat!
Since I'm pretty much obsessed with Nutella (see here, here and here), I just couldn't resist adding it to these bites. Thick and fudgy brownies are one thing, but when you add in some Nutella…wowsers! It makes the most delicious flavor combination!
When I started to prepare these Brownie Bites, I immediately reached for my favorite flour: Bob's Red Mill Organic Unbleached All Purpose White Flour. Their flour is a kitchen staple of mine and always stocked in my pantry. It's versatile and perfect for your baking needs. It's also freshly milled from Organic hard red wheat. And that means that the bran and germ have been removed, which means that it's not enriched with any additives.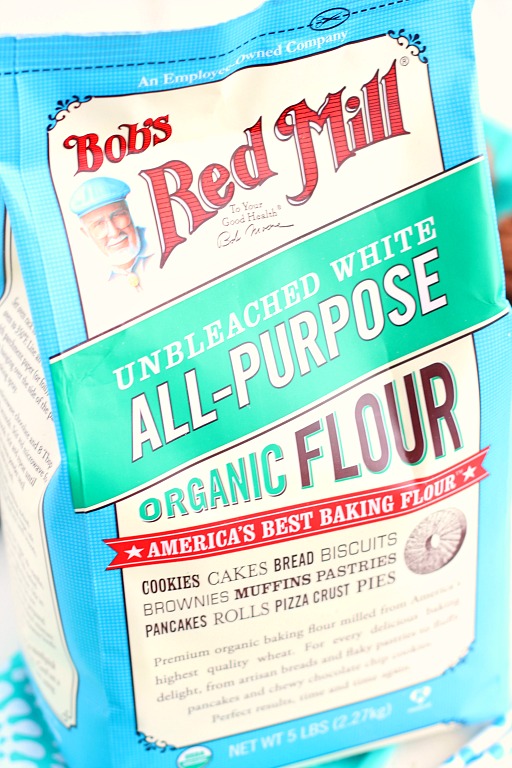 To start, you whisk the dry ingredients in a medium bowl and set aside. Then, you'll melt two sticks of butter, some semi-sweet chocolate chips, and dark chocolate wafers (or chips) in a medium bowl until smooth and creamy. I chose to use dark chocolate wafers (I used the Ghirardelli brand) because I love the taste and ease of melting.
Then, it's time to beat the sugar and eggs until light and fluffy. Stir in the melted chocolate mixture and then slow incorporate the flour mixture. Finally, spoon the batter into the prepared muffin tins and let the oven work its magic.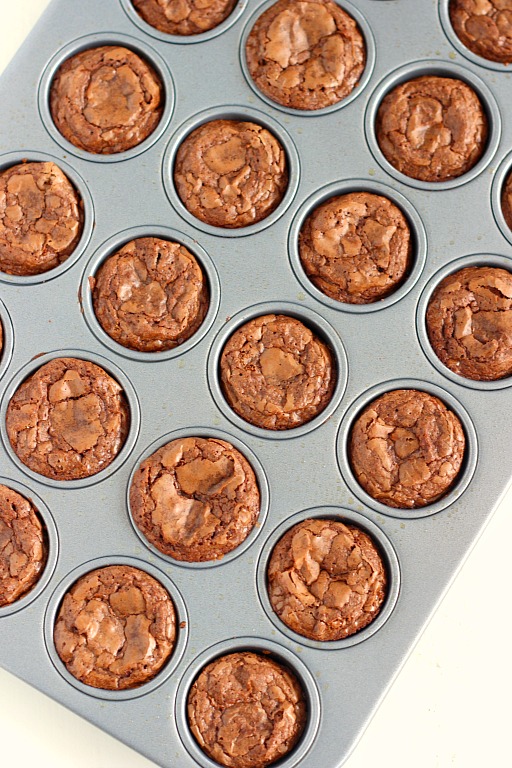 When the brownie bites are cooled, prepare the Nutella frosting. And I won't tell if you sneak a spoonful (or three) before frosting the bites.
Once you taste these Brownie Bites, I guarantee you'll be hooked on the decadent flavor! Filled with a rich and fudgy texture, slightly chewy and thick, these bites are packed with deliciousness. And then there's the frosting. The sweetness of the Nutella balances the rich chocolate just perfectly.
So if you're looking for a decadent treat to share for your Easter celebration, these Brownie Bites with Nutella Frosting are sure to be the star of the dessert table!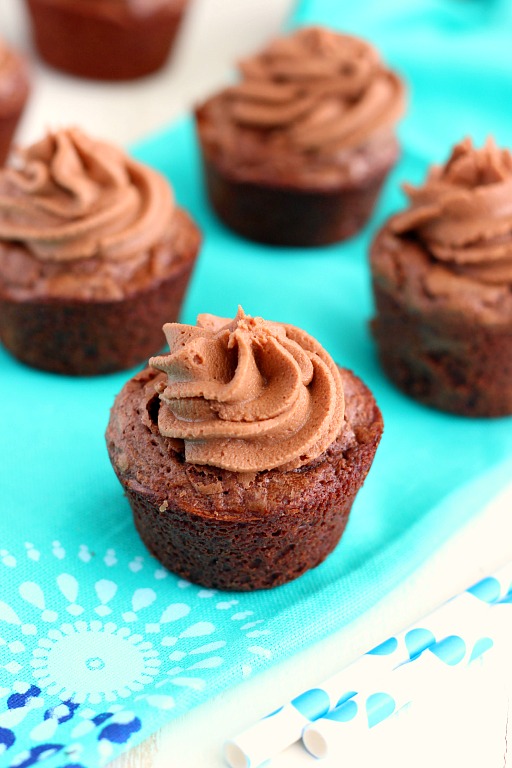 Are you ready to try Bob's Red Mill Flour? Then click here to receive a coupon towards your next purchase!
Subscribe to my YouTube Channel to see how easy these brownie bites are to make!
Yields 36 brownie bites
Brownie Bites with Nutella Frosting
20 minPrep Time
15 minCook Time
35 minTotal Time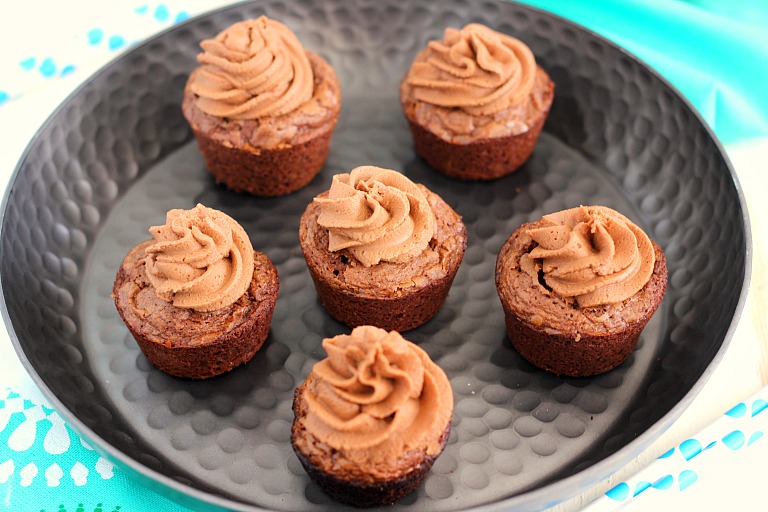 Ingredients
BROWNIES

1 cup all-purpose flour
1/2 teaspoon salt
1/2 teaspoon baking powder
1/2 cup unsweetened cocoa powder
1 cup unsalted butter
3/4 cups semi-sweet chocolate chips
1/4 cup dark chocolate wafers (or chips)
1 1/2 cups white sugar
4 eggs
2 teaspoons vanilla extract

NUTELLA FROSTING

1 cup unsalted butter, softened
3 cups powdered sugar
3/4 cup Nutella
3-4 tablespoons heavy cream
1 teaspoon vanilla extract
Instructions
Preheat oven to 375F. Spray a 36-count mini muffin tin with non-stick cooking spray. Set aside.
In a medium bowl, whisk flour, salt, baking powder, and cocoa powder. Set aside.
In another medium bowl, combine butter, semi-sweet chocolate chips and dark chocolate wafer. Melt in the microwave over medium heat, stirring occasionally, until smooth. Set aside to cool slightly.
In a large bowl, beat sugar and eggs until light and fluffy. Beat in vanilla extract.
Stir in melted chocolate.
Slowly stir in flour mixture until just incorporated.
Spoon batter into prepared muffin tin, filling about 3/4 full.
Bake for 9-11 minutes, or until brownies are set.
Remove from oven and allow to cool completely in muffin tin.
To make the nutella frosting, beat butter in a large bowl with an electric hand mixer or stand mixer with fitted paddle attachment until light and creamy, about 2-3 minutes.
Add in powdered sugar, 1 cup at a time, until incorporated.
Add Nutella, heavy cream, and vanilla. Beat for about 3-4 minutes, or until light and creamy.
Pipe or spoon frosting on top of cooled brownie bites.
Enjoy!
7.8.1.2
275
https://www.pumpkinnspice.com/brownie-bites-with-nutella-frosting/
I was selected for this opportunity as a member of Clever Girls and the content and opinions expressed here are all my own.