Soft, chewy, and jam-packed with chocolate, these Chocolate Chunk Oatmeal Cookies are full of oats and hearty flavors!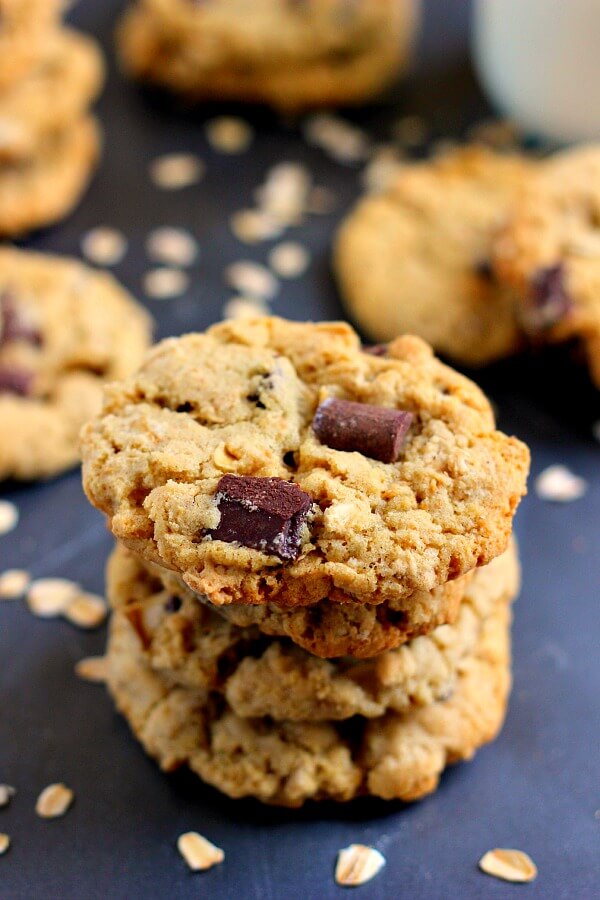 Confession time: I'm not a huge fan of oatmeal cookies. I never really liked the texture when I was little and certainly didn't care for the oatmeal cookies that were studded with raisins. I never voluntary tried those cookies, unless you count the store-bought iced oatmeal kind. Part of the reason I never liked these cookies was because I didn't start to like oatmeal until I was older, and I still don't like raisins in anything (although I will eat them plain). And because I never really found an oatmeal cookie without raisins, I always stayed away from them.
But now that my tastes have evolved more and I actually love the texture of oatmeal (especially in this banana bread version), I decided to give the cookies another shot and create my version. Since my apple oatmeal cookies turned how to be a huge success, I knew it was time to give it another try. And I was on a mission to make a cookie without raisins and full of chocolate, dark chocolate chunks, to be exact.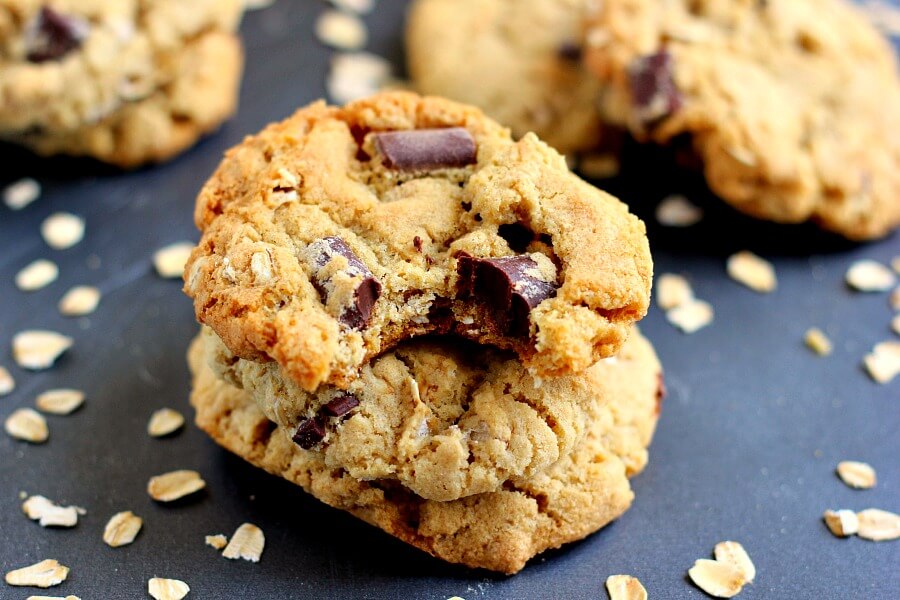 And I'm happy to report that these Chocolate Chunk Oatmeal Cookies fit my expectations! Soft, chewy, and jam-packed with chocolate, these cookies are full of oats and hearty flavors. Filled with just the right amount of spices, these cookies are ones that you can really sink your teeth into!
If you're a fan of soft and chewy cookies, then these Chocolate Chunk Oatmeal Cookies were made for you. These babies practically melt in your mouth with chocolate-y goodness and make you reach for a second (and third) cookie. The hearty oats combine perfectly with the mixture of sweet brown sugar and spices. And because chocolate makes everything better, these cookies will wow your taste buds. Trust me!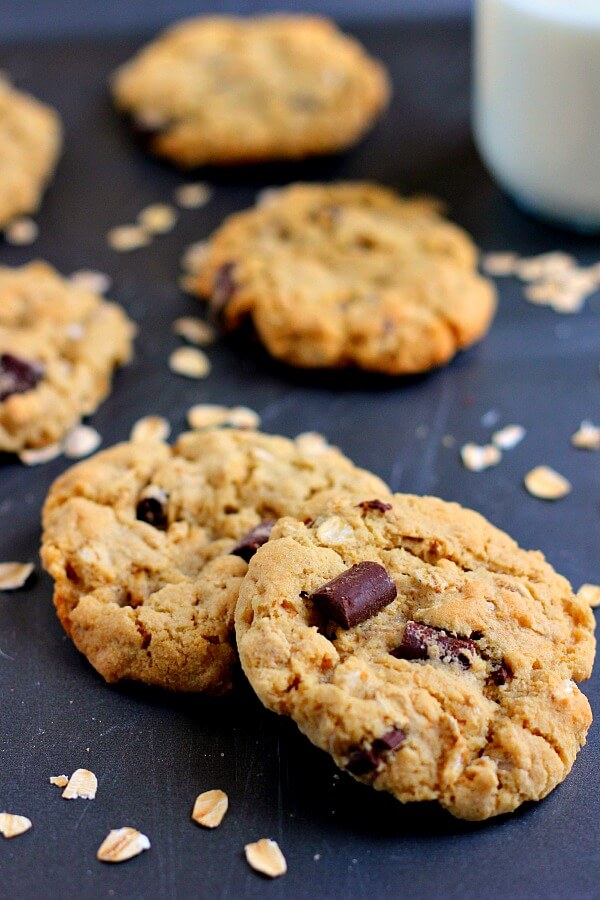 Like most of my recipes, these Chocolate Chunk Oatmeal cookies are a breeze to make. In fact, you can make these in just one bowl! And you know what that means…less dishes to wash and more time devouring these cuties.
I chose to use old-fashioned oats, as that's what I always have stocked in my pantry (for this granola or this breakfast), so I would recommend using those. And because chocolate is a necessity for me, I opted for the chunks (more chocolate!) but feel free to use chocolate chips, if that is all you have in your kitchen.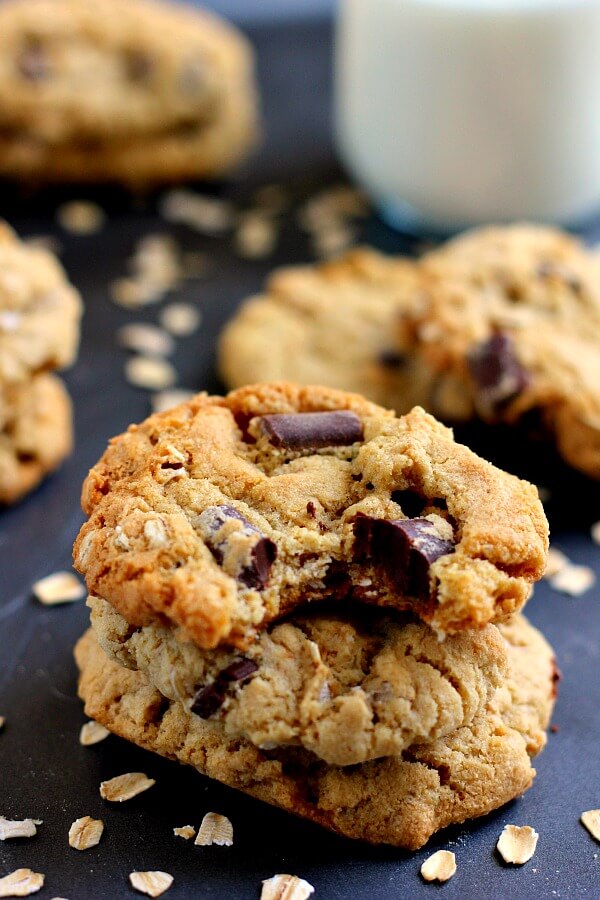 Even if you're not a big oatmeal cookie lover like me, I pinky swear that you will swoon over these Chocolate Chunk Oatmeal Cookies! Fresh, full of flavor, and oh-so delicious, these cuties make the sweet treat to munch on all day long!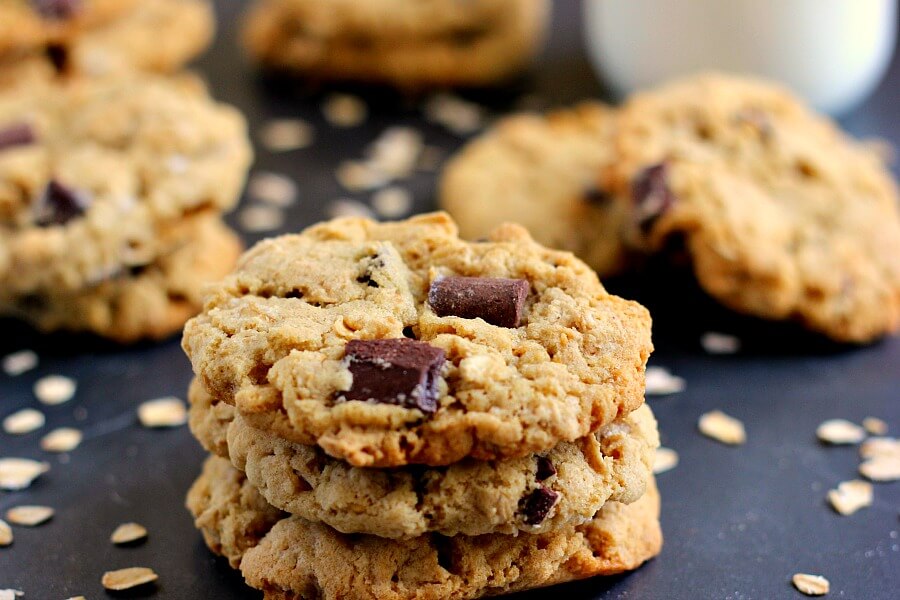 Looking for more cookie recipes? I've got you covered!
Chocolate Chunk Oatmeal Cookies
Soft, chewy, and jam-packed with chocolate, these Chocolate Chunk Oatmeal Cookies are full of oats and hearty flavors!
Prep Time 10 minutes
Cook Time 15 minutes
Total Time 25 minutes
Servings 36 cookies
Ingredients
2 cups old-fashioned oats
2 cups all-purpose flour
2 teaspoons baking soda
1 teaspoon salt
1/2 cup unsalted butter softened
1 cup white sugar
1 cup brown sugar
2 eggs
1 1/2 tablespoons vanilla extract
1 cup chocolate chunk morsels
Instructions
Preheat oven to 350F. Lightly spray two baking pans with non-stick cooking spray or line with parchment paper or a silpat baking mat. Set aside.

In a medium bowl, whisk together oats, flour, baking soda, and salt. Set aside.

In a large bowl, cream butter, brown sugar, and white sugar with an electric hand mixer or stand mixer with fitted paddle attachment.

Add in eggs, one at a time, followed by vanilla, and beat until combined.

Pour wet ingredients into dry ingredients and stir until just combined. Be careful not to overmix.

Gently fold in chocolate chunks.

Shape dough into rounded balls and drop onto baking pans.

Bake for 12-14 minutes or until tops are lightly browned and edges are set.

Remove from oven and let cook for 10 minutes, then move to a wire tack to cool completely.

Enjoy!