With fresh corn cut straight from the cob, cherry tomatoes, spices, and a light dressing, this Corn and Tomato Salad is perfect for a summer lunch or dinner!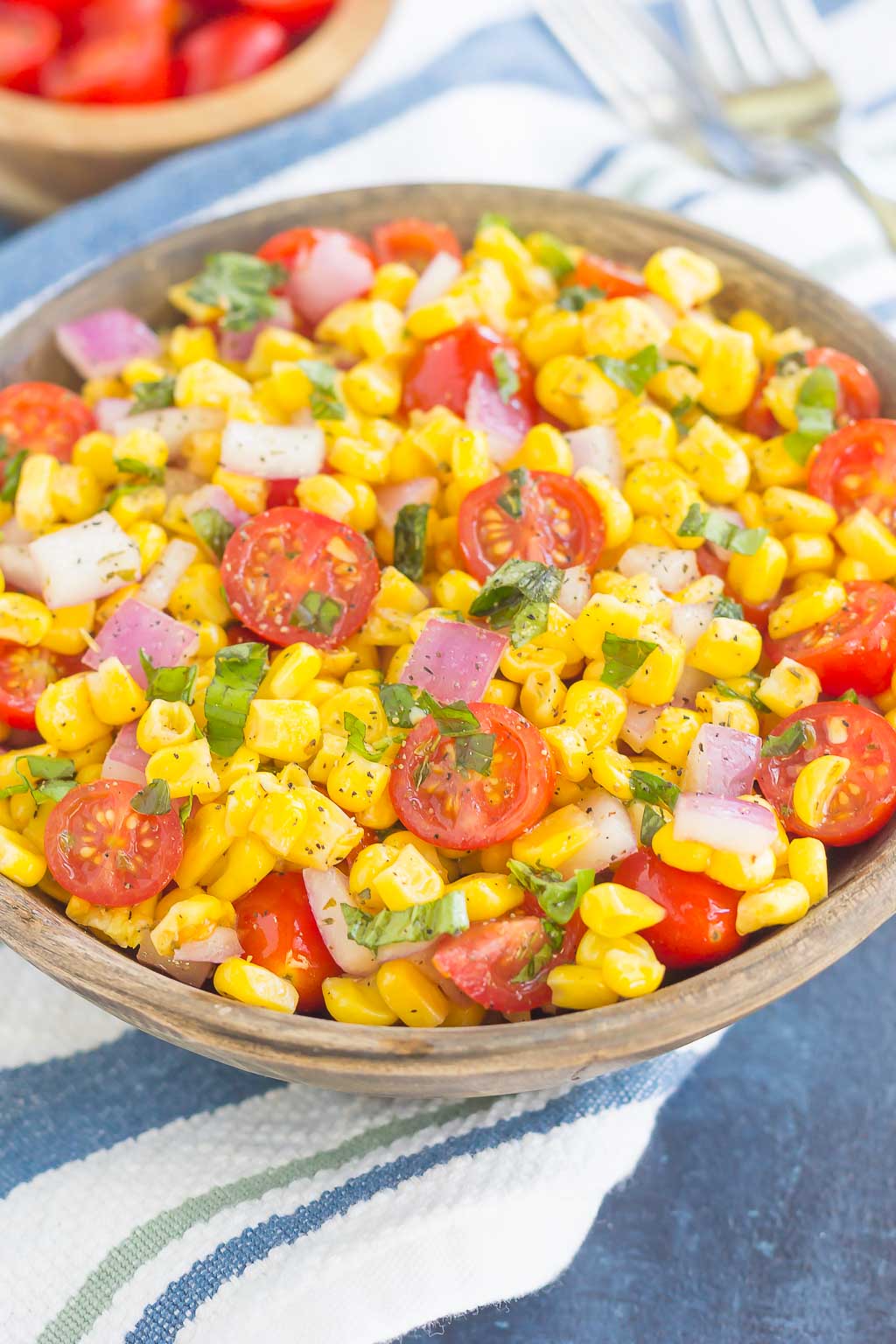 **July 2017 Update!** This recipe was originally posted in July 2014. I decided that the photos desperately needed updating, so I reshot the recipe (but still kept the ingredient list and directions the same). I also kept the original post/story below that I wrote three summers ago!**
Summer just screams salad season, doesn't it? Don't get me wrong, salads are wonderful anytime of the year, but they just seem to taste better in the summer. Fresh produce, bright pops of color, and light dressings are the perfect lunch (or dinner) for me. And now that I have become a regular at my town's farmer's market, I'll use any excuse I can find to stock up on some delicious fruits and veggies. 
While I was strolling down the aisles of the farmer's market last Friday, carefully inspecting my produce, a family across the way caught my attention. A mother, who seemed a bit frazzled, was trying to usher her two young daughters around a table of fresh berries that was placed in one of the aisles.
While her back was turned, the older daughter, probably around five years old, quietly reached over and grabbed two raspberries from an open container. She popped one into her mouth, carefully savoring the sweet taste and relishing in her secret victory. Her younger sister caught wind of this and immediately shouted, "I want one! I want one!" As the girls dashed around the table, with the mother following behind, I couldn't help but chuckle.
Although I didn't grow up with a younger sister, my brother and I had our fair share of laughs and fights. As I walked away with my produce, I heard the mother the say, "All I need is some corn for a salad, and then we're done."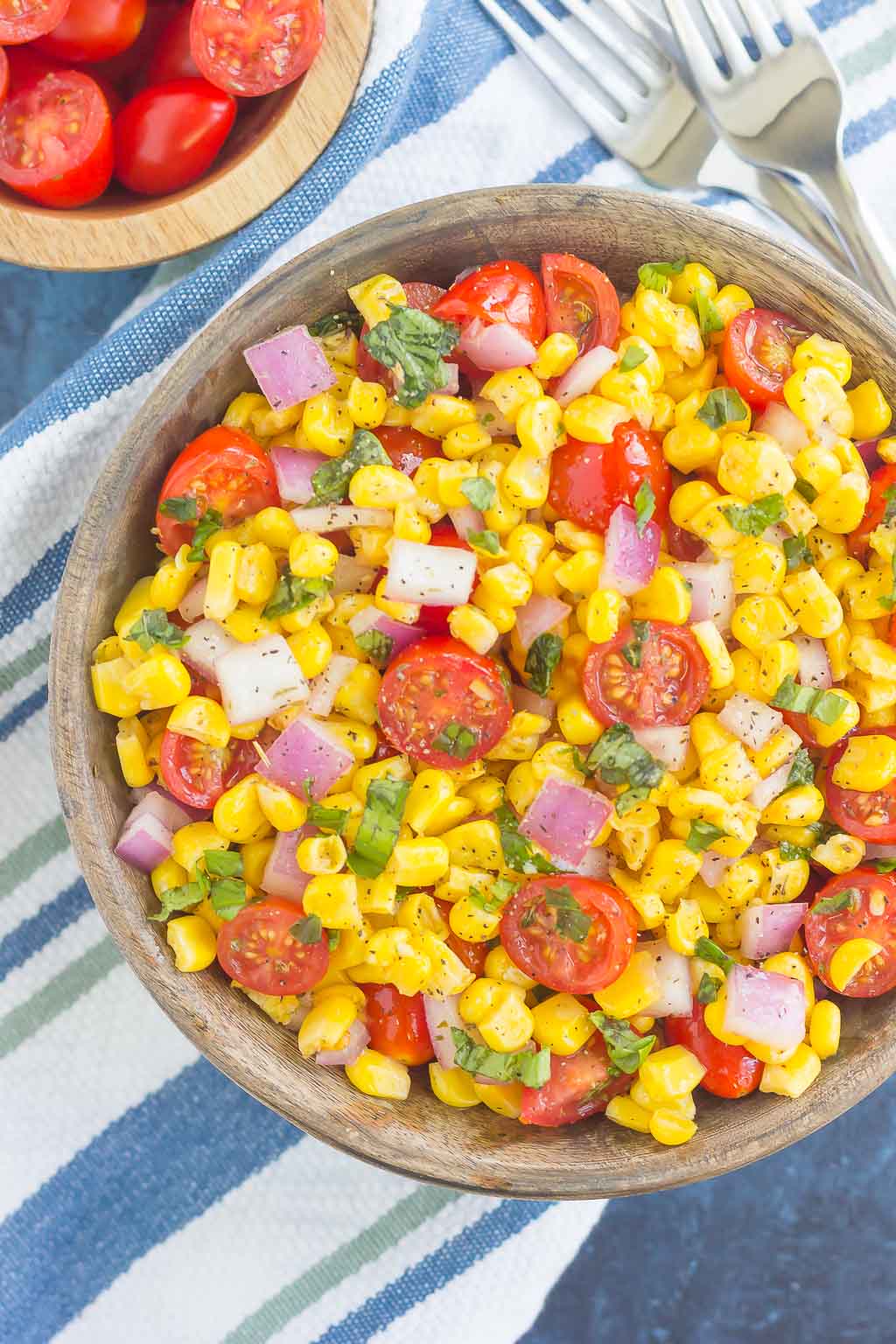 After stocking up on several ears of fresh corn, I knew I wanted to make a salad, just like the mother with her small children. Fresh veggies were a must, and the flavor had to be light. Thus, I created this Corn and Tomato Salad! With fresh corn cut straight from the cob, cherry tomatoes, herbs, and a light dressing, this salad is perfect for a summer lunch.
Aside from the fresh veggies, the dressing is my favorite part! I used a mixture of white balsamic vinegar and olive oil. That's it! It gives this Corn and Tomato Salad a light flavor that pairs perfectly with the fresh herbs.
And like all of my recipes, this salad is very easy to prepare. The only prep work needed is to boil the corn, cut it off the cob, chops up your veggies, and mix. And voila! A perfectly light and healthy salad, perfect for a hot summer day, or a warm summer evening.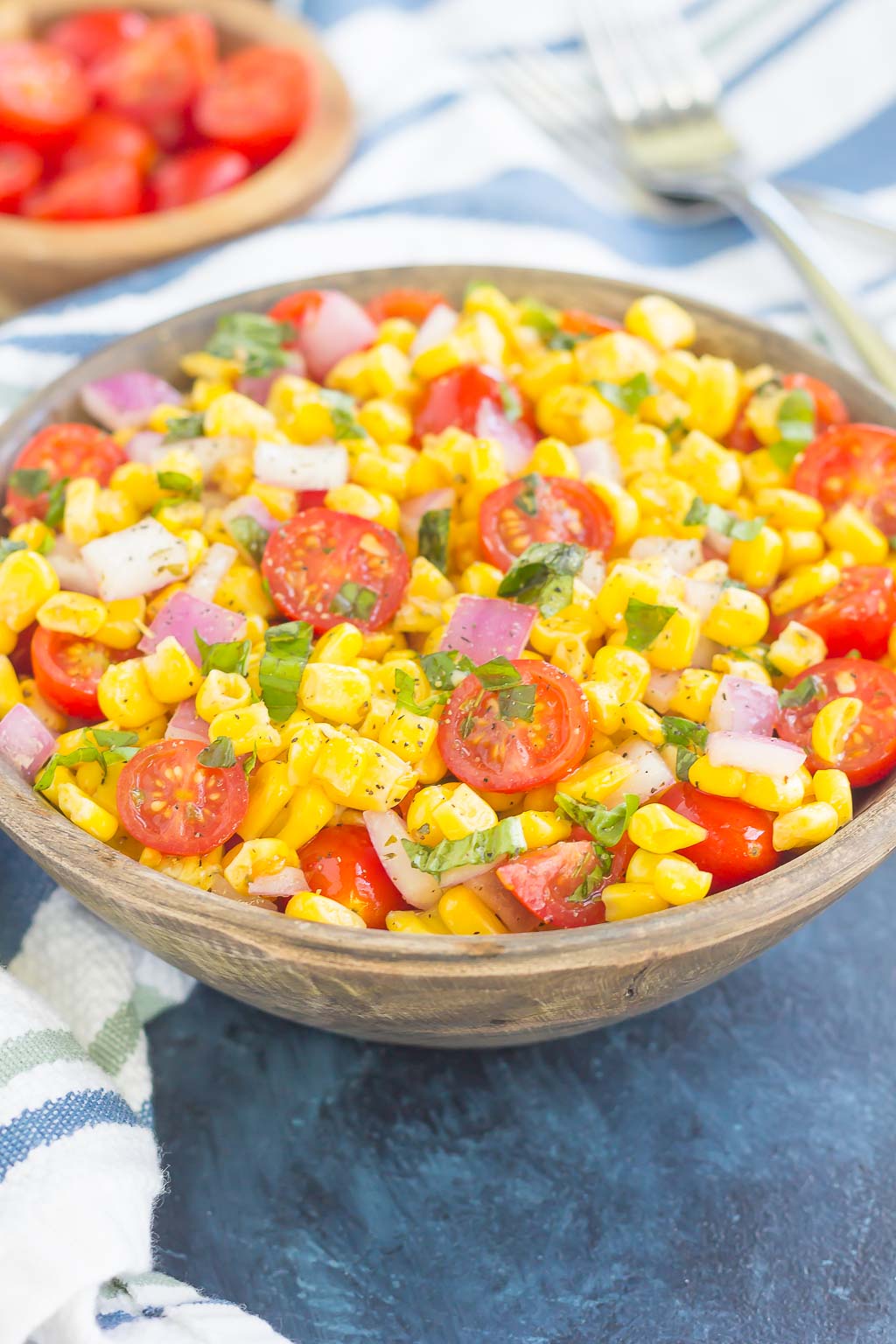 The fresh vegetables and herbs definitely make this salad out-of-this-world good. If you love basil and oregano, than you will simply adore this salad!  And if you haven't tried white balsamic vinegar yet, it's a necessity that you do so right away. It will be life-changing, trust me!
So the next time you're looking for a new salad that's loaded with fresh produce, give this Corn and Tomato Salad a try. I promise you'll love it just as much as me!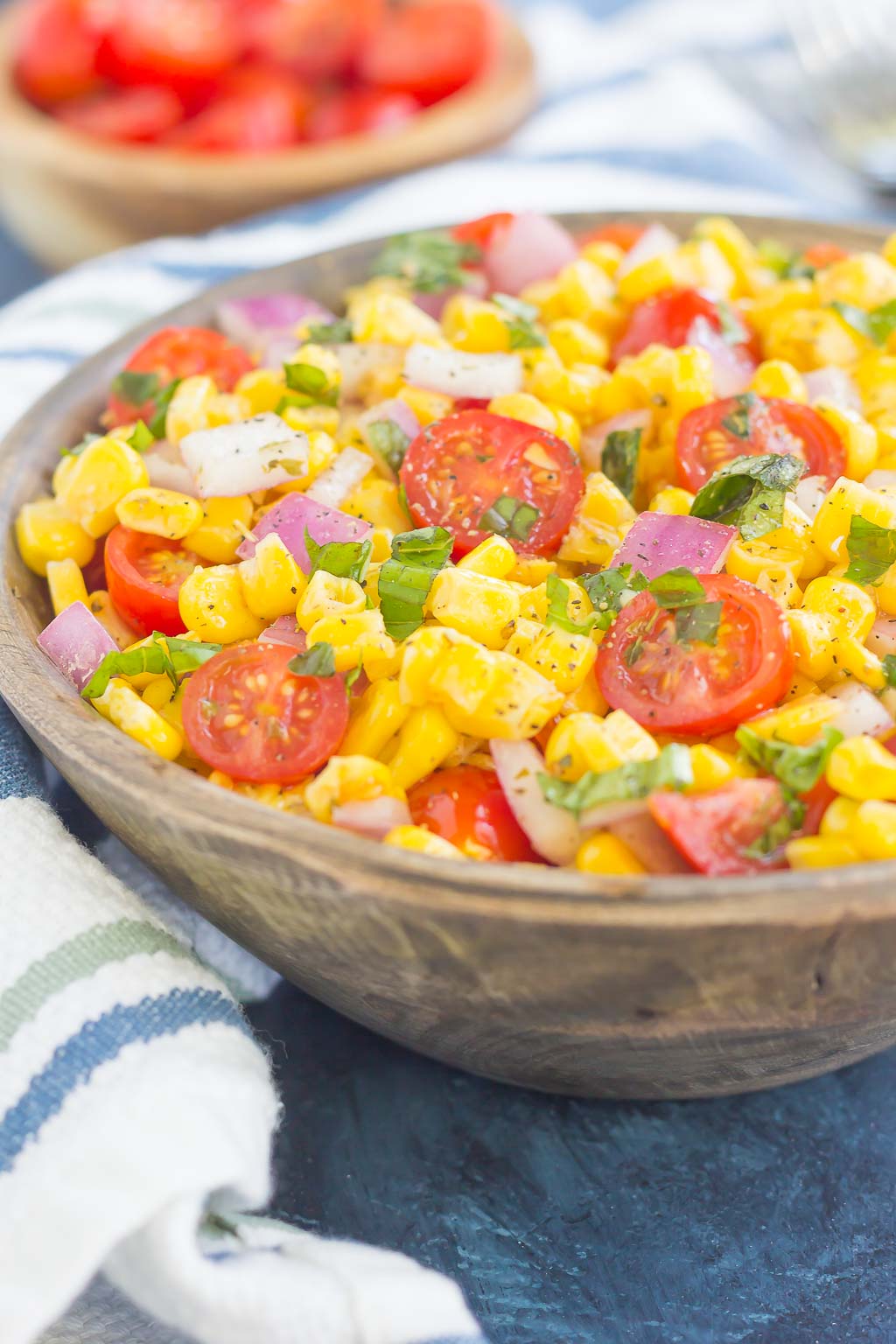 Looking for more easy salad recipes? I've got you covered!
WP Recipe Maker #18786

remove

Corn and Tomato Salad

With fresh corn cut straight from the cob, cherry tomatoes, spices, and a light dressing, this Corn and Tomato Salad is perfect for a summer lunch or dinner!

Course: Salad, Side Dish

Cuisine: American

Keyword: corn salad, salad recipe, tomato salad

Prep Time: 10m

Cook Time: 15m

Total Time: 25m

Servings: 4

– 4 ears of corn on the cob

– 1 container cherry tomatoes

about 2 cups, quartered

– ½ red onion

diced

– ¼ cups chopped

fresh basil

– 2-3 sprigs of fresh oregano

– ¼ cup olive oil

– 2-3 tablespoons white balsamic vinegar

– Salt and pepper

to taste

1) Place corn cobs into a large pot of boiling water and boil for 7 minutes.

2) Shock corn by submerging into a large bowl of water (I do this so that the corn stops cooking and still has a slight crunch to it). Remove corn from water and set aside to cool.

3) In a medium bowl, combine tomatoes, onion, basil and oregano. Lightly toss to mix together.

4) Cut corn off the cobs and toss in salad mixture. Pour olive oil and white balsamic vinegar over salad and toss to coat. Season with sea salt and pepper.

5) Serve immediately or refrigerate until ready to serve.

Salad will keep, covered, in refridgerator for about five days.

serving_size 1

calories 181

carbohydrates 4

protein 1

fat 18

saturated_fat 2

sodium 3

potassium 66

fiber 1

sugar 2

vitamin_a 21

vitamin_c 2

calcium 8

iron 1