In just four days, the holiday season will officially begin. Stores will open on Thanksgiving for their pre-Black Friday sales, just waiting for the madness to start. Hoards of people will be lined up, waiting to get the newest technology gadget or scouring the stores for the best deals. And while I love a good sale, I'm not one to stand in line for hours on end. I don't like the crowded malls and would rather shop at night or from the convenience of my own home (gotta love cyber Monday).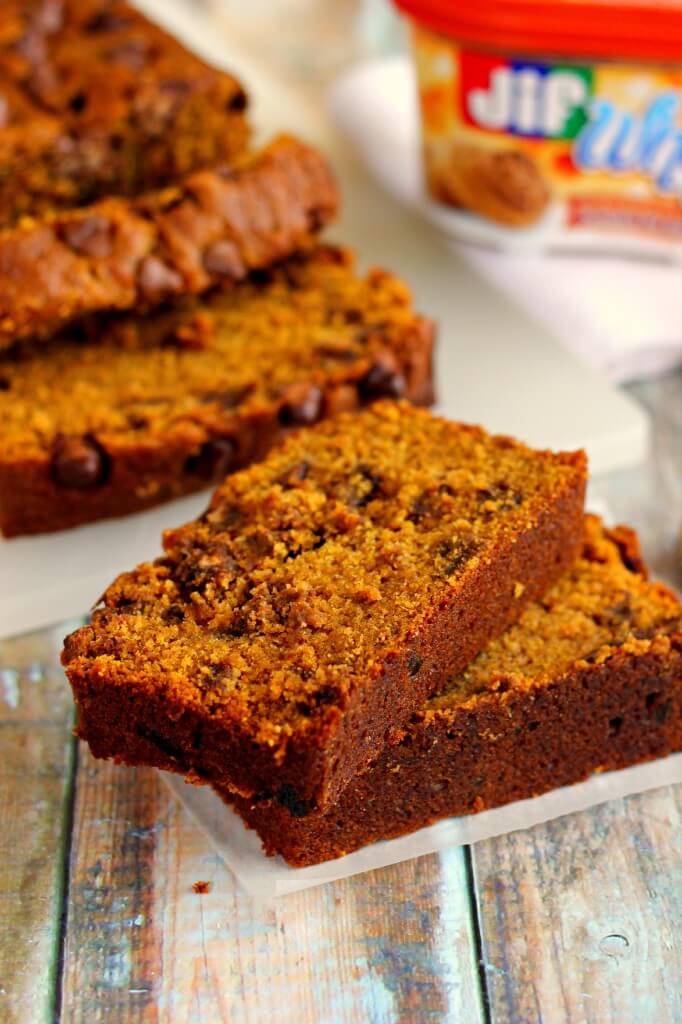 While those people who are crazy for deals are out getting a head start on their holiday shopping, the hubster and I will be putting up our Christmas decorations. It's a tradition that I look forward to every year, complete with Christmas music playing in the background.
And once our tree is lit and decorated, we love to sit and admire its beauty. There's nothing quite like gazing at the tree with a cup of hot chocolate in hand, and this Pumpkin Peanut Butter Spice Bread to dunk in it.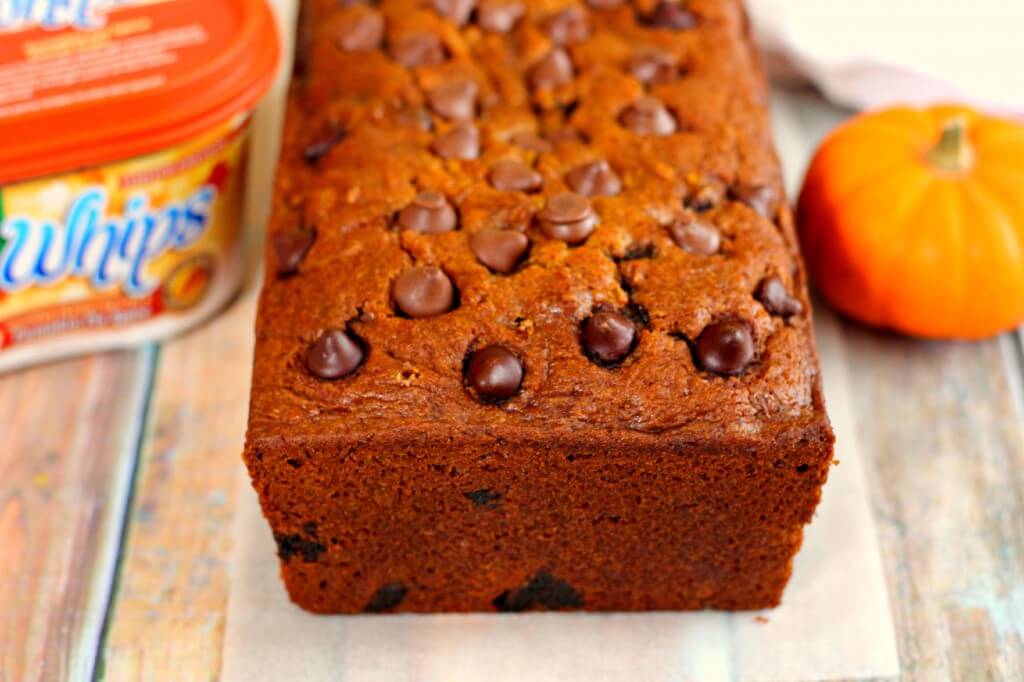 I love to make pumpkin bread every year around Thanksgiving. It's such a classic dessert that most people enjoy. And while I love the plain pumpkin kind, I decided to switch it up this year.
Remember when I made these Pumpkin Pie Bites a while back? I used Jiff Whipped Peanut Butter with Pumpkin Spice and they turned out amazing! Peanut butter with pumpkin?! Yes, please! Since this is my favorite seasonal peanut butter (Target better sell this again next year!), I decided to swirl it into this bread. I also added in some milk chocolate chips filled with peanut butter. Double amazing!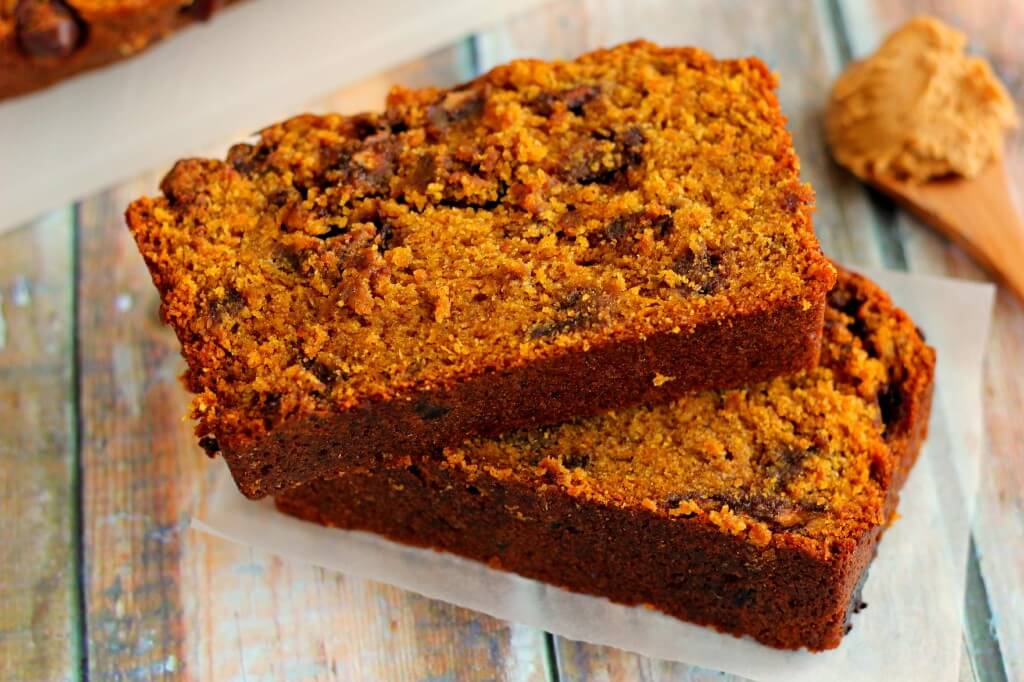 With all of that peanut buttery goodness, this Pumpkin Peanut Butter Spice Bread is full of warm flavors, guaranteed to become a holiday favorite. It's filled with pumpkin, cinnamon, nutmeg, cloves, chocolate and peanut butter. And the aroma? Heavenly. I cut a slice, warm from the oven, and the peanut butter and chocolate chips created warm pockets of gooey yumminess.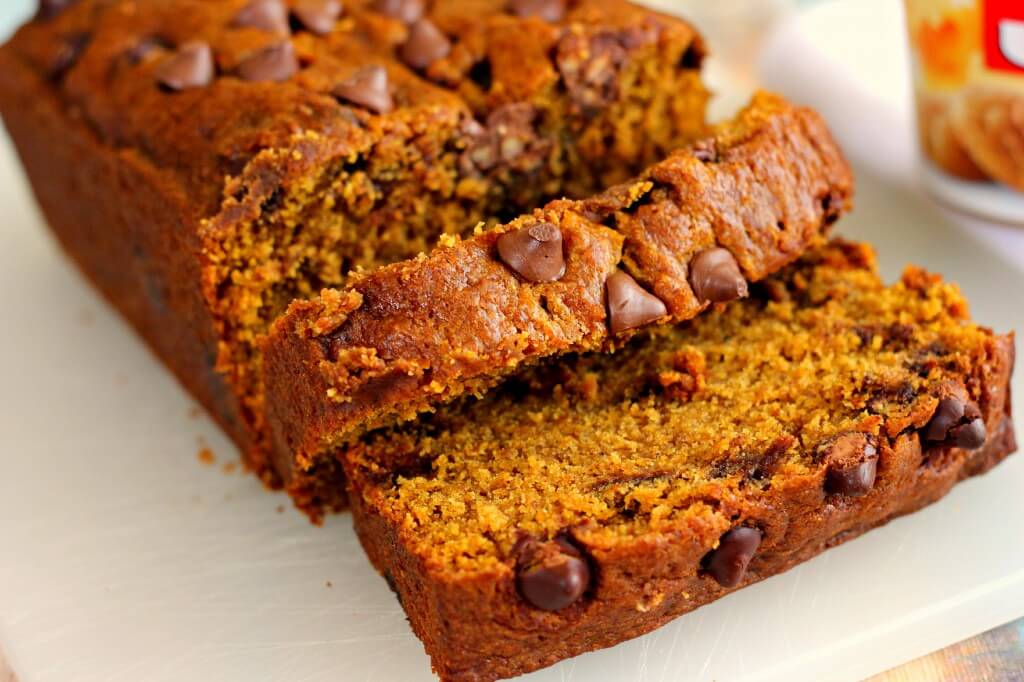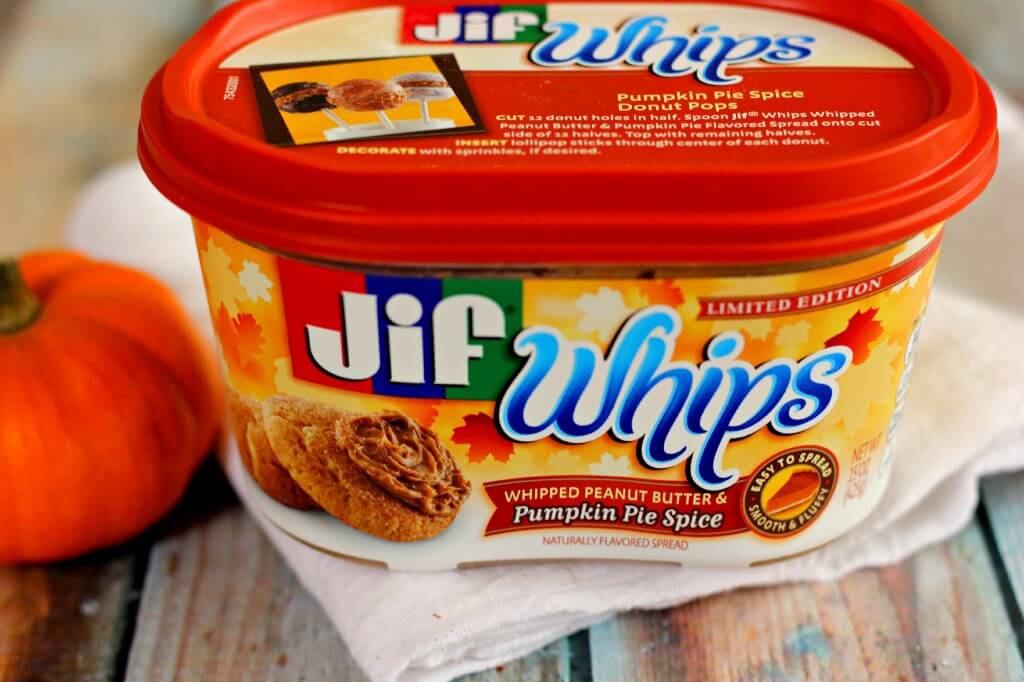 If you're a pumpkin bread lover like me, then you'll flip over this Pumpkin Peanut Butter Spice Bread! Serve it for Thanksgiving, Christmas, or anytime in between, and it's sure to be a crowd-pleaser.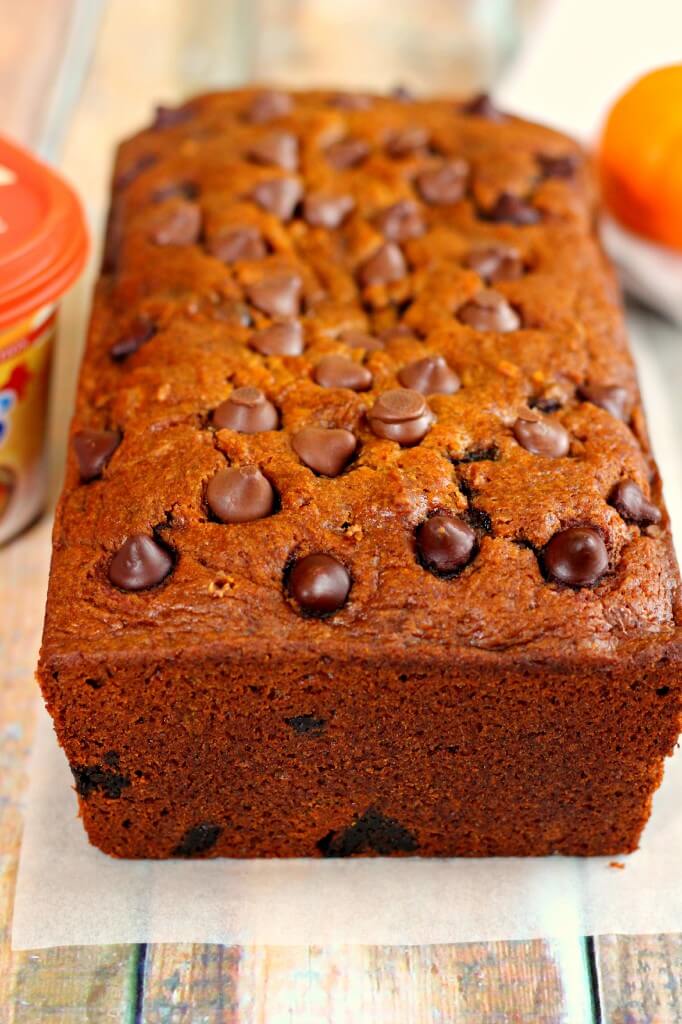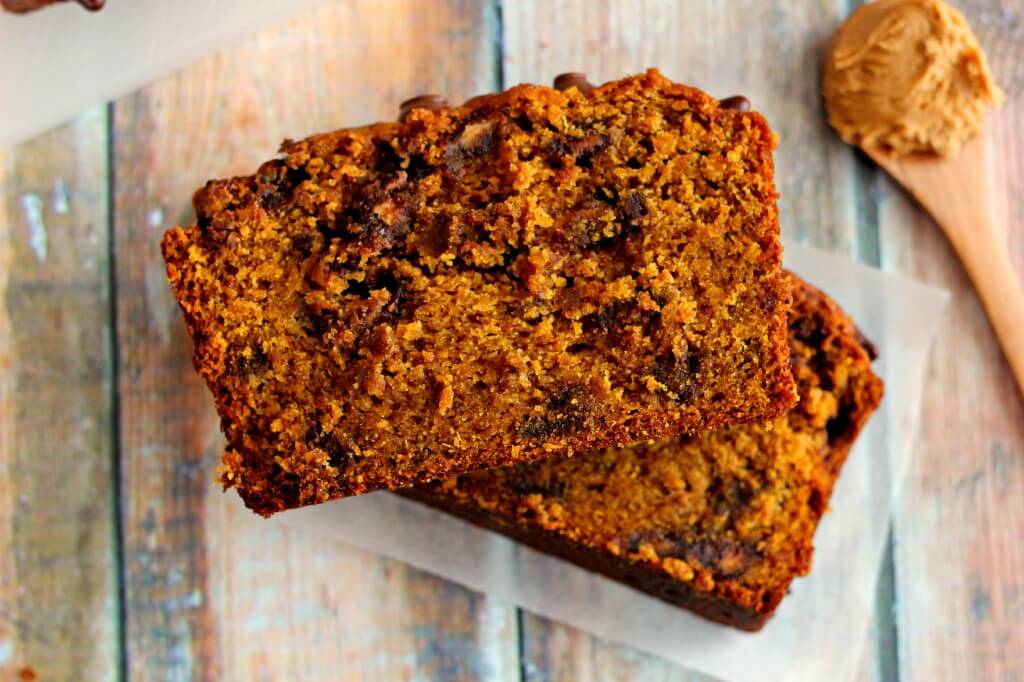 Yields 2 loaves or 1 loaf and 12 regular muffins
Pumpkin Peanut Butter Spice Bread
This Pumpkin Peanut Butter Spice Bread is filled with a warm pumpkin flavor, chocolate, and peanut butter. It's a true pumpkin peanut butter dream!
10 minPrep Time
50 minCook Time
1 hrTotal Time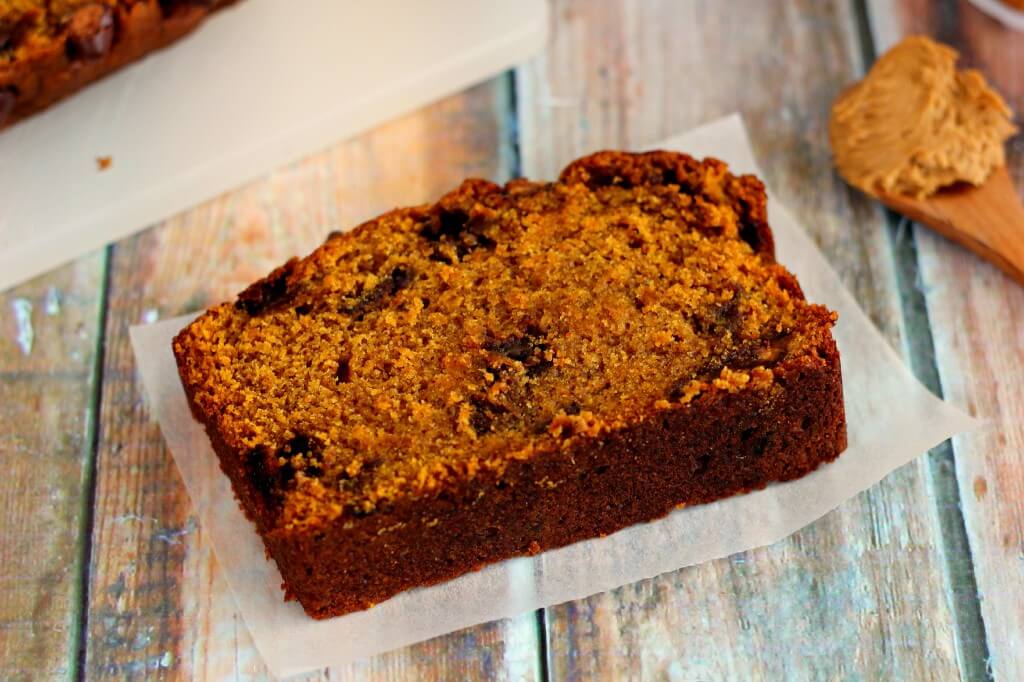 Ingredients
3 1/2 cups all-purpose flour
2 teaspoons baking soda
1 1/2 teaspoons salt
1 1/2 teaspoon ground cinnamon
1 teaspoon ground nutmeg
1/2 teaspoon ground cloves
1/4 teaspoon ground ginger
1 1/2 teaspoon pumpkin pie spice
1 (15 ounce) can pumpkin puree
4 eggs
1 cup coconut oil
2/3 cup water
2 cups white sugar
1 cup Jiff Whipped Peanut Butter and Pumpkin Spice flavor (or regular, creamy peanut butter)
1 cup plus 2 tablespoons milk chocolate morsels with peanut butter filling
Instructions
Preheat oven to 350F. Lightly spray two loaf pans or one loaf pan and a 12 cup muffin tin with non-stick cooking spray. Set aside.
In a medium bowl, combine the flour, baking soda, salt, cinnamon, nutmeg, cloves, ginger, and pumpkin pie spice.Set aside.
In a large bowl, mix together the pumpkin, eggs, oil, water, and sugar until thoroughly combined.
Stir the dry ingredients into the pumpkin mixture until just blended.
Fold in the peanut butter and 1 cup of chocolate chips.
Pour the batter into prepared pans.Sprinkle remaining 2 tablespoons of chocolate chips over top.
Bake for about 50min-1 hour or until golden brown and toothpick inserted in middle comes out clean.
Remove from oven and let cool in pans for 15 minutes, then move to a wire rack to cool completely.
Enjoy!
7.8.1.2
93
https://www.pumpkinnspice.com/pumpkin-peanut-butter-spice-bread/