Raspberry Lime Smoothie
This post contains affiliate links.
This Lime Raspberry Smoothie is thick, creamy, and ready in less than 5 minutes. Packed with sweet raspberries, tangy lime, and simple ingredients, this nutritious drink is perfect for a quick breakfast or on-the-go snack!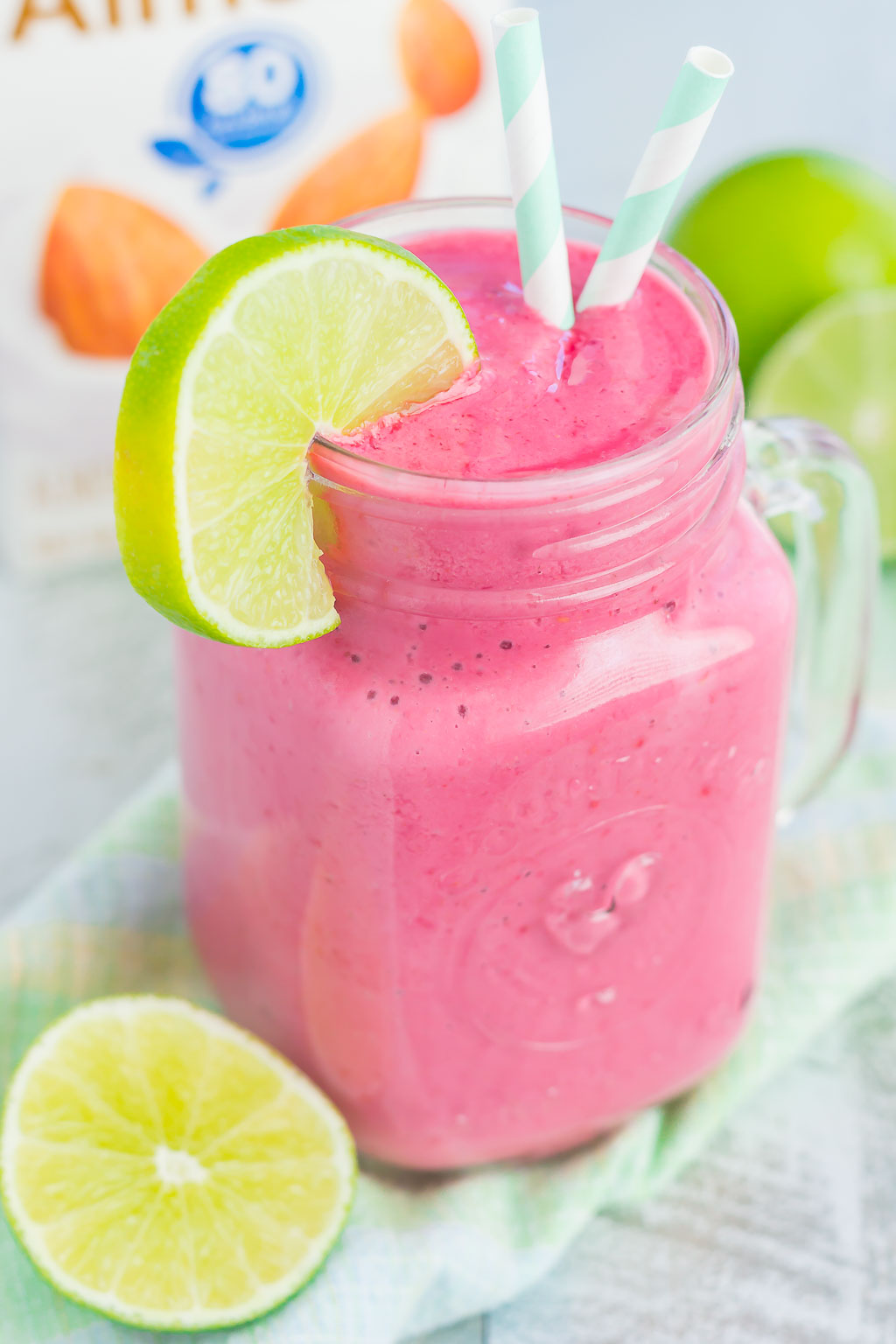 Now that we're nearing the end of January, how is the new year treating you so far? Are you keeping up with your resolutions? Or are those now a thing of the past?
I've mentioned this before, and I'll say it again…I'm not one to make resolutions of any kind. Instead, I refer to them as goals. I am constantly setting goals for myself throughout the year, in my personal and professional life.
And you know what? Goals seem much easier to keep then resolutions, at least for me.
One of my goals for this year to keep healthy and fit. Sounds pretty basic, but I'm strongly placing an emphasis on eating clean (watching processed ingredients, increasing the amount of fruits, veggies, and lean meats, etc.). It's extremely important to me that I not only look, but also feel my best, too. And food plays a vital role in all of that.
And with a new year comes the perfect time to make some of those changes. I'm working towards my goals and am feeling good about it!
And if you've been hanging around here long enough, then you know that I love getting creative with my smoothies. It such an easy way to pack a boost of flavor and nutrition into one, creamy and dreamy drink. With so many different fruits and Silk products to add to your smoothies, the combinations are endless.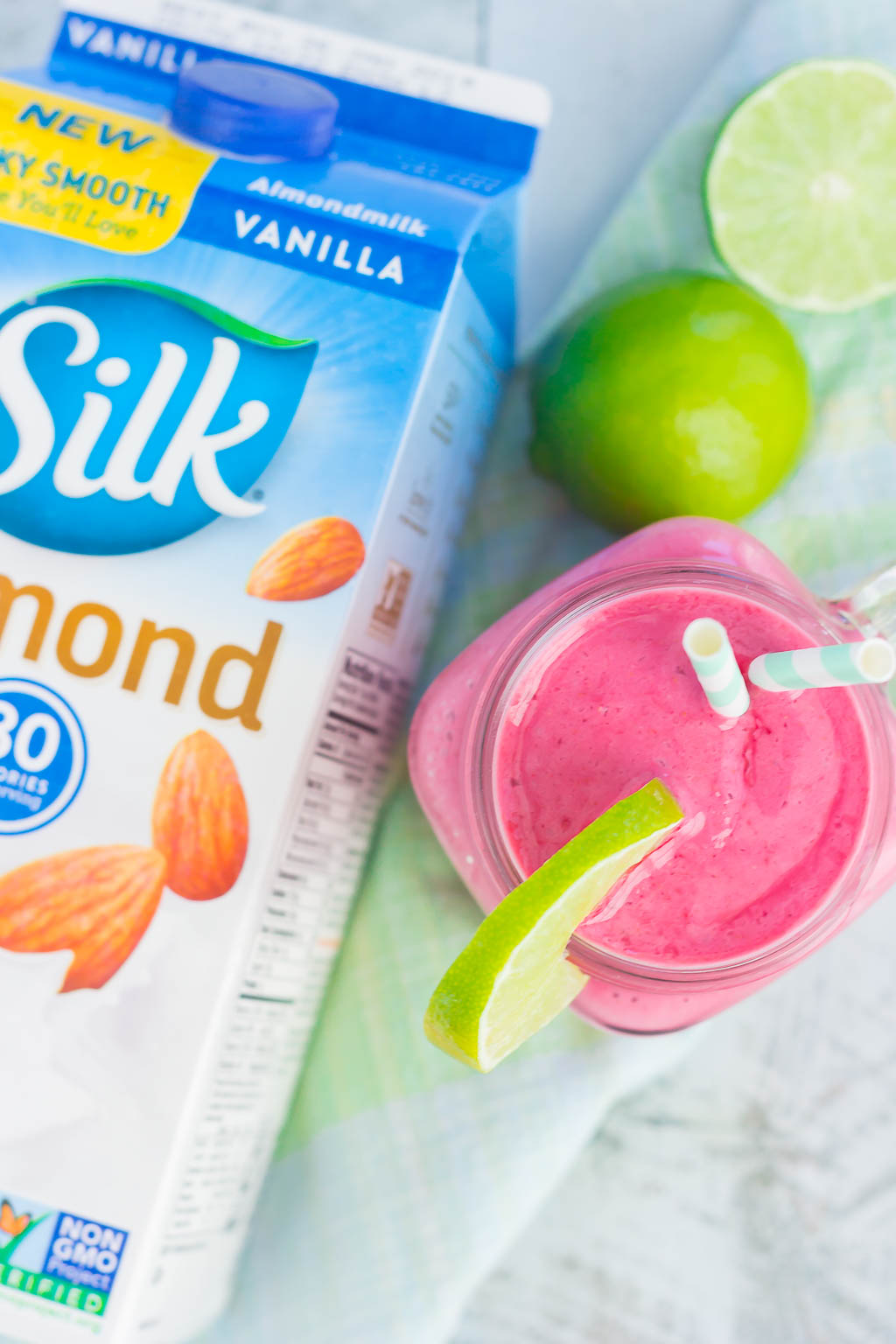 Lime Raspberry Smoothie Ingredients
This almond milk smoothie comes together with minimal ingredients. Here's what I used to make this almond milk smoothie recipe:
Frozen raspberries
Lime juice and zest
Vanilla yogurt
Vanilla almond milk
Honey
How to Make a Raspberry Smoothie
This Raspberry Lime Smoothie is a breeze to make, but, you knew that was coming, right?
To start, you'll add some frozen raspberries, and the juice and zest of one lime to the canister of your blender.
Then, add almond milk, vanilla yogurt, and honey to sweeten, if desired.
Blend away until it reaches your desired consistency (I like my thick and creamy!) and then pour into a glass and enjoy.
Easy-peasy and oh-so delicious, friends! This Raspberry Lime Smoothie is sweet, filled with good-for-you ingredients, and perfect to start the new year with a strong focus on eating healthy and achieving those wellness goals.
Can I Add Other Fruits?
Of course! You're welcome to add other berries to this lime raspberry smoothie recipe. Strawberries and blueberries would both be good additions.
Can I Use Another Type of Milk?
Definitely! You can use another kind of vanilla non-dairy milk, or you can use regular milk. Up to you!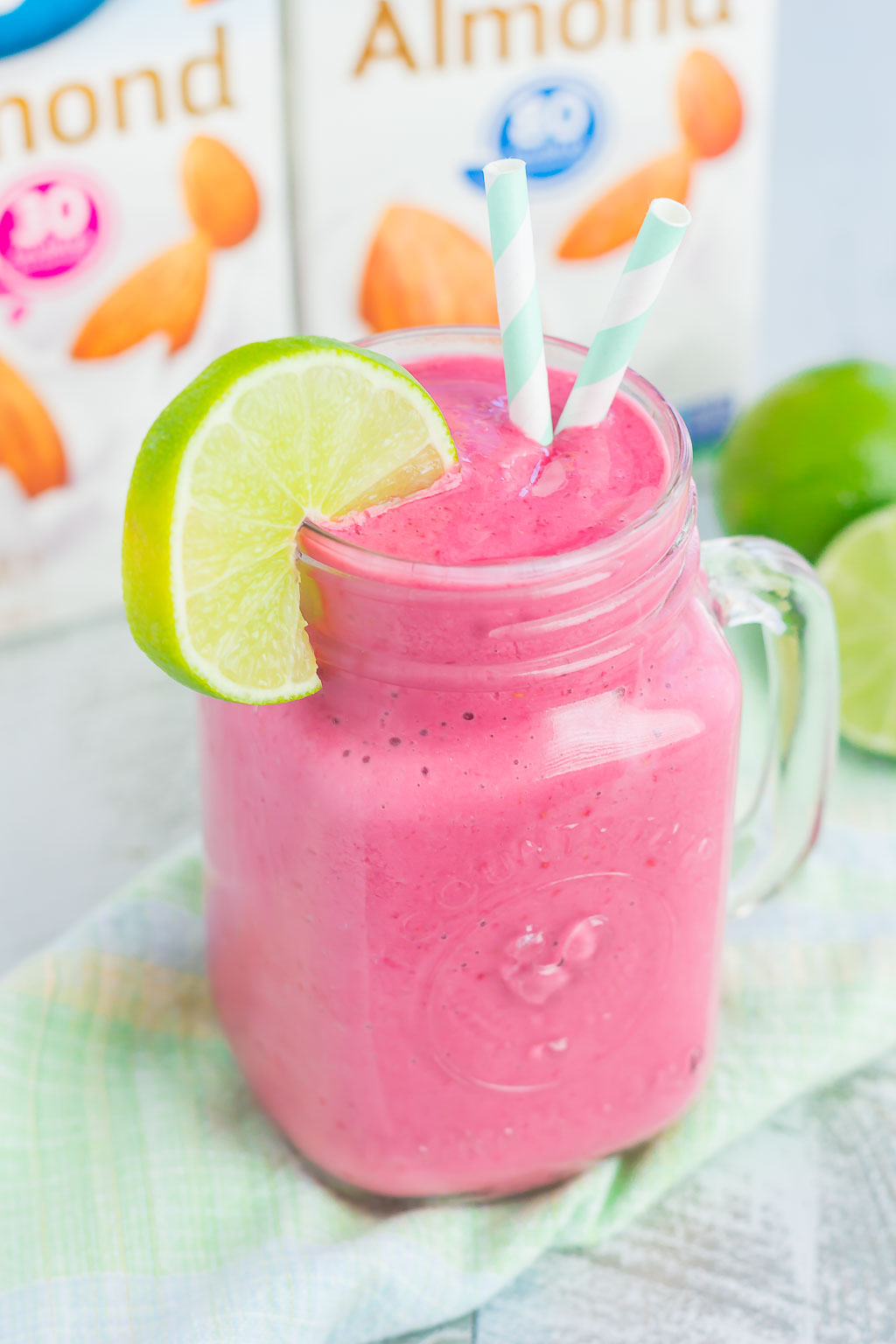 Tips for Making a Lime Raspberry Smoothie
Add the frozen raspberries to the blender first so they can be pureed more easily.
For a stronger lime flavor, add extra lime zest. If you add extra juice, this almond milk smoothie may wind up being too sour.
You can use unsweetened or sweetened almond milk in this raspberry smoothie recipe. Either will work!
Looking for more easy smoothie recipes? I've got you covered!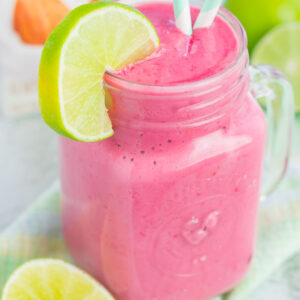 Raspberry Lime Smoothie
This Lime Raspberry Smoothie is thick, creamy, and ready in less than 5 minutes. This nutritious drink is perfect for a quick breakfast or on-the-go snack!
Ingredients
2 cups frozen raspberries
Juice and zest of one lime
1 cup vanilla almond milk, (or milk of choice)
1 cup vanilla yogurt
Honey to sweeten, , if desired
Instructions
In the canister of a blender, combine the frozen raspberries, juice and zest of one lime, almond milk, yogurt, and honey (if desired).

Blend until reaches desired consistency. Pour into two glasses and serve immediately.