It's just another manic Monday…wish it were Sunday! Too cheesy for a Monday morning? I'm not really a huge fan of The Bangles, but I do feel like this every Monday, except that I wish I could fast forward to Fridays instead. But I promise that I have something tasty to sweeten up your day. It involves, pancakes, blueberries, and more blueberries.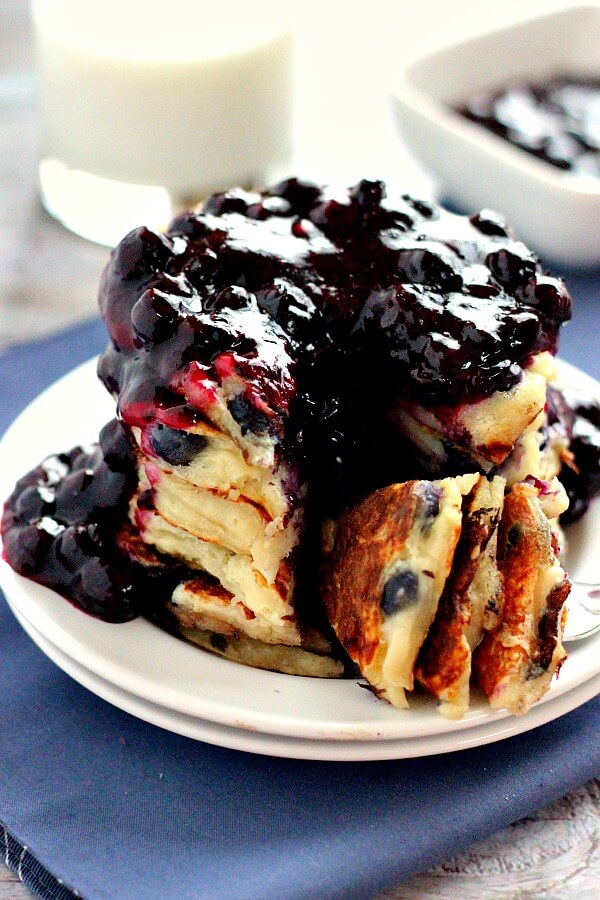 There's no time for small talk today because I'm jumping right into the recipe! I'm so excited to finally be able to share these Blueberry Greek Yogurt Pancakes with you. These protein-packed cakes are filled with plump blueberries, vanilla Greek yogurt and just the right amount of flavor. Light, fluffy, and bursting with fresh blueberries, this is the ultimate treat for when you want to indulge in a healthier breakfast.
And let's not forget about that blueberry sauce! It's filled with blueberries and a touch of sweetness so that you can drizzle this over these decadent pancakes and feel like you're in blueberry pancake heaven. This sauce is so good that I drizzled it over ice cream, added it to yogurt, and even ate a spoonful (or three) with just my trusty 'ole spoon.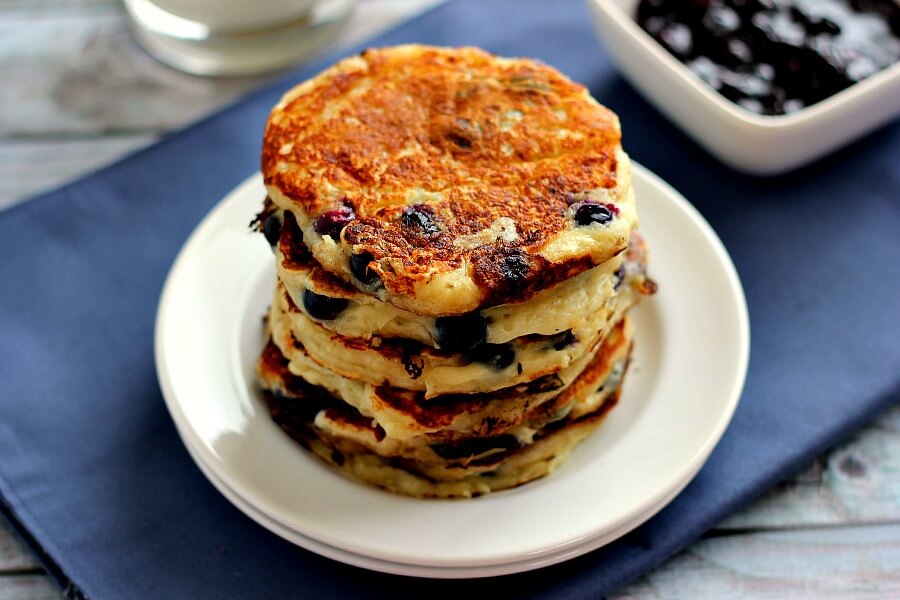 The hubster and I are pancake fanatics and I wanted to create a healthier version made with Greek yogurt.  And I'm happy to report that these Blueberry Greek Yogurt Pancakes with Blueberry Sauce are the tastiest, lightest pancake that I've eaten. The vanilla Greek yogurt adds in a punch of protein, while making these pancakes extra fluffy. After all, that's a requirement in my book! And the blueberry sauce is the perfect topping for the dish!
And like most of my dishes, these pancakes are a breeze to whip up! I made a stack of these pancakes for the hubster and I in less  than 20 minutes. And the blueberry sauce can be made while you're flipping the pancakes, so it won't take away time from devouring these babies.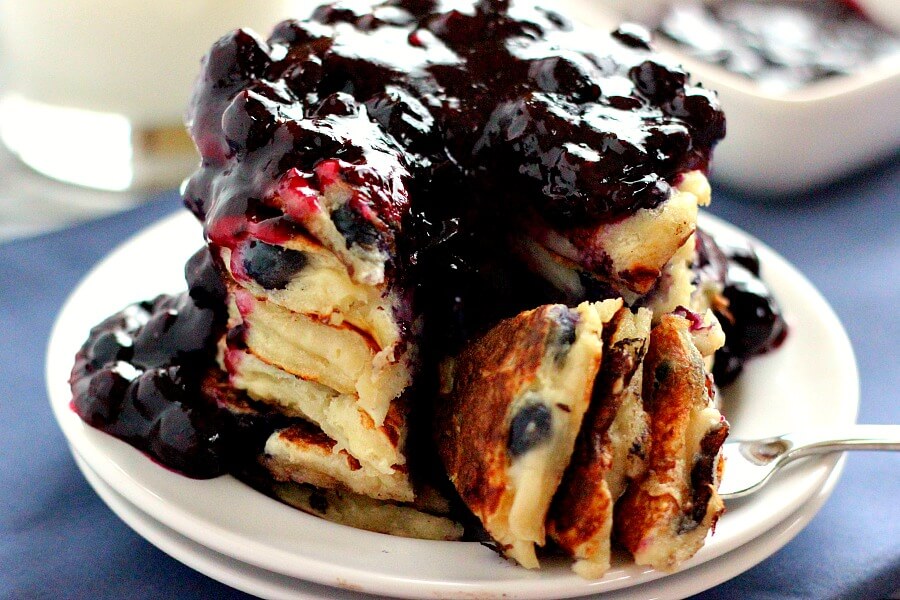 Whether you're just wishing it was the weekend or are looking for a healthier and hot breakfast, then try these Blueberry Greek Yogurt Pancakes! Fast, easy, and so full of flavor, these will become your new favorite breakfast.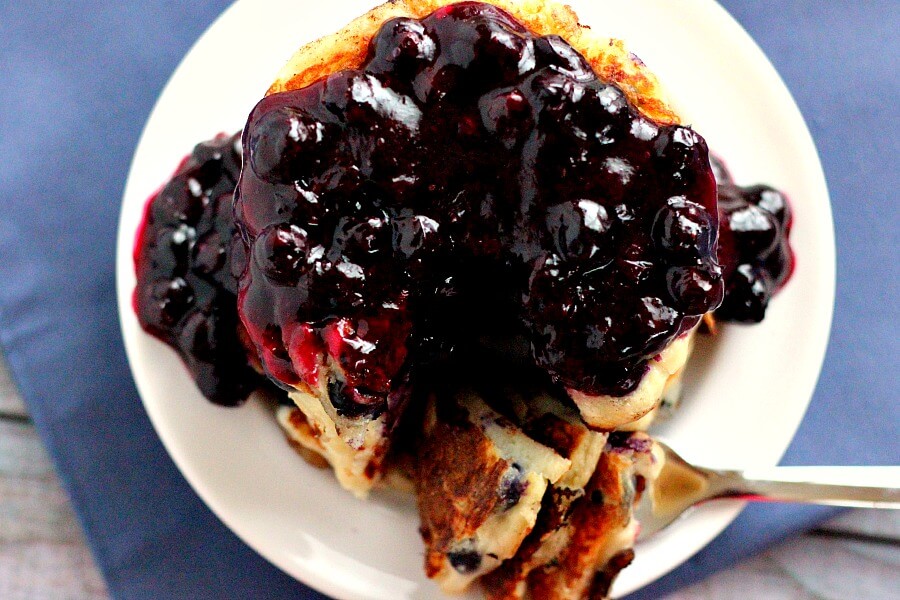 Looking for more breakfast ideas? I've got you covered!
Tools I used to make this recipe:
Blueberry Greek Yogurt Pancakes
These protein-packed Blueberry Greek Yogurt Pancakes are filled with plump blueberries, vanilla Greek yogurt and just the right amount of flavor.
10 minPrep Time
15 minCook Time
25 minTotal Time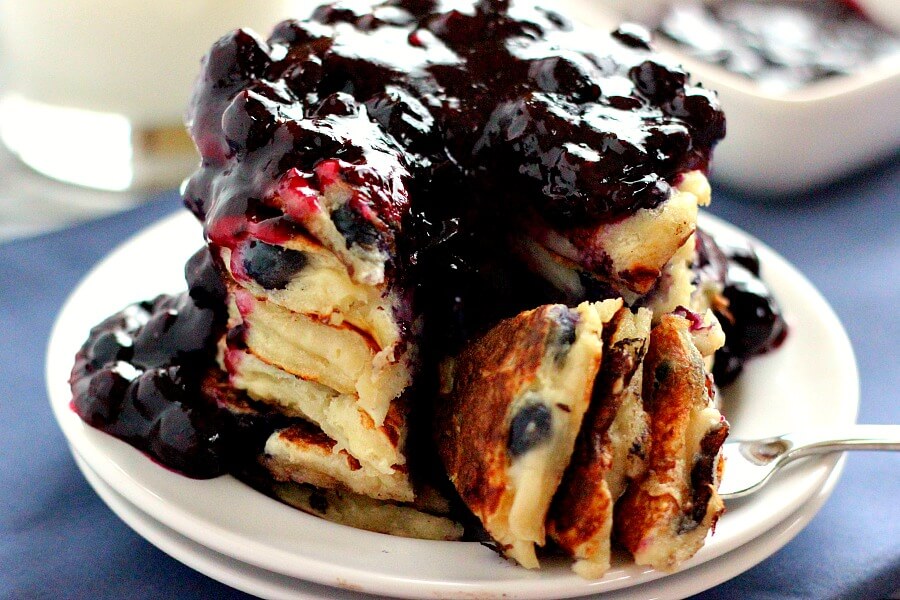 Ingredients
PANCAKES

2 cups all-purpose flour
2 teaspoons baking powder
1 teaspoon baking soda
1 teaspoon salt
2 cups vanilla Greek yogurt
1 egg
1 cup milk
1 cup blueberries
2 tablespoons butter or oil

BLUEBERRY SAUCE

1/2 cup cold water
1 tablespoon corn starch
1/4 cup white sugar
2 cups fresh blueberries
Instructions
Melt butter in a large griddle pan. Alternatively, heat oil in pan.
In a large bowl, combine the flour, baking powder, baking soda, and salt. Set aside.
In a medium bowl, whisk together yogurt, egg, and milk.
Stir wet ingredients into dry ingredients until just combined.
Gently fold in blueberries.
Pour 1/4 cup of pancake mixture onto hot griddle. Cook for two minutes, or until edges begin to bubble and the bottom turns golden brown.
Gently flip over to other side and let cook for another 1-2 minutes.
Repeat with remaining batter until all pancakes are cooked.
While the pancakes are cooking, prepare blueberry sauce (can also be made ahead of time).
Combine the water, cornstarch, and sugar in a medium pot.
Stir well until thoroughly combined and then add in blueberries.
Stir occasionally, bringing mixture to a boil.
Stir constantly for 2 minutes or until blueberries are thickened and begin to burst open.
Pour sauce on pancakes.
Serve immediately.
Enjoy!
Notes
Pancakes lightly adapted from Taste of Home
7.8.1.2
132
https://www.pumpkinnspice.com/blueberry-greek-yogurt-pancakes/