Spinach and Mushroom Quinoa Bowl
Loaded with fresh spinach, mushroom, chickpeas, and Parmesan, this Quinoa Veggie Bowl is jam-packed with protein and flavor!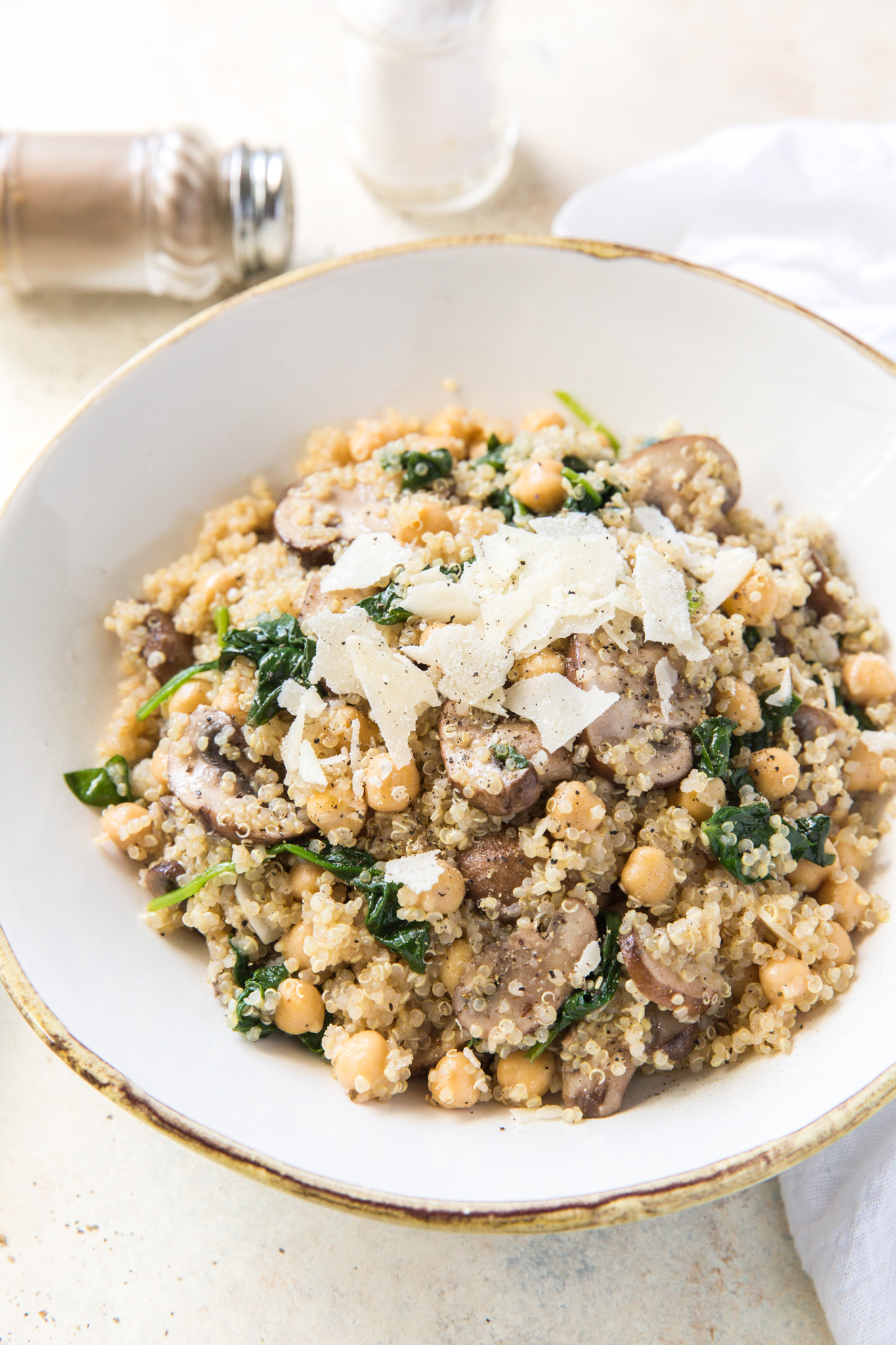 Now that we've officially made it through the first week of April, I'm full of hope that we're officially done with winter and onto spring. Easter has come and gone and the weather is slowly starting to get better.
Since Easter is sometimes early in the year, and other times later, I feel like it almost falls on the cusp of winter. Know what I mean? But since that holiday has passed, I'm reminded of the upcoming warmer holidays — Memorial Day, 4th of July — so maybe I'm stretching it just a little, but, you get my drift, right?
I'm also loving the fresh veggies that arrives with the warmer weather. Asparagus, green beans and spinach almost seem to taste better in the spring. I've been trying to cook with more greens lately and I'm happy to report that I'm staying on track!
Which leads me to this dish: Spinach and Mushroom Quinoa Bowls! It's been a while since I made a quinoa dish to share with you, so I figured I was long overdue! And because I love creating new flavor combinations, I was ready for the challenge.
This easy quinoa bowl recipe is perfect for a light lunch or dinner and suitable as a vegetarian dish, too. Ready in less than 30 minutes, spinach quinoa bowl will keep you full, satisfied, and on the healthy track.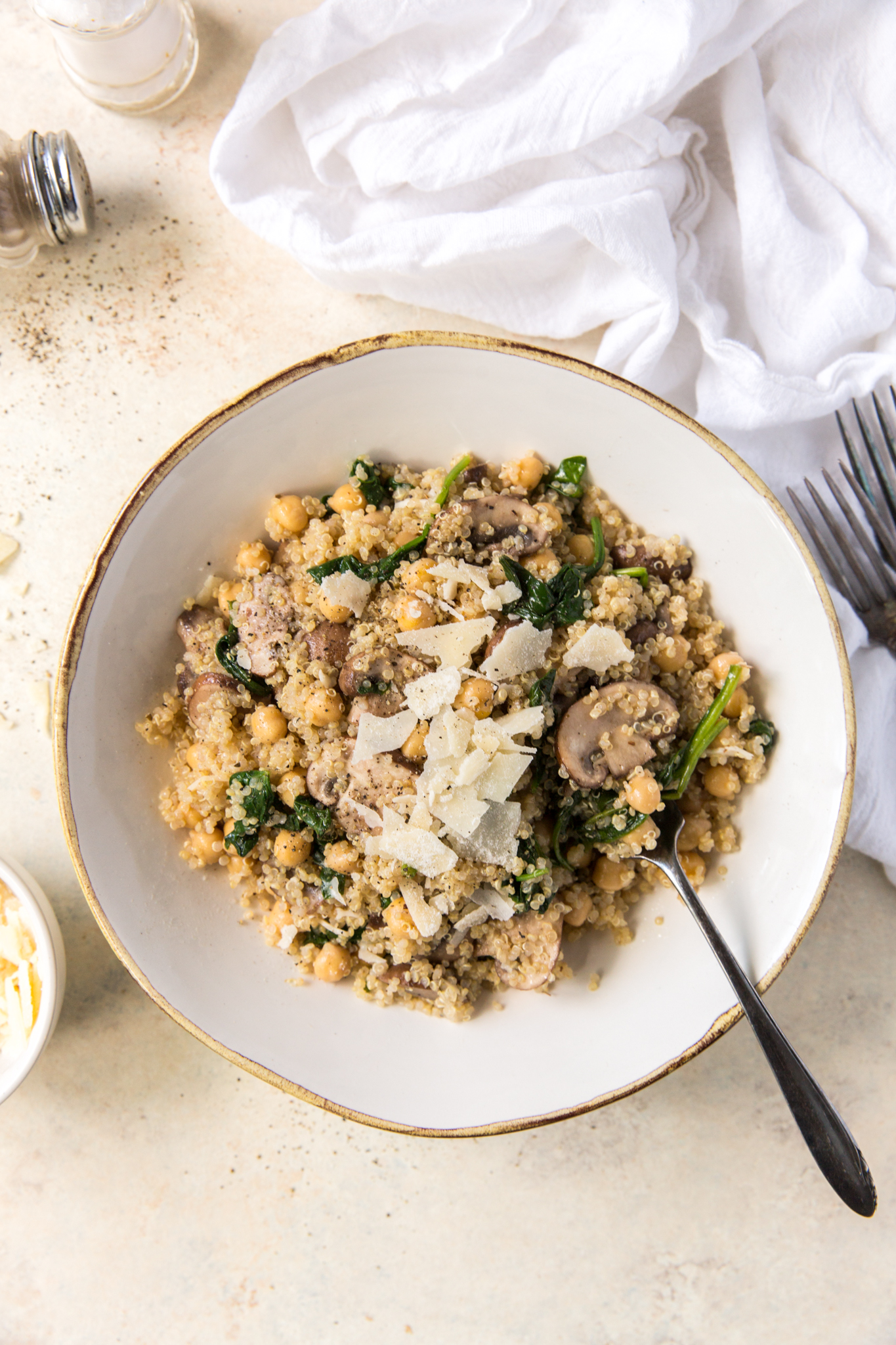 Ingredients for Quinoa Veggie Bowls
To make the healthy quinoa bowls, you'll need the following ingredients:
Quinoa
Chicken broth
Unsalted butter
Mushrooms
Spinach
Chickpeas
Parmesan cheese
White balsamic vinegar
Olive oil
Garlic powder
Italian seasoning
Black pepper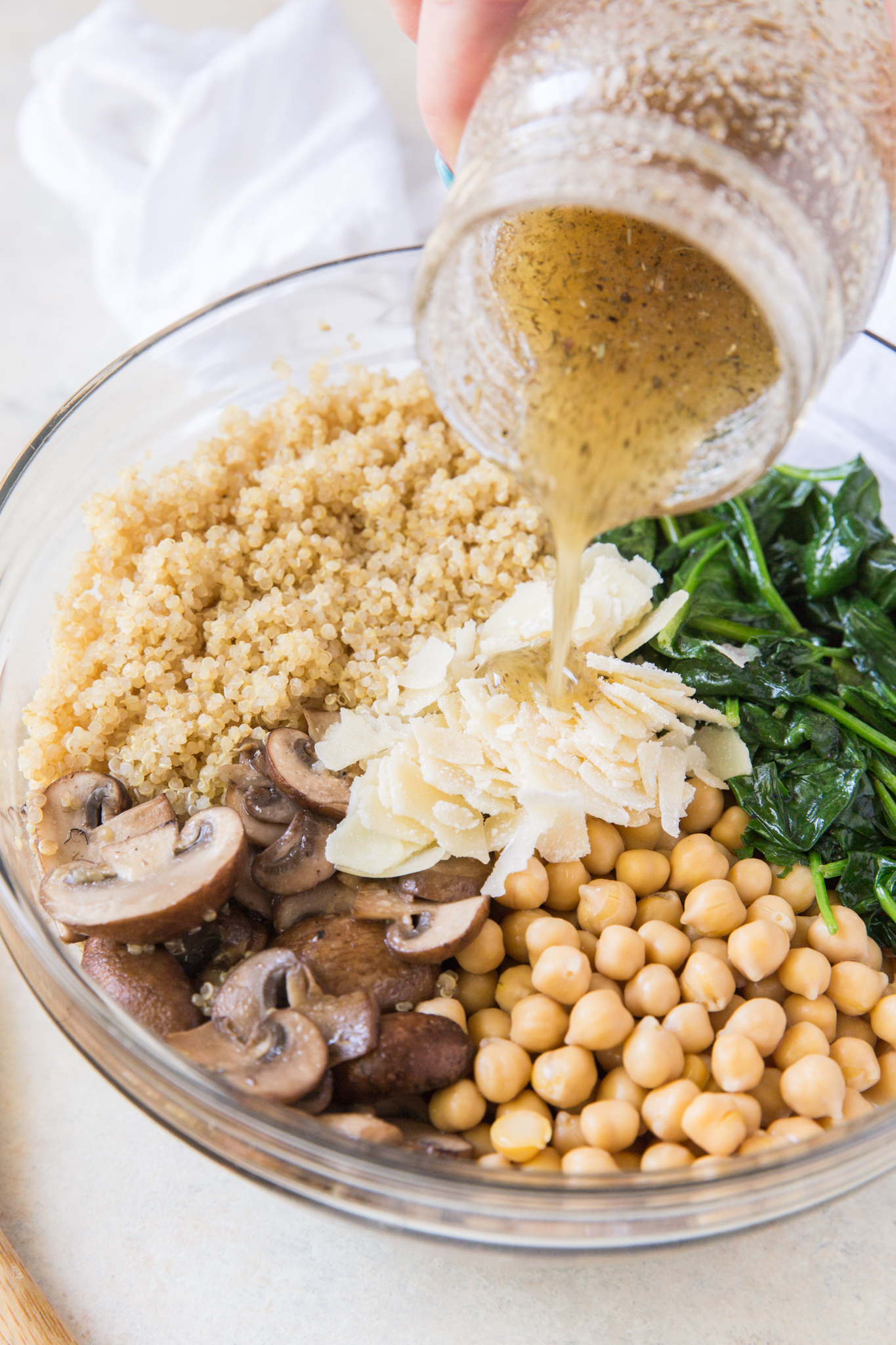 How to Make a Quinoa Veggie Bowl
Start out by cooking the quinoa in some chicken broth.
As the quinoa is cooking, sauté the mushrooms, followed by the spinach.
Toss the veggies in with the quinoa and add in some chickpeas.
To coat these healthy quinoa bowls , combine a light dressing of olive oil, garlic powder, Italian seasoning, and pepper. Pour this over the quinoa mixture and these bowls are ready to be devoured!
Light, healthy, and full of fresh veggies, this quinoa bowl with spinach and mushroom is delicious and nutritious. It also serves as easy lunch or dinner throughout the week. Simply make, refrigerate, and then divide into portions and your meal is ready for the next few days.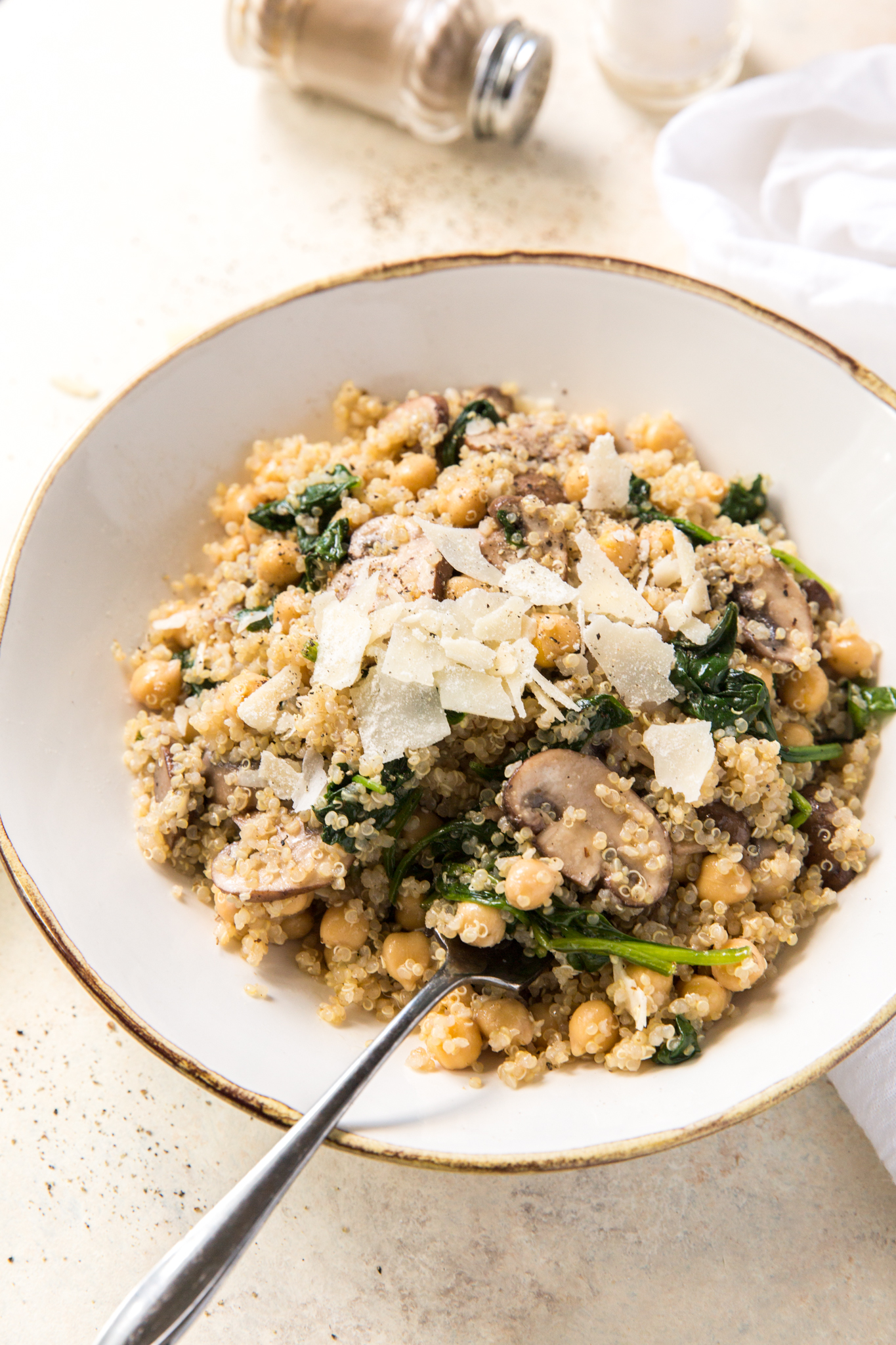 How Long Does Cooked Quinoa Last?
Once cooked, the plain quinoa will last about 1 week in the fridge so feel free to prep it in advance and assemble the bowls later. Once the bowl have been prepped, they'll last up to 5 days in the fridge.
Can I Use Different Veggies?
Of course! The best part is that this bowl is so versatile! If you don't like spinach, feel free to swap it out with kale, or leave it out entirely. Or, add in your favorite veggies to bulk it up more.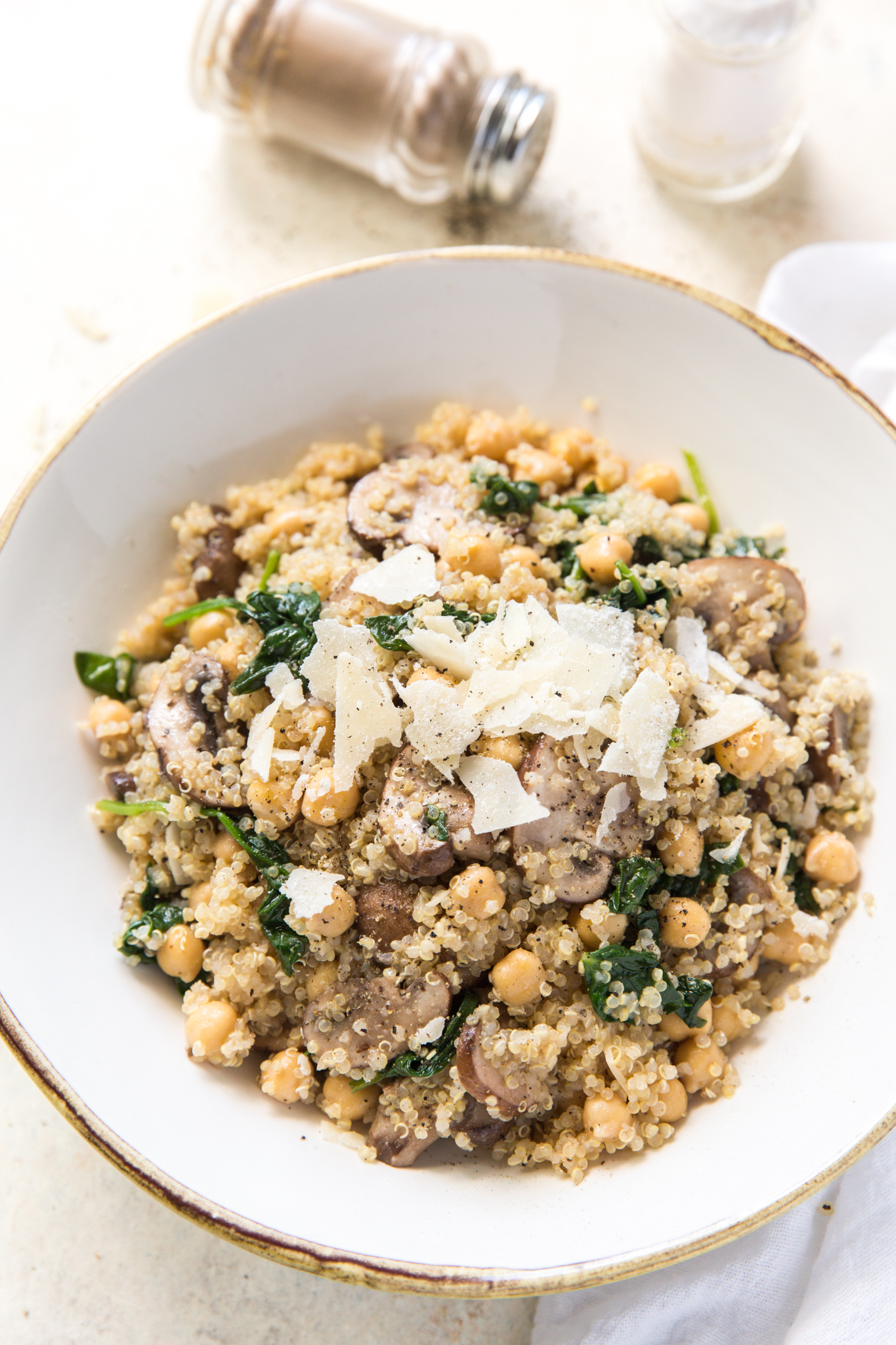 Tips for Making Quinoa Bowls
Not sure how to season quinoa? My trick is to cook it in a little chicken or veggie broth for added flavor! This gives it a little more flavor than just using water. However, you can use vegetable broth or water if you prefer.
If cooking the quinoa in broth, I recommend using a low-sodium version so your quinoa veggie bowls aren't too salty.
I prefer using fresh veggies in this recipe, but you can experiment with frozen veggies if that's what you have on hand.
Looking for more quinoa recipes? I've got you covered!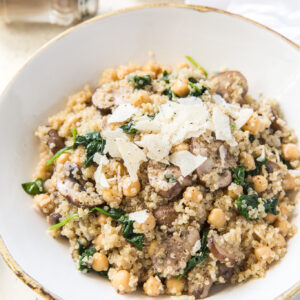 Quinoa Veggie Bowl
Loaded with fresh spinach, mushroom, chickpeas, and Parmesan, this Quinoa Veggie Bowl is jam-packed with protein and flavor!
Ingredients
1 cups uncooked quinoa, rinsed per package directions
2 cups low-sodium chicken broth, (or water/vegetable broth)
3 tablespoons unsalted butter
8 ounces fresh sliced mushrooms, (any kind)
3 cups fresh baby spinach
2 cups chickpeas, rinsed and drained
3 tablespoons shaved Parmesan cheese
For the dressing:
¼ cup white balsamic vinegar
¼ cup olive oil
1 teaspoon garlic powder
½ teaspoon Italian seasoning
Black pepper, to taste
Instructions
Cook quinoa according to package directions, using chicken broth for more flavor, if desired.

While quinoa is cooking, melt butter in a large skillet over medium heat. Add mushrooms and saute until browned. Remove to a plate and set aside.

In same skillet, add spinach and cook for 2-3 minutes or until wilted. Remove and place with mushrooms.

To make the dressing, combine the vinegar, olive oil, garlic powder, Italian seasoning and pepper.

Once quinoa is cooked, add in spinach, mushrooms, chickpeas, and Parmesan cheese. Pour dressing over quinoa mixture and toss to coat. Serve immediately or refrigerate until ready to serve.
Notes
Quinoa bowls can be served hot or cold.
Serving: 1serving, Calories: 497kcal, Carbohydrates: 54g, Protein: 18g, Fat: 24g, Saturated Fat: 7g, Cholesterol: 21mg, Sodium: 106mg, Potassium: 802mg, Fiber: 9g, Sugar: 4g, Vitamin A: 1941IU, Vitamin C: 7mg, Calcium: 114mg, Iron: 5mg
{Photos updated 10/2020}