This post contains affiliate links.
These Fluffy Belgian Waffles are crispy on the outside, tender on the inside, and so easy to make. Just a few ingredients is all it takes to whip up these golden waffles, all with ingredients you have in your kitchen!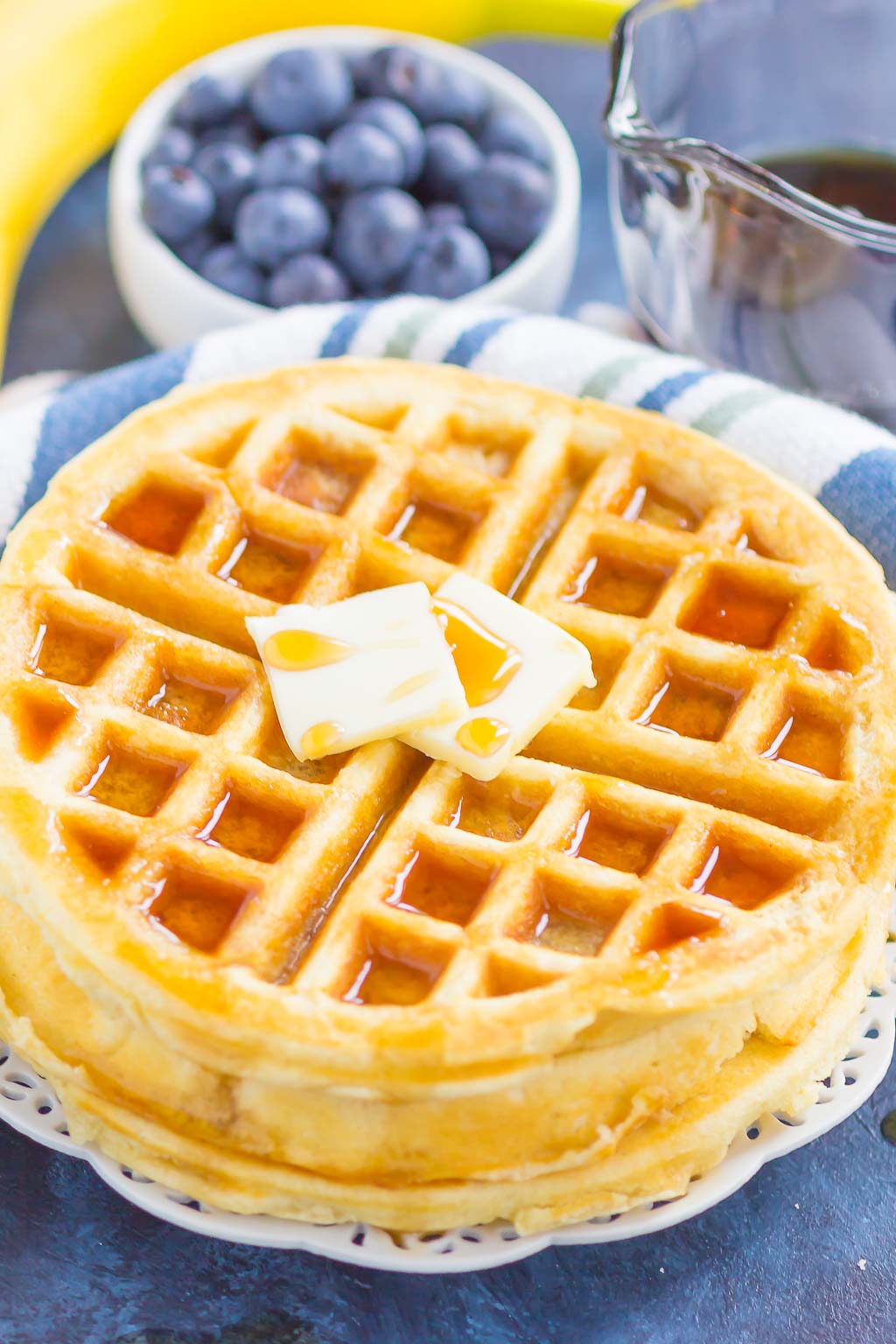 Be honest…how often do you make waffles at home? I hardly ever make them.
I'm a horrible food blogger, I know. And the reason why I never make them is even worse…I just don't like cleaning the waffle iron! And that's really not an excuse, so much as it is laziness.
Plus, my breakfasts usually aren't too complicated. You know, something simple like coffee, yogurt, or cereal. But, I'm trying to change that. Especially on the weekends.
And since school is now in session for the kiddos, I thought it would be the perfect time to share my latest breakfast recipe. Say hello to the best Fluffy Belgian Waffles, friends!
I do love waffles and so does the hubster. In fact, he eats waffles (frozen ones) almost every morning for breakfast. Yes, frozen ones aren't the best, but they sure are convenient, especially during the week.
And since I'm trying to branch out and expand my breakfast horizons, I decided to whip up these easy Belgian waffles. Not only do they serve as a delicious homemade breakfast, but you can also double the batch and have them ready for the upcoming week. Perfect for the hubster! He can skip the frozen kind and just microwave these as needed.
Plus, easy breakfast ideas just make everything better, don't you think?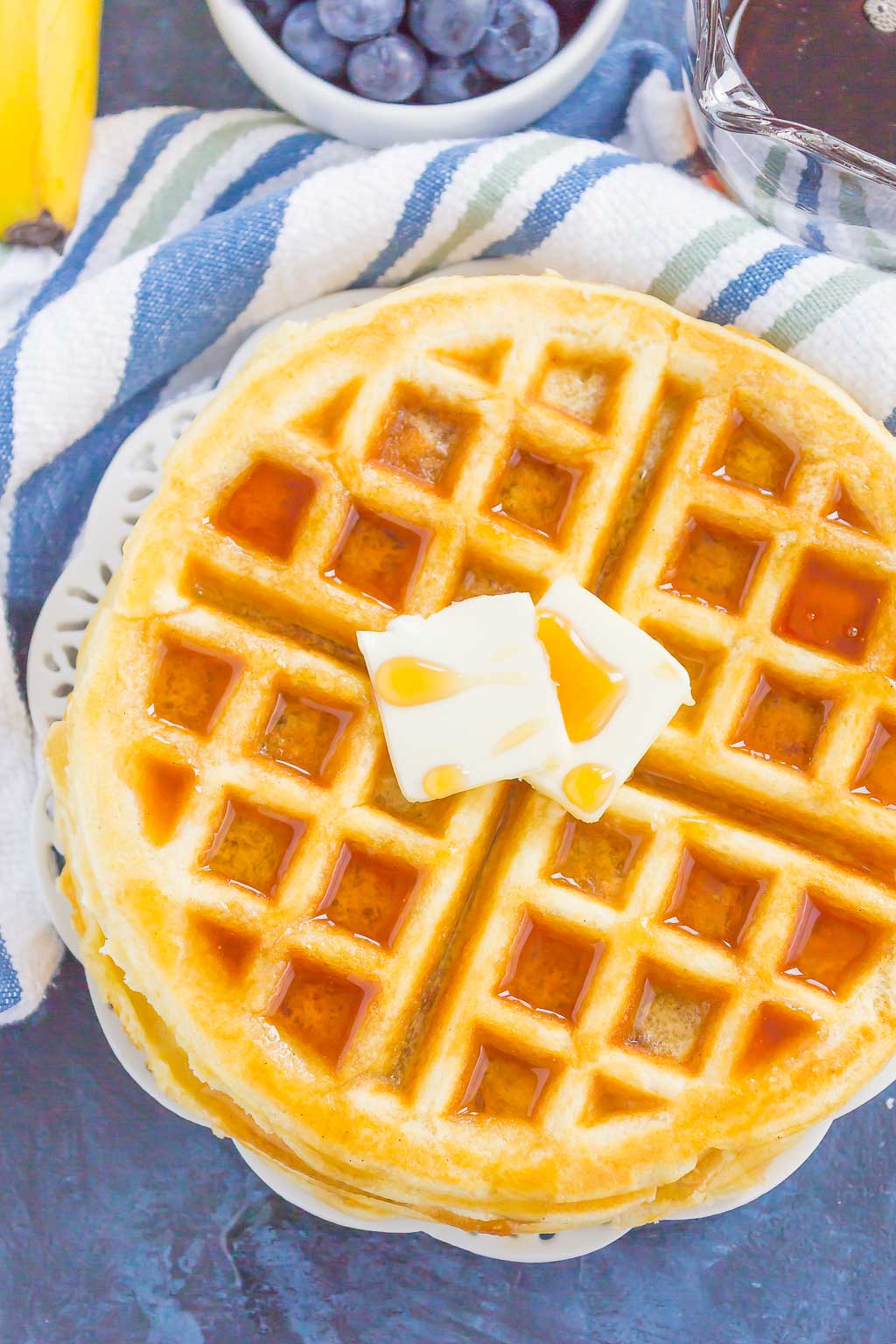 Belgian Waffles vs. Regular Waffles
I've shared waffles with you before (remember these Pumpkin Spice Waffles?), but have never made fluffy Belgian waffles. And, just in case you're wondering what the difference is between the two, let me explain.
Belgian waffles typically have deeper pockets than regular waffles. This is due to the type of waffle iron that is used.
While most waffles are crispy on the outside and airy on the inside, homemade Belgian waffles really hold their standard to this. And part of the reason why is because of egg whites. The whites are beat separately from the egg yolk.
However, there are no egg whites to beat in this Belgian waffle recipe. Only two whole eggs, which makes prep time even easier. Belgian waffles used to be made with yeast (some still are), but now, baking powder takes over to make them a little bit easier to prepare.
Ingredients for Belgian Waffles
This easy Belgian waffle recipe requires just a handful of pantry staples and comes together in mere minutes. Here's what all goes into this fluffy waffle recipe:
All-purpose flour
Granulated sugar
Baking powder
Salt
Eggs
Milk
Unsalted butter
Vanilla bean paste (or vanilla extract)
Can This Recipe Be Made Dairy-Free?
I've only made this recipe as written, so I can't say for sure. If you make this fluffy waffle recipe dairy-free, please leave me a comment below letting me know how it turned out!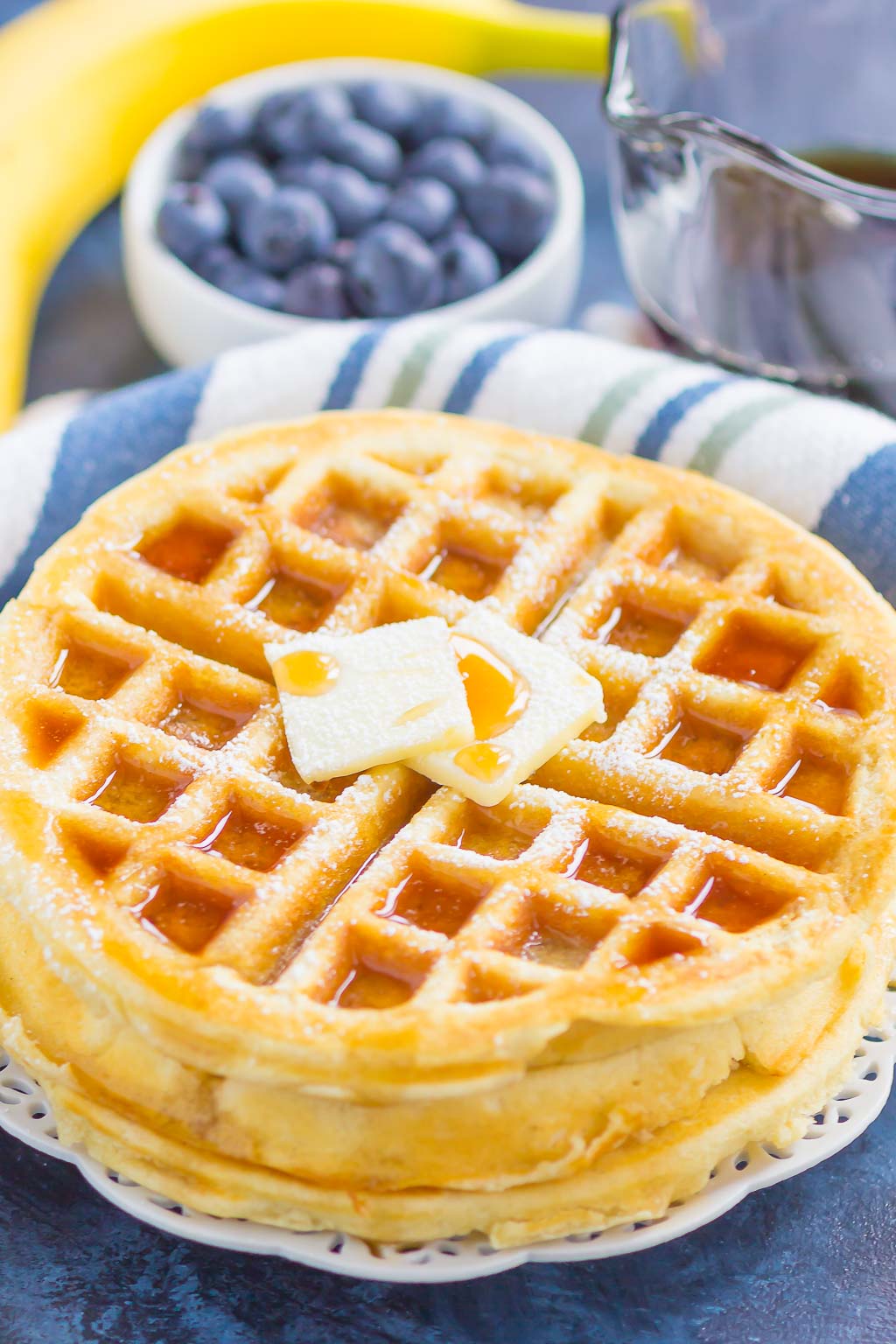 How to Make Belgian Waffles
Fluffy Belgian waffles are crispy on the outside, tender on the inside, and so easy to make. Just a few ingredients is all it takes to whip up these golden waffles, all with ingredients you have in your kitchen!
Here's an overview of how this fluffy waffle recipe is made:
Combine the dry ingredients together and then make a well in the center with a spoon.
Once the wet ingredients are combined, you will pour into the well. Be careful not to overmix the batter! It should be lumpy, and that's ok.
Cook the waffles until golden brown and slightly crisp.
Tip: A lot of waffle irons have a light or timer to tell you when it's done. If your iron does not, try to notice when the waffle stops steaming. This should indicate that it's ready.
Can This Recipe Be Made in a Regular Waffle Iron?
Most definitely! I've made this recipe in both a regular waffle iron and a Belgian waffle iron. Use whichever you have!
Waffle Toppings to Try
I like to serve my fluffy waffles with some butter and a good drizzling of pure maple syrup, along with a sprinkle of powdered sugar.
To take your homemade Belgian waffles up a notch, here are additional waffle topping ideas to try: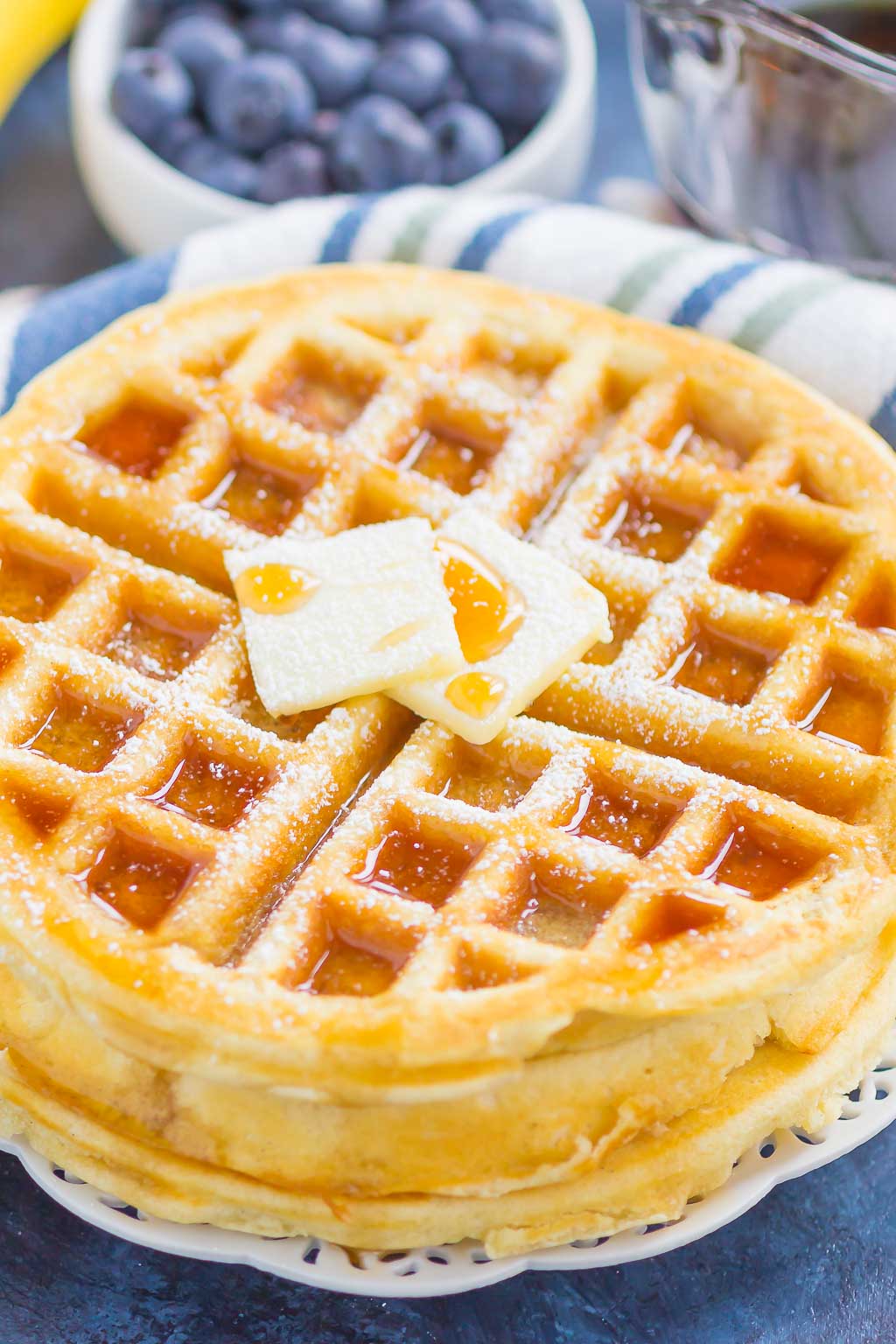 How to Store Waffles
These fluffy Belgian waffles can be made ahead of time and then refrigerated until ready to use. You should store them in an airtight container in the fridge. They'll last up to 4 days.
How to Reheat Waffles
While a microwave will work for reheating, you will lose some of that crispy texture. To keep your waffles crisp, reheat in a 300F oven until waffles are warmed.
How to Freeze Waffles
This fluffy waffle recipe refreezes wonderfully. Simply defrost when ready to use and pop into the oven or a toaster to reheat.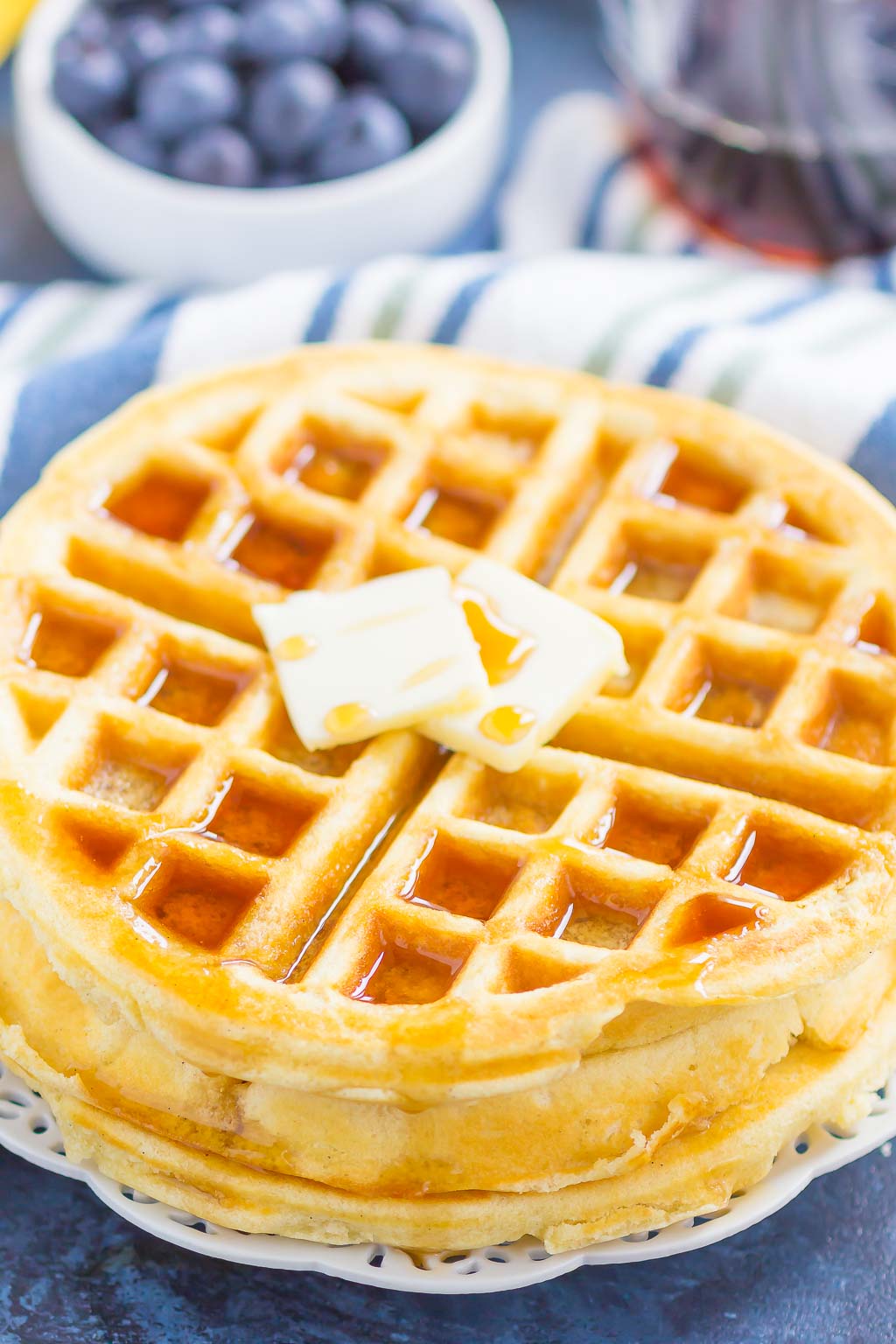 Tips for the Best Belgian Waffles
Be sure to preheat your waffle iron. If you pour the Belgian waffle batter onto the waffle iron before it's fully preheated, your waffles will turn out flat and pale in color.
Coat with non-stick cooking spray just before pouring the batter inside. This will help ensure the cooking spray coats the entire iron, rather than settling into spots once sprayed and then left to sit until the batter is ready.
I like to use this vanilla bean paste in all of my recipes that call for vanilla extract. The paste gives it a stronger vanilla flavor, without causing the mix to become watered down.
One bite and you'll fall in love with the crispy texture, soft inside, and delicious taste of these easy Belgian waffles.
Perfect to make ahead of time for busy weekends or to enjoy on the weekends, this best Belgian waffle recipe will become a favorite over and over again!
Fluffy Belgian Waffles
Fluffy Belgian Waffles are crispy on the outside, tender on the inside, and so easy to make. Just a few ingredients is all it takes to whip up these golden waffles, all with ingredients you have in your kitchen!
Ingredients
2

cups

all-purpose flour

4

tablespoons

granulated sugar

4

teaspoons

baking powder

½

teaspoon

salt

2

eggs

1½

cups

milk

(I used 2%)

6

tablespoons

unsalted butter

, melted

1

teaspoon

vanilla bean paste

(or vanilla extract)
Instructions
Preheat waffle iron. Spray with non-stick cooking spray right before pouring batter inside.

In a large bowl, combine flour, white sugar, baking powder, and salt. Use the back of a spoon to create a well in the center. Set aside.

In a small bowl, whisk together eggs and milk. Add in butter and vanilla bean paste/extract and whisk to combine.

Pour wet ingredients into the well of the flour mixture and whisk until blended. Be careful not to overmix, as the batter should be lumpy.

Scoop the batter into the preheated waffle iron and cook until waffles are golden brown and slightly crispy. Repeat with rest of batter. Serve immediately or refrigerate or freeze until ready to serve.
Notes
See my tips for making these waffles in the post (above the recipe box)
I like to use this vanilla bean paste in all of my recipes that call for vanilla extract. The paste gives it a stronger vanilla flavor, without causing the mix to become watered down.
Recipe from Comfort Food Cookbook Magazine - Spring 2019
Nutrition
Serving:
1
serving
|
Calories:
417
kcal
|
Carbohydrates:
54
g
|
Protein:
10
g
|
Fat:
18
g
|
Saturated Fat:
11
g
|
Cholesterol:
109
mg
|
Sodium:
295
mg
|
Potassium:
498
mg
|
Fiber:
1
g
|
Sugar:
14
g
|
Vitamin A:
635
IU
|
Calcium:
243
mg
|
Iron:
2.9
mg