Chili with Pasta
There is no better comfort food than this Chili Pasta skillet meal. A comforting combination of ground beef, tomatoes, corn, and pasta come together with the perfect homemade chili seasoning to create an all in one meal you'll love!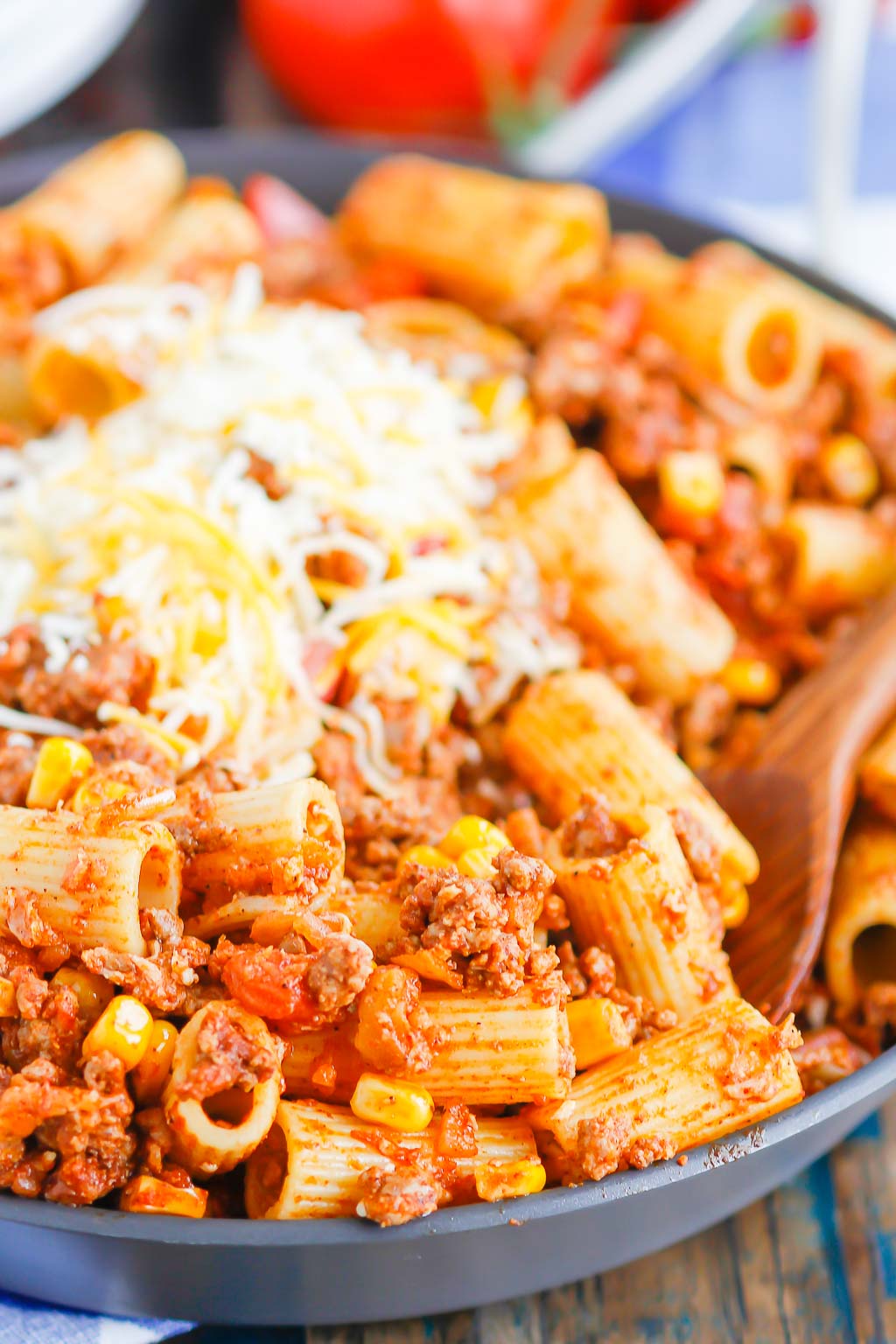 Chili with Pasta Skillet
I love a good one pot meal. It makes my life so much easier when I don't have to worry about a ton of extra dishes to wash. Even if you have a dishwasher or kids who help with kitchen chores, nobody wants to make a mess in the kitchen.
This recipe is one that combines many of my favorite comfort foods into one meal.
Chili is always a great recipe when you are on a limited budget or just want something warm and comforting. Adding pasta to that gives you a way to stretch a meal a bit further, and in this case, makes it a bit easier to eat. What's not to love about that?
Is this the same as chili spaghetti?
Chili spaghetti is a different recipe. While you could easily use spaghetti noodles for this recipe, it is not the same. A traditional chili spaghetti is from Cincinnati and is when you take a base of spaghetti and top it with a chili recipe that includes Greek spices, and top it with shredded cheddar and diced onions.
My slow cooker no bean chili would be a great option if you wanted to make a more traditional chili spaghetti recipe.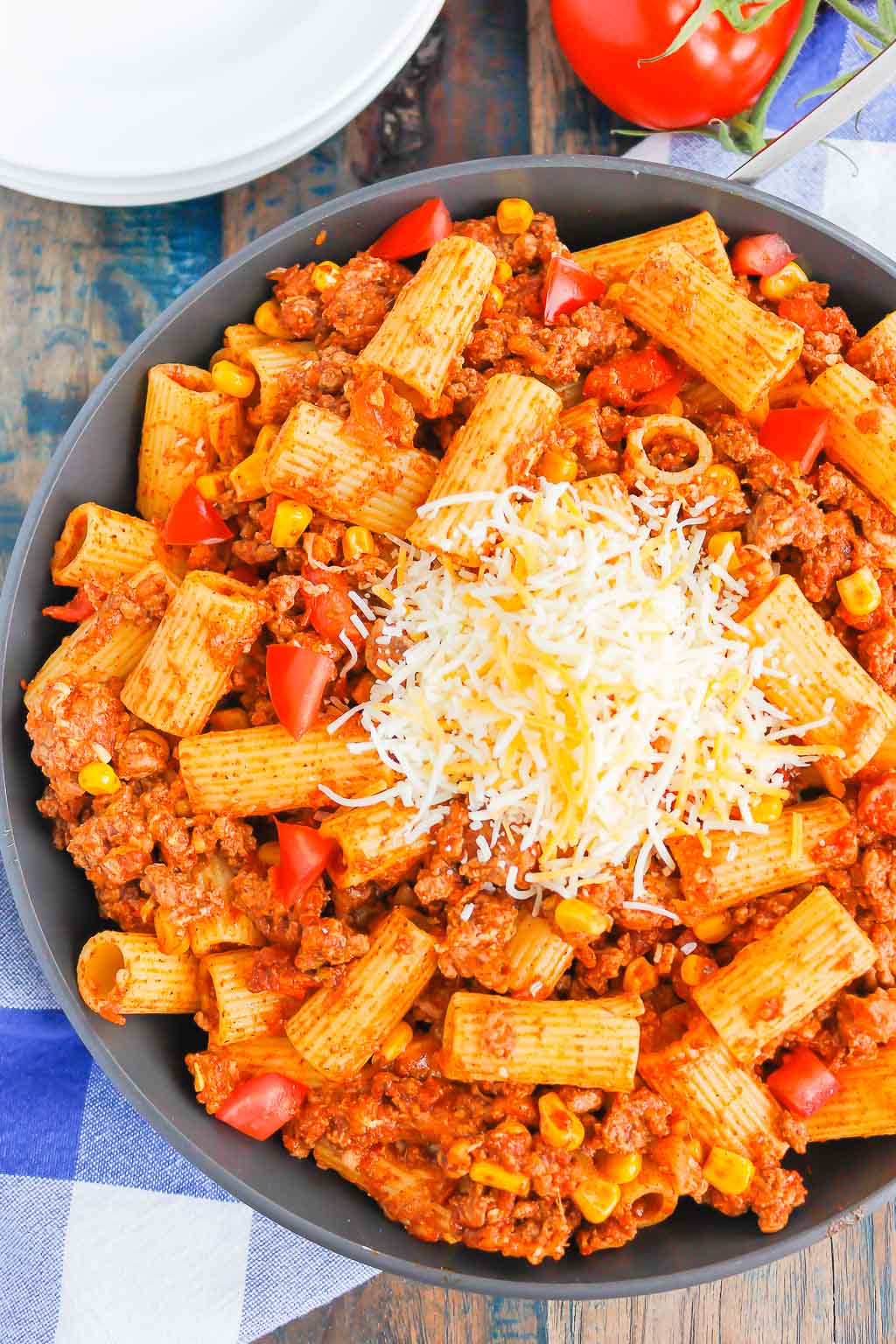 Ingredients for Chili Pasta
The ingredients list for this chili and pasta is short and sweet:
Rigatoni pasta
Lean ground beef
Onion
Garlic powder
Chili powder
Corn
Roma tomatoes
Chunky salsa
Shredded cheddar cheese
How to Make Chili Pasta
Cook the pasta according to package instructions.
While pasta is cooking, brown and crumble ground beef and onion over medium heat in a large skillet.
Add the spices, corn, tomatoes and salsa. Cook until warmed through.
Stir in the cooked pasta.
Garnish with shredded cheese and enjoy!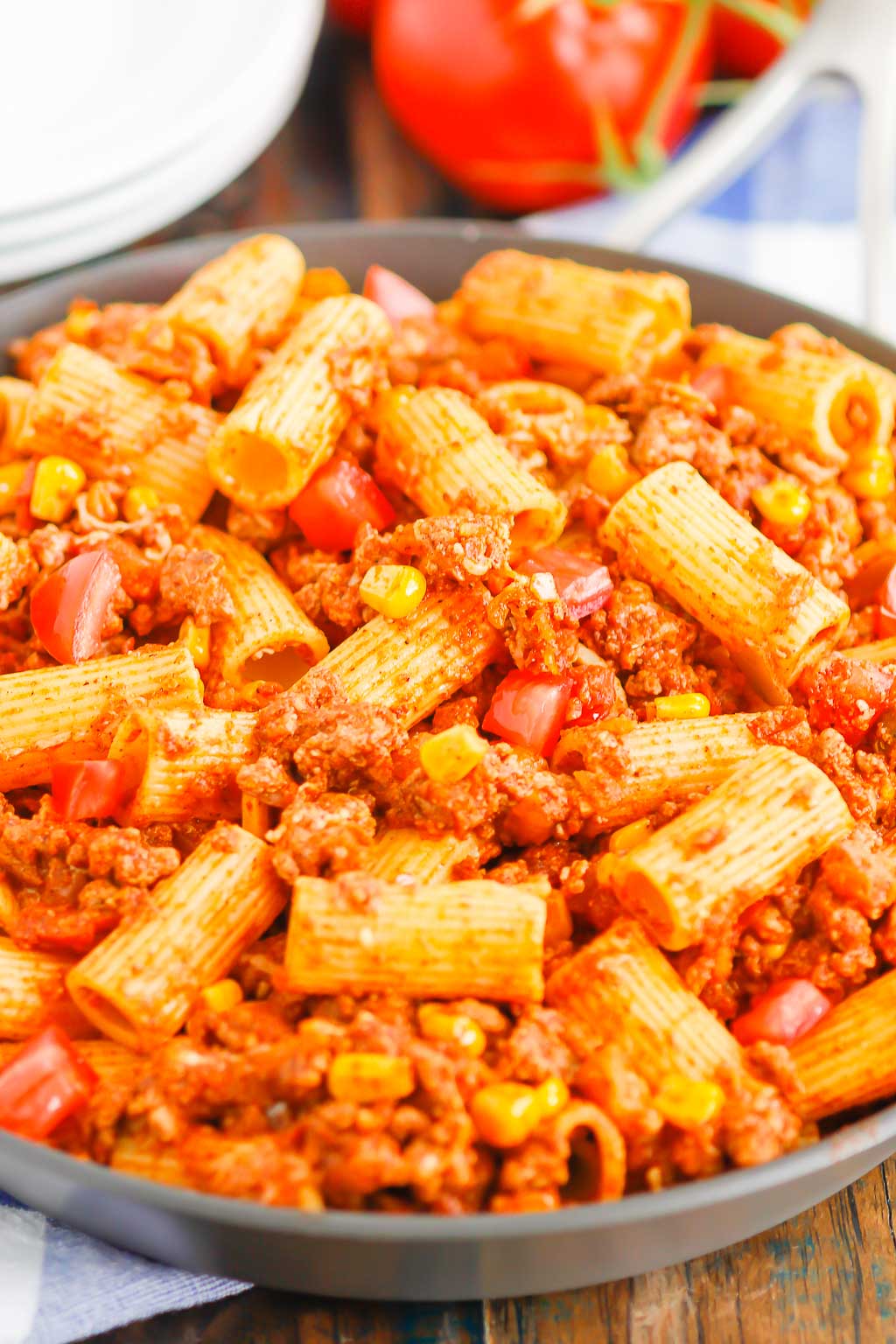 Can I Add Extra Veggies to This Chili Pasta?
Yes! This recipe is what I like to call a kid-friendly version. It has tomatoes which blend in easily and corn which everyone loves. If you like things like onions, bell peppers, and beans, feel free to add those to this recipe. You could even mix in diced mushrooms if you had them on hand. The spices are what add flavor to this dish, so feel free to play with the vegetables to make a blend you prefer.
If you like a bit sweeter chili, you may like my sweet potato chili pasta recipe instead. You might want to whip up my southwest skillet cornbread to go alongside either of these recipes.
Can I use ground chicken or ground turkey for this chili with pasta?
If you prefer to use a leaner meat, ground turkey or ground chicken also work in this recipe. I like the richness that beef offers, but know that any ground meat will fit the recipe. Some leaner meats are dryer, so you may want to add extra salsa for moisture.
Tip: For even more flavor, grab a package of sausage to add instead of ground beef! Spicy sausage, chorizo, or even chicken sausage can all add a different flavor profile to enhance flavors. Get creative to make this recipe your own.

Tips for the Best Chili Pasta
While many recipes for a chili and pasta mixture are more of a chili mac with loads of cheese, I prefer to add cheese just as a garnish. The purpose of the cheese is to add flavor, not to mask flavor. So, for me, adding cheese at the very end, or right on top of a bowl when serving is best.
Other fun ideas for serving that I have tried in the past are to add a dollop of sour cream, sliced avocado, or sprinkle fresh cilantro on top. These flavors are bold so a little mild creamy flavor works well to mellow it down. The cilantro on top just brightens things up so it doesn't feel so heavy.
As mentioned before, this recipe is perfect just like it is listed, but it is also a great recipe to play with a bit to make uniquely your own. Mix in vegetables, use different salsas, and top with your favorite chili toppings!
Looking for More Easy Pasta Dinners? I've Got You Covered!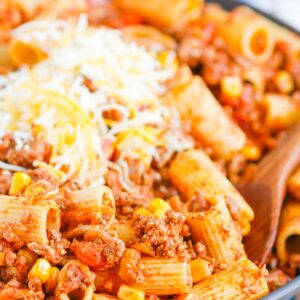 Chili Pasta Skillet
There is no better comfort food than this Chili Pasta skillet meal. A comforting combo of ground beef, tomatoes, corn, and pasta!
Ingredients
3 cups rigatoni pasta
1 pound lean ground beef
1 small onion, , diced
1 teaspoon garlic powder
1½ tablespoons chili powder
1 cup corn, (fresh, frozen or canned works)
2 roma tomatoes, , chopped
1 (16 ounce) jar chunky salsa, (any kind)
¾ cup shredded cheddar cheese, (or cheddar jack)
Instructions
Cook pasta according to package directions.

While pasta is cooking, brown and crumble ground beef and onion over medium heat in a large skillet. Drain and return to skillet.

Add garlic powder, chili powder, corn, tomatoes and salsa. Stir to combine and then heat on low until warmed, about 4-5 minutes.

Once pasta is cooked and drained, add to meat mixture. Stir to combine. Add shredded cheese and stir until melted. Top with additional cheese, if desired.

Serve immediately.
Serving: 1g, Calories: 161kcal, Carbohydrates: 17g, Protein: 12g, Fat: 5g, Saturated Fat: 3g, Cholesterol: 29mg, Sodium: 159mg, Potassium: 259mg, Fiber: 2g, Sugar: 2g, Vitamin A: 1075IU, Vitamin C: 2.1mg, Calcium: 86mg, Iron: 1.5mg