Creamy Ground Beef Pasta
Creamy Ground Beef Pasta is an easy weeknight meal that's ready in just 30 minutes. Fast, fresh, and flavorful, this hearty meal will quickly become a favorite!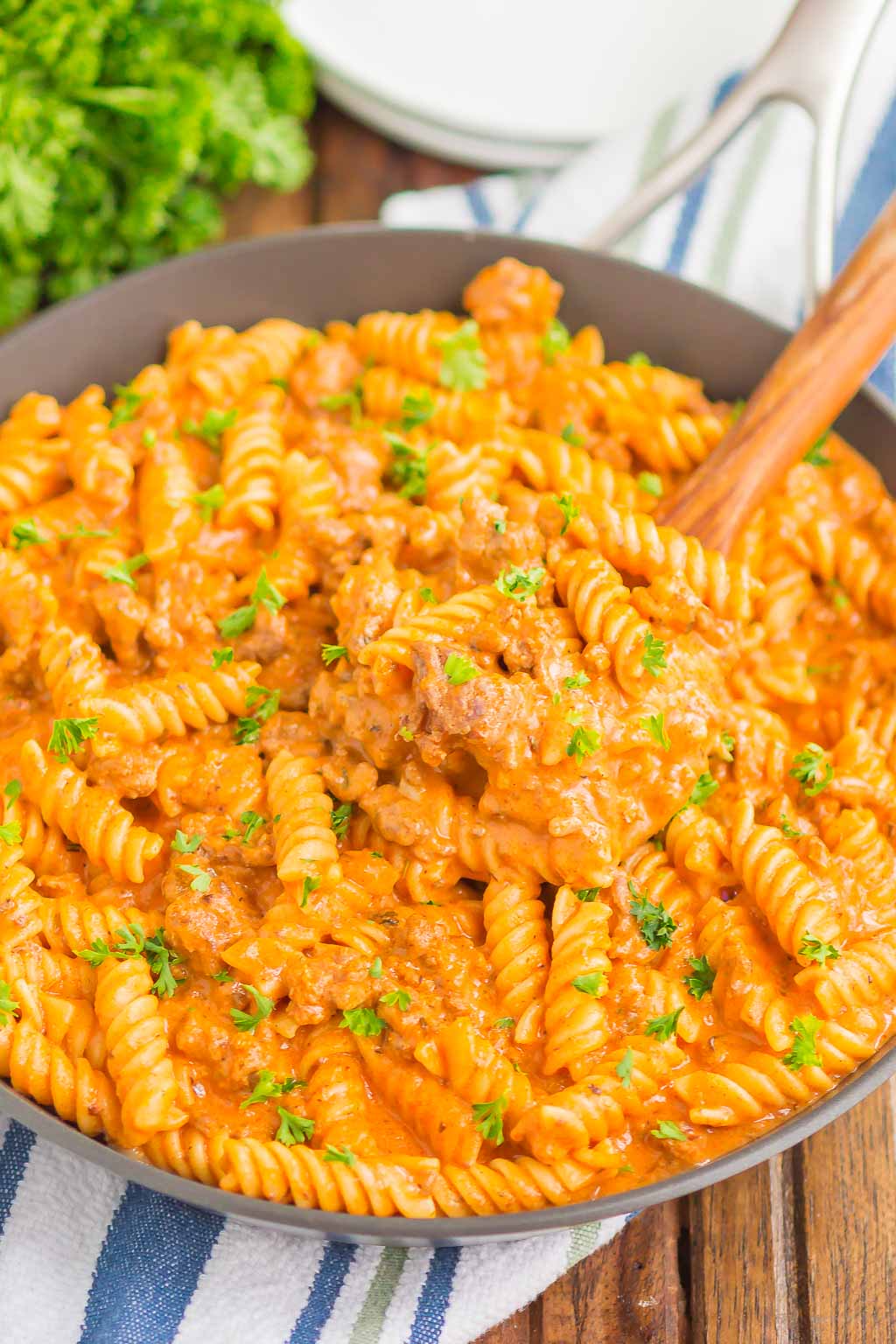 Quick Pasta Dinner Idea
This ground beef pasta is comfort food at its finest. Delicious beef crumbles in a creamy dreamy tomato sauce and cream over pasta and a generous sprinkle of melty cheese.
I love ground beef recipes and this one hits the spot! Fast, easy, and oh-so delicious.
It's so great because it's quick, filling, and great for leftovers. This will be a hit among your kids and family members alike.
This creamy ground beef pasta recipe is the perfect solution when you're looking for a meal, that is full of flavor, easy and quick to make, and also comforting loaded with creamy cheesy perfection, all in a pot.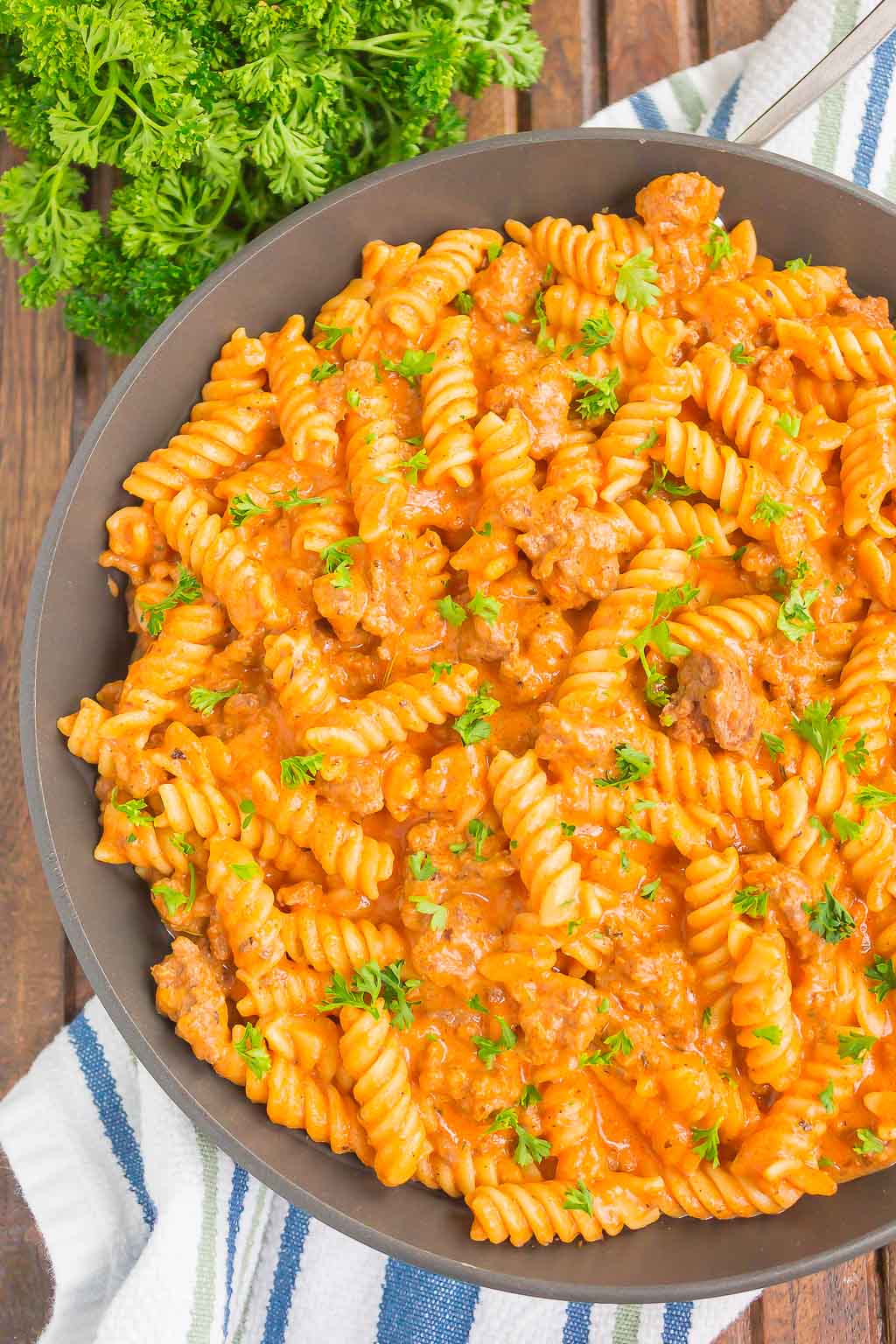 What's in Ground Beef Pasta?
The ground beef and creamy pasta sauce come together with minimal ingredients. Here's what you'll need to make this ground beef and pasta recipe:
Rotini pasta
Ground beef
Dried herbs and spices (garlic powder, Italian seasoning, smoked paprika)
Salt and pepper
All-purpose flour
Beef broth
Tomato sauce
Heavy whipping cream
Shredded cheddar cheese
Do I Have to Use Heavy Whipping Cream?
I've only made this ground beef pasta recipe as written, so I can't say for sure what you can substitute for the heavy cream.
You may be able to use a mixture of plain Greek yogurt and whole milk or something like that, but I'm not sure your pasta would turn out like mine did.
Can I Use Another Type of Pasta?
Yes! Any type of pasta will work just great in this recipe. Think: penne, macaroni, fusilli, and even farfalle.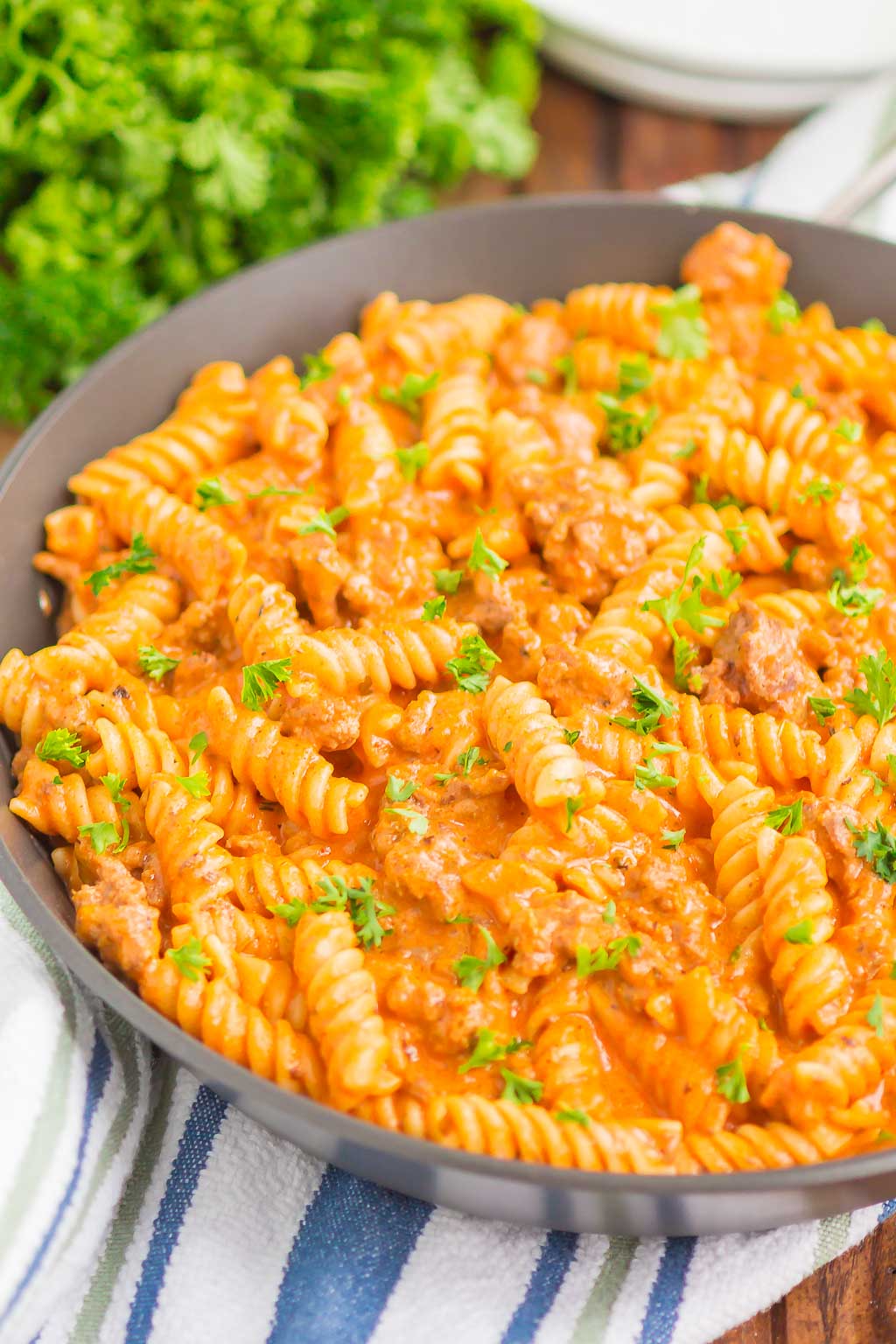 How to Make Ground Beef Pasta
You can have this creamy beef pasta ready in less than 30 minutes. Win! Here's a look at how the recipe comes together:
Cook the pasta, drain and set aside. I used rotini pasta in this recipe, but any pasta will work great.
While your pasta is cooking, prepare your delicious creamy beef sauce. Cook your beef in a large skillet, together with all the seasonings and the flour. Stir and cook for a few minutes. Quick and easy!
Then add your tomato sauce and also the beef broth to the meat and stir to combine. Cook a little bit more, stirring occasionally until slightly thickened.
Lastly, add the heavy cream and the cooked pasta to the sauce. And that's it! Once you add the cheese and stir to melt it's time to dig in!
How to Store and Reheat the Pasta
Store any leftover pasta in an airtight container. Refrigerate for up to four days.
To reheat, transfer to a skillet and warm over medium heat for about 8 to 10 minutes. You may need to add a splash of water or cream as the pasta will soak up the sauce as it sits in the fridge.
Can I Freeze Ground Beef Pasta?
Yes, you totally can! It's also very easy to do so and it's a great quick dinner for the family. You can either make more and freeze it for later or if you have any leftovers (I doubt so, that's how good this pasta dish is) and you don't want it to go to waste.
When you are ready for your frozen delicious beef pasta just reheat it in the oven, in an oven-safe dish. Halfway through sprinkle some shredded cheese on top for extra creaminess and you are good to go. You can also warm it up in the microwave for an even faster dinner!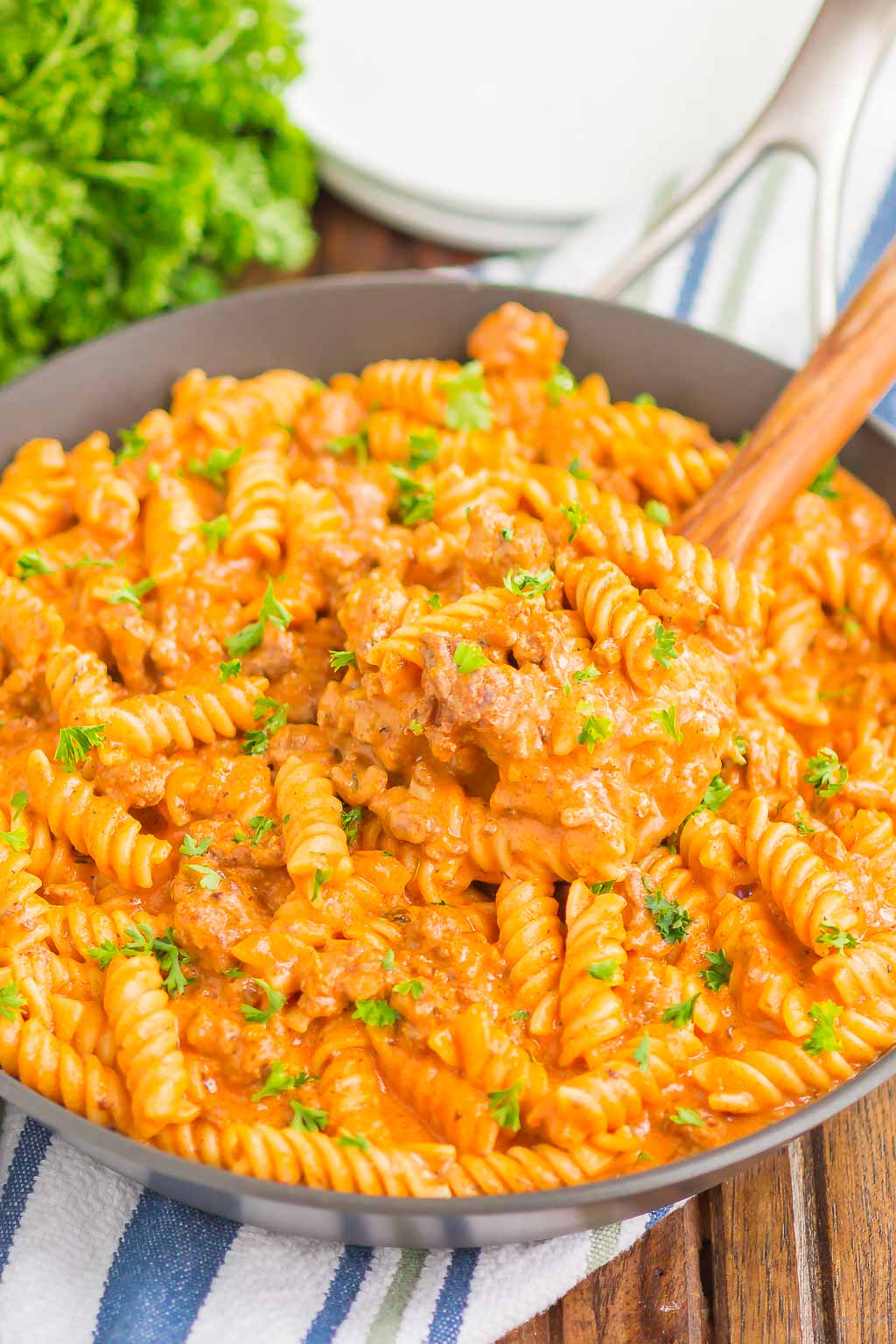 Tips For Making Creamy Ground Beef Pasta
For or a leaner option, opt for ground turkey or ground chicken. It will be just as delicious either way.
Cheddar works great in this recipe but you can experiment with different cheeses as well, such as mozzarella or parmesan. Why not a mixture of the three?
If you don't keep smoked paprika on hand, you're welcome to sub regular paprika. The pasta won't taste as rich and smoky, but it will still be delicious!
What to Serve with Ground Beef Pasta
Try serving the creamy pasta and ground beef with one or more of the following sides:
Looking for More Quick Pasta Dinner Ideas? I've Got You Covered!
Recipe Video: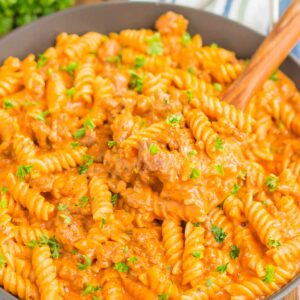 Creamy Ground Beef Pasta
Creamy Ground Beef Pasta is an easy weeknight meal that's ready in just 30 minutes. Fast, fresh, and flavorful, this hearty meal will quickly become a favorite!
Ingredients
10 ounces rotini pasta
1 pound ground beef
2 teaspoons garlic powder
2 teaspoons Italian seasoning
1½ teaspoons smoked paprika
½ teaspoon salt
½ teaspoon black pepper
2 tablespoons all-purpose flour
1 cup beef broth
1 can (15 ounces) tomato sauce
¾ cup heavy whipping cream
1½ cups shredded sharp cheddar cheese
Instructions
Cook pasta according to package directions. Drain and set aside.

In a large skillet, brown and crumble ground beef until no longer pink. Drain excess fat and return beef to same skillet.

Turn the heat to medium and add garlic powder, Italian seasoning, paprika, salt, pepper, and flour. Stir and cook for 1-2 minutes.

Add beef broth and tomato sauce to ground beef and stir to combine. Bring mixture to a boil, then reduce heat to low and simmer, uncovered, for about 5-7 minutes, stirring occasionally, until slightly thickened.

Stir in heavy cream and pasta. Remove from heat and stir in shredded cheese until melted. Serve immediately.
Notes
See my tips and tricks for making this Creamy Ground Beef Pasta above recipe box.
Serving: 1serving, Calories: 696kcal, Carbohydrates: 53g, Protein: 40g, Fat: 35g, Saturated Fat: 16g, Cholesterol: 112mg, Sodium: 1098mg, Potassium: 788mg, Fiber: 4g, Sugar: 6g, Vitamin A: 1008IU, Vitamin C: 5mg, Calcium: 280mg, Iron: 5mg