Chocolate Cobbler is a deliciously decadent dessert that's ready in no time. With a brownie like topping and a rich, fudgy sauce on the bottom, this dish tastes like molten lava cake, but in cobbler form!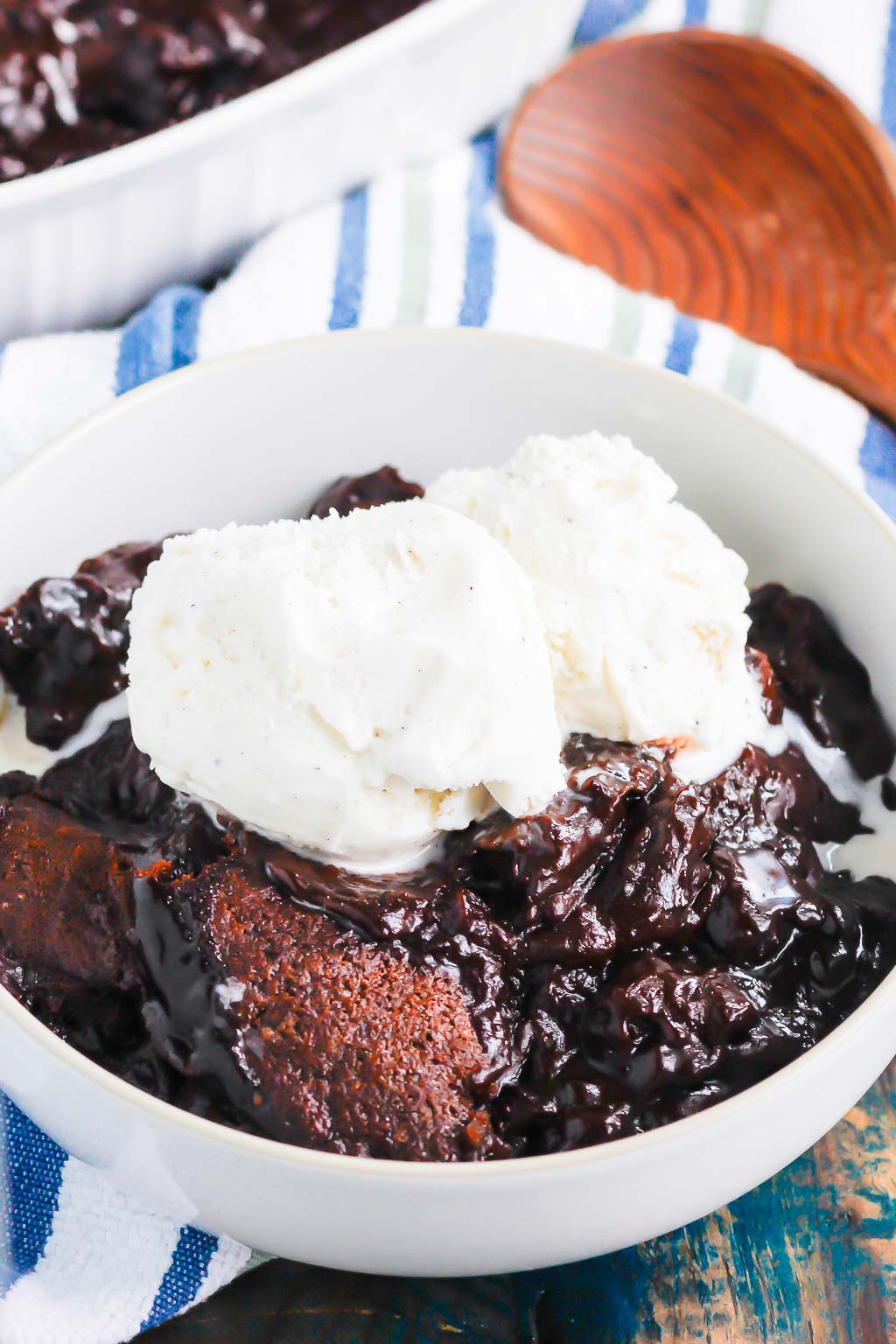 Double Chocolate Cobbler
Warm and gooey, this cobbler recipe is the perfect winter evening dessert recipe. The combination of semi-sweet chocolate chips and unsweetened cocoa powder give you all of the chocolate richness you desire.
This double Chocolate Cobbler recipe is a perfect solution for those days you need something warm, comforting, and loaded with chocolate. Similar to a lava style cake, but without the fuss, this is a perfect recipe to create and serve with a dollop of ice cream on top.
Want a cold dessert? My chocolate Nutella cream pie is another excellent chocolate indulgence that you might love. Make sure to bookmark and check that recipe out after you make this chocolate cobbler for your family.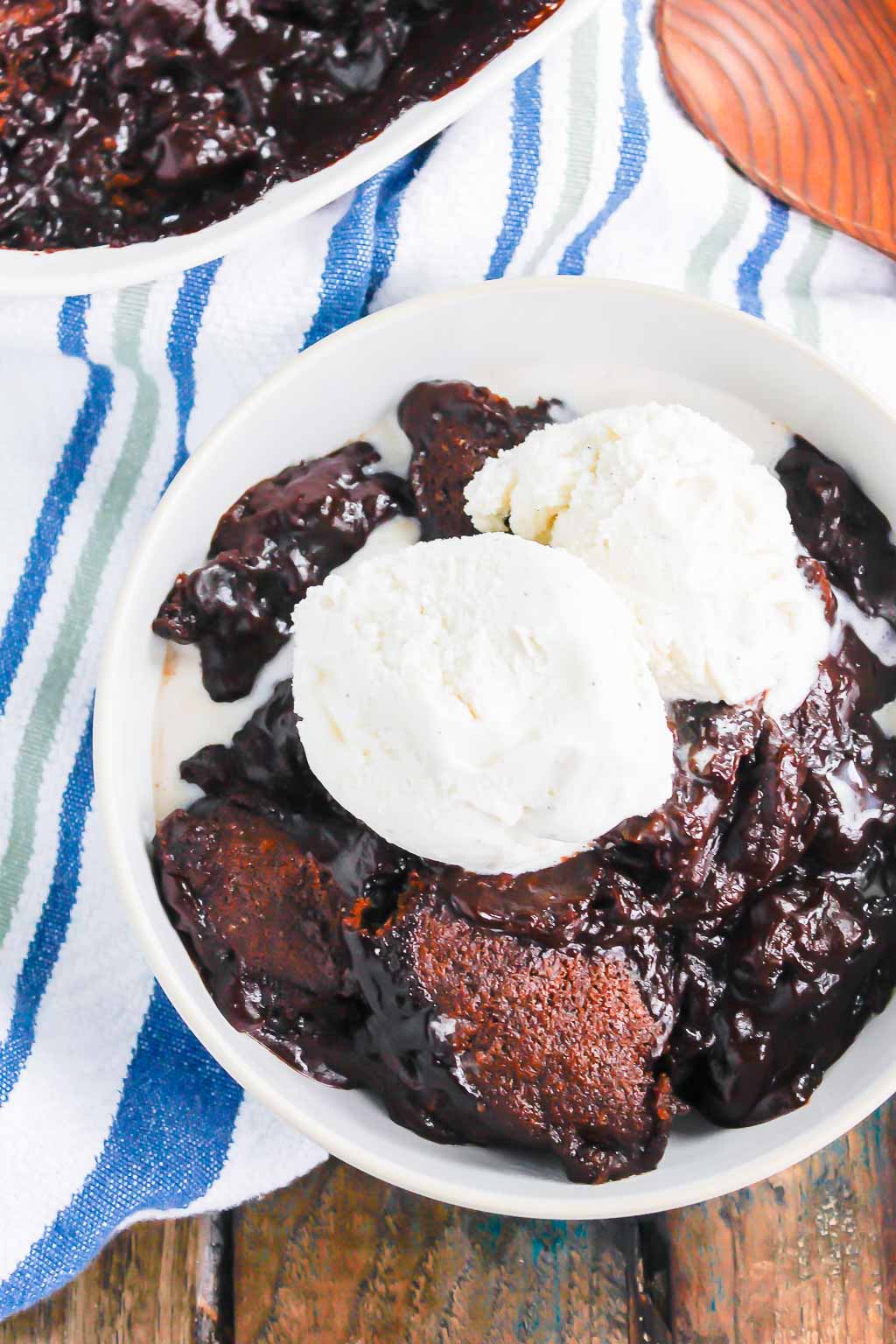 Can I use milk chocolate for this recipe?
Personally, I love the nice combination of sweetness and a slight hint of bitter that comes from semi-sweet chocolate chips. With that in mind, I do understand that not everyone likes that flavor as much as me. Some individuals don't care much for semi-sweet chocolate as it can be a bit bitter.
In this recipe there is plenty of sweetness added to mellow out that hint of bitterness, but if you still want something milder, milk chocolate works.
I prefer Ghirardelli chocolate chips when I am looking for a great smooth flavor. Regardless of whether you grab semi-sweet or milk, that is a great brand to reach for when shopping for this recipe.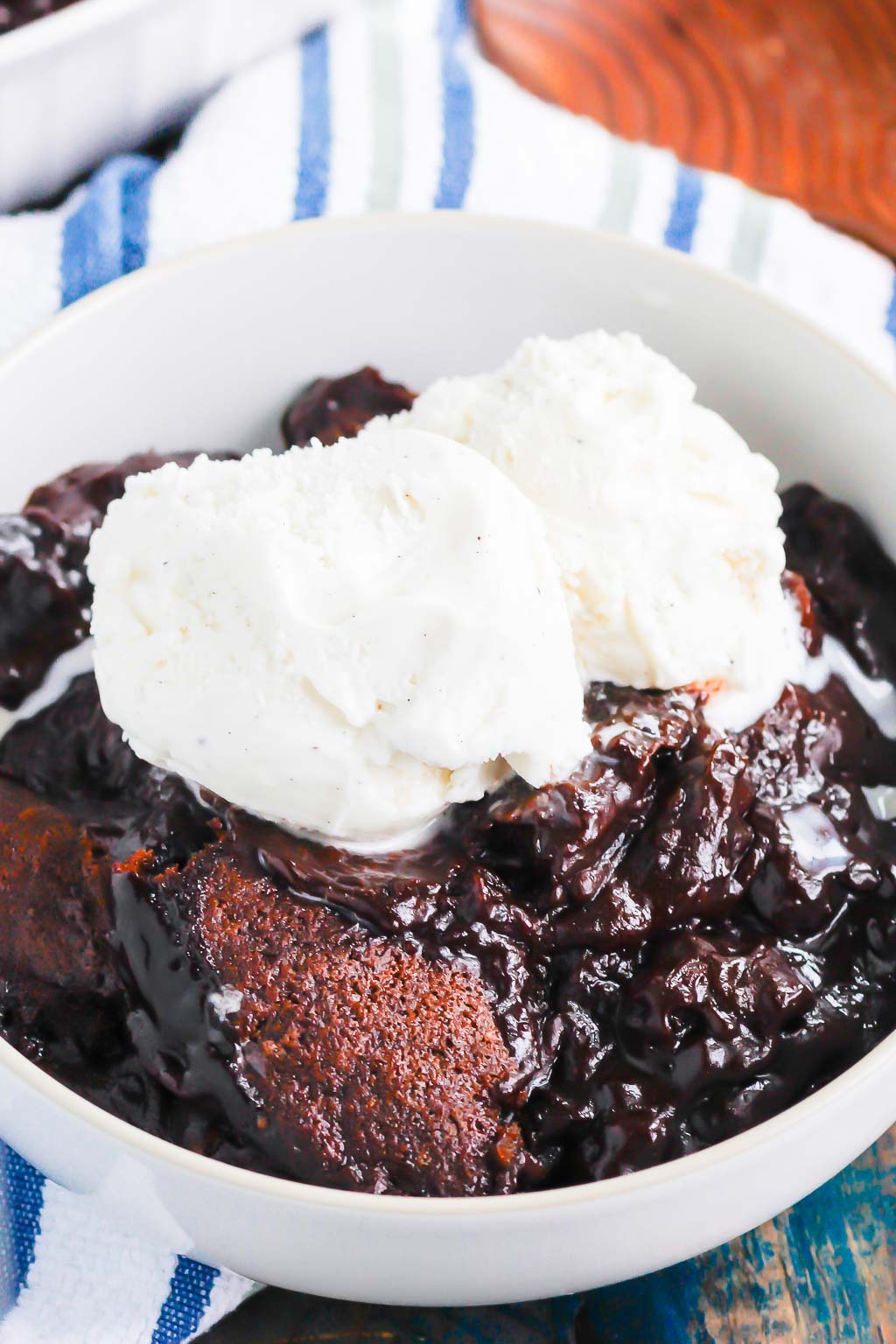 What should I serve with this chocolate cobbler?
It's obvious that a bowl of hot chocolate cobbler recipe is a perfect treat alongside your favorite vanilla bean ice cream. Of course, I am also quite fond of using whipped cream on top of anything chocolate.
You could even serve this recipe with a spoonful of peanut butter ice cream, coffee ice cream, or a salted caramel ice cream. I've even been known to use a mint ice cream on top of this dessert. The combination of hot rich chocolate and smooth creamy ice cream is the perfect dessert blend.
Tips for making the best cake for this cobbler
One of my best tips for making any dessert with flour as an ingredient, is to make sure you sift the flour before mixing. Sifted dry ingredients won't get lumpy as easily. This makes for a better cake texture with no worries about lumps showing up in the mix after baked.
Variations of this double chocolate dessert cobbler
Double chocolate is my favorite, but since part of this recipe is dependent upon the chips you add into the mix, you can definitely switch things up. I have made this recipe using mint chips, peanut butter chips, white chocolate chips, and even peanut butter chips.
Get creative and have fun mixing and matching flavors that compliment chocolate well. There is no end to the different variations you can make of this recipe.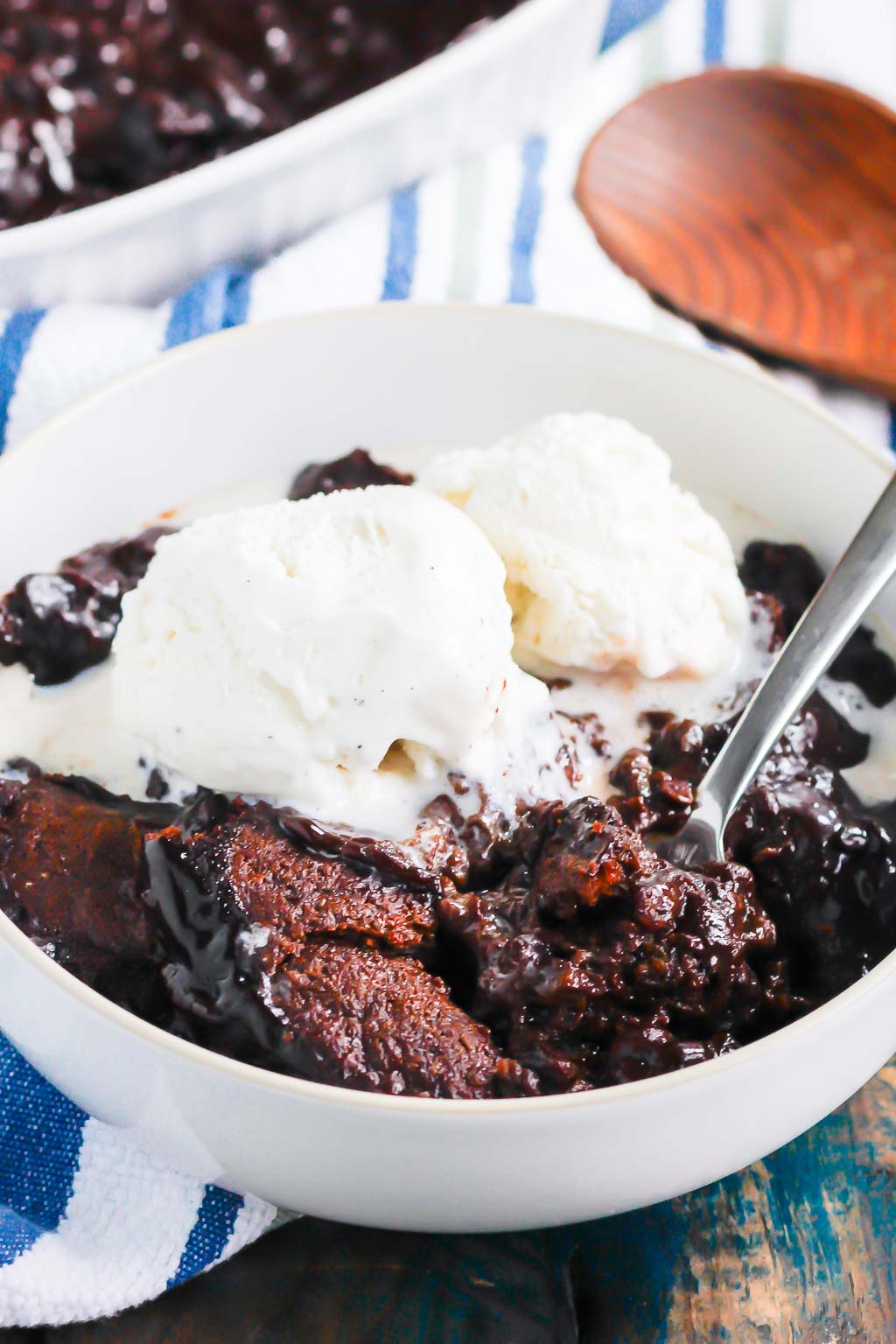 Can I serve this chocolate dessert cold?
While I have to admit I have grabbed a spoon and eaten this straight out of the container in the fridge, it really is best when you heat it up first. If you aren't having this chocolate cobbler straight from the oven, you can scoop into a bowl and heat in 30-second increments in the microwave until the desired temperature.
If a cold dessert is what you want, then you will love this chocolate peanut butter cheesecake mousse instead. Other desserts with plenty of chocolate that doesn't have to be heated are my chocolate cupcakes recipe or even the easy chocolate mint donut for breakfast or dessert.
Looking for more chocolate desserts? I've got you covered!
Chocolate Cobbler
Chocolate Cobbler is a deliciously decadent dessert that's ready in no time. With a brownie like topping and a rich, fudgy sauce on the bottom, this dish tastes like molten lava cake, but in cobbler form!
Ingredients
1

cup

all-purpose flour

2

teaspoons

baking powder

¾

cup

granulated sugar

6

tablespoons

unsweetened cocoa powder

divided

½

cup

whole or 2% milk

2

tablespoons

unsalted butter

melted

½

teaspoons

vanilla bean paste

or vanilla extract

¾

cup

packed light brown sugar

1

cup

semi-sweet chocolate chips

1¾

cups

very hot water
Instructions
Preheat oven to 350°F. Spray an 8x8 baking dish with cooking spray. Set aside.

In a medium bowl, stir together flour, baking powder, sugar, and 2 tablespoons cocoa powder. Add milk, melted butter, and vanilla, stirring to combine.

Spoon batter into prepared dish, spreading evenly. Set aside.

In a small bowl, combine brown sugar and remaining 4 tablespoons cocoa powder. Sprinkle mixture over batter. Top with chocolate chips.

Gently pour 1¾ cup very hot water over batter. Do not sir.

Bake for 35-40 minutes, or until top of cobbler is firm and filling is bubbly. Serve with vanilla ice cream, if desired.
Notes
Recipe from Taste of South Fall Baking 2019 magazine
Nutrition
Serving:
1
g
|
Calories:
572
kcal
|
Carbohydrates:
96
g
|
Protein:
6
g
|
Fat:
20
g
|
Saturated Fat:
12
g
|
Cholesterol:
14
mg
|
Sodium:
23
mg
|
Potassium:
304
mg
|
Fiber:
5
g
|
Sugar:
72
g
|
Vitamin A:
165
IU
|
Calcium:
68
mg
|
Iron:
3
mg