Lemon Poppy Seed Cookies
This post contains affiliate links.
Lemon Poppy Seed Cookies are soft, chewy, and full of flavor. Chewy on the outside and fluffy on the inside, this easy recipe is the perfect treat for lemon lovers!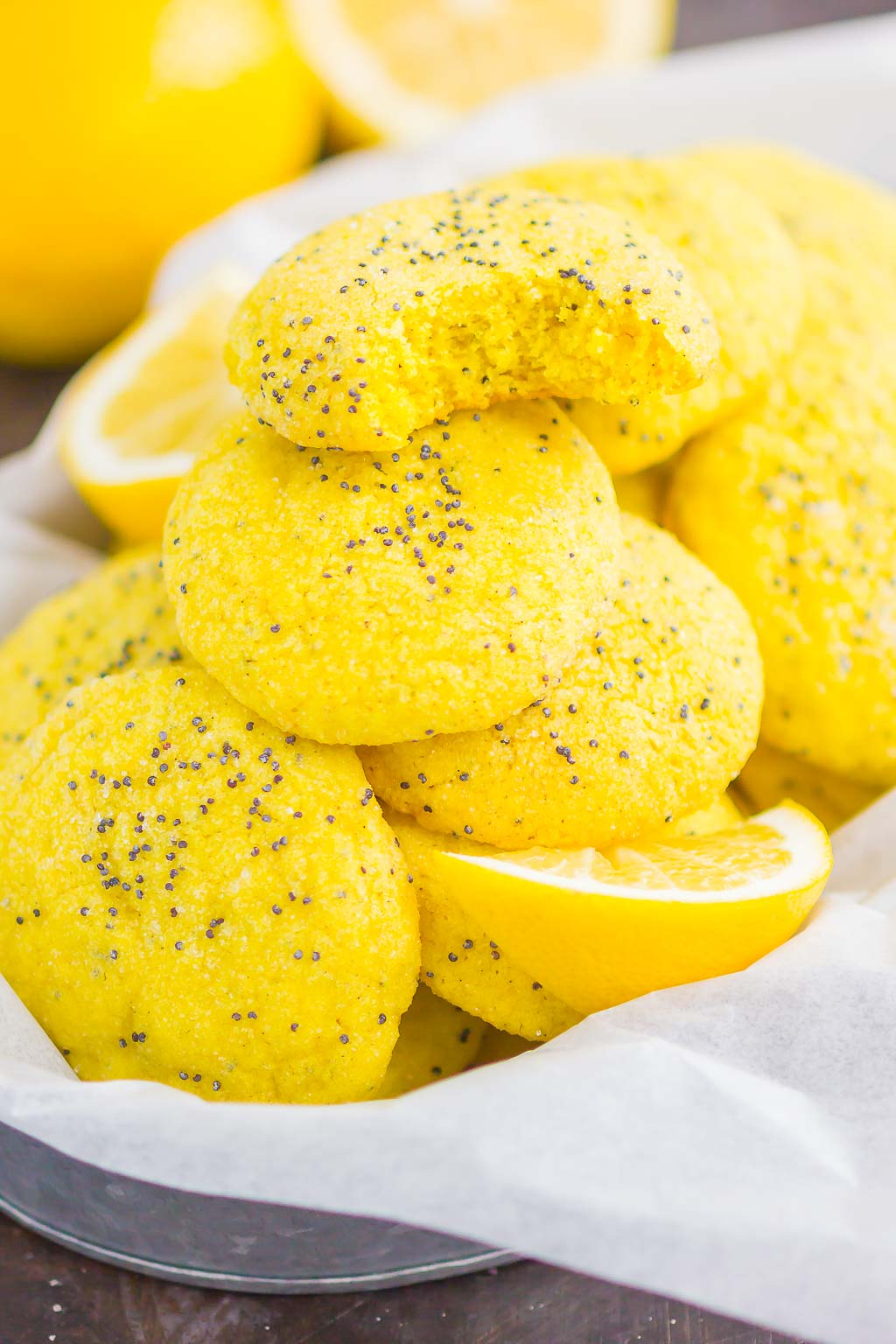 Extra Lemony Poppy Seed Cookies
These lemon cookies are light, airy, and so soft and chewy. They are vibrant, fresh and bursting with lemon flavor in every bite. You can't help it but love them! The lemon gives these wonderful cookies a tangy flavor and the poppy seeds add a little crunch.
Also, they take very little effort to prepare, and they can be served for days ahead.
These poppy cookies are the easiest cookies out there. Just mix, scoop and bake. It's that easy!
They're similar to sugar cookies, but bake up more pillowy and flavorful. But, the lemon isn't overpowering. And that's saying a lot, as I don't like a strong lemon flavor in most desserts.
And let me just tell you, these might be my favorite cookie recipe to date! After I tested these, I made three separate batches of these lemon poppy seed cookies for my husband's coworkers, as they loved them that much!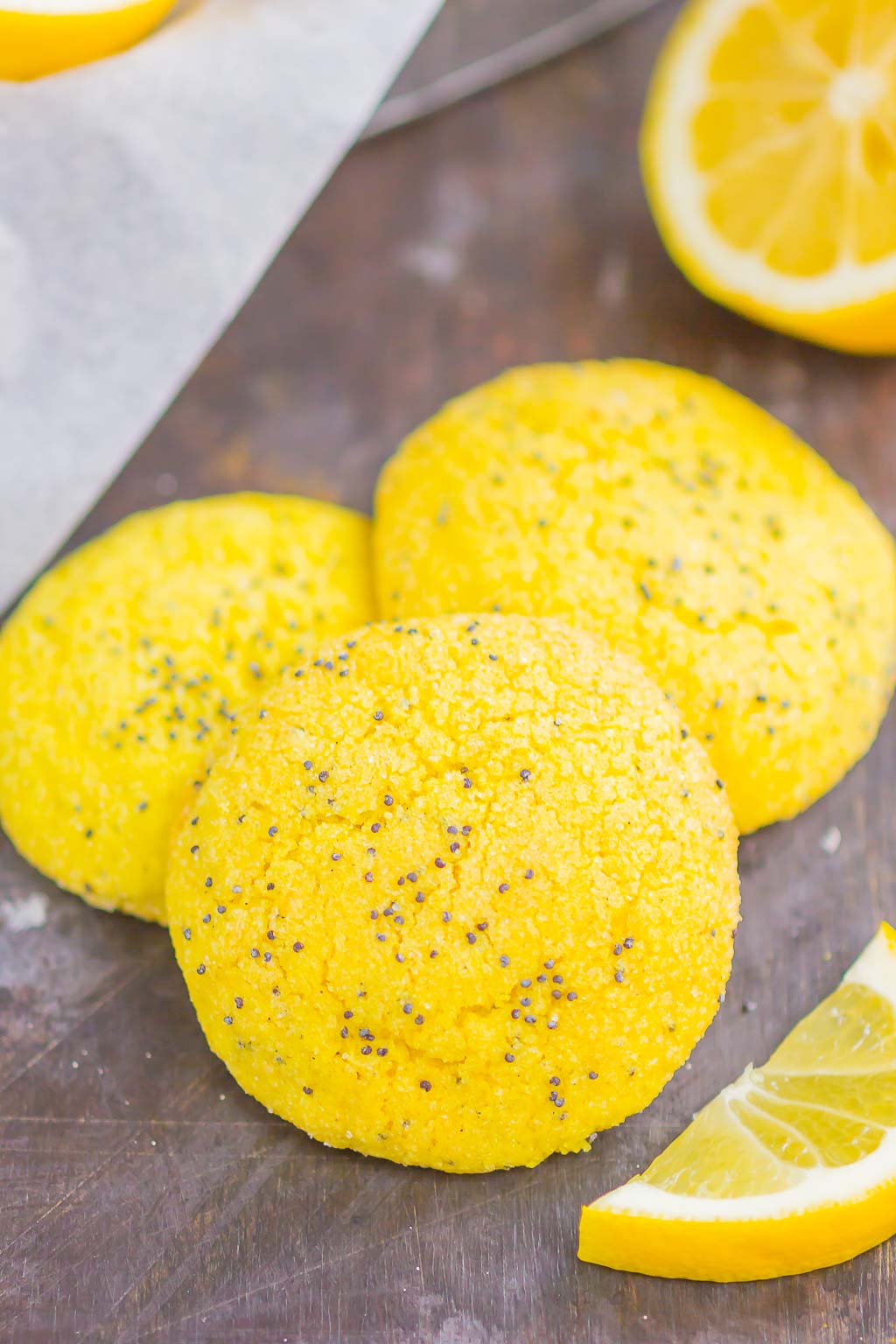 Ingredients in Lemon Poppy Seed Cookies
To make these soft lemon poppy seed cookies, you'll need the following basic ingredients:
All-purpose flour
Baking powder & baking soda
Salt
Unsalted butter
Granulated sugar
Lemon juice and zest
Poppy seeds
Egg
Vanilla bean paste (or extract)
Yellow food coloring (optional)
How Can I Make the Cookies Extra Lemony?
There's already quite a bit of lemon flavor in the cookie dough, thanks to the 3 tablespoons each of lemon juice and zest. However, for even more lemon flavor you can replace 1 teaspoon of vanilla extract with 1 teaspoon lemon extract.
Do NOT add more lemon juice to the dough to amp up the lemon flavor. The lemon juice would make the dough more acidic and would affect the texture of the baked cookies.
Can I Use Gluten-Free Flour?
Possibly, but I've only made these lemon poppy cookies as written. However, I imagine a one-to-one gluten-free flour substitute would work just fine.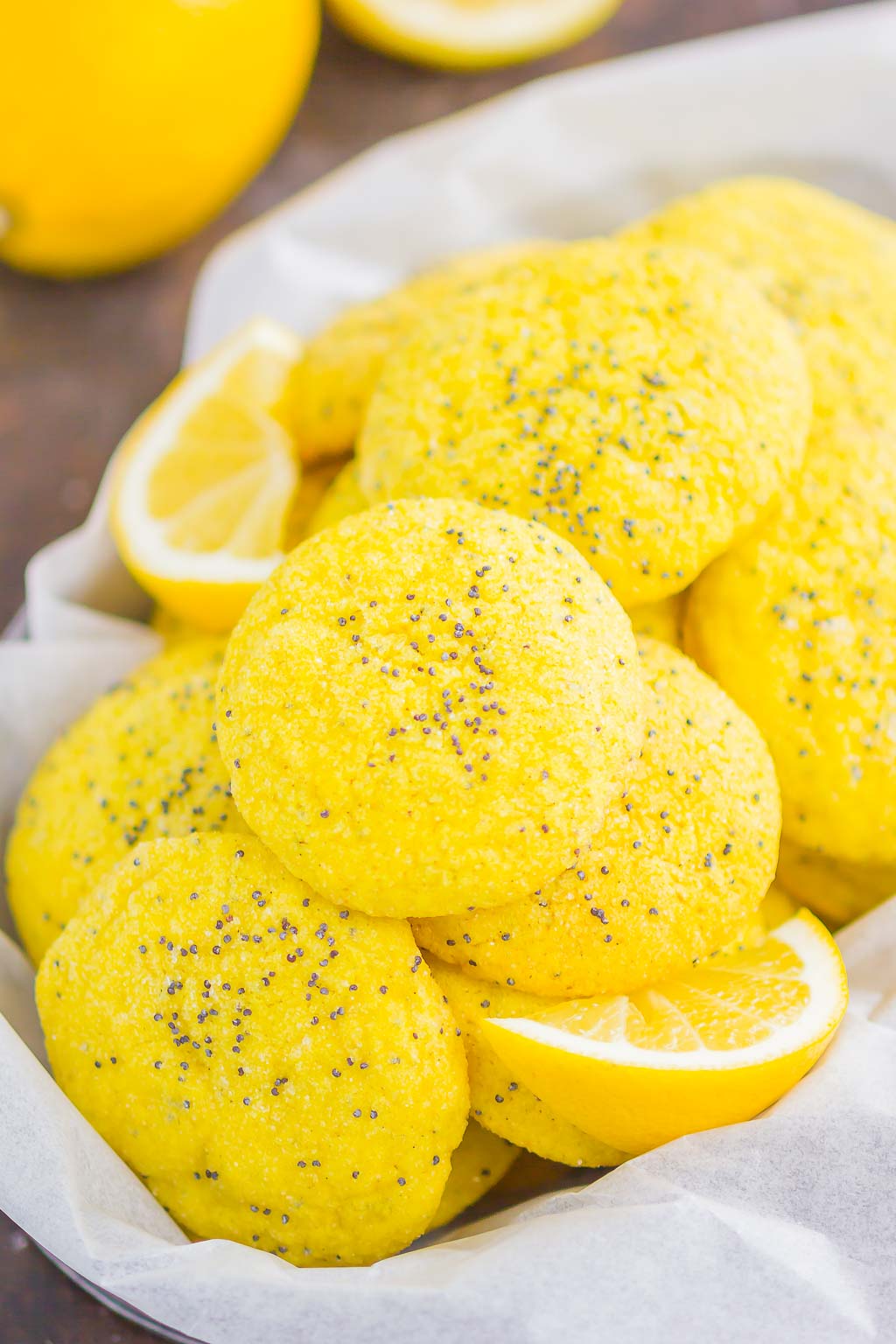 How to Make Lemon Poppy Seed Cookies
These cookies couldn't be easier to make! Here's an overview of the process:
Mix together the baking powder, baking soda, flour, and salt.
In the other bowl mix together the rest of the ingredients.
Combine everything together, cover and let it chill (preferably overnight) in the fridge. This is a very important step if you want your cookies to be light and fluffy.
After that, scoop the dough into balls, and roll them into a sugar + poppy seed mixture.
Place them into a parchment paper-lined baking pan, and bake them.
When the cookies start to lightly brown around the edges, remove them from the baking pan and let them cool.
That's it! Easy peasy, lemon squeezy.
Can the Lemon Poppy Cookies Be Frozen?
Certainly, you can freeze the cookies for at least 2 weeks. After they have completely cooled down, stack them carefully between layers of waxed paper in a freezer-friendly container.
In addition, you can also store these lemon poppy cookies in an airtight container for 5-7 days on the kitchen counter.
How Can I Make the Cookies Crispy?
This recipe was created specifically for soft and chewy lemon poppy seed cookies. If you're looking for crispy cookies, you'll need to try another recipe entire. (Baking the cookies for longer would just result in burnt edges).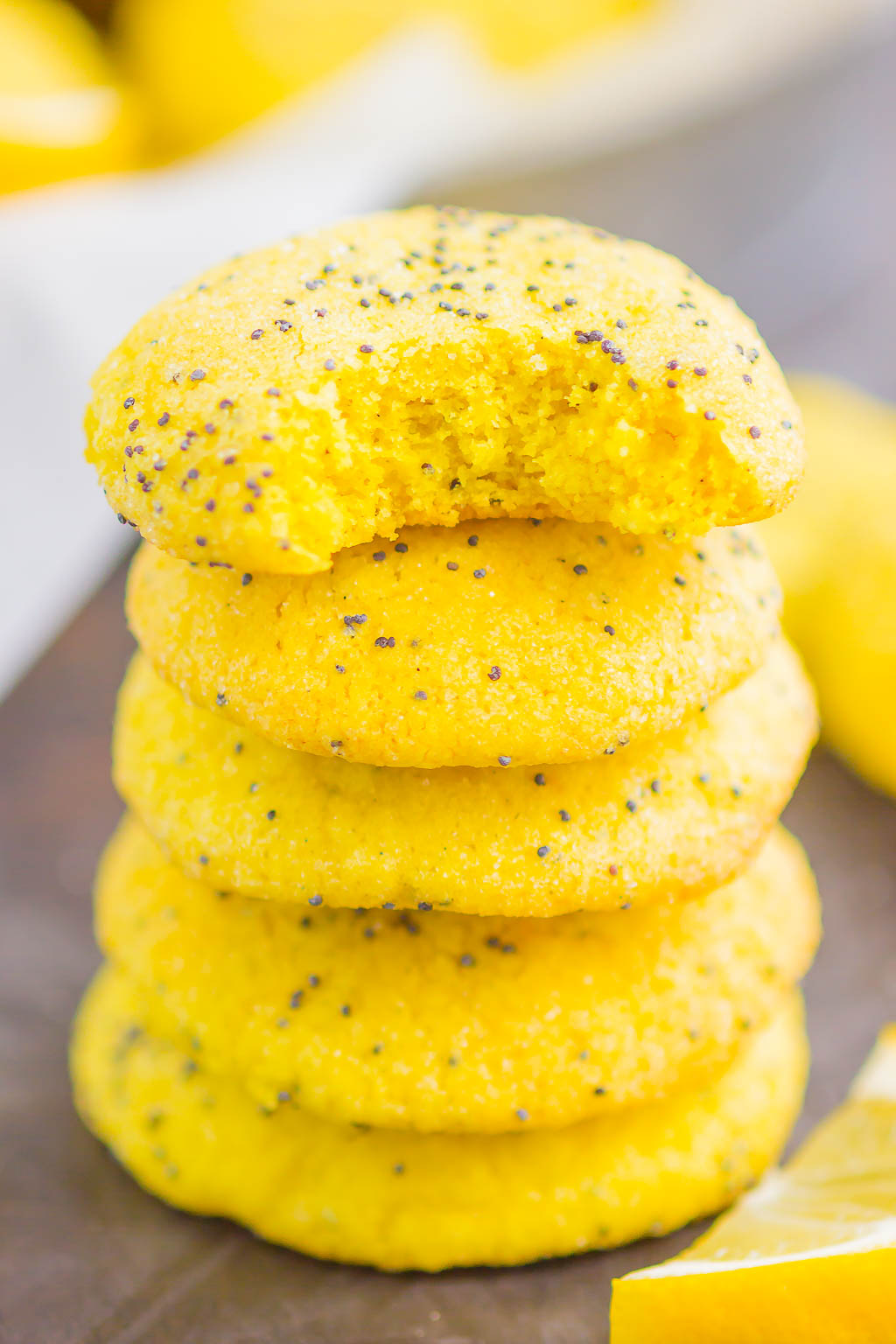 Tips for the Best Lemon Cookies
Fresh lemon juice works best for this recipe.
In order for your cookies to bake up fluffy, it's required to chill the dough, for a minimum of two hours, but preferably overnight.
Most importantly for this recipe is to not overbake the cookies. Take the cookies out of the oven when the edges are lightly brown. Don't worry if the cookies look slightly underbaked in the middle, they will be good by the time they cool down.
Don't like lemons? No problem. You can easily swap the lemon for lime or orange.
Looking for more easy lemon recipes? I've got you covered!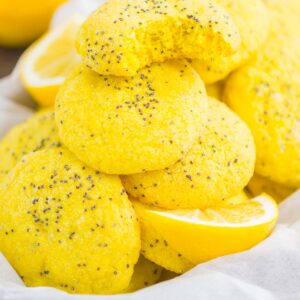 Lemon Poppy Seed Cookies
Lemon Poppy Seed Cookies are soft, chewy, and full of flavor. Chewy on the outside and fluffy on the inside, this easy recipe is the perfect treat for lemon lovers!
Ingredients
2½ cups all-purpose flour
1 teaspoon baking powder
½ teaspoon baking soda
½ teaspoon salt
2 sticks (16 tablespoons) unsalted butter, , softened
1¼ cups granulated sugar, , divided
3 tablespoons lemon zest, (from approx. 2 lemons)
3 tablespoons fresh lemon juice, (from approx. 2 lemons)
3 tablespoons poppy seeds, , divided
1 egg
2 teaspoons vanilla bean paste, (or vanilla extract)
4-5 drops yellow liquid or gel food coloring, (optional)
Instructions
In a medium bowl, whisk flour, baking powder, baking soda, and salt. Set aside.

In a large bowl, cream butter, 1 cup sugar, and lemon zest with an electric hand mixer or stand mixer with fitted paddle attachment until light and fluffy, about 2-3 minutes.

Add lemon juice, 2 tablespoons poppy seeds, egg, vanilla, and food coloring and beat until combined, scraping down the sides of bowl as needed.

Slowly add in flour mixture and beat on low speed until just combined. Cover bowl and chill dough for at least one hour (or overnight).

Preheat oven to 350°F. Line two large baking pans with parchment paper. Set aside.

In a small bowl, combine remaining ¼ cup sugar and 1 tablespoon poppy seeds. Scoop dough into balls (roughly 1 tablespoon of dough) and then roll in sugar-poppy seed mixture and place on prepared baking pans, about 2 inches apart.

Bake for 12-14 minutes, or until cookies start to lightly brown around edges. Remove from oven and let cool for 5 minutes, then transfer to a wire rack to cool completely.
Notes
Recipe from Cuisine Holiday Baking magazine - 2019 
Serving: 1serving, Calories: 98kcal, Carbohydrates: 13g, Protein: 1g, Fat: 5g, Saturated Fat: 3g, Cholesterol: 12mg, Sodium: 44mg, Potassium: 26mg, Fiber: 1g, Sugar: 6g, Vitamin A: 141IU, Vitamin C: 1mg, Calcium: 17mg, Iron: 1mg