Pumpkin Cobbler is a simple dessert that's bursting with cozy flavors. With a soft, pumpkin cake on top and a decadent, caramel sauce on the bottom, this dish is perfect for fall!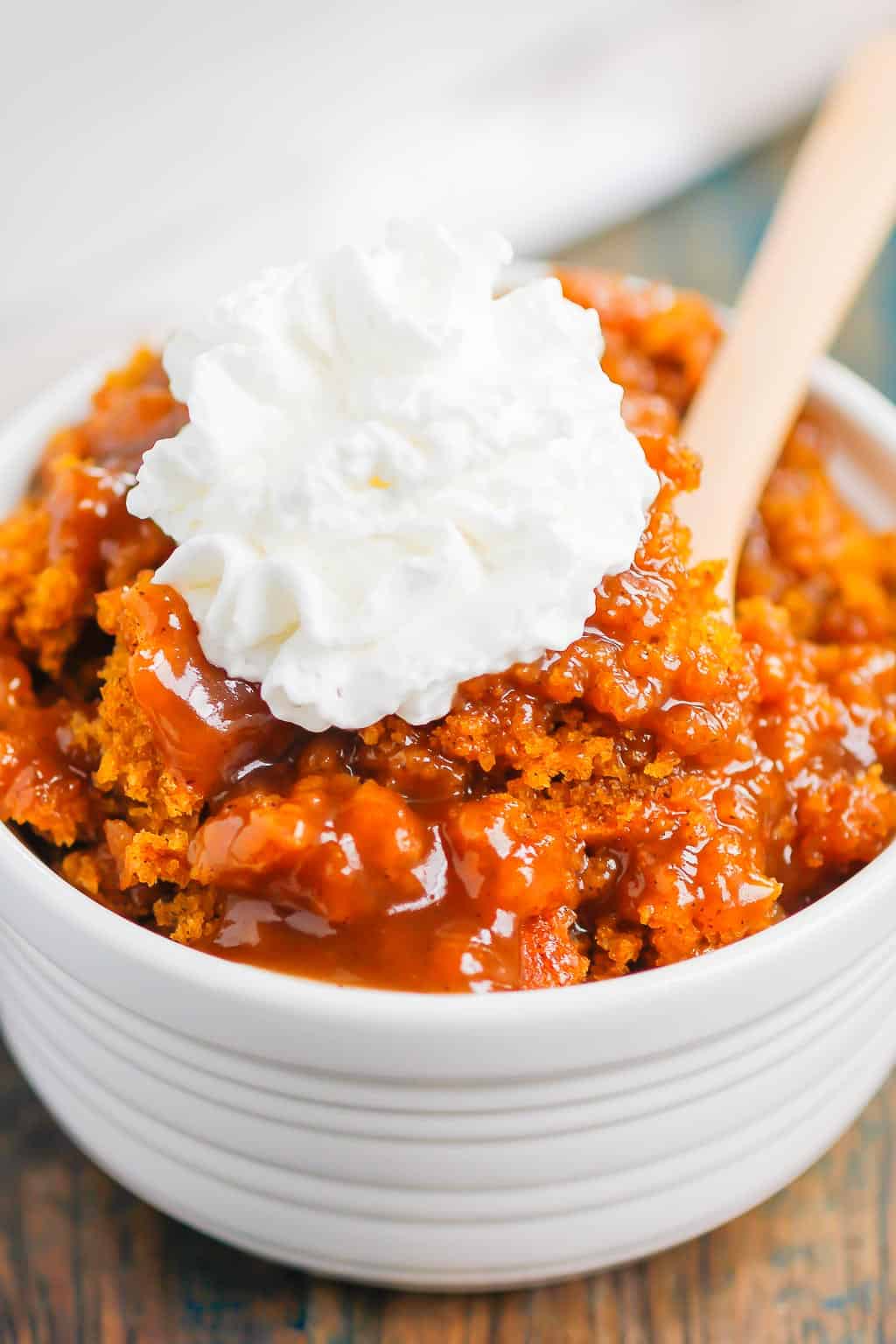 Pumpkin Cobbler is my latest discovery in a long line of pumpkin adoration. A deliciously sweet and rich pumpkin creation that is part cobbler, part cake, part crisp, part pumpkin pie, and all about decadence in an easy form is a must for this pumpkin recipe season. 
The combination of two of my all-time favorite things into one dessert just sounds decadent! 
My first bite of this glorious dessert did not disappoint. Warm gooey cake with that hint of crunch on the top from the crumble topping, it was truly an experience!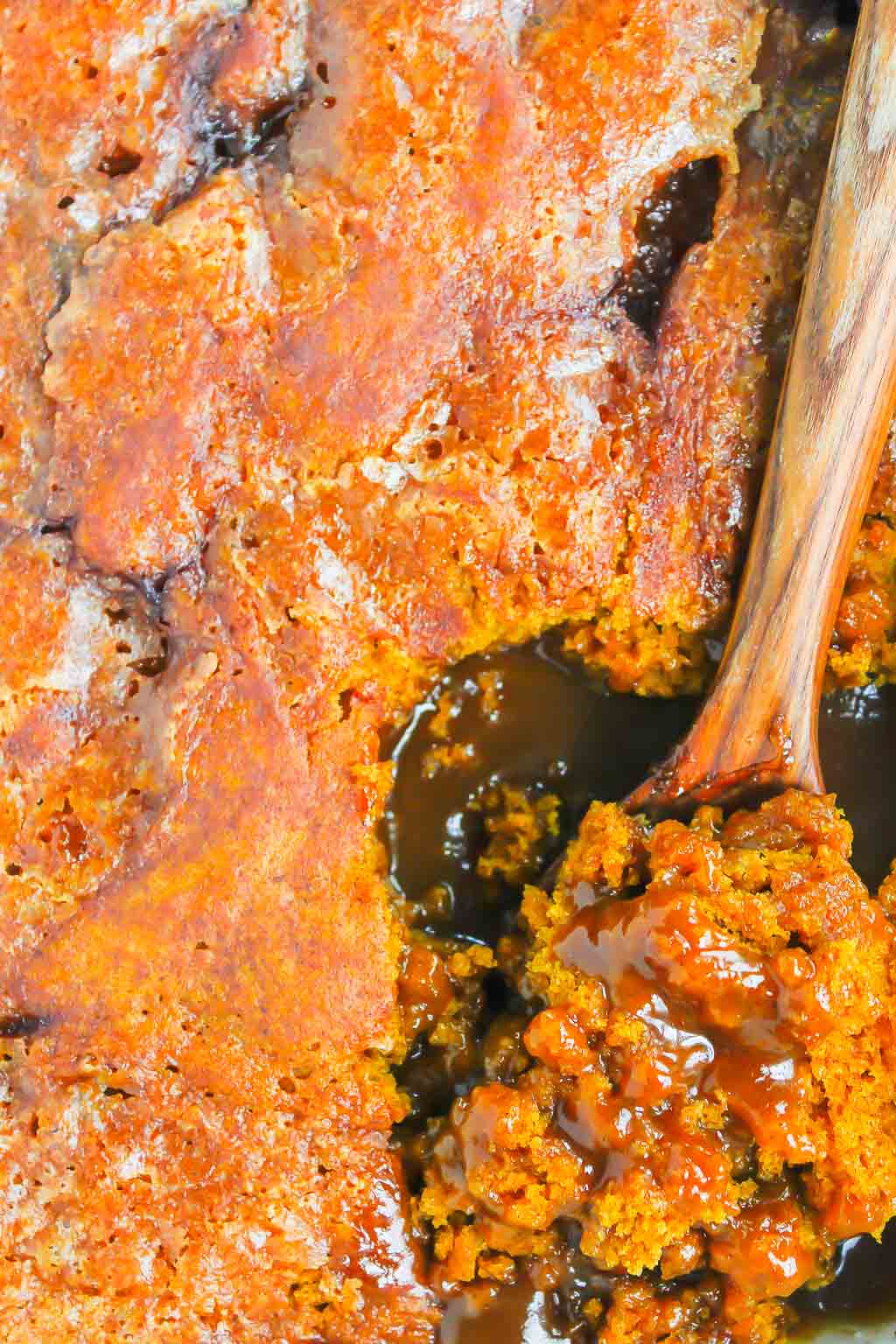 Pumpkin Cobbler – Your New Favorite Fall Dessert
If this websites name isn't obvious enough, I will go ahead and tell you I have a mild obsession with all things pumpkin.  There is just something about that first smell of pumpkin spice when the crisp air of late September and early October hit that makes my soul happy. 
I thought I had made every possible pumpkin dessert.  Apparently, I was wrong, and let me tell you now – I am so glad I was wrong!  Making this pumpkin cobbler has totally revamped my love for the pumpkin spice flavors. I thought my pumpkin bread pudding with brown sugar caramel sauce was the ultimate rich hot dessert, but this recipe may have that beat!
This isn't just a cobbler.  It's not really a pie either.  It's almost a lava cake, but with pumpkin.  Truly, what more could you ask for in a perfect Thanksgiving dessert?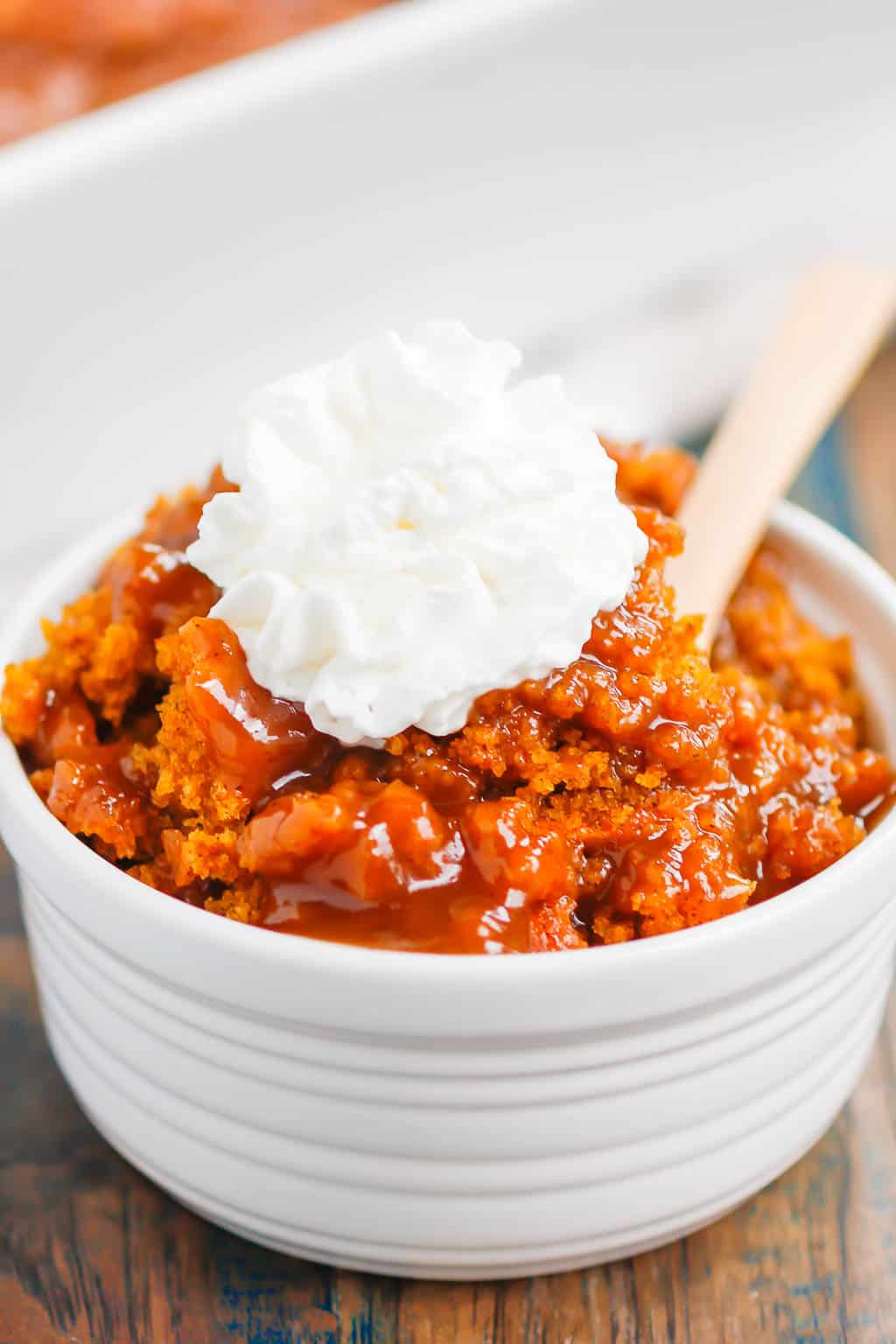 What is the secret to a pumpkin lava cake? 
When I first made this recipe, I admit to being a bit dubious about one step in the directions.  Adding water to the top of the cobbler before it goes into the oven and not mixing it in, well, that just sounded odd to me. 
Boy was I wrong!  I truly believe that the additional liquid on top of the mixture not only added to the moist lava cake effect, but helped to give the top layer an extra bit of texture that really set off the flavors. 
Can I add nuts to this pumpkin cobbler from scratch?
Pecans and walnuts are popular in many bread and cake recipes, and very commonly seen with pumpkin spice.  While this cobbler recipe doesn't include nuts in the ingredients, you can definitely add some to the mix. 
I think that chopped pecans over the top would add a nice crunch, but you could also mix them into the cake batter before it goes into the pan.  Feel free to experiment to see which you prefer!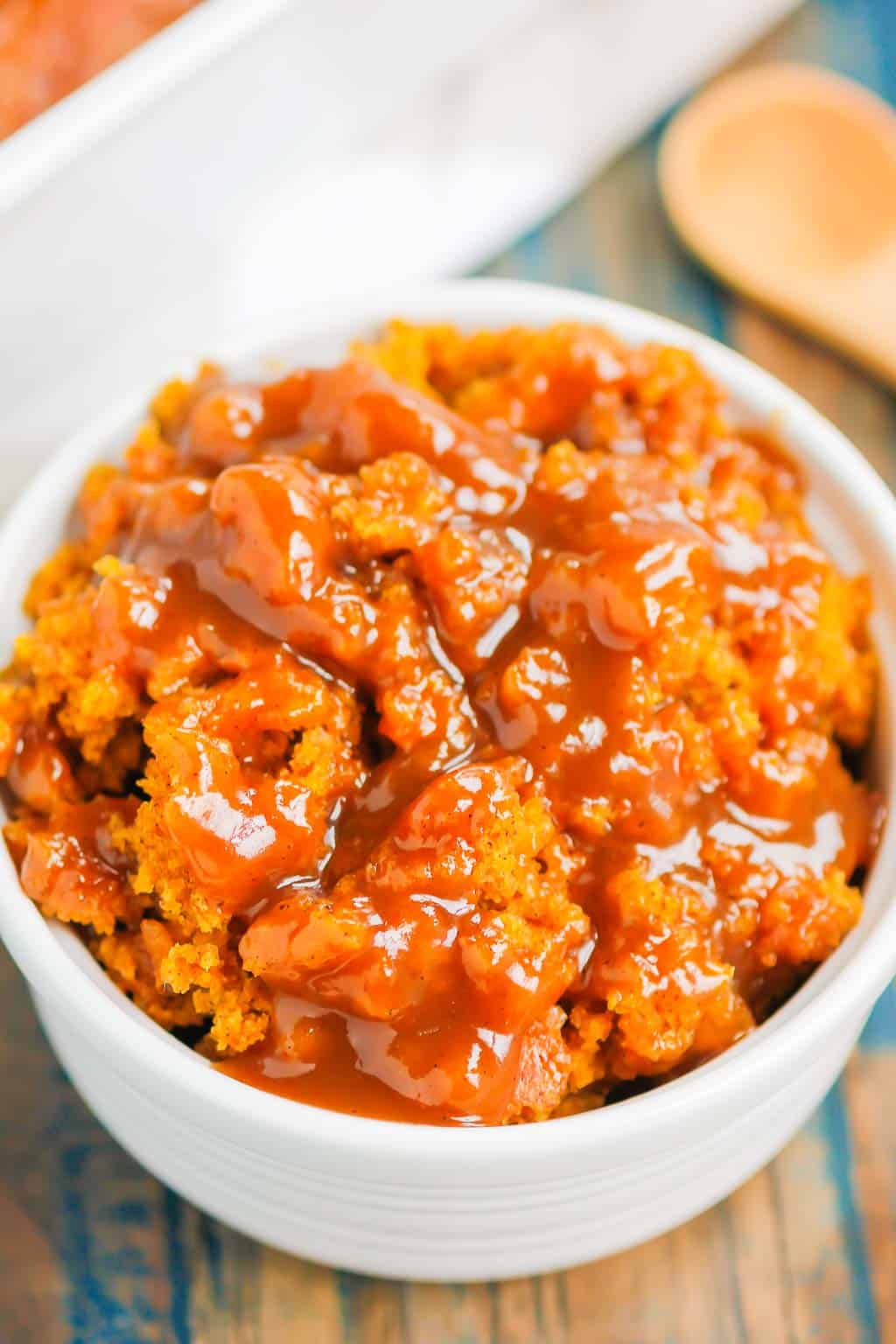 What should I top this cobbler recipe with?
Now we are talking my language!  Every cake, cobbler, or pie can be outstanding on it's own, but topping with something sweet and cool can really kick it up that notch you didn't know was missing. 
I am a huge fan of homemade whipped cream, or just a spray of the canned variety from the grocery store.  It's light, simple, and adds a bit of creaminess that really suits this pumpkin cobbler lava cake recipe.  
If you prefer something richer, vanilla bean ice cream or custard would also suit this recipe.  You could even go so far as to use a salted caramel chocolate chunk ice cream, or even my pumpkin caramel ice cream if you wanted. 
Whipped topping is another easy option some would prefer.  While it isn't my favorite, it definitely would work on this pumpkin dish.
Can I make this ahead of time for Thanksgiving dessert? 
Oh boy!  This is a tough question to answer.  While the answer is yes, you can, it's not necessarily what I would recommend.  It is the best right out of the oven when it is piping hot. 
That said, I have made it and had leftovers the next day.  You can definitely reheat it in the microwave and it will be almost as delicious as fresh from the oven. 
So, while I wouldn't make it so far in advance that you need to freeze it, it would be fine to make a few days ahead of time and refrigerate.  Just pop into the oven on low while everyone is enjoying dinner to pull out hot and fresh right at time for dessert. 
While I know you'll want to make this pumpkin cobbler, if a make ahead dessert is really what you need, then my No Bake Pumpkin Cheesecake Trifle is an excellent alternative. 
Looking for more pumpkin recipes? I've got you covered!
Pumpkin Cobbler
Pumpkin Cobbler is a simple dessert that's bursting with cozy flavors. With a soft, pumpkin cake on top and a decadent, caramel sauce on the bottom, this dish is perfect for fall!
Ingredients
1¼

cup

all-purpose flour

2

teaspoons

baking powder

½

teaspoon

salt

¾

cup

white sugar

2

teaspoons

pumpkin pie spice

1

teaspoon

ground cinnamon

¾

cup

pure pumpkin

¼

cup

milk, any kind

I used 2%

¼

cup

vegetable oil

2

teaspoons

vanilla bean paste

or vanilla extract
Topping
¾

cup

packed light brown sugar

¼

cup

white sugar

1

teaspoon

ground cinnamon

1½

cup

very hot water
Instructions
Preheat oven to 350°F. Grease a 2-quart casserole dish or 9x9 baking pan with non-stick cooking spray. Set aside.

In a medium bowl, whisk together flour, baking powder, salt, sugar, pumpkin pie spice, and cinnamon. Set aside.

In a small bowl, stir together pumpkin, milk, vegetable oil, and vanilla. Add wet ingredients into dry ingredients and stir until just combined.

Spread mixture into prepared pan. Set aside.

To make the topping, in another small bowl, stir together the brown sugar, white sugar, and cinnamon. Sprinkle over the top of the pumpkin mixture. Pour the hot water over everything. Do not sir.

Bake for 45-50 minutes or until topping is golden.

Remove from oven and let cool for 10 minutes before serving. Serve with vanilla ice cream or whipped cream, if desired.
Nutrition
Serving:
1
g
|
Calories:
326
kcal
|
Carbohydrates:
64
g
|
Protein:
3
g
|
Fat:
7
g
|
Saturated Fat:
6
g
|
Cholesterol:
1
mg
|
Sodium:
157
mg
|
Potassium:
207
mg
|
Fiber:
2
g
|
Sugar:
47
g
|
Vitamin A:
3587
IU
|
Vitamin C:
1
mg
|
Calcium:
86
mg
|
Iron:
2
mg