Roasted Lemon Garlic Green Beans
These Roasted Lemon Garlic Green Beans are a simple side dish that's packed with flavor. Crispy on the outside, tender on the inside, and loaded with a lemon garlic zest, this dish pairs perfectly with just about anything!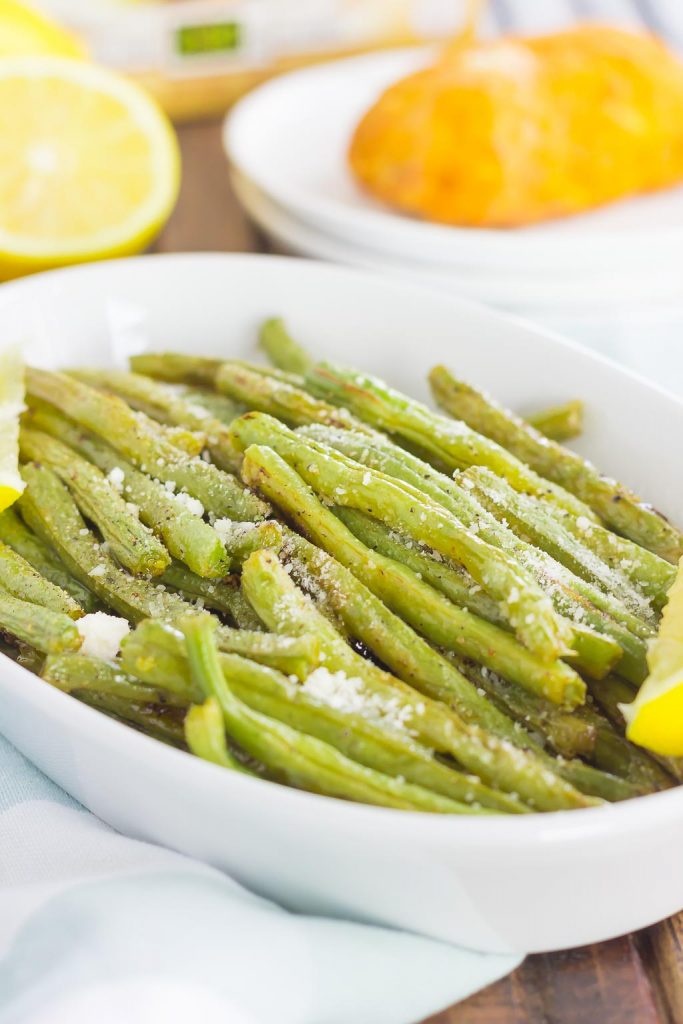 Weeknights are busy. From working to running this errand and that errand, picking up the kids from soccer practice, rushing off to dance class, or stopping at the store on the way home from work, life is busy.
And the last thing you want to think about is dinner…am I right? Even though the hubster and I don't have kids, we're still just as busy during the week.
And when life gets busy, the last thing I want to worry about is dinner. After being in the kitchen all day recipe testing for the blog, I want something quick, simple, and satisfying.
And you know I'm all about the simple dishes, friends. And roasted veggies, too. From this Prosciutto Wrapped Asparagus with Feta, to this Roasted Garlic Parmesan Broccoli, and Roasted Parmesan Herb Sweet Potatoes, I love it all.
That's why I thought these Roasted Lemon Garlic Green Beans would be the perfect pairing with Chicken Cordon Bleu from Barber Foods. It's fast, fresh, flavorful, and oh-so good!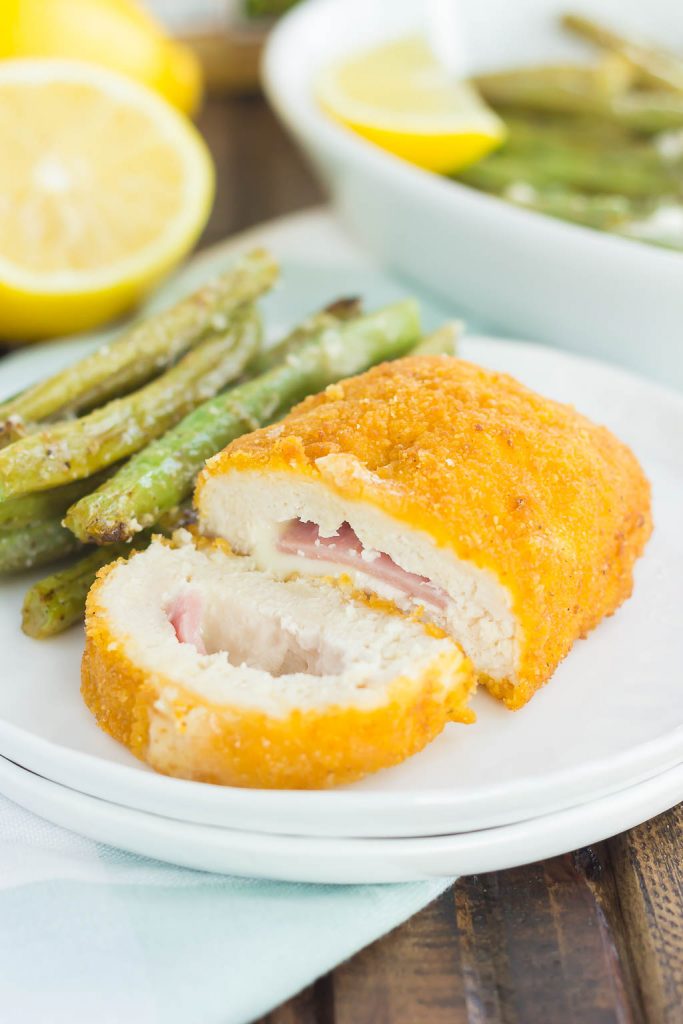 Ingredients for Lemon Garlic Green Beans
These lemon green beans call for very few ingredients. All I used to make this simple side dish was:
Fresh green beans
Olive oil
Garlic powder
Salt and pepper
Lemon juice
Can I Roast Frozen Green Beans?
I don't recommend doing so. Frozen green beans technically can be roasted, but they never turn out perfectly crisp-tender like fresh green beans do.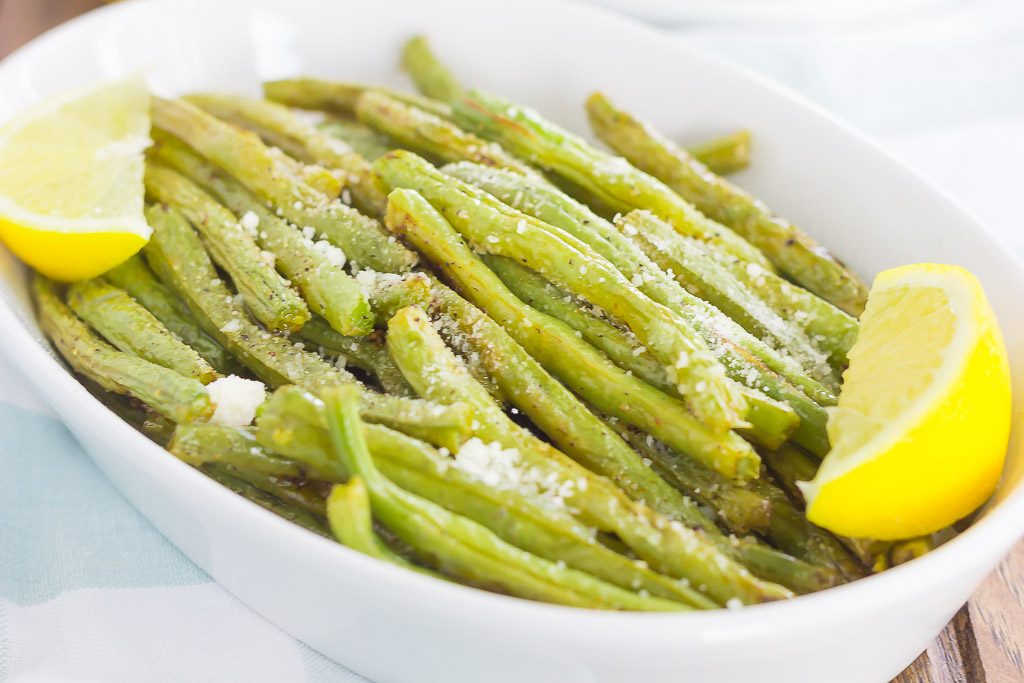 How to Make Lemon Garlic Green Beans
These roasted fresh green beans are so easy to make, too! But, you knew that was coming, right?
Simply trim the ends of the green beans and spread them out on a baking sheet.
Toss with some olive oil, and garnish with some seasonings and lemon juice.
Pop the veggies into the oven and let it work its magic. In about 15 minutes, these roasted green beans with lemon and garlic are ready to be devoured.
Crisp, yet tender, and loaded with a lemon and garlic flavor. It's the perfect seasoning for roasted green beans, and I think you'll love it just as much as I do!
How Long to Roast Green Beans?
In total, you'll need to roast the fresh green beans for 12 to 15 minutes at 400ºF.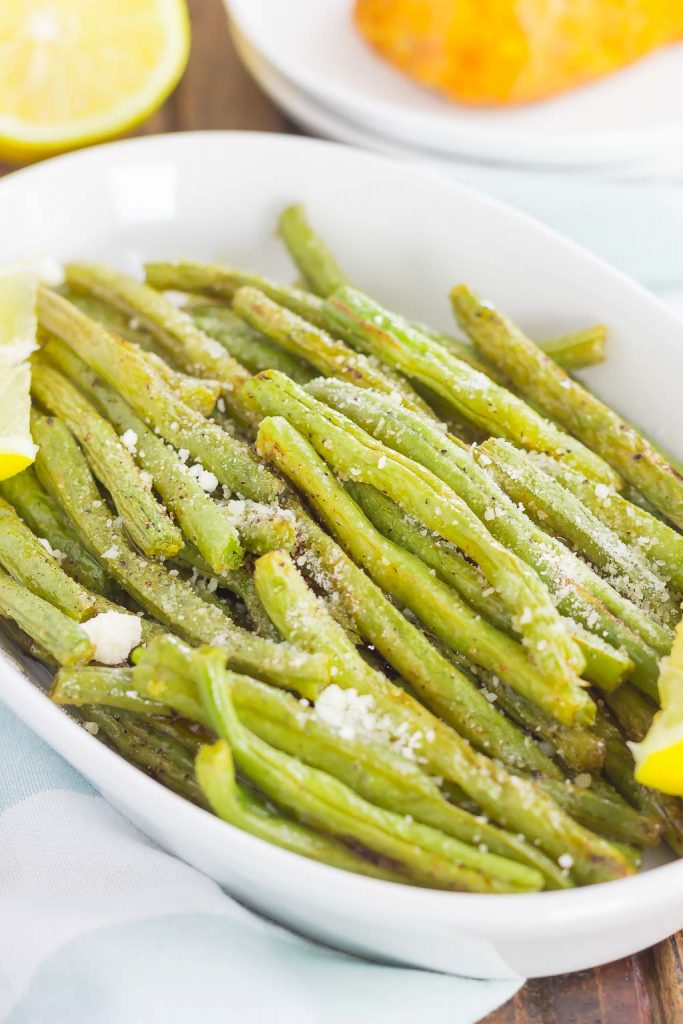 Tips for Roasting Fresh Green Beans
I prefer using garlic powder when making these lemon garlic green beans. Fresh garlic tends to burn in the oven, but garlic powder doesn't.
Enjoy these roasted fresh green beans as is, or top them with a little feta or goat cheese for an extra pop of flavor.
I recommend eating these beans right away. Leftovers never turn out crisp-tender once reheated.
Looking for more roasted vegetable side dishes? I've got you covered!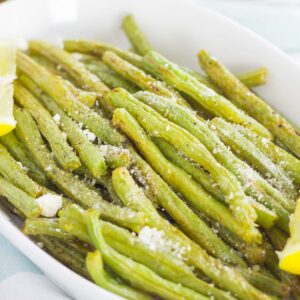 Roasted Lemon Garlic Green Beans
These Roasted Lemon Garlic Green Beans are a simple side dish that's packed with flavor. Crispy on the outside, tender on the inside!
Ingredients
1 pound fresh green beans, , ends trimmed
2 tablespoons olive oil
1 teaspoon garlic powder
Salt and pepper, , to taste
Juice of 1 lemon
Instructions
Preheat oven to 400°F. Line a large baking pan with parchment paper or grease with non-stick cooking spray.

Spread green beans in an even layer on prepared pan. Drizzle with olive oil and then season with garlic powder, salt, and pepper. Toss to coat. Drizzle lemon juice over beans.

Roast for 12-15 minutes, or until green beans are tender, but still slightly crisp.

Garnish with a touch of Parmesan cheese, if desired. Serve immediately.
Serving: 1g, Calories: 100kcal, Carbohydrates: 8g, Protein: 2g, Fat: 7g, Saturated Fat: 1g, Sodium: 7mg, Potassium: 248mg, Fiber: 3g, Sugar: 4g, Vitamin A: 782IU, Vitamin C: 14mg, Calcium: 42mg, Iron: 1mg