Growing up, I was never a huge fan of sweets. I would eat the occasional piece of candy or scoop of ice cream, but I always preferred the salty stuff. And even though I'm still not the biggest sweet-eater, I do love it more than I used to. Brownies, ice cream (I blame that on the hubster, as he eats ice cream practically every night), and cookies have found a more solid place in my heart.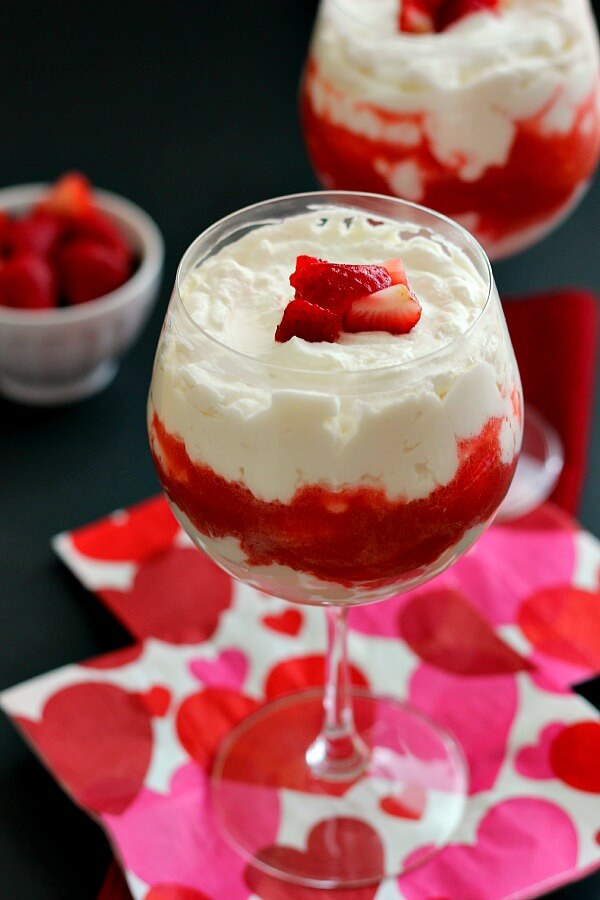 One of my secret (or maybe not-so-secret-anymore) indulgences is whipped cream. I love that stuff! Whenever I make hot chocolate, I pile it on. Put a  slice of pie in front of me and I have whipped cream filling up the whole plate. It's just one of those condiments that always in my refrigerator. I've even been known to sneak a spoonful (or three) just to satisfy my sweet tooth. Please tell me there are other whipped cream addicts out there, too?
 And while I loved canned whipped cream (how could you not, right?), the homemade kind is even better. I don't make it all that often, but when I do, you better believe that I savor every last dollop of that creamy white decadence. Which leads me to today's dessert…this Whipped Strawberry Delight I decided to make a festive Valentine's Day treat for the hubster and I, featuring two of my favorites, strawberries and home-made whipped cream.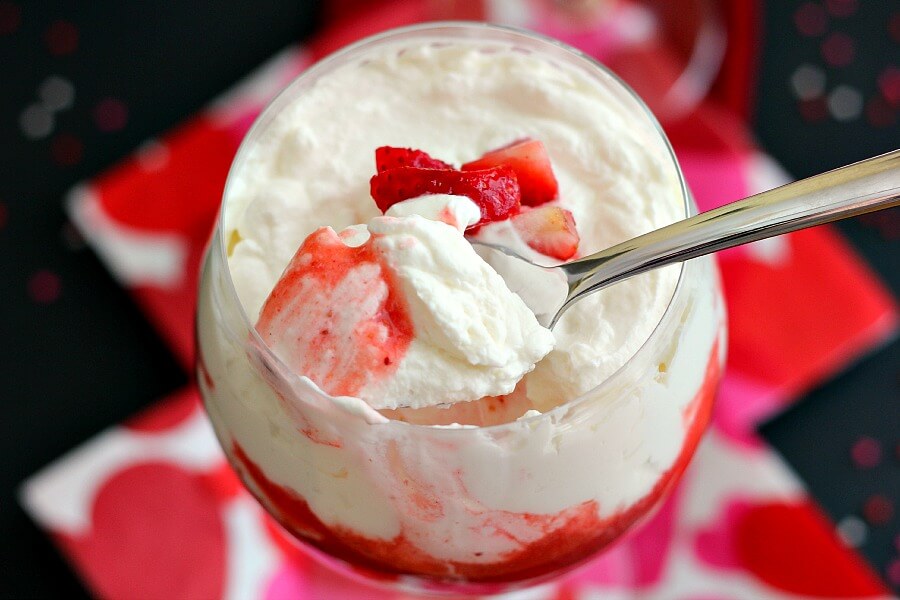 This Whipped Strawberry Delight is filled with sweetened cream and luscious strawberries, a perfect treat to satisfy your sweet tooth.  Now, I'm not gonna lie, this dessert is not calorie-friendly or healthy in any way. It's rich, creamy, and probably not a dish that you can eat every single day. But, because I'm all about moderation, we need to indulge every now and then, right?
 This dessert is not only the perfect treat for Valentine's Day, but it's also so easy to make! This Whipped Strawberry Delight contains just four ingredients. Four! Heavy cream, sugar, vanilla, and strawberries. Pretty simple, huh?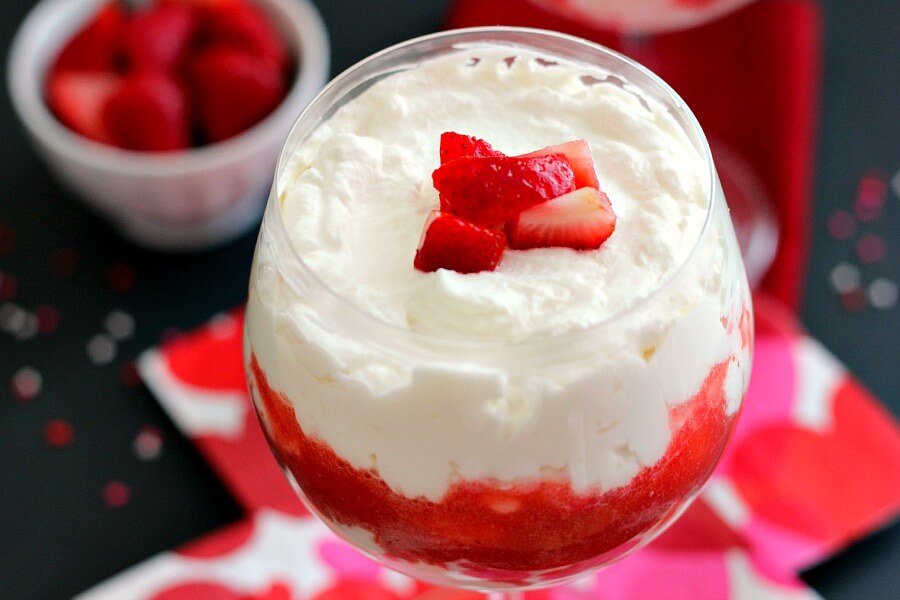 The cream layer is made the same way that you would make home-made whipped cream. However, instead of using powdered sugar, use regular white sugar to make it more dense. After the cream is whipped and fluffy, puree some strawberries. I chose to use frozen strawberries, which I thawed, but feel free to use the fresh kind if that's what you have handy. After everything is set, layer the whipped cream and strawberries in a fancy glass, if you chose, and be prepared to have your taste buds wowed.
 Once you try this Whipped Strawberry Delight, you'll be amazed at how fast and easy this decedent treat came together. The sweet cream layer pairs perfectly with the strawberries, making each bite better than the next. And if you're a whipped cream-aholic like me, then this might become your most favorite dessert!
Perect to serve to your special Valentine (along with my Baked Red Velvet Donuts) or just because you have a sweet tooth, this creamy dessert will soon become a regular in your household.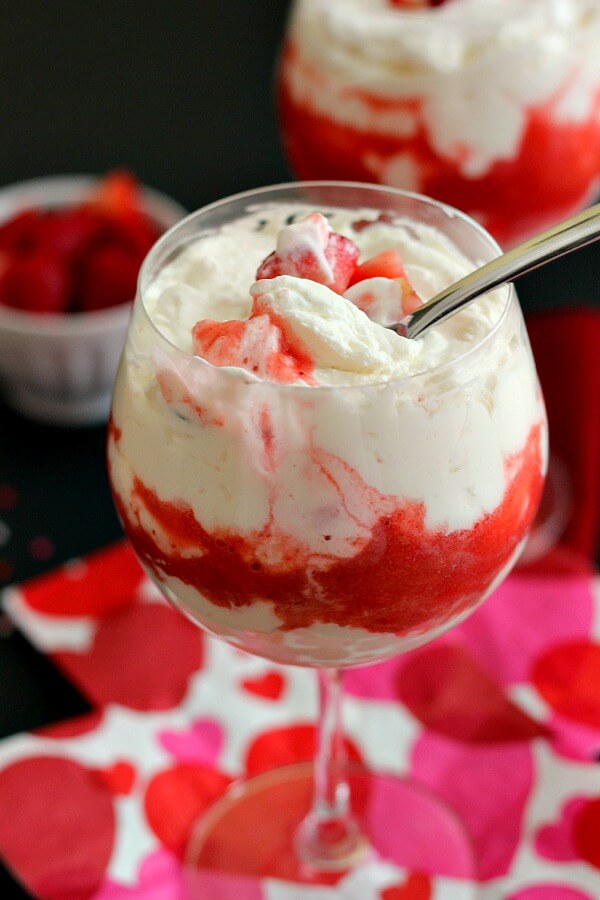 Yields 4 servings
Whipped Strawberry Delight
This Whipped Strawberry Delight is filled with sweetened cream and luscious strawberries, a perfect treat to satisfy your sweet tooth.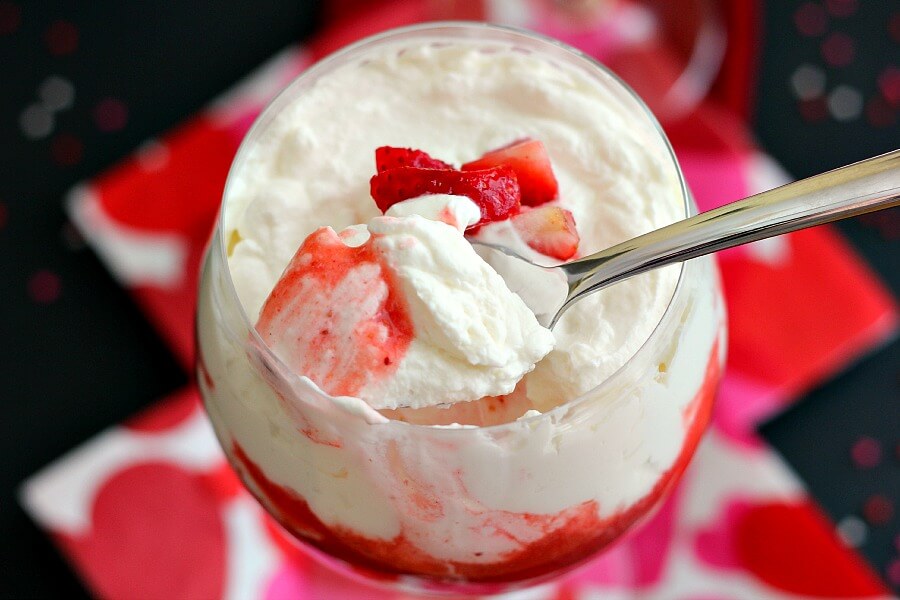 Ingredients
2 cups cold heavy whipping cream
1/3 cup white sugar
¼ teaspoon vanilla extract
2 cups frozen strawberries, thawed
Instructions
In a large bowl, beat cream with an electric hand mixer or stand mixer with fitted paddle attachment until stiff peaks form, about five minutes.
Add in sugar and vanilla and mix well. Set aside.
In the canister of a blender, puree strawberries until it becomes a thick liquid. Set aside.
Spoon whipped cream in bottom of a glass or dish, filling about ¼ of the way full. Layer with strawberries and then top with whipped cream. Repeat with the rest of servings.
Serve immediately or refrigerate until ready to serve.
Enjoy!
7.8.1.2
118
https://www.pumpkinnspice.com/whipped-strawberry-delight/