Bakery Style Blueberry Muffins
These Bakery Style Blueberry Muffins are filled with juicy blueberries that are swirled into a sweet batter. Soft, moist, and bursting with flavor, these muffins are just as delicious as the ones that you would find at a bakery!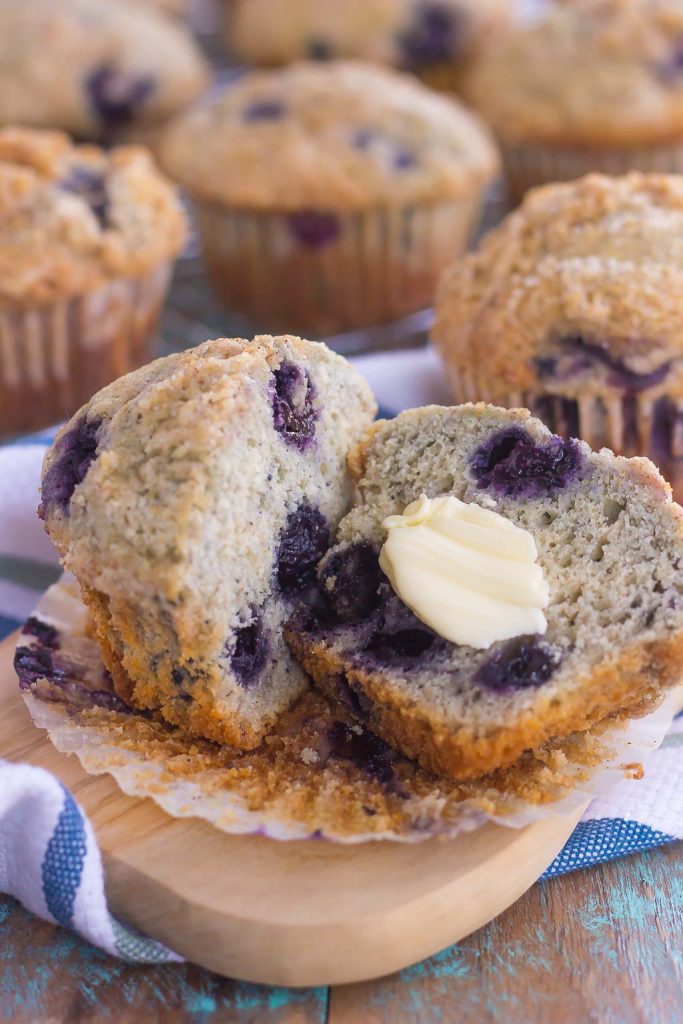 Happy 2017, friends!
Wow, does that feel weird to type. And say. And write!
I feel like I just got used to saying (and writing) 2016, and now I have to change yet again.
I hope you all had the most wonderful holiday season and a very happy start to the new year. I sure did, and I'm ready to start the year off with a bang! Or, in this case, muffins!
See, it's become an unofficial tradition of sorts that I share with you a muffin treat for the first recipe of the new year on Pumpkin 'N Spice. It first started with these Double Chocolate Chunk Muffins in January 2015; then came these Banana Chocolate Chip Muffins in January 2016.
Soooo….in honor of my New Year's tradition, I bring you these Bakery Style Blueberry Muffins for 2017!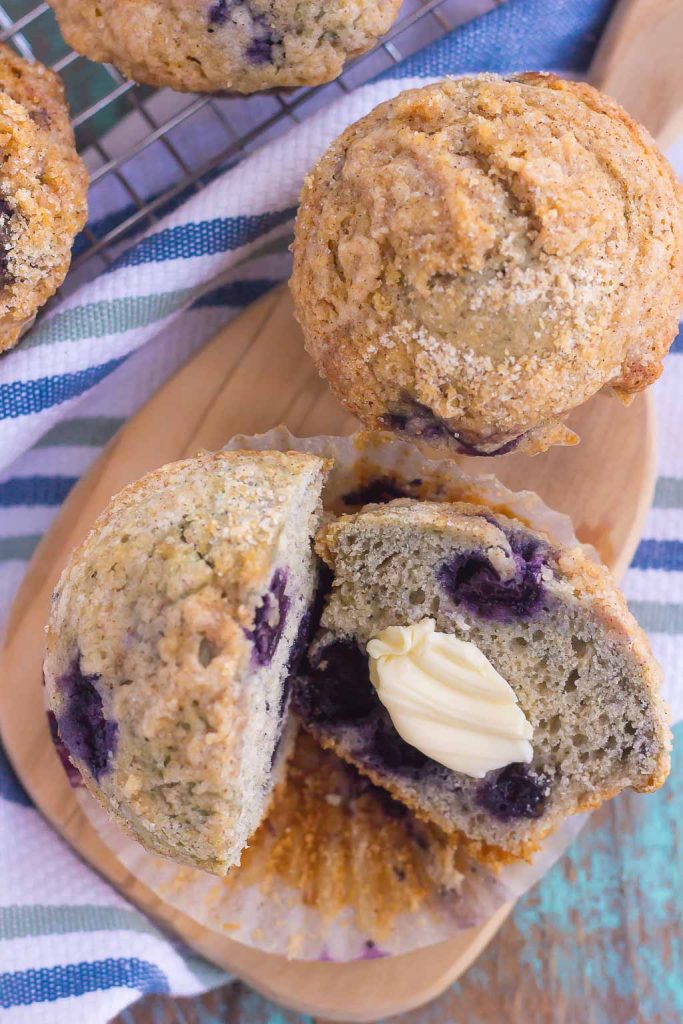 I figure a favorite, classic muffin has to be a good sign for a great year, right? Well, let's hope so, anyways!
You may remember from my ramblings last January that I'm not one to make resolutions. Sure, resolutions "seem" to be good, and for a while, they might actually work for me. But, that soon fades, and I'm let with disappointment or failure with things that I didn't achieve. So, instead, I prefer the term "goal."
I'm much better at setting goals for myself, and once I do that, I often end up achieving it. So, yes, let's focus on our goals for the new year, starting with these muffins!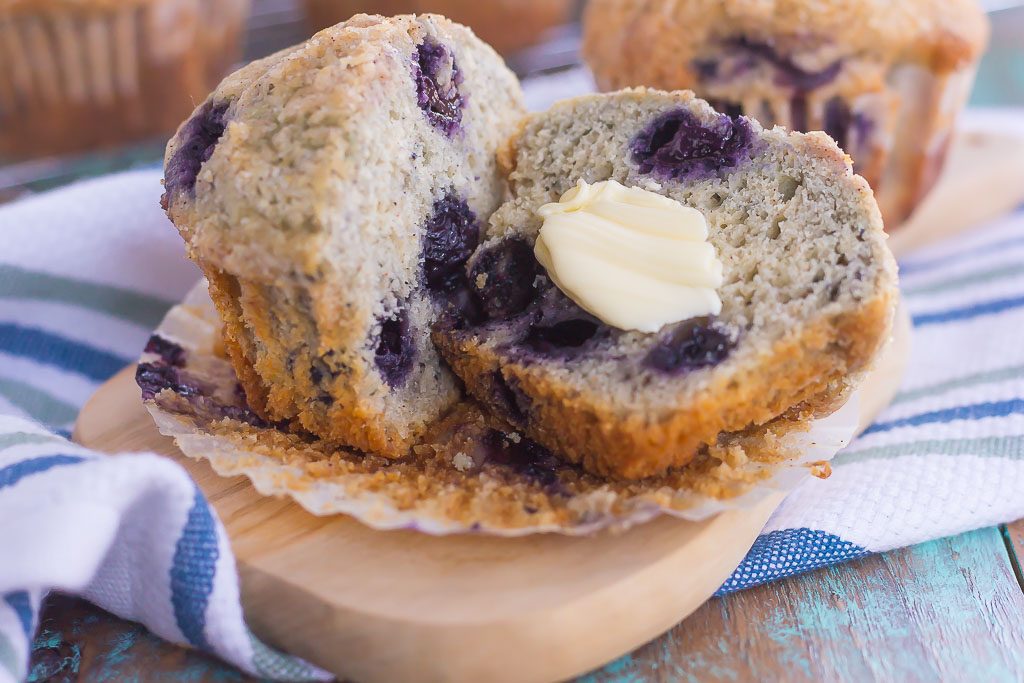 And my goal for you is to make these muffins.
But, like I just described, they're not just any kind of muffin, these are bakery style muffins. By baking these cuties at a high oven temperature for 5 minutes, then lowering the temperature and continuing to bake (without opening the oven door!), it helps to make the muffins rounder and more dome-shaped. Like the muffins you would find in a bakery!
if you're a fan of blueberry muffins, then you've got to try these muffins with blueberries. The batter is slightly sweetened, the blueberries are juicy and flavorful, and the tops slightly crisp. One bite and you'll be hooked on the light and fluffy texture, flavorful blueberries, and crunchy topping.
Some tips to remember:
To achieve the bakery style muffin appearance, preheat your oven to 425°F and bake the muffins for 5 minutes at that temperature. Then, without opening the oven door, lower the temperature to 375°F and bake at this temperature for the rest of the time.
If you don't want your blueberries sinking to the bottom of the muffin batter when baked, be sure to toss them with a little all-purpose flour. This helps to coat them and keep them suspended in the batter.
Be careful not to overmix the dough! That will result in a dense and chewy muffin, not a light and fluffy texture that we are going for.
So, let's start the year off with a bang and whip up a classic favorite. I guarantee you'll love the sweet taste of these easy blueberry muffins!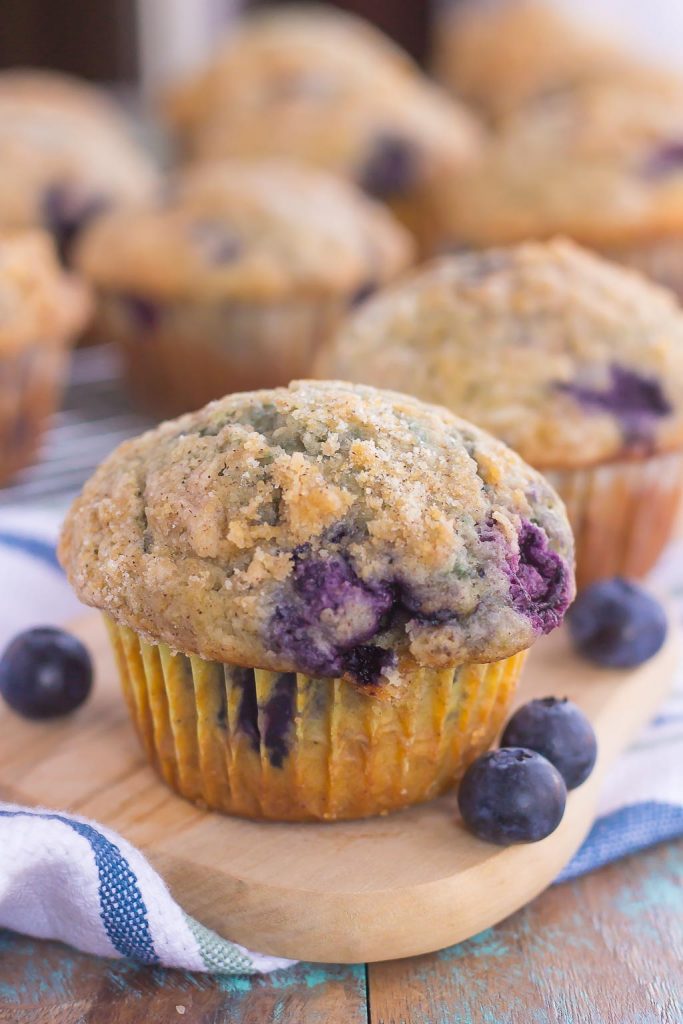 Looking for more muffin recipes? I've got you covered!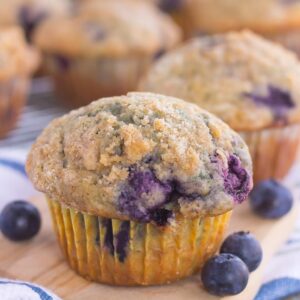 Bakery Style Blueberry Muffins
These Bakery Style Blueberry Muffins are filled with juicy blueberries that are swirled into a sweet batter!
Ingredients
2 cups all-purpose flour
1 tablespoon baking powder
¾ teaspoon salt
¾ cups granulated sugar
¼ cup packed light brown sugar
2 eggs
½ cup milk, any kind, I used 2%
½ cup melted coconut oil, (½ cup unsalted butter can also be used)
2 teaspoons vanilla bean paste, or vanilla extract
1½ cups fresh or frozen blueberries
Instructions
Preheat oven to 425°F. Line a 12-count muffin tin with paper liners or grease with non-stick cooking spray. Set aside.

In a large bowl, combine all-purpose flour, baking powder, and salt. Set aside.

In a medium bowl, beat the white sugar, brown sugar and eggs with an electric hand mixer or stand mixer with fitted paddle attachment. Mix in milk, coconut oil, and vanilla extract. Stir wet ingredients into flour mixture until just combined. Set aside.

Fold blueberries into batter. Spoon batter into prepared muffin tins, filling almost to the top. Set aside.

Bake for 5 minutes at 425°F, then, without opening oven door, lower temperature to 375°F and bake for about 18-20 minutes, or until toothpick inserted into center of muffin comes out clean.

Remove from oven and let cool for 10 minutes in pan. Then, move to a wire rack to cool completely.
Serving: 1g, Calories: 272kcal, Carbohydrates: 40g, Protein: 4g, Fat: 11g, Saturated Fat: 8g, Cholesterol: 30mg, Sodium: 81mg, Potassium: 137mg, Fiber: 1g, Sugar: 19g, Vitamin A: 172IU, Vitamin C: 1mg, Calcium: 60mg, Iron: 1mg