Pumpkin Blueberry Muffins
These Pumpkin Blueberry Muffins are soft, moist and bursting with cozy fall flavors. Packed with sweet pumpkin and juicy blueberries, this easy treat makes the perfect fall breakfast or snack!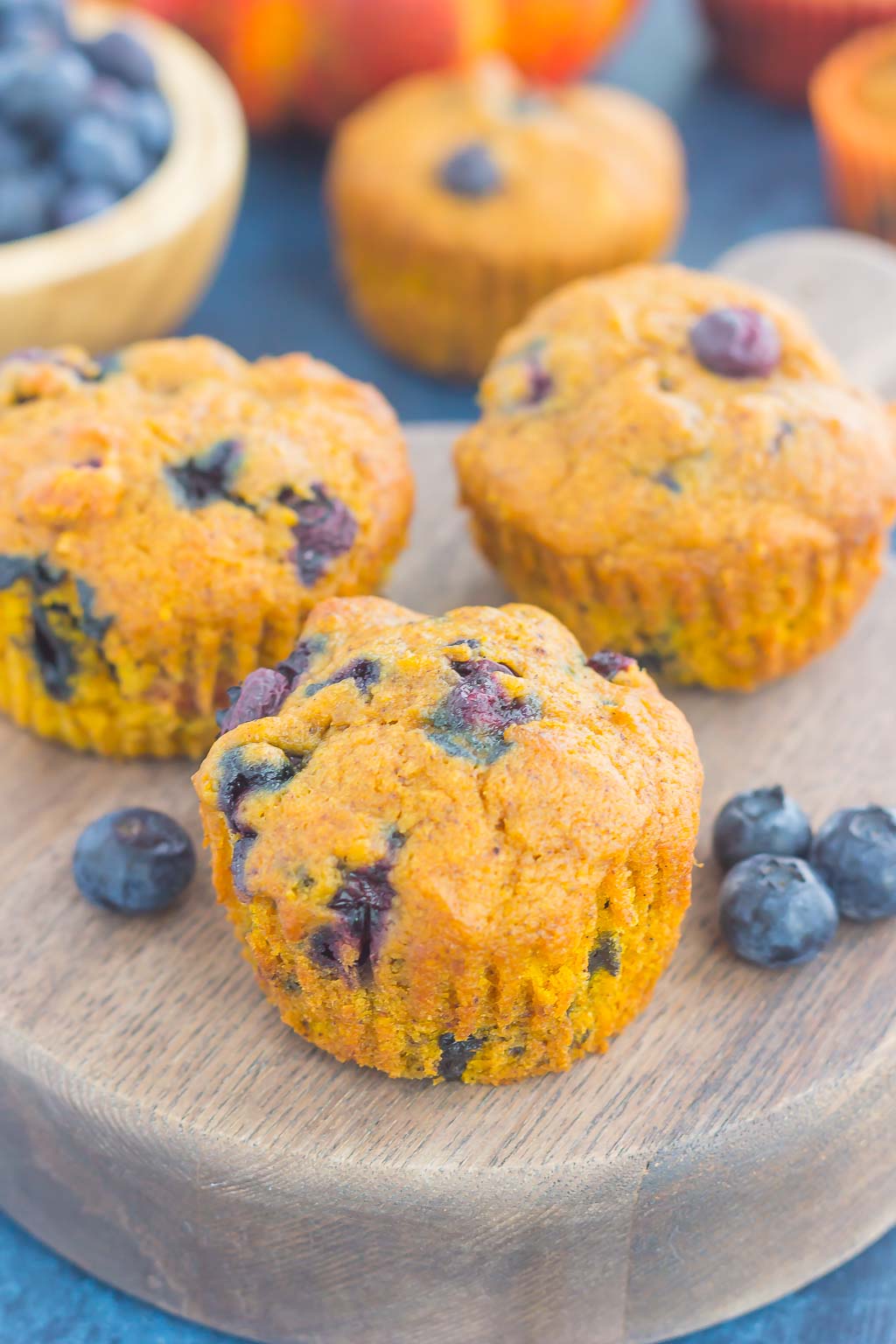 Pumpkin, pumpkin, who's got the pumpkin?
I do, of course! With a name like Pumpkin 'N Spice, I have to be sure to give you ALL the pumpkin recipes come fall. I do love pumpkin and I'm hoping you do, too!
Which brings me to my blog name. I often get asked about how I came up with the name 'Pumpkin 'N Spice,' and if you've read my About Gayle page, then you already know the answer. But, for those of you who haven't, I thought now would be the perfect time to share.
Yes, I do love anything and everything pumpkin, but that's not actually why my blog is named that. My aunt actually came up with the name! Growing up, she called me 'punkin' and the name kinda stuck. From email addresses to my very first AOL screen name (yep, I'm showing my age), pumpkin was my name of choice. So, it just seemed like a natural fit for my site!
And come fall, I feel like I need to get extra creative with those pumpkin recipes. From savory dishes to those extra delicious sweet treats, I've got them all.
And today I'm sharing one of my absolute favorite baked goods, muffins!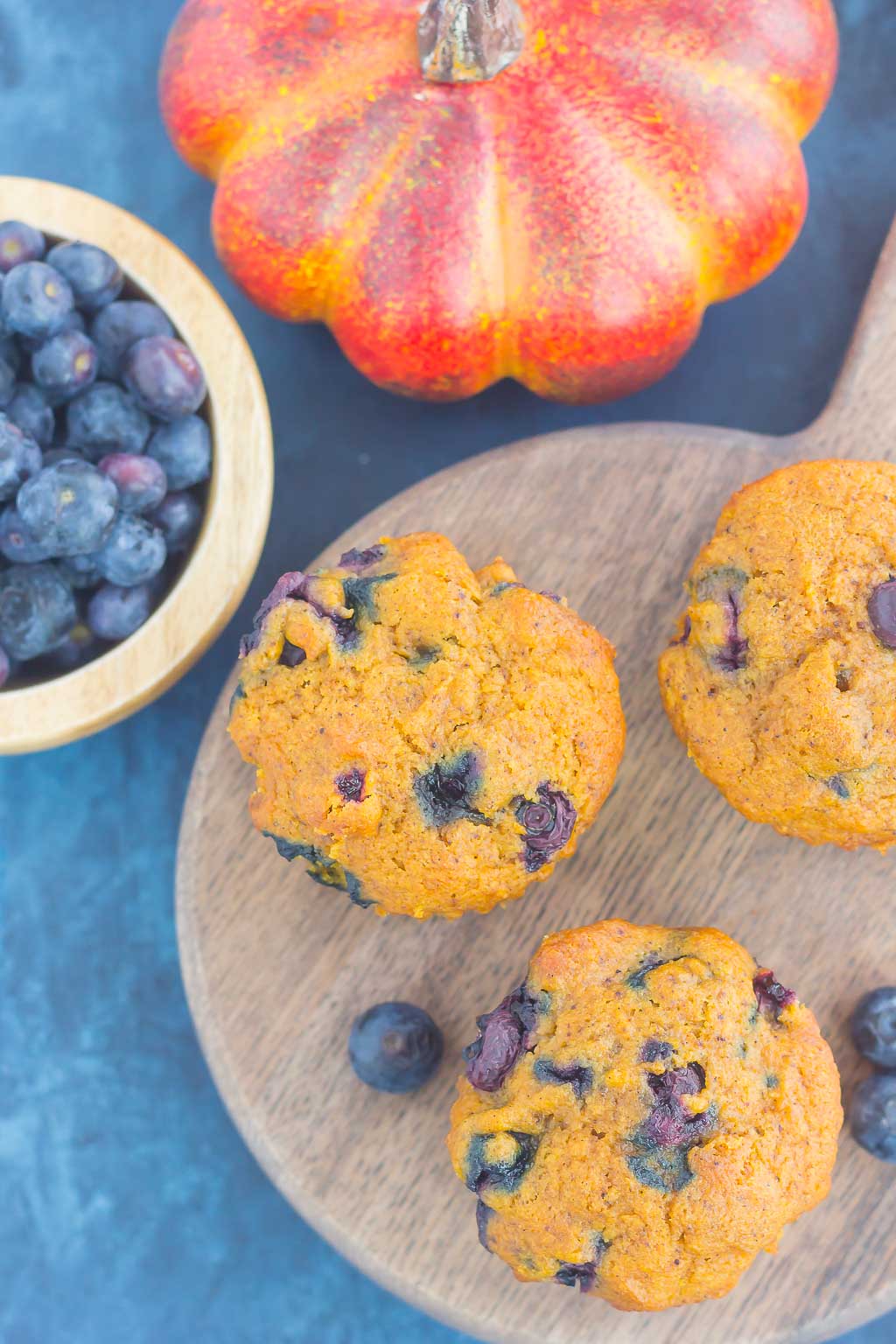 If you've been hanging around here long enough, then you might remember these Pumpkin Nutella Muffins from three years ago. They're one of my most loved pumpkin treats around here, so I decided to take the same muffin, but swap out the Nutella for blueberries.
And you know what? This pumpkin blueberry muffin recipe might just be my favorite kind to date. Sweet, but not too sweet and bursting with just the right amount of pumpkin flavor. And the fresh blueberries give this baked good the perfect amount of tang. If you've never tried pumpkin and blueberries together, now is the time, friends!
Just like my other muffins, these are a breeze to whip up. Just two bowls and no mixer required. How nice does that sound?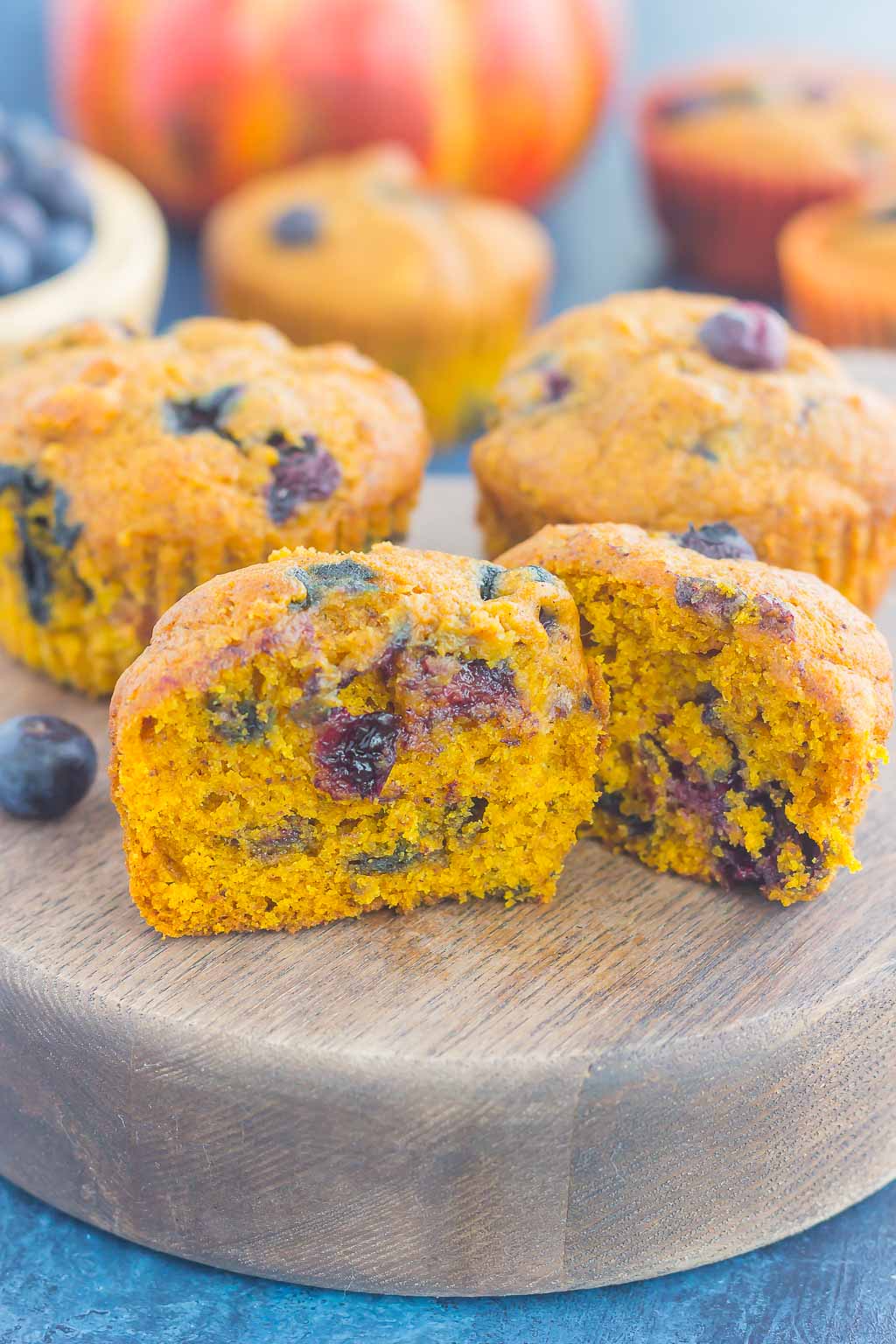 Some tips to remember:
To achieve the bakery style muffin appearance, preheat your oven to 425°F and bake the muffins for 5 minutes at that temperature. Then, without opening the oven door, lower the temperature to 375°F and bake at this temperature for the rest of the time.
If you don't want your blueberries sinking to the bottom of the muffin batter when baked, be sure to toss them with a little all-purpose flour. This helps to coat them and keep them suspended in the batter.
Be careful not to overmix the dough! That will result in a dense and chewy muffin, not a light and fluffy texture that we are going for.
And did I mention how wonderfully these pumpkin muffins with blueberries bake up? Soft, fluffy and packed with flavor. Now that's my kind of muffin!
These muffins are great for a grab 'n go breakfast, a quick afternoon snack, or a light dessert. They also freeze beautifully, too. I like to keep a few in the freezer for when my pumpkin cravings strike. Just let it thaw and then pop 'em in the microwave for an easy snack!
So if you're looking for that easy pumpkin recipe that doubles as both breakfast and dessert, these Pumpkin Blueberry Muffins are it. I guarantee these will get a rave review from all of you pumpkin lovers out there!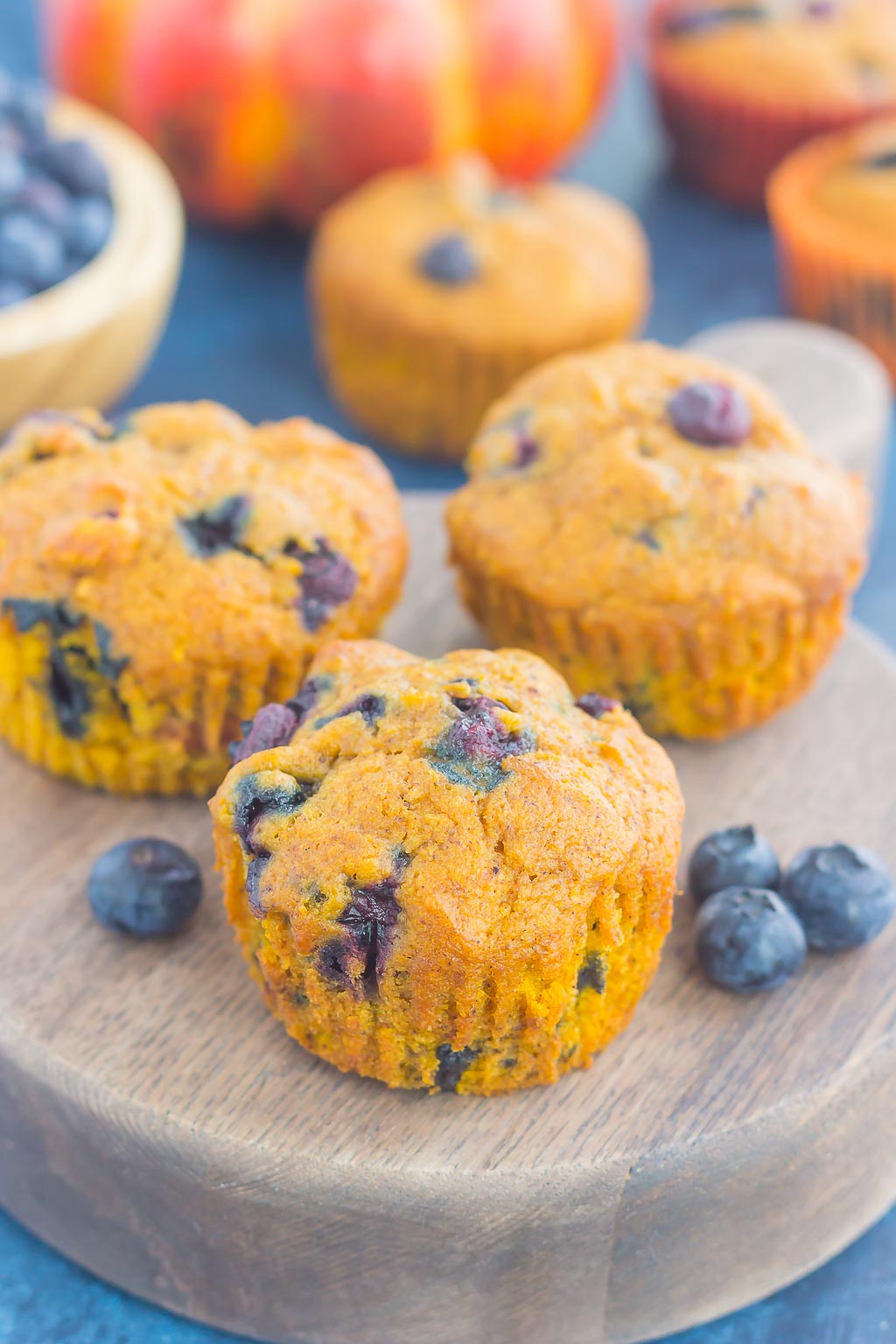 Looking for more pumpkin recipes? I've got you covered!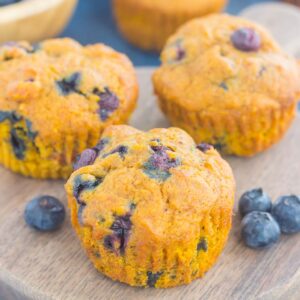 Pumpkin Blueberry Muffins
These Pumpkin Blueberry Muffins are soft, moist and bursting with cozy fall flavors. Packed with sweet pumpkin and juicy blueberries, this easy treat makes the perfect fall breakfast or snack!
Ingredients
2 cups all-purpose flour
1 cup granulated sugar
½ cup packed light brown sugar
1 teaspoon baking powder
1 teaspoon baking soda
½ teaspoon salt
2 teaspoons pumpkin pie spice
1 teaspoon ground cinnamon
½ teaspoon ground nutmeg
½ teaspoon ground cloves
2 eggs
2 teaspoons vanilla bean paste, or vanilla extract
1½ cups pure pumpkin
¾ cup melted coconut oil, or vegetable oil
1 cup fresh or frozen blueberries
Instructions
Preheat oven to 425°F. Line two 12 count muffin pans with paper liners or grease well with non-stick cooking spray. Set aside.

In a medium bowl, combine the flour, white sugar, brown sugar, baking powder, baking soda, salt, pumpkin pie spice, cinnamon, nutmeg, and cloves. Set aside.

In a large bowl, whisk together the eggs, vanilla extract, pumpkin, and coconut oil.

Stir the flour mixture into the wet ingredients until just combined, being careful not to overmix. Gently fold in blueberries. Spoon mixture into prepared muffin pan, filling each cup 3/4 of the way full.

Bake for 5 minutes at 425°F, then, without opening oven door, lower temperature to 375°F and bake for about 18-20 minutes, or until toothpick inserted into center of muffin comes out clean. Baking at 425°F first helps to achieve that high, bakery style muffin. Remove from oven and let cool for 10 minutes.
Serving: 1muffin, Calories: 104kcal, Carbohydrates: 23g, Protein: 2g, Fat: 1g, Saturated Fat: 1g, Cholesterol: 14mg, Sodium: 102mg, Potassium: 75mg, Fiber: 1g, Sugar: 14g, Vitamin A: 2406IU, Vitamin C: 1mg, Calcium: 19mg, Iron: 1mg