Cherry Pie Overnight Oats
Packed with just a few simple ingredients, these Cherry Overnight Oats taste like cherry pie, but healthier! Prep a big batch to enjoy throughout a busy week.
A big thank you to Elli Quark for providing me with the opportunity to try their products. As always, all opinions expressed here are my own. Thank you for supporting the brands and companies that help make Pumpkin 'N Spice possible!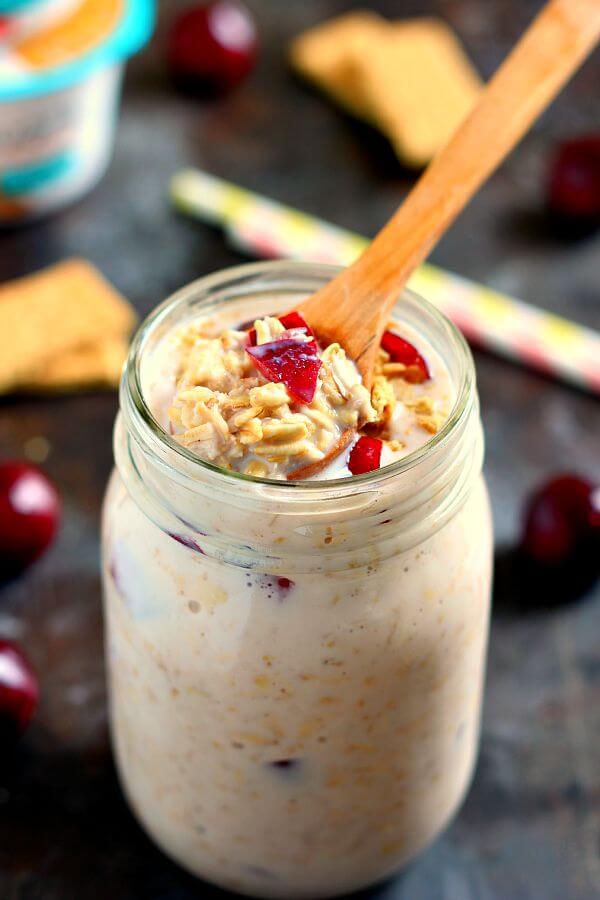 Packed with just a few simple ingredients, these cherry overnights oats taste just like cherry pie, in healthy form.
The hearty oats, spoonable fresh cheese (aka yogurt) from Elli Quark, almond milk, and cherries make the perfect breakfast for busy weekday mornings. And to achieve that cherry pie crust texture, crumbled graham crackers are mixed in just before serving. Sounds pretty good, right?
In this post, I'm sharing my favorite cherry pie overnight oats recipe, plus my suggestions for overnight oats storage containers, how to store and freeze overnight oats, and more.
Ingredients for Cherry Overnight Oats
For this healthy overnight oats recipe, you'll need the following basic ingredients:
Old-fashioned oats
Milk
Elli Quark spoonable cheese (or your favorite yogurt)
Ground cinnamon
Fresh sweet cherries
Graham crackers
Can You Use Quick Oats for Overnight Oats?
No, I don't recommend using them. Quick oats are much more finely ground than regular old-fashioned oats. As such, they almost dissolve in the milk mixture.
Overnight oats made with instant oats wind up being unpleasantly thick and mushy for me.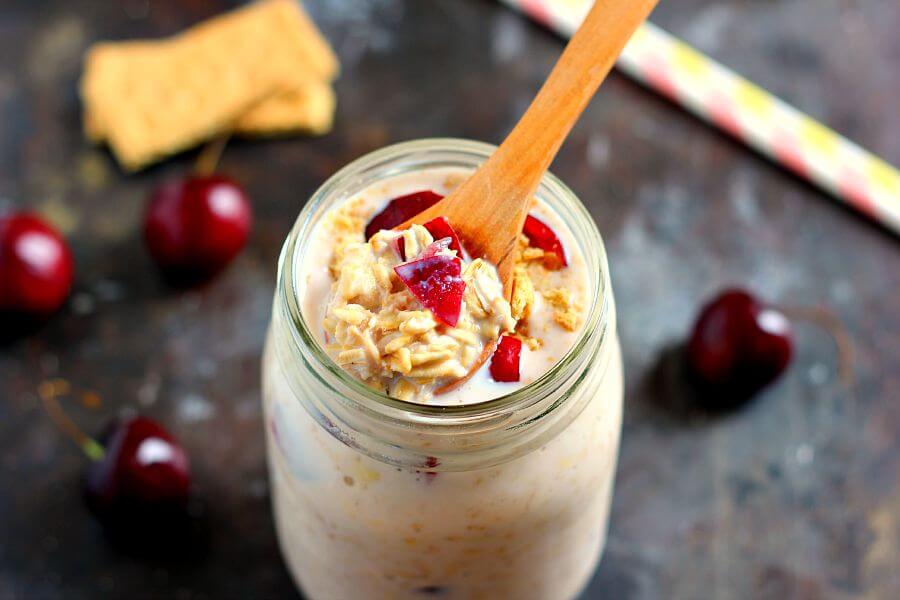 What Is Quark?
Quark is technically a spoonable cheese. Think of it as a form of yogurt; my favorite is from Elli Quark. It's similar to Greek yogurt, but with a less sour taste and creamier texture. It also happens to be high in protein and contains no refined sugars.
Quark is also very popular in Germany and many countries in Eastern Europe. And let me tell you, guys, this spoonable cheese is SO GOOD!
And I'm not just saying that. I practically jumped at the chance to try this yogurt from Elli Quark after hearing some amazing things about it. And trust me, it does not disappoint.
And this is coming from huge Greek yogurt lover. I usually eat Greek yogurt every morning, but after trying Elli Quark, I have a new love.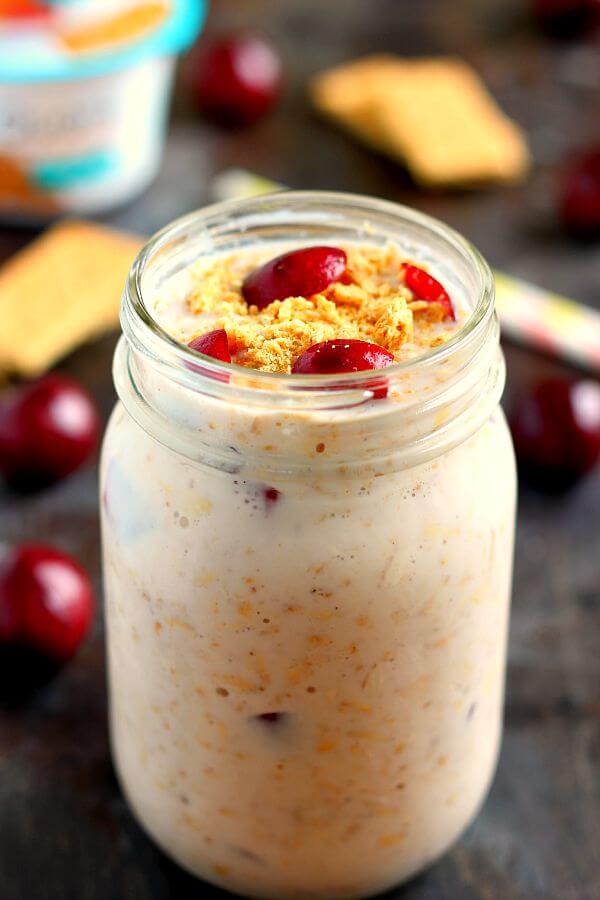 How to Make Cherry Overnight Oats
These Cherry Pie Overnight Oats take just minutes to prepare, with no cooking involved!
Simply mix together the oats, Elli Quark spoonable cheese (or Greek yogurt), milk, cinnamon, and cherries.
Pour the oat mixture into a mason jar or container with a lid and refrigerate at least 4 hours, but preferably overnight. The oats will soften and absorb the liquid, so there is no need to cook the mixture.
Once you're ready to indulge in this healthy treat, sprinkle some crumbled graham crackers on top and thoroughly stir so that the mixture comes together.
One bite of these Cherry Pie Overnight Oats and you'll be hooked on these for life. It's easy to prepare, full of cherry pie flavor, and packed with healthy ingredients!
Do You Heat Up Overnight Oats?
You can, but I prefer to eat them straight from the fridge. The oats soften as they sit in the fridge, so it's unnecessary to cook them down.
How Long Do Overnight Oats Last?
They'll last up to five days in the fridge, if stored in an airtight container.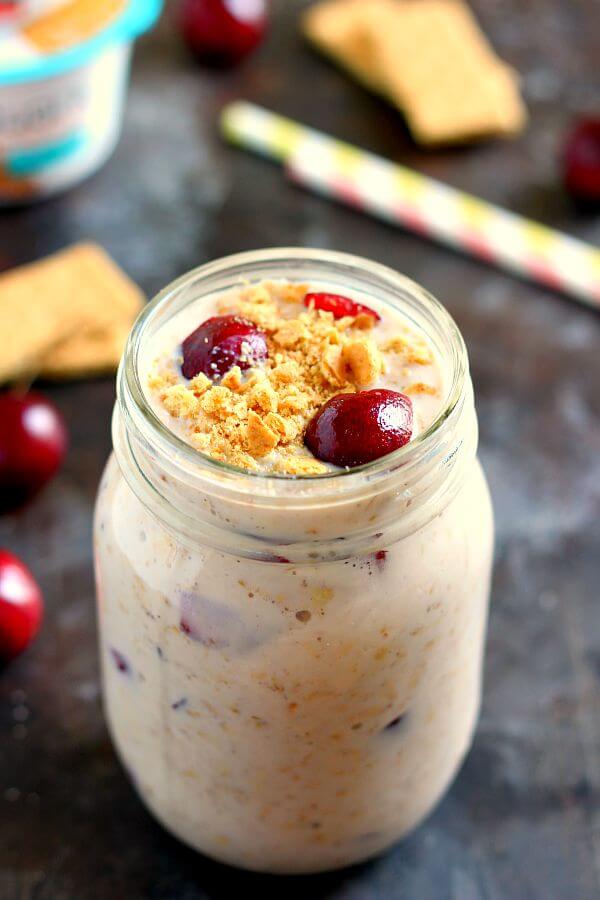 Can You Freeze Overnight Oats?
Yes, they can be frozen for up to three months in an airtight, freezer-safe container. However, I recommend freezing overnight oats without the fresh fruit or graham crackers stirred in.
Add the fruit and graham crackers after you've thawed the frozen oats.
What Are the Best Containers for Overnight Oats?
Honestly? Just use anything you have! Airtight containers with lids are the best. Think: mason jars, old jam jars, Tupperware, things like that.
I prefer to portion my overnight oats into smaller containers so I can grab one serving as I'm rushing out the door in the morning.
Recipe Variations to Try
Use other fruits: I made cherry overnight oats, but this is a great base recipe for using up any fresh fruit you have on hand!
Use flavored milk: I typically make overnight oats with unsweetened almond milk, but vanilla almond milk or another flavored milk would taste delicious too.
Use flavored milk: Likewise, a cherry flavored yogurt or another yogurt of choice would work in this recipe.
Looking for More Overnight Oats Recipes?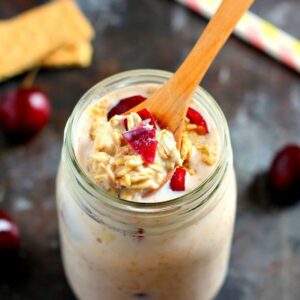 Cherry Pie Overnight Oats
Packed with just a few simple ingredients, these Cherry Pie Overnight Oats taste just like cherry pie, in healthy form!
Ingredients
1 cup old fashioned oats
1 cup milk, any kind, (I used vanilla almond milk)
½ cup Elli Quark spoonable cheese, cherry or vanilla flavored OR yogurt of choice
1 teaspoon ground cinnamon
½ cup sweet cherries, pits removed and chopped; can use fresh or frozen
4 graham crackers, crumbled, for topping, if desired
Instructions
In a small bowl, mix together all ingredients, except graham crackers.

Pour into a mason jar or airtight container with lid. Refrigerate for at least 4 hours, or preferably overnight, so that the oats will soften and absorb the liquid.

Remove from refrigerator, stir, and top with crumbled graham crackers.
Notes
Oats will keep refrigerated for up to 3 days.