It's Monday, we're officially in mid-December, and it definitely feels like winter around here. And while I don't mind the cold and a little snow around the holidays, come January, it better be gone! But that's definitely wishful thinking on my part.
Since I live in the Midwest, we're in for another "polar vortex" winter again. If you had negative temperatures last year and lots of snow, then you know what I'm talking about! And guess what? This winter is supposed to be even worse! In fact, I heard that we're supposed to have the coldest winter in Illinois since 1904. Craziness! Which means that I want to move somewhere warm…asap!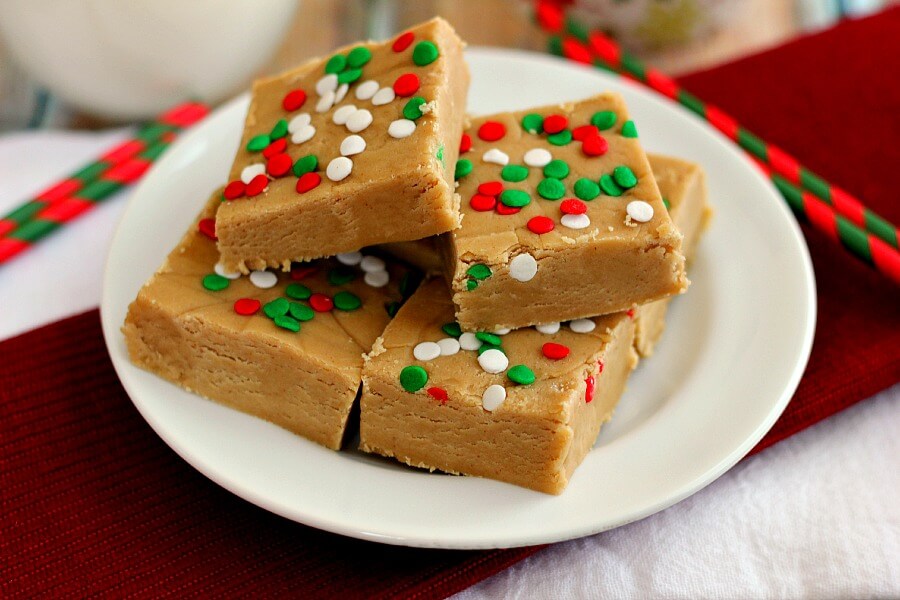 So to help you beat the start-of-the-week and the cold weather blahs (Friday better hurry up!), I've got a delicious treat to share with you today! This Easy Peanut Butter Fudge is the first of three fudge recipes that I will be featuring this week. I've teamed up with Mir over at Just About Baked to bring you some creative and delicious fudge to make for the holiday season. So if you like fudge, we've got you covered! Be sure to check out Mir's recipes, they're always amazing!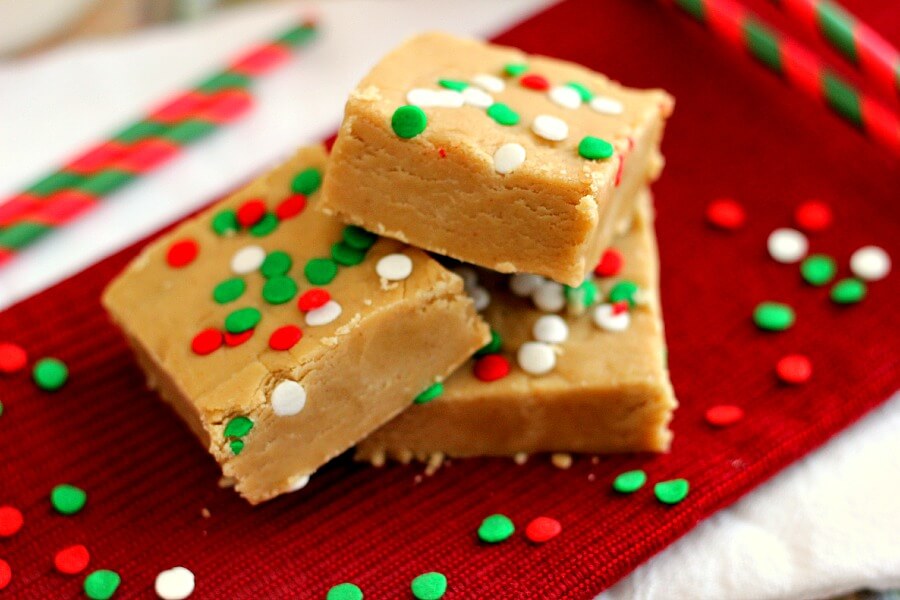 Did you know that there are several different ways to make fudge? Some recipes call for sweetened condensed milk (like my Pumpkin Spice Oreo Fudge), some call for marshmallow crème, and others call for heavy cream. So because I'm sharing three of my favorite fudge creations with you this week, I will showcase three different ways to prepare this indulgent treat. Sound good?
If you're a fudge lover like me, then you know how rich and decadent those squares can be. And while a lot of decadent fudges are filled with chocolate, I've got an even better one for you. This Easy Peanut Butter Fudge is soft, creamy, and full of peanut butter goodness, with no chocolate needed! But not to worry, the fudge I'll share on Wednesday will be loaded with some for all of you chocolate lovers out there!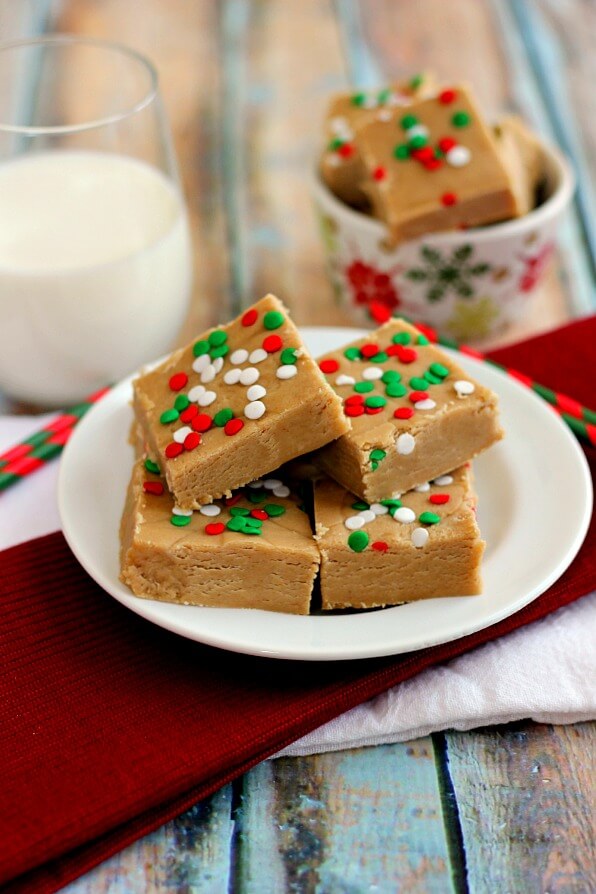 What I love most about this Easy Peanut Butter Fudge (besides being a breeze to prepare) is how smooth and creamy it tastes. Different from other fudges, it takes basic ingredients to create this tasty candy With no candy thermometer needed, you'll have this whipped up in no time. And it also makes a perfect dessert for the holidays. I make this fudge every Christmas and it's always hit!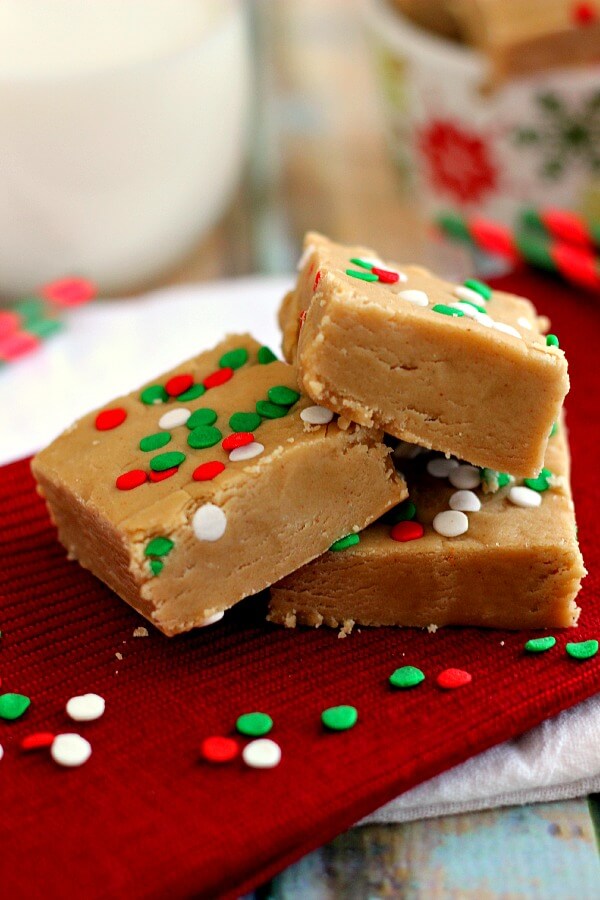 The name just about says it all, this Easy Peanut Butter Fudge takes just 15 minutes of prep time, with minimal work involved. The hardest part is waiting for the fudge to chill so that you can dive right into it! And since the ingredients are simple, I can almost guarantee that you have everything that you need in your kitchen right now.
So if you're looking for a new holiday sweet treat to bake this season, try out this Easy Peanut Butter Fudge. Rich, full of flavor, and so creamy, this will please peanut butter and fudge lovers everywhere!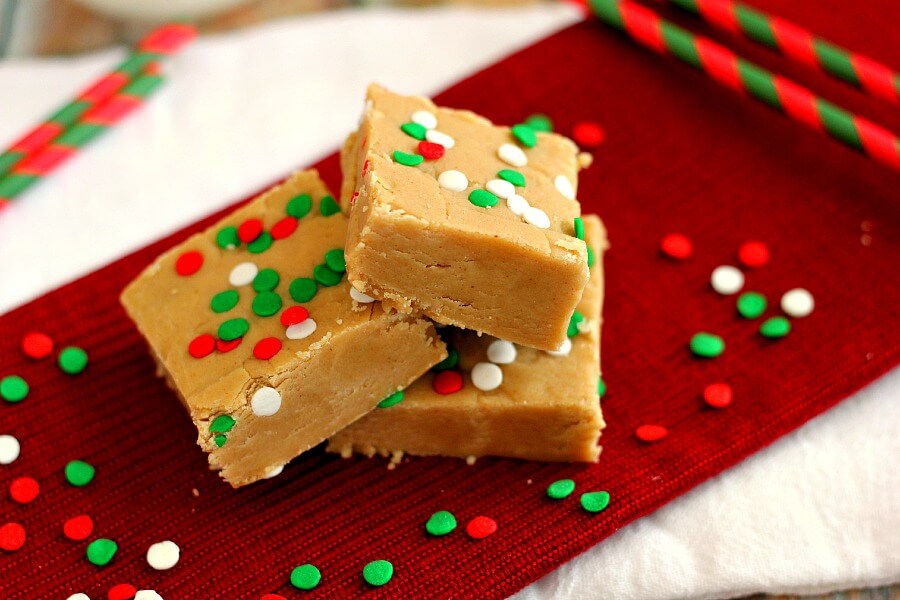 Yields 12
Easy Peanut Butter Fudge
This Easy Peanut Butter Fudge is soft, creamy, and full of peanut butter goodness.
10 minPrep Time
5 minCook Time
20 minTotal Time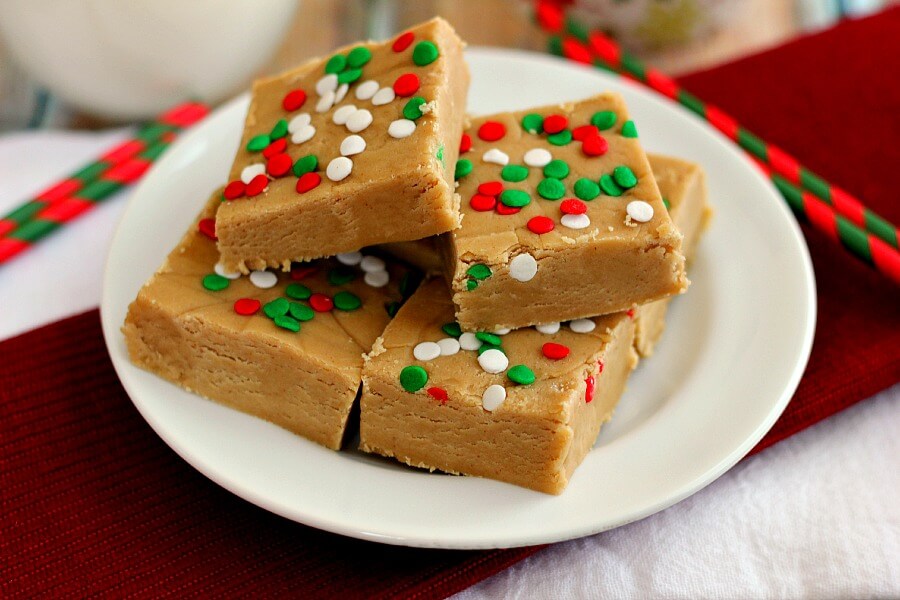 Ingredients
2 cups brown sugar
1/2 cup butter
1/2 cup milk
1 cup peanut butter
1 teaspoon vanilla extract
3 cups powdered sugar
Instructions
Spray an 8x8 baking pan very lightly with non-stick cooking spray. Set aside.
In a large bowl, add powdered sugar and set aside.
In a medium saucepan, melt the butter over medium heat.
Once melted, stir in brown sugar and milk. Bring to a boil and then continue to boil for about 2 minutes, stirring constantly.
Remove saucepan from heat. Stir in peanut butter and vanilla.
Pour peanut butter mixture over powdered sugar.
Using an electric hand mixer or stand mixer with a fitted paddle attachment, beat until smooth.
Pour into prepared baking pan and refrigerate until firm, about 1 hour.
Remove from refrigerator and cut into squares.
Enjoy!
Notes
Fudge will keep refrigerated for up to four days.
7.8.1.2
97
https://www.pumpkinnspice.com/easy-peanut-butter-fudge/