We're officially a full week into December, which means that we're inching closer and closer to the holidays. Besides Christmas trees, presents, and countless baked goods on overdrive, the holiday season brings one of my favorite things: eggnog! Smooth, creamy, and packed with an irresistible taste, it always reminds me of Christmas.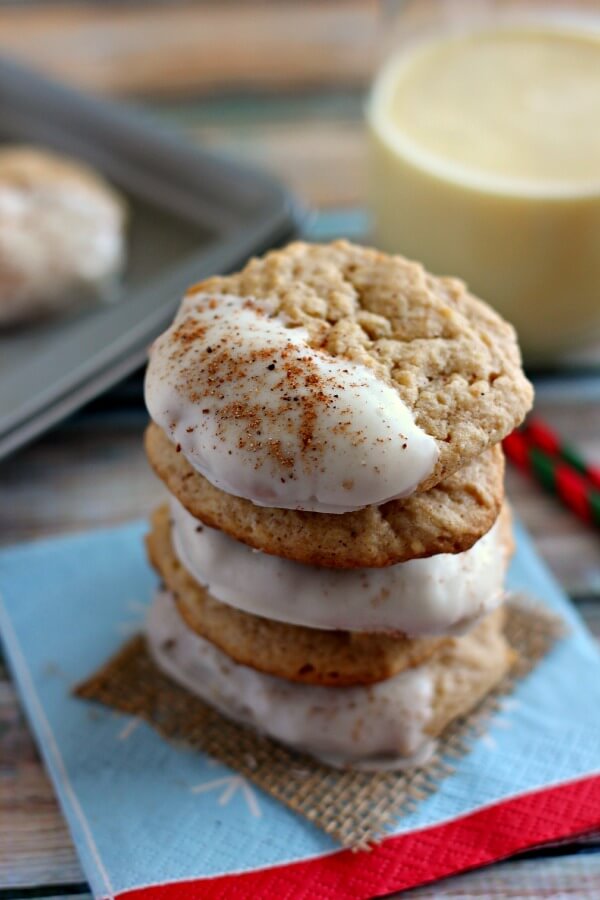 Eggnog also reminds me of the movies Home Alone and Christmas Vacation. Why? Well at the beginning of Home Alone, Kevin's dad comes down the stairs and tells the "police officer" to get some eggnog. And I always hear Joe Pesci's voice in my head saying "eggnog….eggnog?!" Maybe it's just me? Or how about in Christmas Vacation, when Clark and Eddie are standing by the Christmas tree drinking eggnog out of their moose mugs? Love it!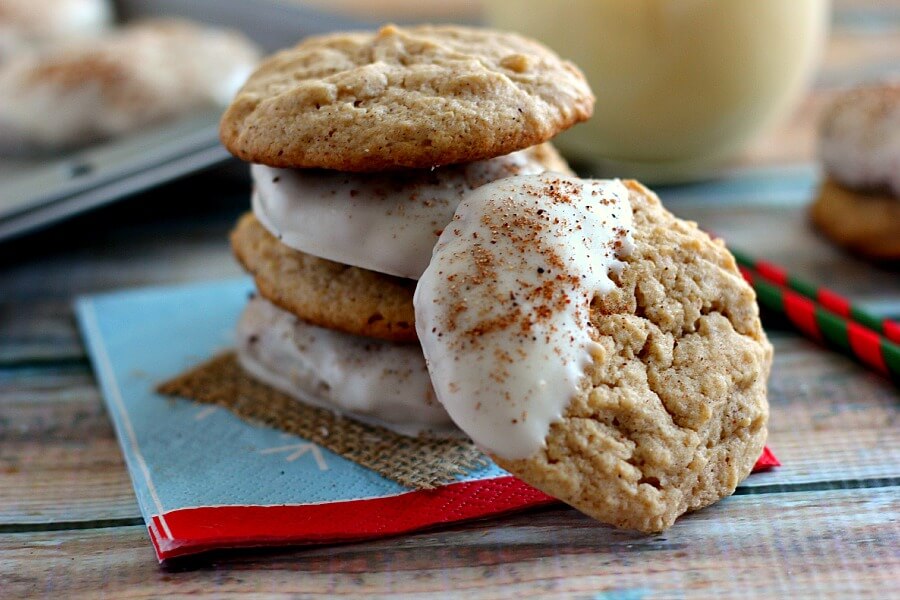 Are you a fan of eggnog? While I love the taste of it, I can only drink a little, as it's too rich for me. I usually end up buying a half gallon and then not finishing it, as the hubster will only drink a small amount, too. But I finally figured out a way to get the most out of eggnog! Yep, you guessed it…by baking these White Chocolate Dipped Eggnog Cookies!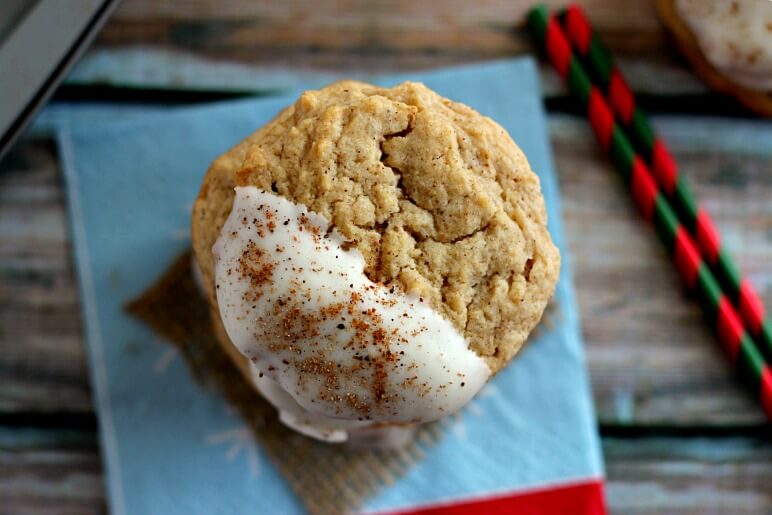 I'm sure you've seen dozens of eggnog cookies floating around Pinterest world within the past few months. So in order to make these White Chocolate Dipped Eggnog Cookies stand out, I experimented with a lot of flavors and my favorite ingredient, white chocolate!
A soft and chewy cookie, filled with a rich eggnog flavor and spices, with creamy white chocolate nestled on top. This just screams Christmas to me. Agreed? Even if you're not a fan of eggnog, I guarantee you'll love the sweet taste of these cookies.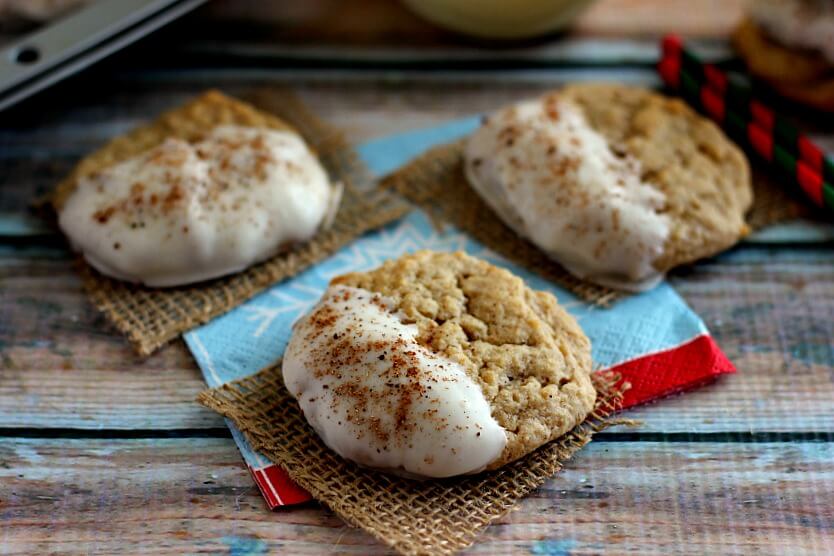 And guys, these White Chocolate Dipped Eggnog Cookies are so delicious! Dare I say they're my favorite Christmas cookie as of yet? They came out thick, soft, and chewy, which is a requirement for these cookies. And they're bursting with flavor , while filled with a subtle white chocolate glaze. Have I convinced you to make these cookies yet?
And best of all, these cookies bake up in no time! From start to finish, you'll have these cuties mixed, baked, and devoured in less than an hour. Can't get much better than that, friends!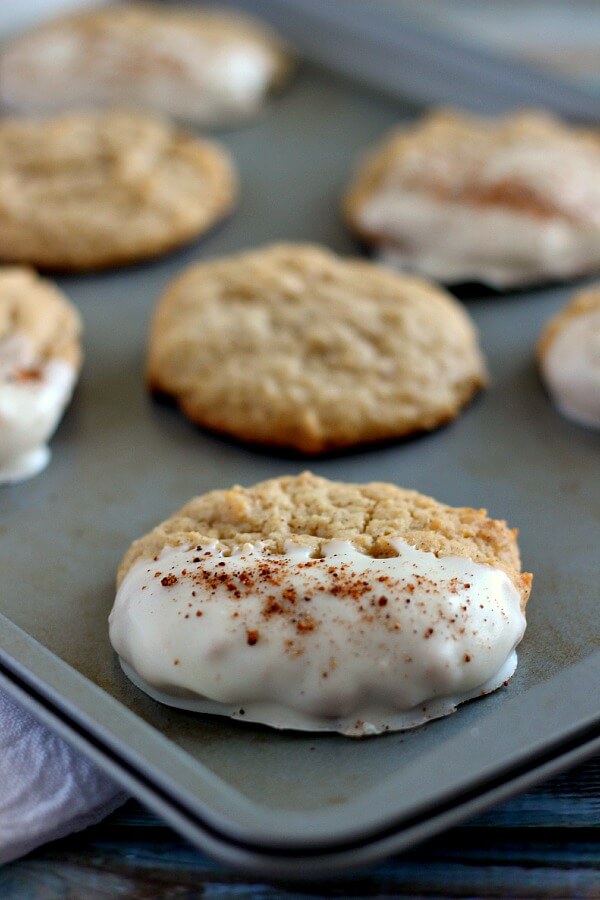 So instead of letting that extra eggnog go to waste, whip up a batch of these White Chocolate Dipped Eggnog Cookies! Easy to make and full of flavor, these will become your new favorite holiday treat!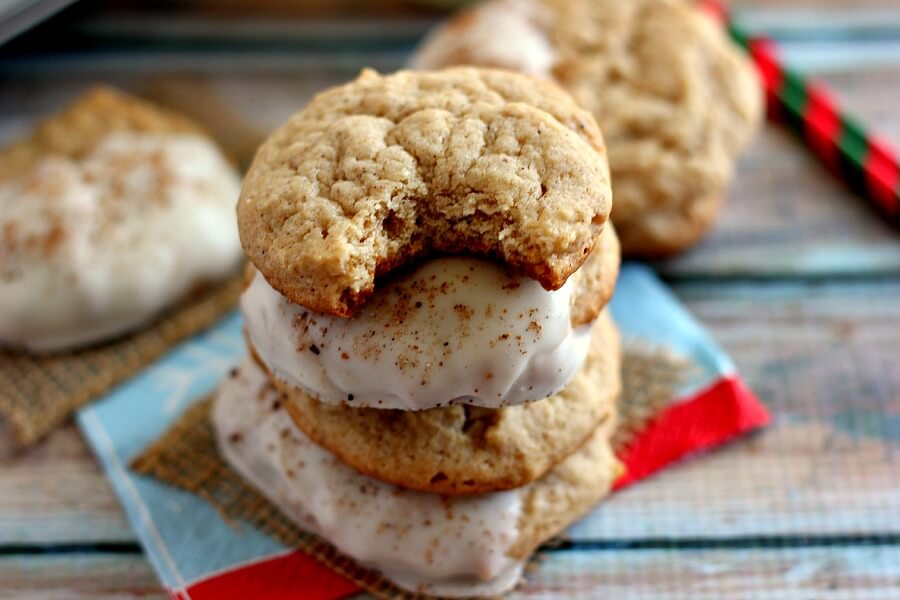 And because Christmas is almost upon us, I teamed up with some of my amazing blogging friends to bring you an incredible giveaway! We're giving one lucky winner a chance to win a $300 Amazon Gift Card! Amazing, right? This will help out with your holiday shopping, paying those Christmas bills, or to have some spending money for yourself!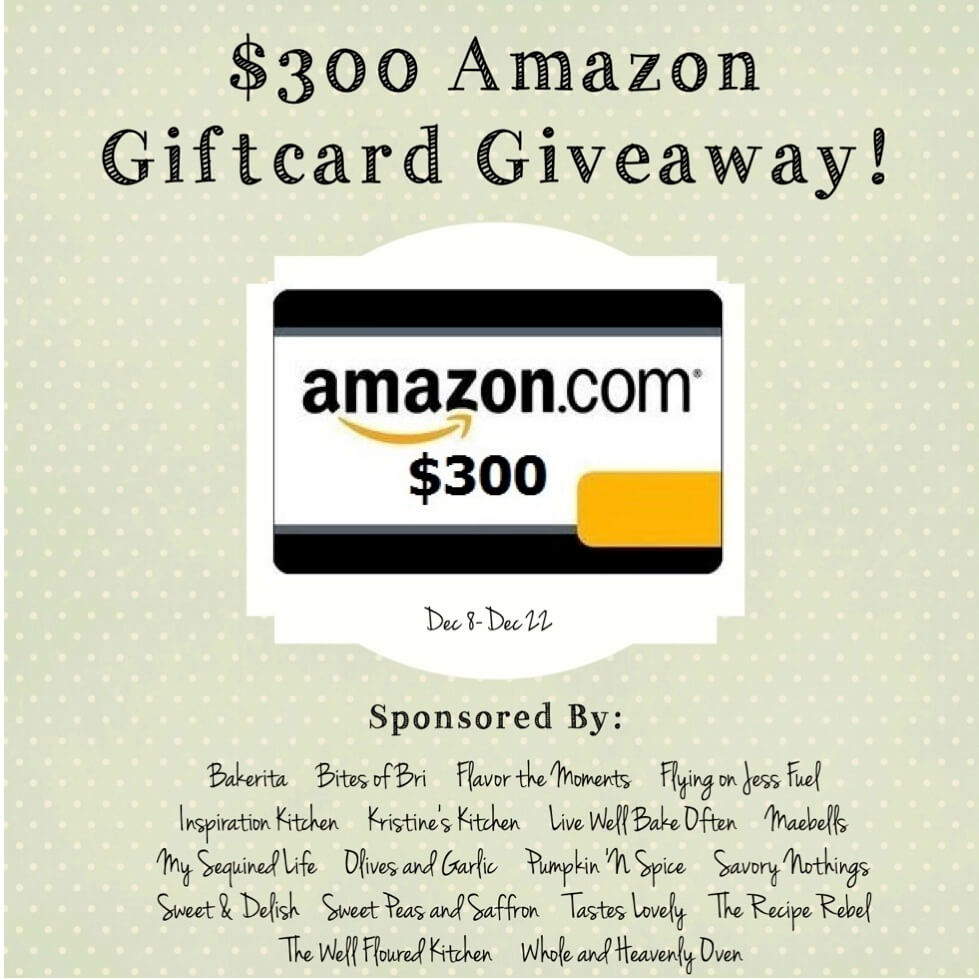 Be sure to check out the other amazing blogs that are hosting this giveaway:
Bakerita
Bites of Bri
Flavor the Moments
Flying on Jess Fuel
Inspiration Kitchen
Kristine's Kitchen
Live Well Bake Often
Maebells
My Sequined Life
Olives and Garlic
Pumpkin 'N Spice
Savory Nothings
Sweet & Delish
Sweet Peas and Saffron
Tastes Lovely
The Recipe Rebel
The Well Floured Kitchen
Whole and Heavenly Oven
To enter this amazing giveaway, use the rafflecopter below. Simply follow Pumpkin 'N Spice on Pinterest and Instagram to enter. The more bloggers you follow, the better your chances are of winning! Good luck, friends!
Yields 30
White Chocolate Dipped Eggnog Cookies
These White Chocolate Dipped Eggnog Cookies bake up soft, full of eggnog flavor, and have hints of creamy white chocolate nestled on top.
15 minPrep Time
20 minCook Time
25 minTotal Time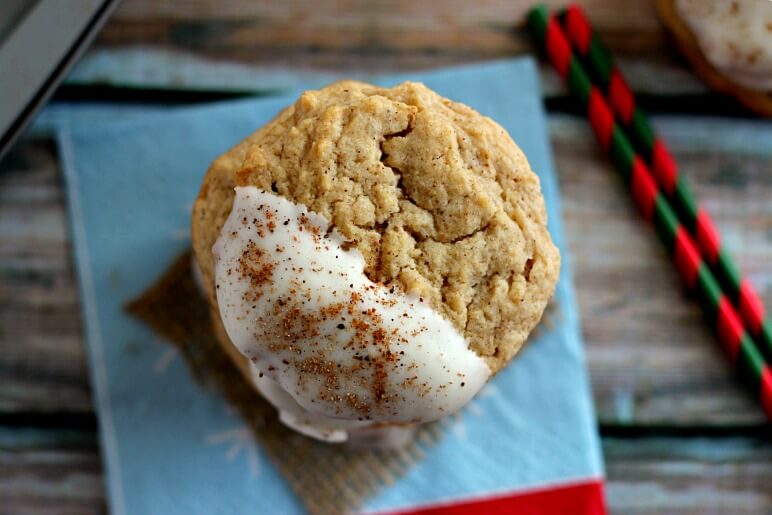 Ingredients
2 1/4 cups all-purpose flour
1 teaspoon baking powder
1 teaspoon cinnamon
1 1/2 teaspoons nutmeg
3/4 cups butter, softened
1 cup white sugar
1/4 cup brown sugar
1 teaspoon vanilla extract
2 egg yolks
1/2 cup eggnog
8 ounces white chocolate candiquik or white chocolate chips
Nutmeg for garnish, if desired
Instructions
Preheat oven to 350F. Line two baking pans with silpat mat or parchment paper. Set aside.
In a medium bowl, sift together flour, baking powder, cinnamon, and nutmeg. Set aside.
In a large bowl, combine the butter, white sugar, and brown sugar. Using an electric hand mixer or stand mixer with fitted paddle attachment, cream until fluffy.
Add in egg yolks and vanilla, stir until smooth.
Pour in eggnog and beat until mixture is creamy.
Slowly add in flour mixture to the eggnog mixture, stirring until flour is just combined.
Chill dough for at least 15 minutes, as this ensure cookies will bake up puffy and round.
Once dough is chilled, drop by heaping spoonfuls onto prepared baking pans.
Bake for 18-20 minutes or until cookies are lightly browned but still soft.
Remove from oven and let cool on baking sheet completely.
When cookies have cooled, melt white chocolate in the microwave for about 2 minutes until completely smooth, stirring every 30 seconds so it doesn't burn.
Working one cookie at a time, dip halfway into white chocolate and then place on parchment paper to set.
Sprinkle tops of white chocolate with nutmeg, if desired.
Enjoy!
Notes
It is important not to overbake cookies. You will want to remove them from oven when still soft on top.
7.8.1.2
98
https://www.pumpkinnspice.com/white-chocolate-dipped-eggnog-cookies/