It's finally Friday, friends! I bet you're just as excited as I am, right? Christmas is just a few short days away and now is the time when I kick into holiday overdrive. In between wrapping gifts, baking holiday goodies, and cramming in as many Christmas movies as I can, I'm loving this time of year!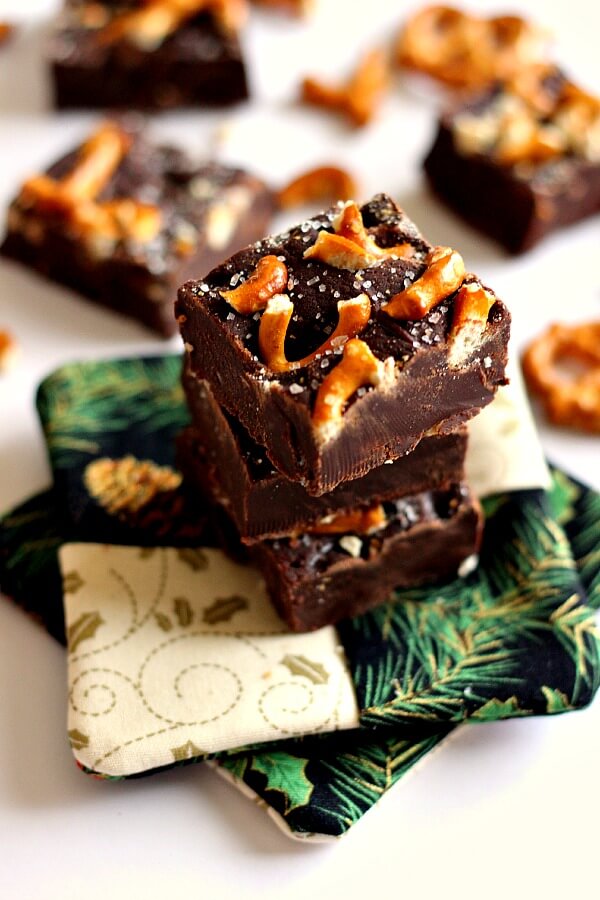 Now let's back up a minute and talk about wrapping presents. Are you the one that takes on that task? Or do you have someone else do that for you? I'm quick to admit that I hate wrapping any type of gift! My presents always end up looking like a five year old wrapped it, and I'm not kidding!
So, I make the hubster wrap all of our gifts. We have a system and it works pretty well! I get the gift ready, box it, write out the tag, and then hand it over for the hubster to wrap. It goes much more smoothly when there's two of us! Now, I much prefer giving presents in gift bags, though I know it's not as fun as opening a wrapped gift. But I love stocking up on seasonal bags and stuffing it with festive tissue paper. Works for me!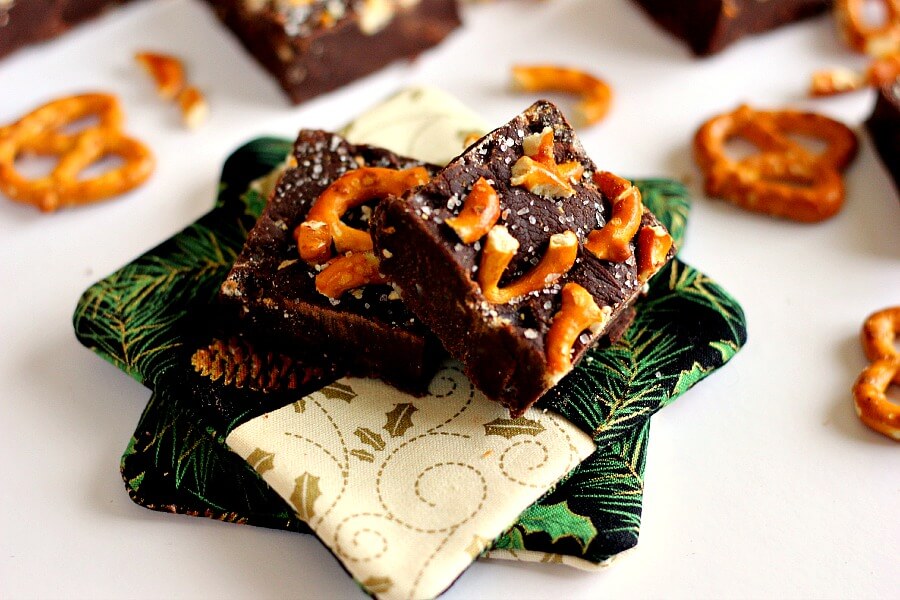 But anyways, let's talk about this fudge! Salted Dark Chocolate Pretzel Fudge…sounds decadent, doesn't it? This is the third recipe that I featured during fudge week and I think I saved the best for last!
I first shared this Easy Peanut Butter Fudge on Monday, Wednesday showcased my favorite flavor of the holiday season, White Chocolate Peppermint Fudge, and today I'll end the week with everyone's favorite, chocolate! Don't forgot to pop on over to Mir's blog at Just About Baked to check out her latest fudge creation.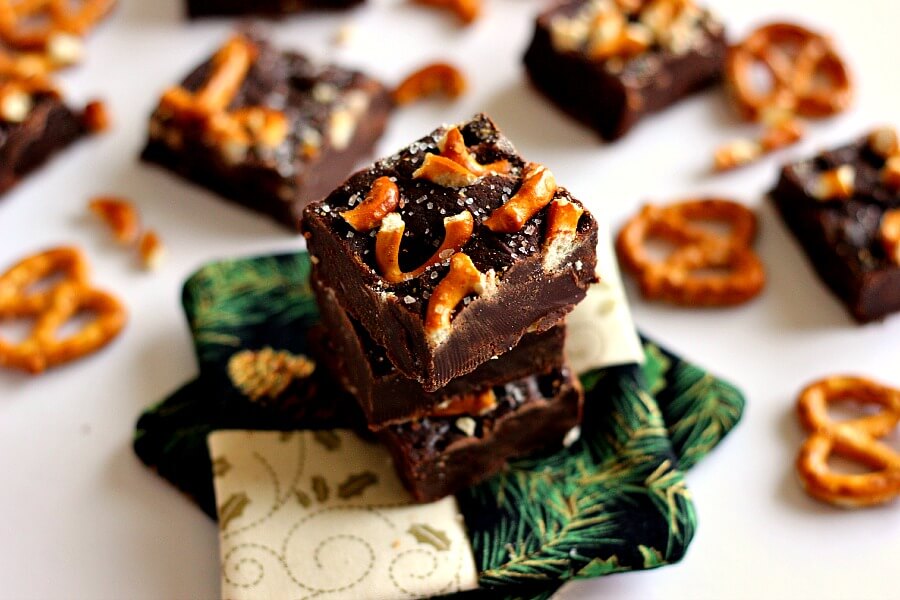 This Salted Dark Chocolate Pretzel Fudge combines smooth, rich chocolate, topped with buttery pretzels and a sprinkling of sea salt. It's basically a dark chocolate lovers fudge dream come true!
And I don't know about you, but I can never resist when pretzels and chocolate come together. Sweet and salty is definitely my favorite combination, especially when it comes to this fudge. And just like my White Chocolate Peppermint Fudge, I used sweetened condensed milk as a base for this tasty treat. Toss in some dark chocolate chips, semi-sweet chocolate chips ( a lot of chocolate action going on here!), and butter, and this Salted Dark Chocolate Pretzel Fudge takes just minutes to make.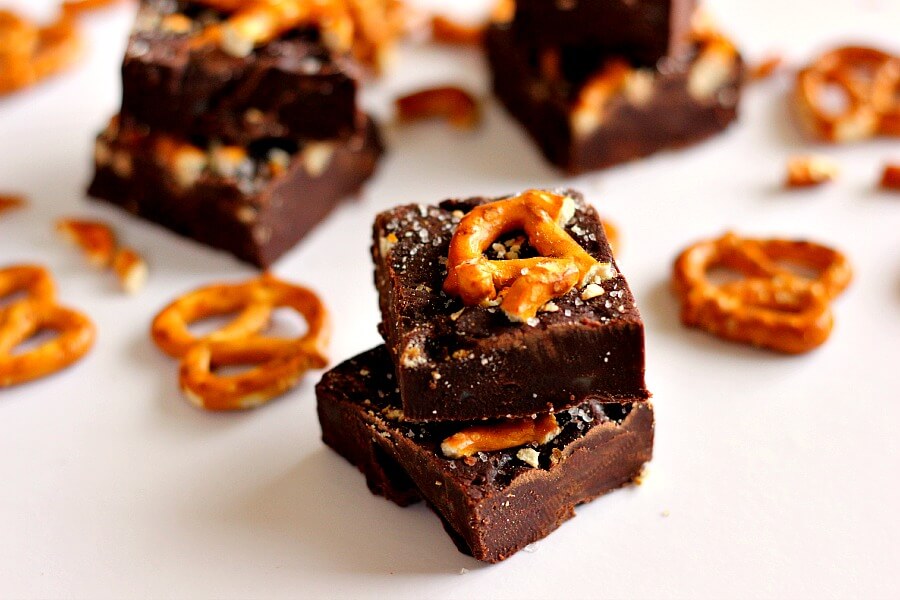 Before you're ready to pop the fudge into the refrigerator to chill, sprinkle some crushed pretzels and sea salt over the top. Gently press down to ensure it adheres to the fudge, which gives the top a nice crunchy texture. Once the fudge is firm, cut into squares and devour.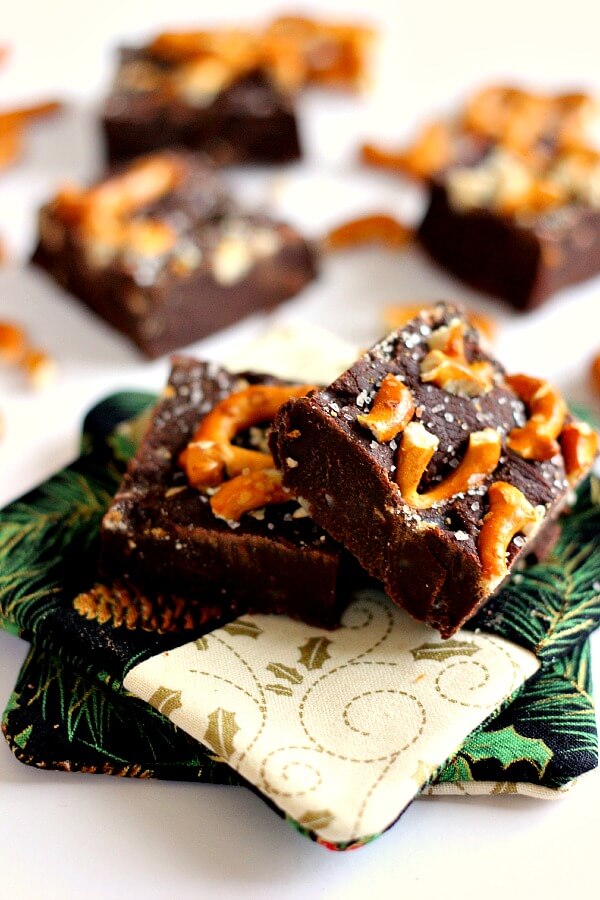 This Salted Dark Chocolate Pretzel Fudge is the best of both worlds, sweet and salty! The combination of the dark chocolate and saltiness from the pretzels and sea salt will knock your socks off! It also makes a delicious treat for the holiday season, or works as a tasty home-made gift. But whatever your fancy, I guarantee this candy won't last long in your house!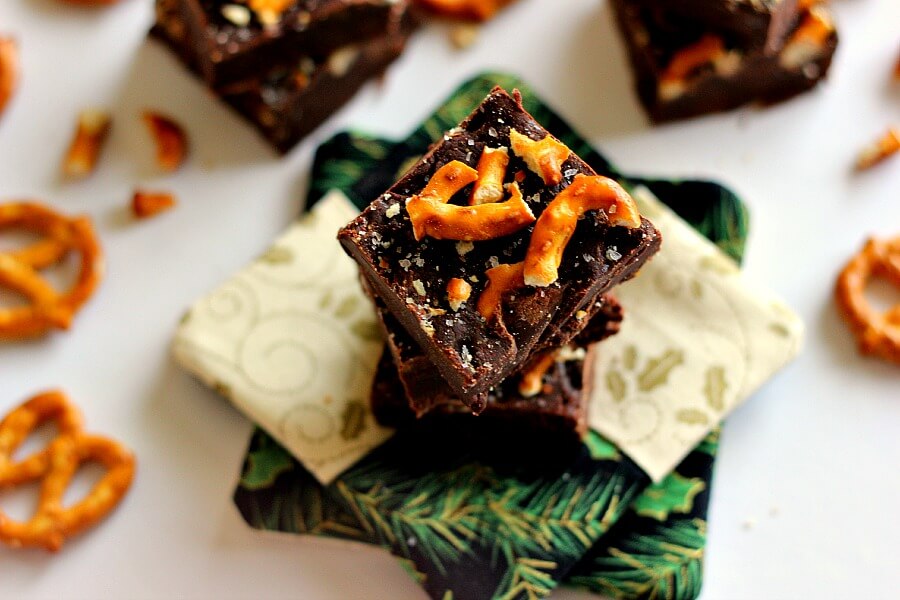 P.S. Don't forget to enter the $300 Amazon Gift Card Giveaway! It's here just in time for the holidays!
Yields 20 squares
Salted Dark Chocolate Pretzel Fudge
This Salted Dark Chocolate Pretzel Fudge combines smooth, rich chocolate, topped with buttery pretzels and a sprinkling of sea salt.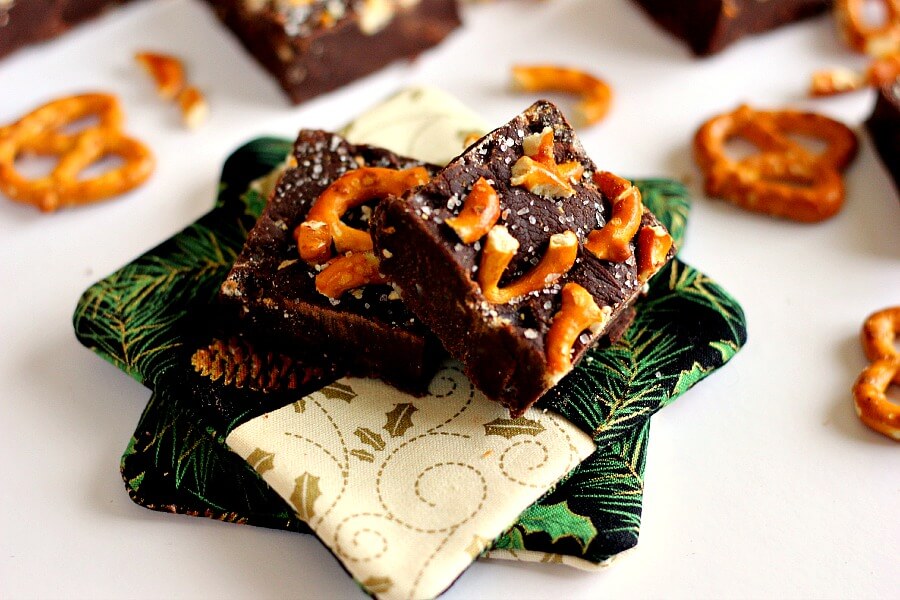 Ingredients
1 (12 ounce) bag dark chocolate chips
1 1/4 cup semi-sweet chocolate chips
1 (14.5 ounce) can sweetened condensed milk
1/4 cup butter
1 1/2 teaspoons vanilla extract
1/4 cup pretzels, crushed into chunks
1 tablespoon sea salt
Instructions
Line an 8x8 inch square pan with parchment paper, leaving it hang over on the sides.
In a medium saucepan over low heat, melt the chocolate chips, sweetened condensed milk, and butter, stirring until smooth.
Remove from heat and stir in vanilla extract.
Spread evenly in lined pan.
Top with crushed pretzels and sea salt. Gently press down on topping to ensure it sticks to top of fudge.
Chill for three hours or until firm.
Remove from pan and cut into squares.
Enjoy!
7.8.1.2
102
https://www.pumpkinnspice.com/salted-dark-chocolate-pretzel-fudge/