Easy Pizza Quesadillas
Need a lazy Friday night dinner idea? These Easy Pizza Quesadillas are perfect for a Friday night or anytime that you want a quick meal!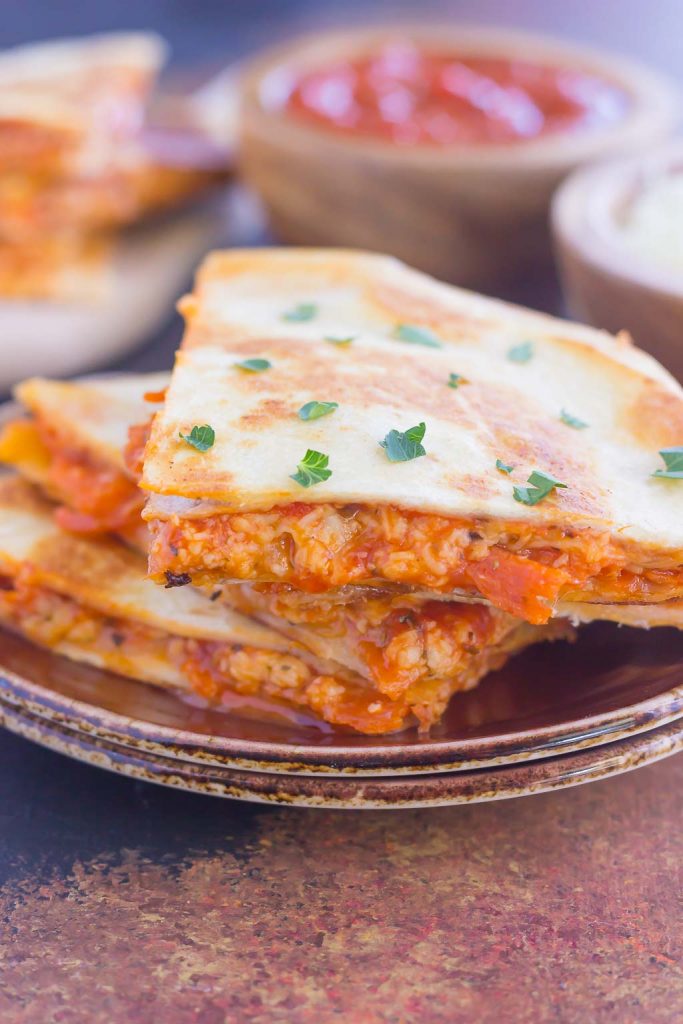 It's Friday night, and the moon is bright. Gonna have some fun, show ya how it's done, TGIF!
Anyone remember that song from ABC's TV station Friday night line up from years and years ago? Hopefully I'm not showing my age too much. But that was when Full House, Family Matters, Step by Step, and Boy Meets World television shows (and a few others) were the hits of the season. Ahh, those were the days…
But enough about TV shows, though I am super excited for the fall season to begin soon! Nashville, Revenge, American Horror Story, and Grey's Anatomy, please!
Anyways, since it's Friday, and I always have that theme song stuck in my head on these days, I thought I would share with you one of my favorite start-of-the-weekend recipes — easy pizza quesadillas! Flour tortilla shells stuffed with pizza sauce, mozzarella cheese, and pepperoni slices will create an easy and delicious appetizer or dinner for the start of your weekend.
If you're anything like me, cooking is not an option on Friday nights. The hubster and I usually go out for dinner or order a pizza. It's a great ending to the week in my book! And because pizza is hands down my favorite food (I could eat it 24/7), I decided to put a creative spin on it and make these Easy Pizza Quesadillas.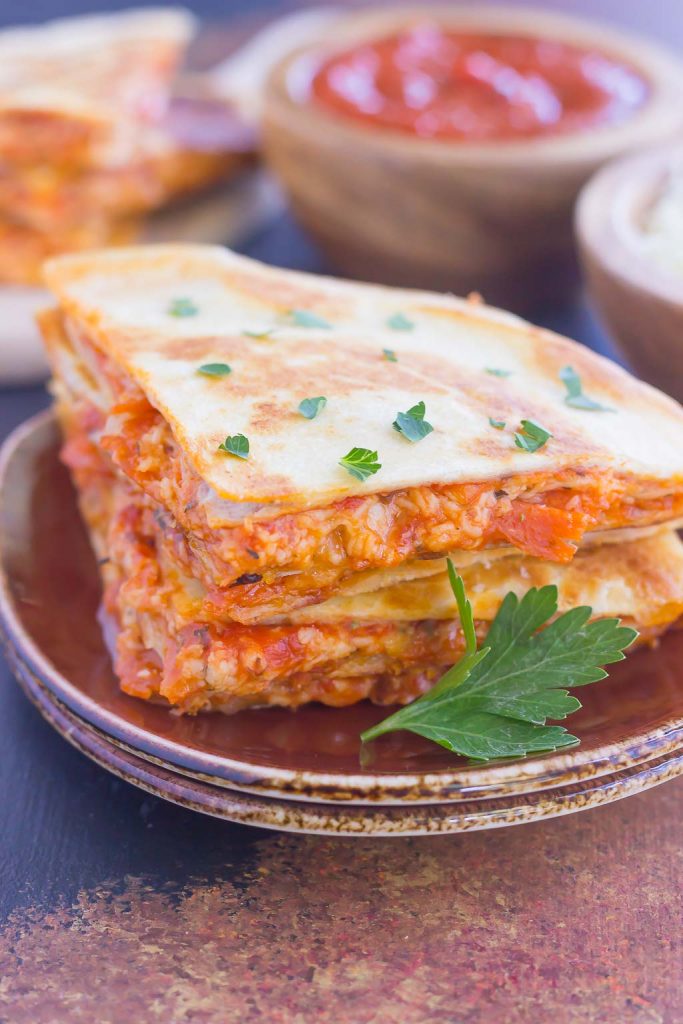 Ingredients for Pizza Quesadillas
In the spirit of lazy Friday night dinner recipes, these pizza quesadillas call for a mere handful of ingredients:
Unsalted butter
Flour tortilla shells
Pre-made pizza sauce
Shredded mozzarella cheese
Pepperoni
Italian seasoning and garlic powder
How to Make Pizza Quesadillas
Like most of my recipes, these quesadillas are a breeze to whip up. Perfect for an easy Friday night dinner!
Simply spread a thin layer of pizza sauce onto a flour tortilla.
Top with mozzarella cheese, pepperoni (or you choice of toppings), and top with a second quesadilla.
Brown the tortilla lightly in a skillet coated with butter and that's it!
In a matter of minutes, you will have a hot and tasty quesadilla, oozing with your favorite pizza toppings.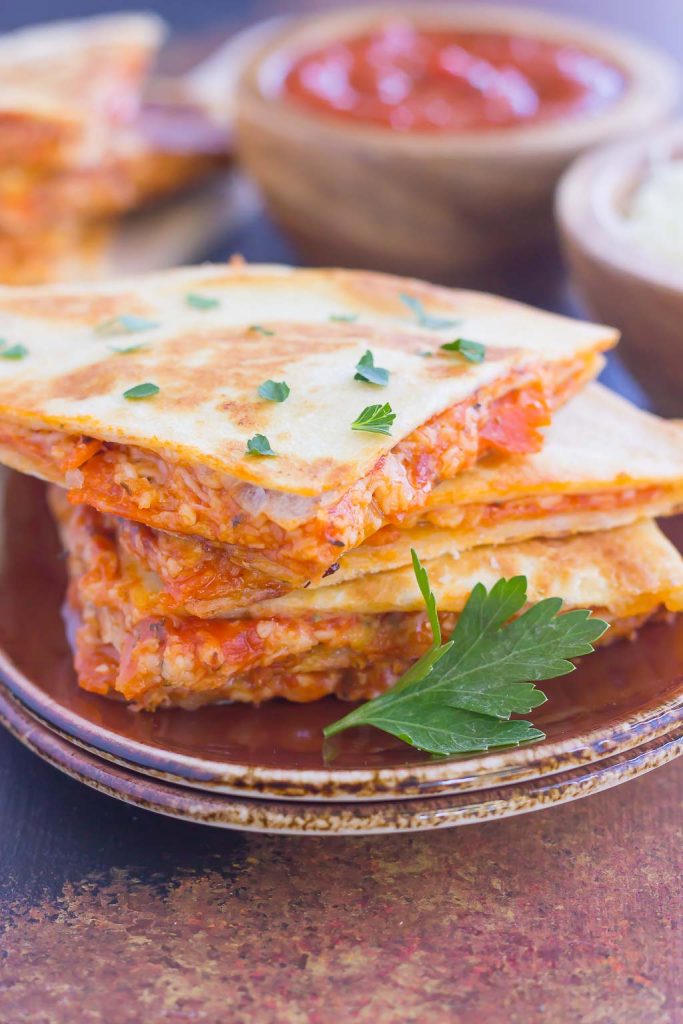 Can I Use Different Toppings?
Yes! You're welcome to use any combination of pepperoni, sausage, shredded chicken, veggies, etc. that you'd like. Use whatever your favorite pizza toppings are!
Tips for Making Pizza Quesadillas
I prefer using flour tortillas to make this recipe because they taste more like a traditional pizza crust than corn tortillas.
I used store-bought pizza sauce for this recipe, but you can also use marinara sauce or your favorite tomato-based sauce of choice.
Shredded mozzarella is super gooey once melted, but any shredded cheese may be used.
Looking for more Friday night dinner ideas?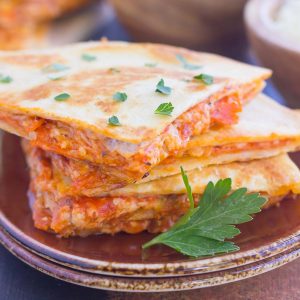 Easy Pizza Quesadillas
Need a lazy Friday night dinner idea? These Easy Pizza Quesadillas are perfect for a Friday night or anytime that you want a quick meal!
Ingredients
1 tablespoon unsalted butter
2 large flour tortilla shells
2 tablespoons prepared pizza sauce
¼ cup shredded mozzarella cheese
10 pepperoni slices
½ teaspoon Italian seasoning
Dash of garlic powder
Additional pizza sauce for dipping, , if desired
Instructions
In a large skillet, melt butter on medium heat.

Place one tortilla on surface. Spread pizza sauce on tortilla in a thin layer, leaving ¼ inch of space from edge. Top with cheese, pepperoni, Italian seasoning, and garlic powder. Take second tortilla and place on top of pizza.

Gently place quesadilla onto buttered skillet. Brown evenly on each side for 3-4 minutes, or until lightly browned.

Remove from skillet and onto plate. Cut into triangles and serve with pizza sauce, if desired.
Notes
Quesadillas are easy to customize based on your preferences. Feel free to swap out the mozzarella cheese for cheddar cheese, use sausage instead of pepperoni, or add in mushrooms, peppers, etc.
Quesadillas will keep refrigerated for up to 5 days.
Serving: 1quesadilla, Calories: 473.63kcal, Carbohydrates: 33.65g, Protein: 16.16g, Fat: 30.53g, Saturated Fat: 14.85g, Cholesterol: 73.22mg, Sodium: 1098.35mg, Potassium: 246.9mg, Fiber: 2.26g, Sugar: 4.24g, Vitamin A: 669.04IU, Vitamin C: 2.1mg, Calcium: 220.97mg, Iron: 2.99mg