20+ Fall Breakfast Ideas
Lacking inspiration for your fall breakfasts? Try one of these recipes! Each of these fall breakfast ideas is easy to prepare and bursting with seasonal ingredients and flavors!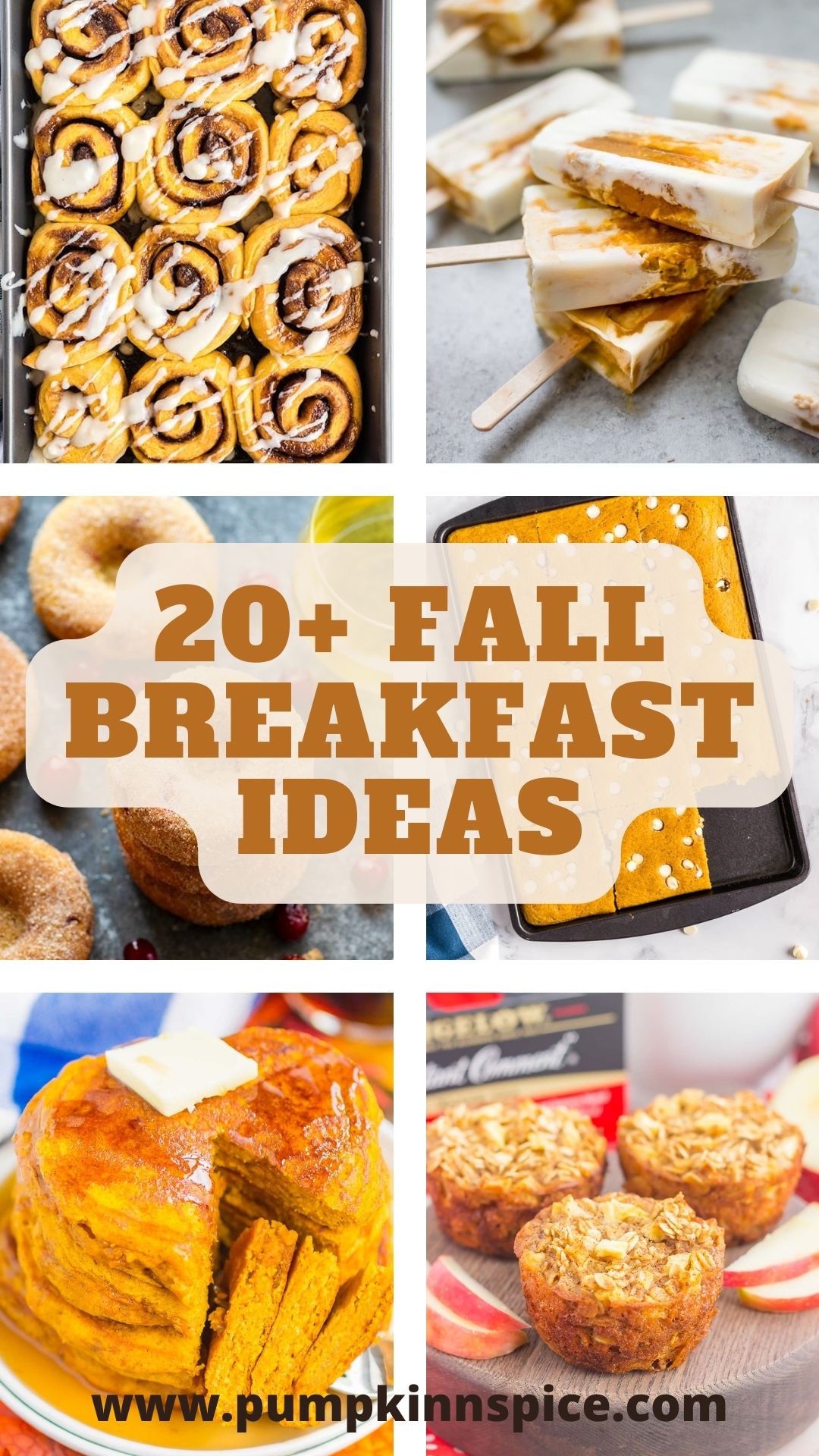 23 Easy Fall Breakfast Ideas
Gooey cinnamon rolls, mile-high pancakes drenched in maple syrup, spiced muffins topped with streusel — these are the kinds of foods I crave for breakfast come fall.
When prepping breakfast in the summer, my main concern is keeping dishes as light and cool as possible because there's no way I'm going to use the stove or oven if I don't have to!
But preparing a cozy breakfast that fills my kitchen with the warm aroma of spices, pumpkin, and apples during the cooler months feels like such a treat.
Figuring out which recipes to make is always the tricky part, though. When it comes to breakfast, I look for recipes that are quick and easy to prepare, with ingredients I already have on hand.
Enter: these easy fall breakfast ideas! I've assembled more than 20 of my favorite fall recipes — from my own blog and from a few others — to provide you with endless breakfast inspiration this season.
Pumpkin Breakfast Recipes
I couldn't create a list of fall breakfast recipe ideas without a pumpkin section, now could I? There's so much you can do with canned pumpkin puree, from baked oatmeal to scones to pancakes.
Below are some of the best breakfast recipes using pumpkin, shared in no particular order because how could I possibly pick a favorite?
Pumpkin Pie Baked Oatmeal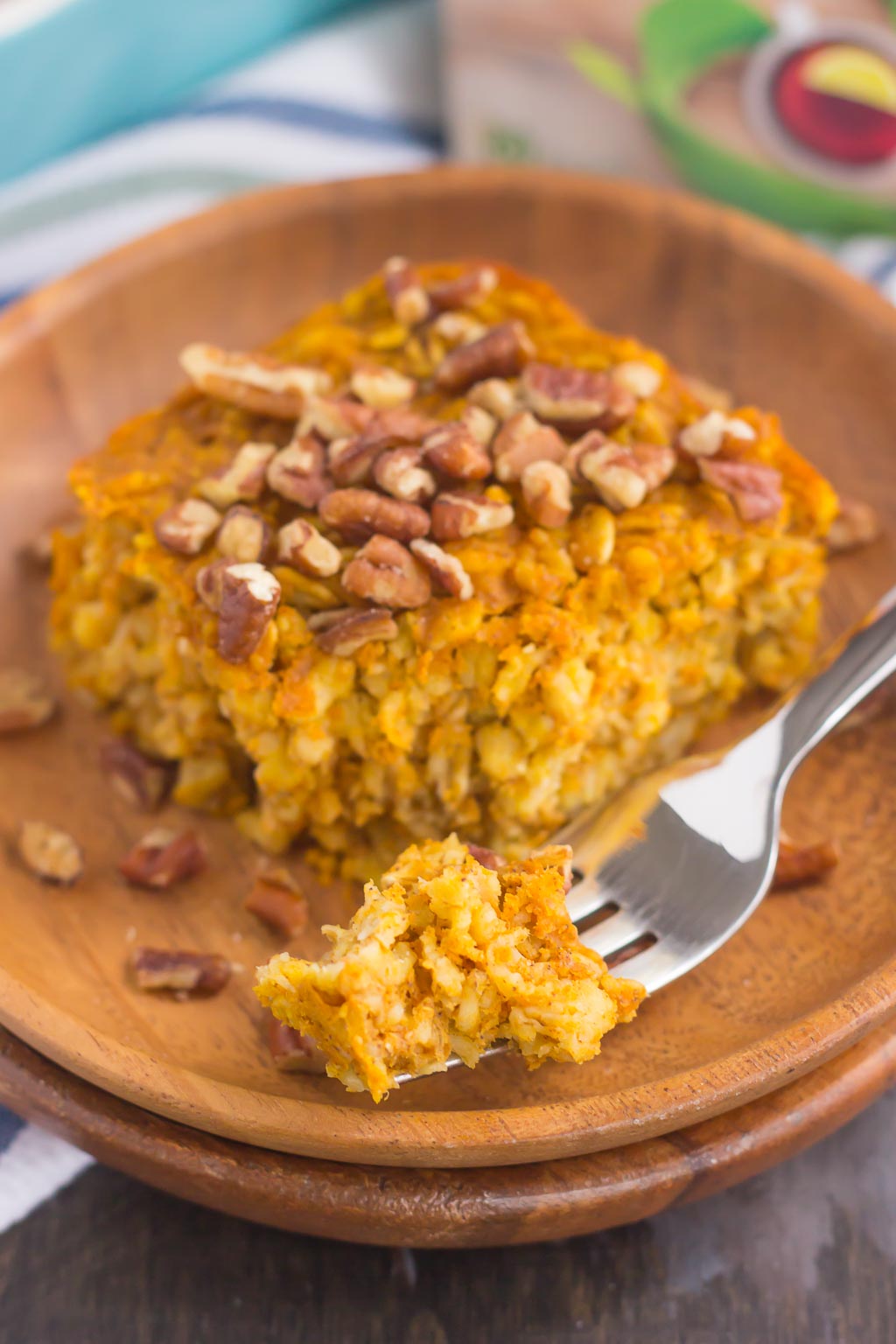 This Pumpkin Pie Baked Oatmeal requires just 10 minutes of active prep work, and then it's ready to be baked and devoured! Leftovers keep well for up to a week and can be reheated or eaten cold. Perfect for back-to-school meal prepping!
Pumpkin Spice French Toast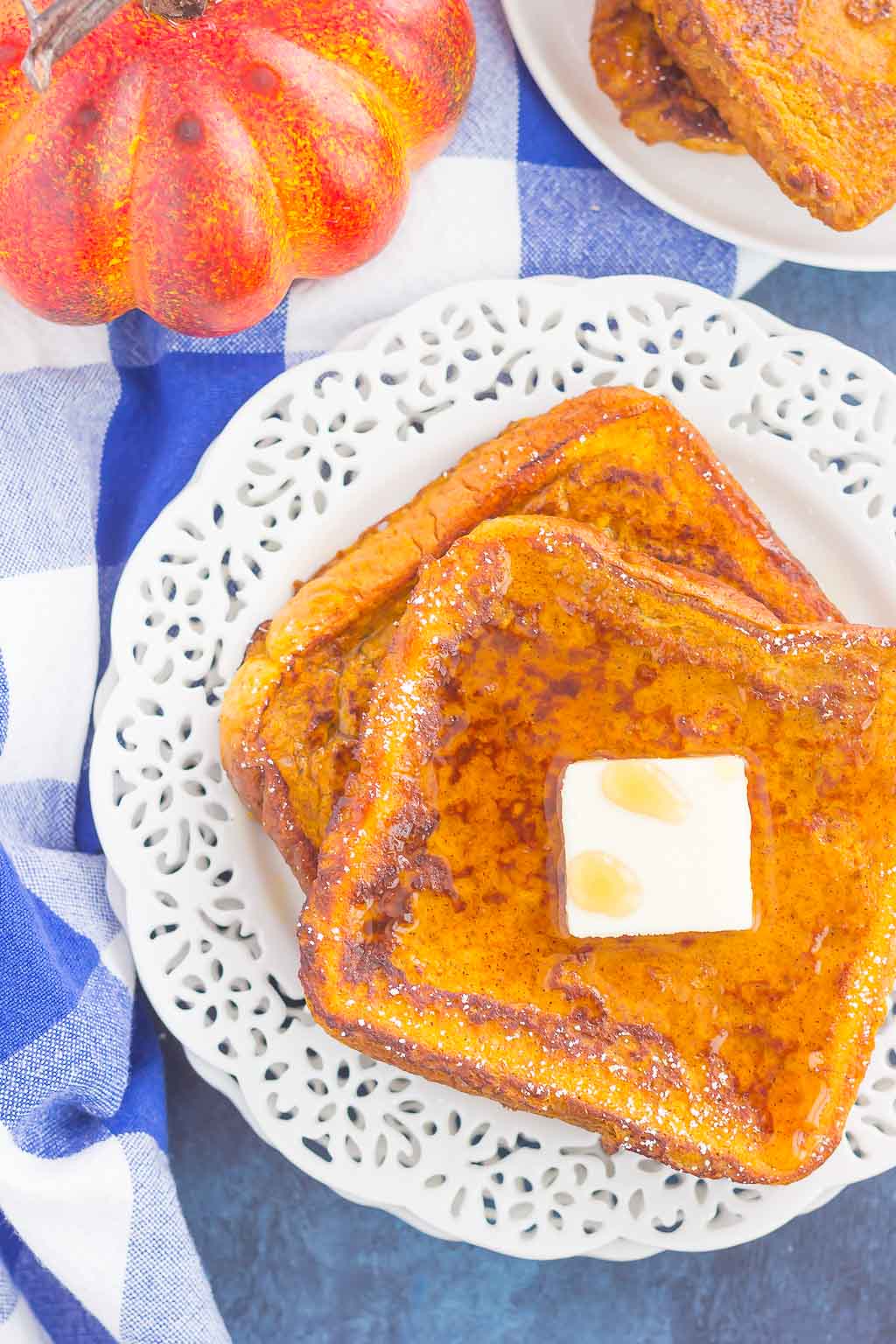 Thick slices of bread are dunked in a mixture of pumpkin, brown sugar, spices, and vanilla to create the ultimate Pumpkin Spice French Toast. Easy enough to make on a weekday, but special enough for those cozy weekends spent at home.
Pumpkin Spice Pancakes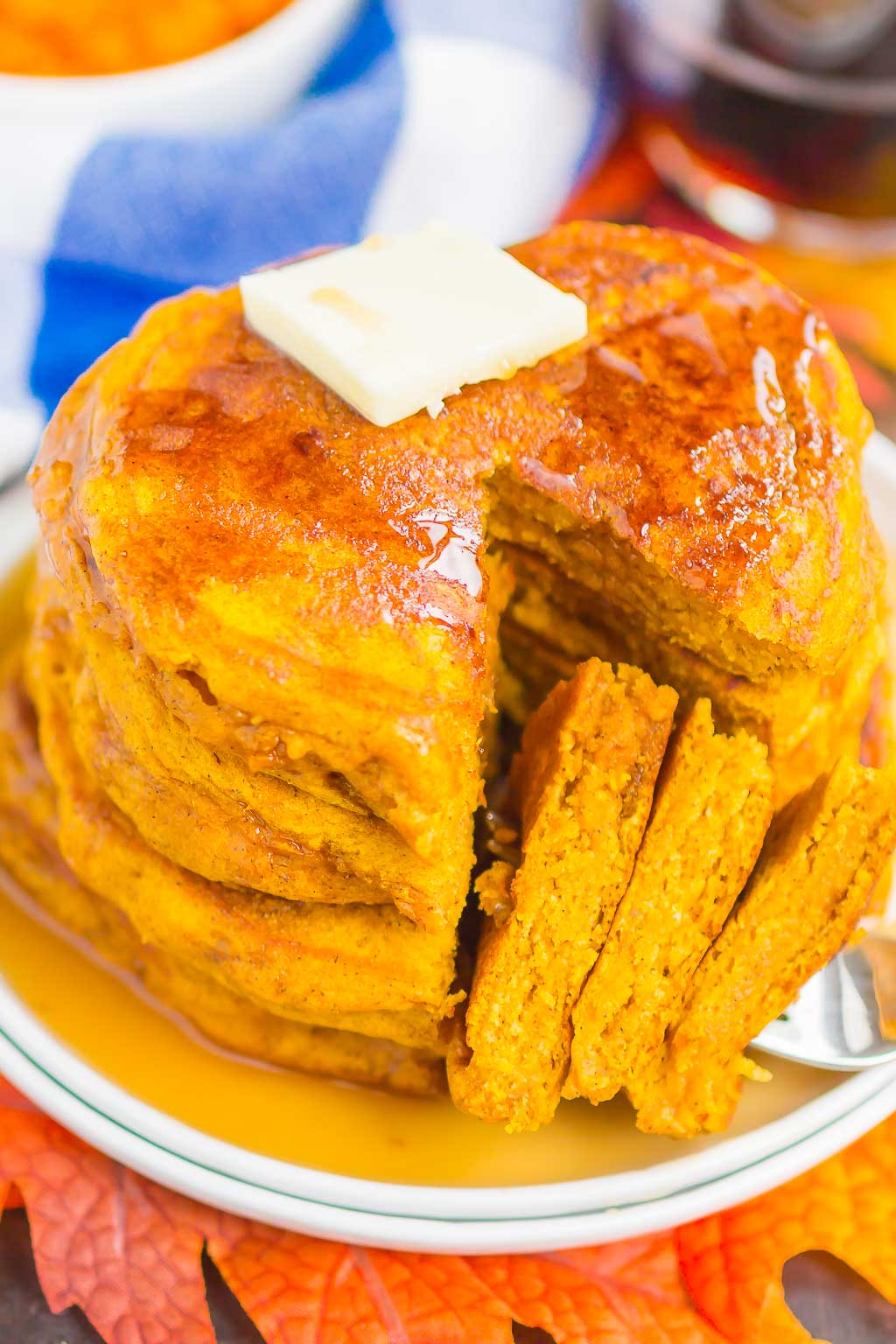 Fluffy, moist, and bursting with pumpkin spice flavor. What more could you want from a stack of Pumpkin Spice Pancakes?
This is a great recipe to make if you have leftover pumpkin from another recipe! You can enjoy the pancakes immediately or freeze them for future breakfasts.
Pumpkin Cinnamon Rolls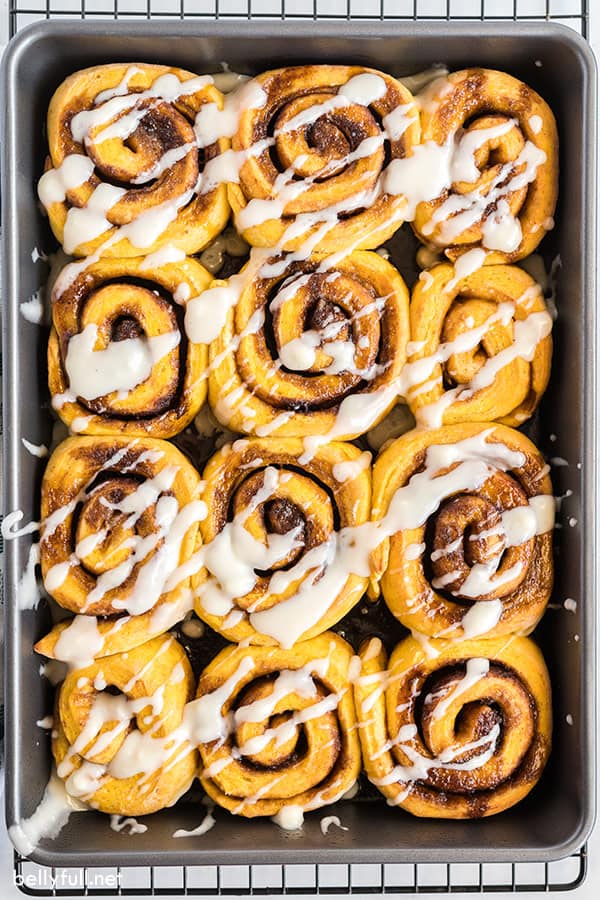 Pumpkin puree infuses the homemade cinnamon roll dough with flavor and keeps the rolls soft and moist. A full tablespoon of pumpkin pie spice is used in the filling, so there's no shortage of fall flavors in this recipe for Pumpkin Cinnamon Rolls by Belly Full!
Whole Wheat Pumpkin Pancakes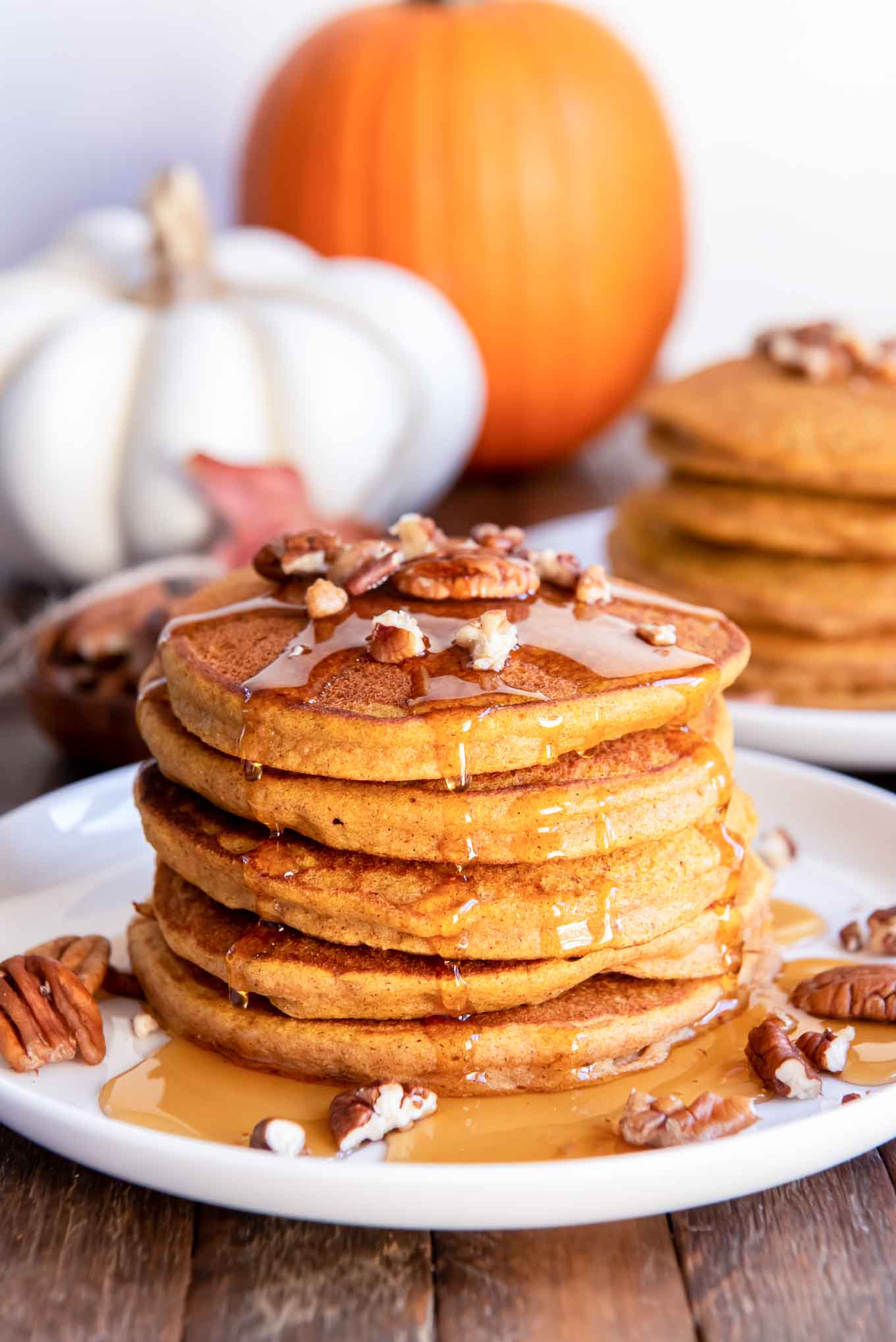 These Whole Wheat Pumpkin Pancakes by Flavor the Moments have a slightly nutty undertone thanks to the whole wheat flour used in the batter. Sprinkle chopped pecans and pure maple syrup over your stack of pancakes for a an extra dose of fall flavor!
Pumpkin Sheet Pan Pancakes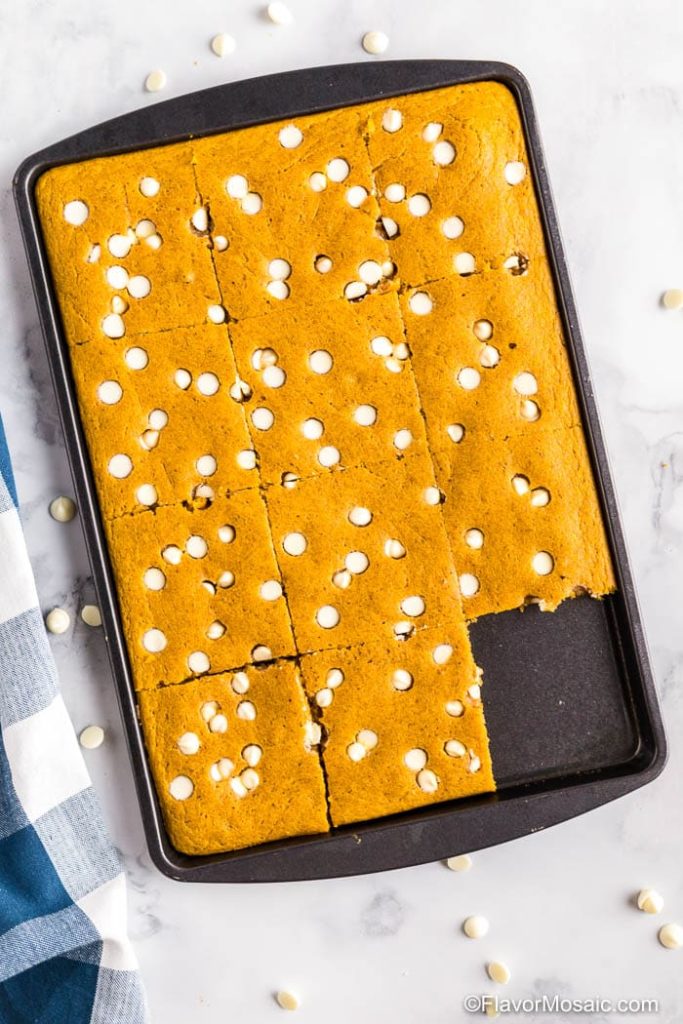 Can't be bothered to stand there flipping one pancake after another? Make these Pumpkin Sheet Pan Pancakes by Flavor Mosaic instead!
Stir white chocolate chips into the batter for a special breakfast treat, or experiment with chopped nuts or dried fruit instead.
Gluten-Free Pumpkin Scones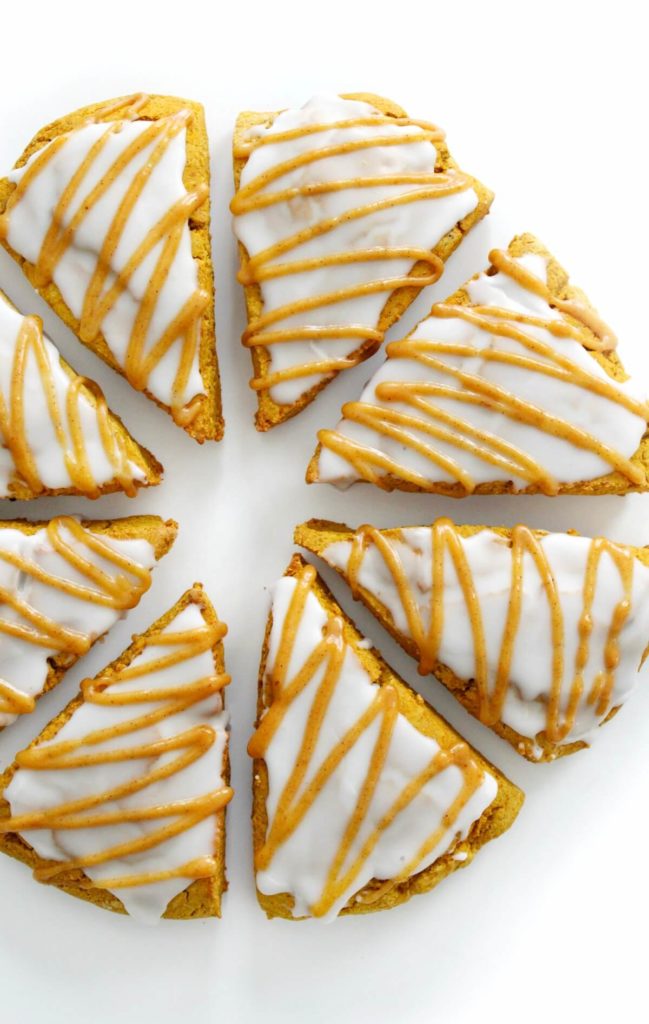 If you have a gluten intolerance or food allergy in your family, make these Gluten-Free Pumpkin Scones by Strength & Sunshine! They're suitable for almost any diet, but they taste like classic pumpkin spiced scones. Allergy-free doesn't mean flavor-free!
Pumpkin Cider Donuts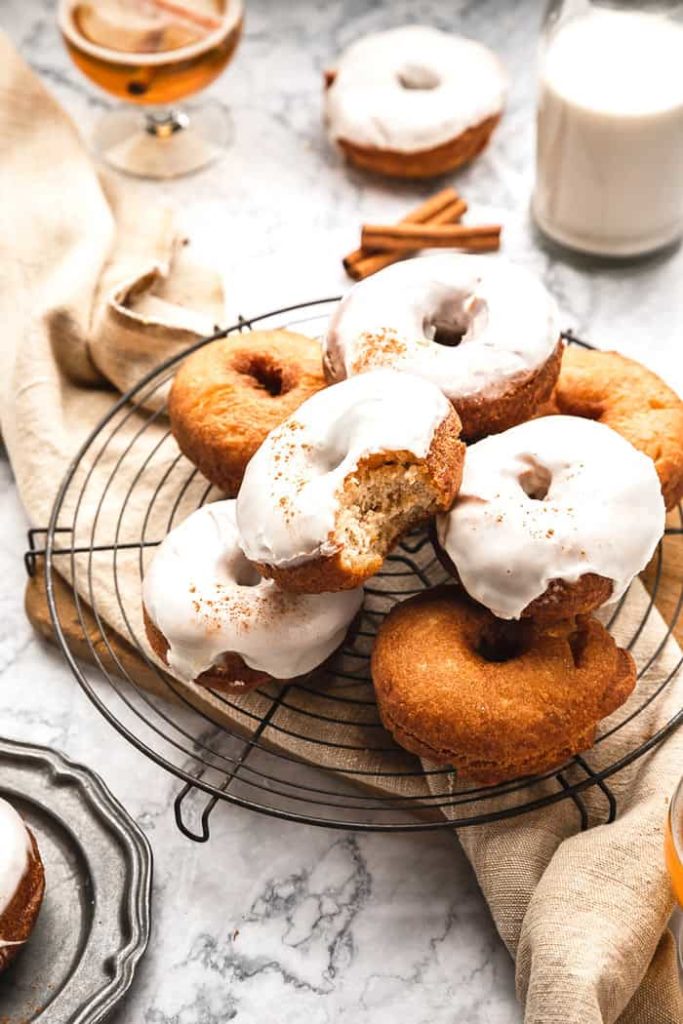 These Pumpkin Cider Donuts by Grandbaby Cakes would be such a fun weekend breakfast idea! Pumpkin cider, cinnamon, and nutmeg infuse the fried donuts with flavor, and a sweet vanilla glaze perfectly finishes them off.
Small Batch Pumpkin Banana Muffins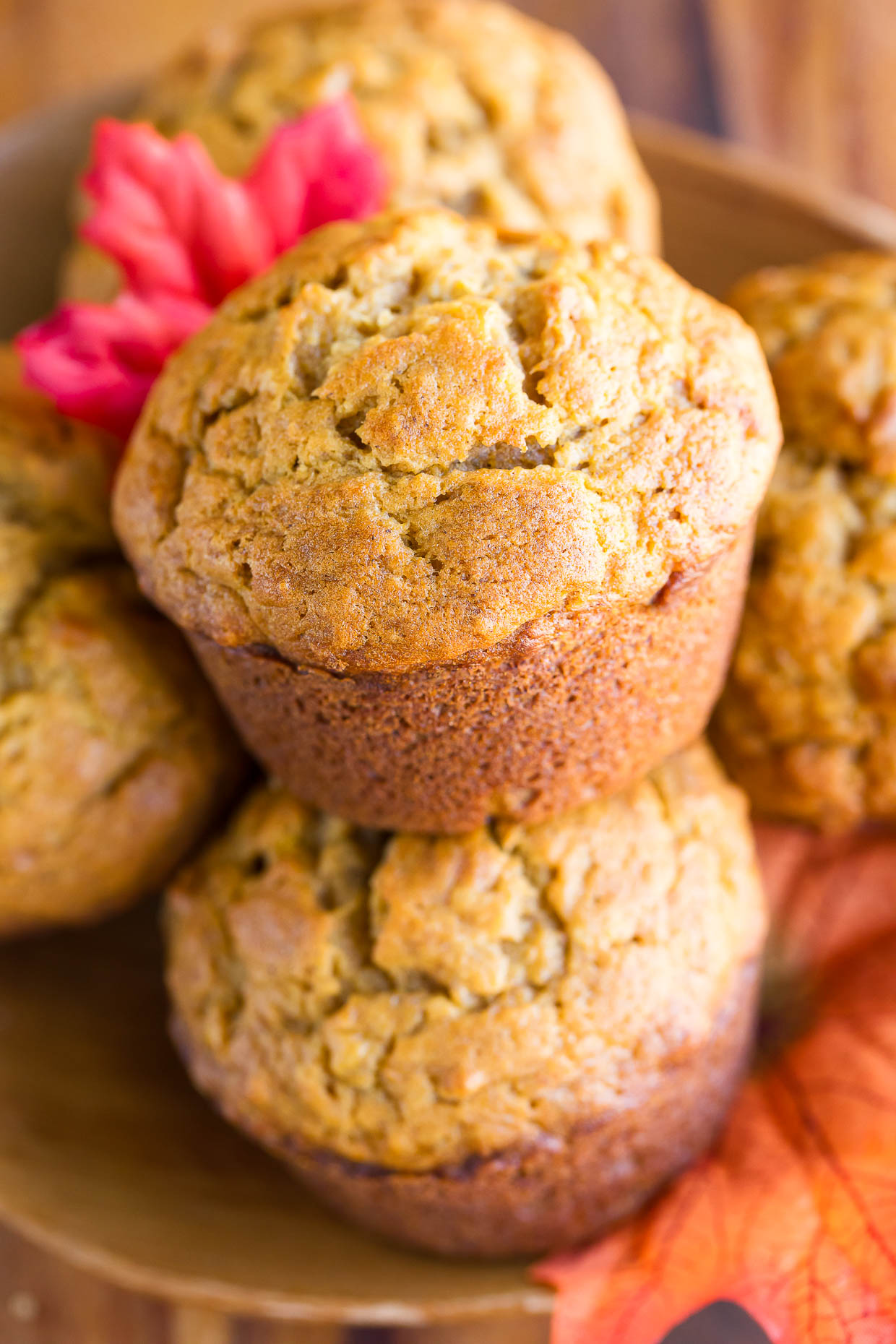 Don't need a full batch of muffins crowding your countertop? Make a half batch instead!
This recipe for Small Batch Pumpkin Banana Muffins by Peas and Crayons makes just six muffins and is perfect for using up that last bit of pumpkin puree you have leftover from another recipe. Win-win!
Pumpkin Pie Overnight Oats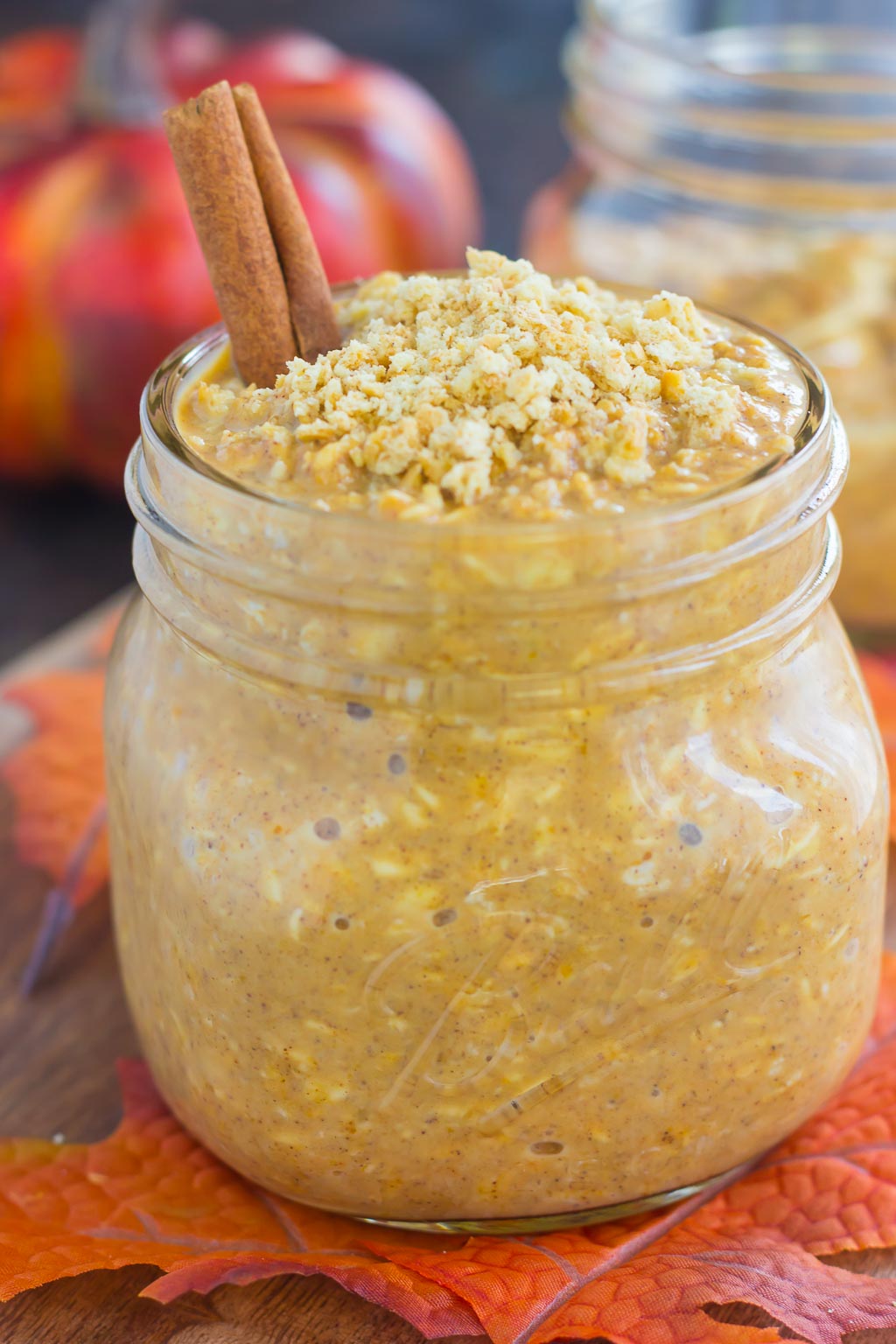 I love starting my mornings with pancakes and french toast, but when I'm craving something on the healthier side I always make a batch of Pumpkin Pie Overnight Oats before going to bed.
They're thick, creamy, and protein-packed, and a serving of overnight oats keeps me full for hours afterwards.
Pumpkin Breakfast Popsicles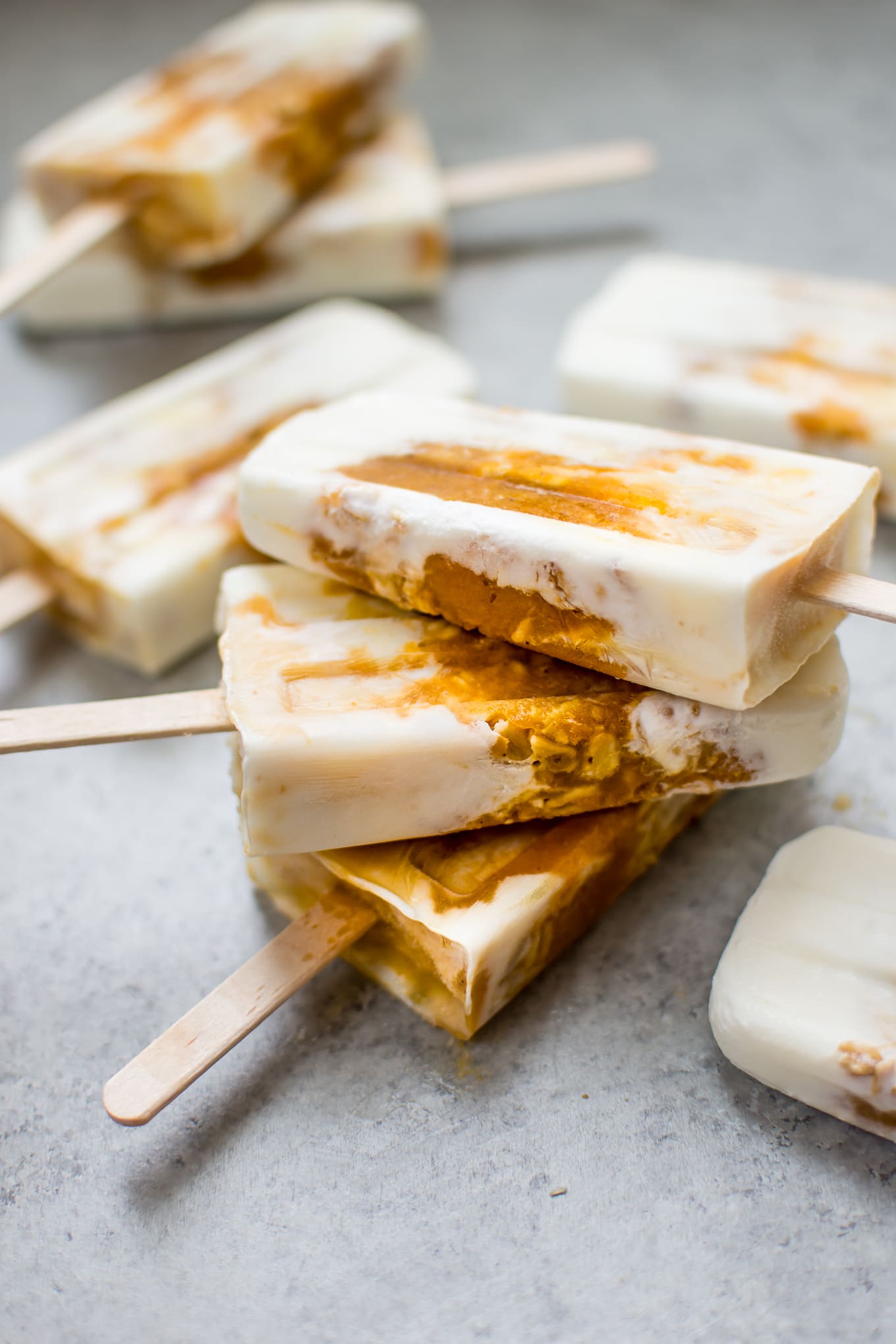 Yes, you read that right — popsicles for breakfast! These Pumpkin Pie Breakfast Popsicles by Salt & Lavender are made with plain yogurt, pumpkin puree, and granola. They also double as a simple fall snack!
Apple Breakfast Recipes
These days everyone seems to obsess over pumpkin-everything, but apple breakfast recipes also deserve a spot on this list. Don't restrict yourself to apple pies this fall, there's so much more you can do with fall's favorite fruit!
Baked Cranberry Apple Cider Donuts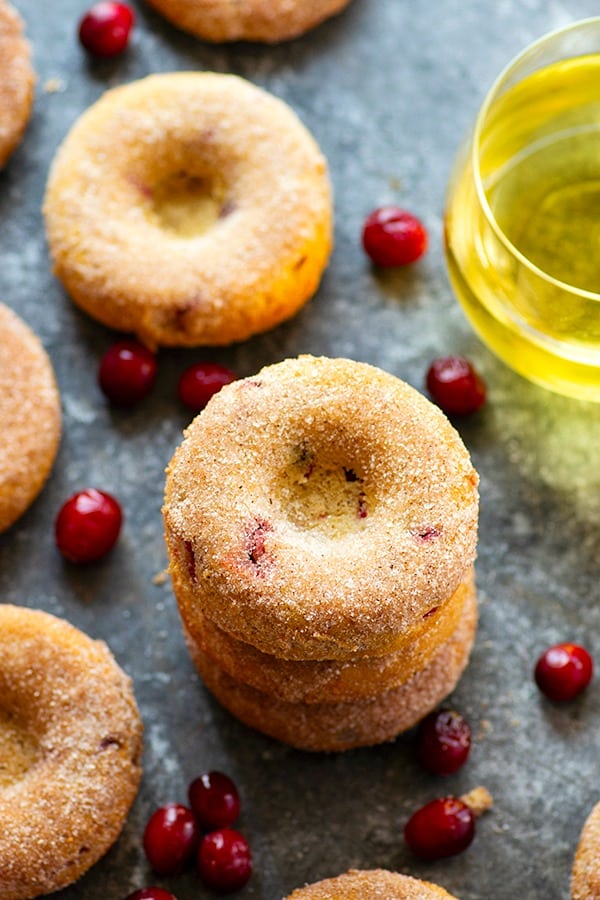 Mulled apple cider, three kinds of spices, and fresh cranberries — these Cranberry Baked Apple Cider Donuts by Whole & Heavenly Oven are what fall dreams are made of. Once the baked donuts come out of the oven, they're brushed with melted butter and coated in cinnamon-sugar. Delicious!
Gluten-Free Cinnamon Apple Quinoa Bars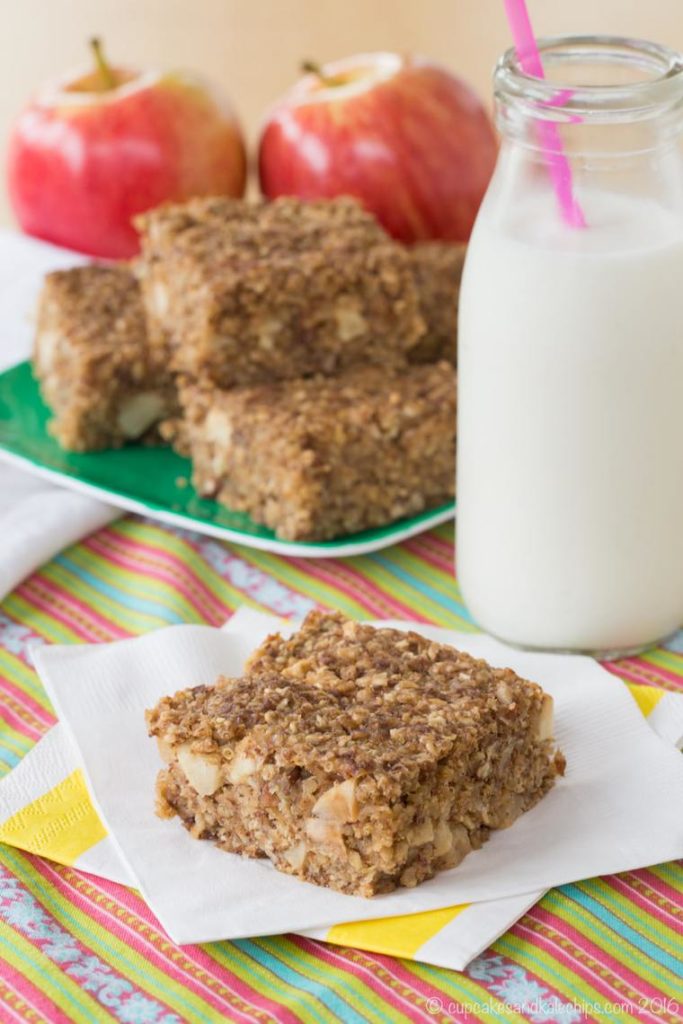 Yet another fall meal prep breakfast idea is this recipe for Gluten-Free Cinnamon Apple Quinoa Bars by Cupcakes & Kale Chips. Keep a batch in the fridge or freezer, and grab a bar before rushing out of the door.
Apple Coffee Cake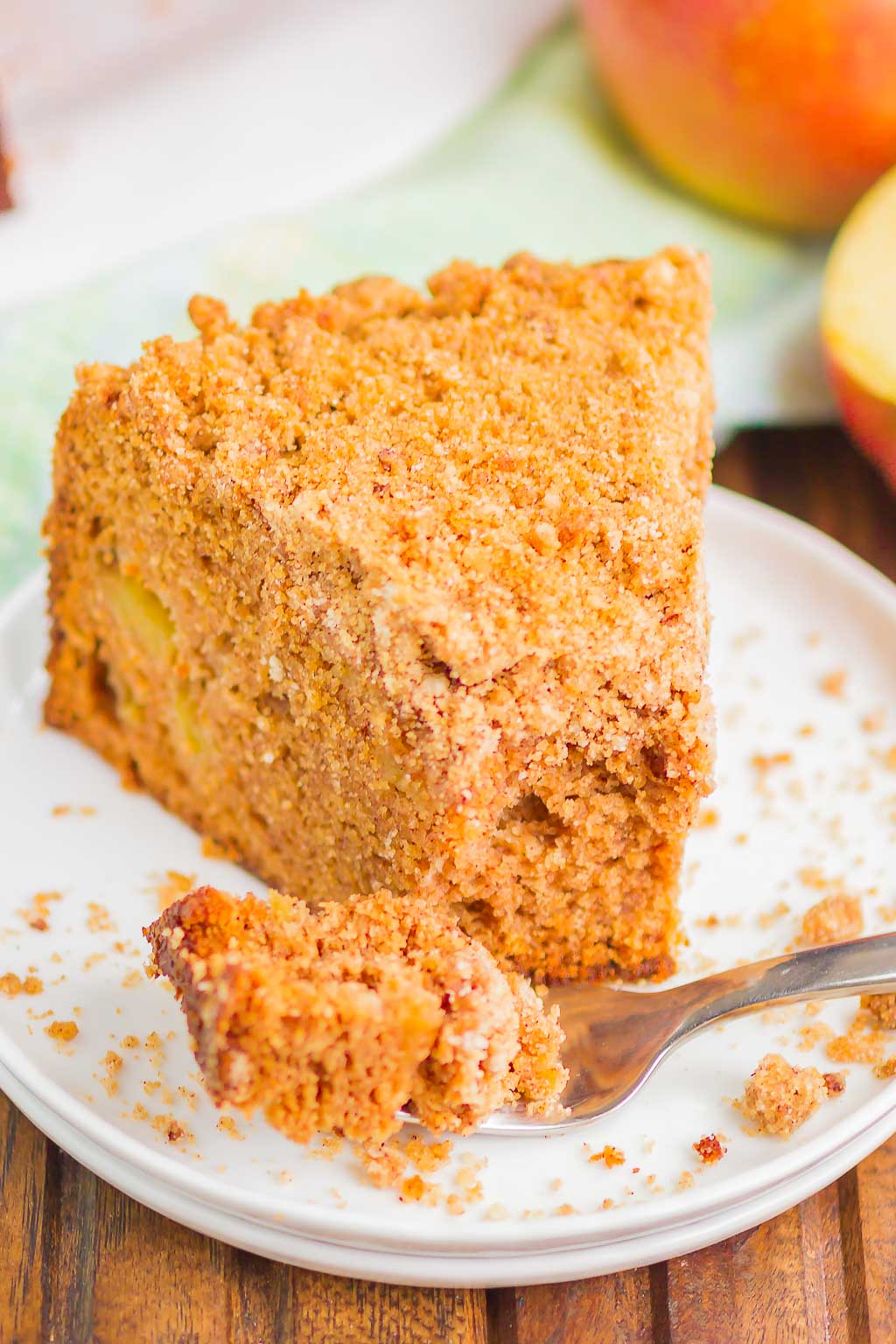 I'm not sure what I like more about this Apple Coffee Cake, the juicy chunks of apples studded throughout the batter or the spiced crumb topping I could eat on its own with my fingers. It sounds like I'll have to make this recipe yet again to decide which is better!
Baked Breakfast Apples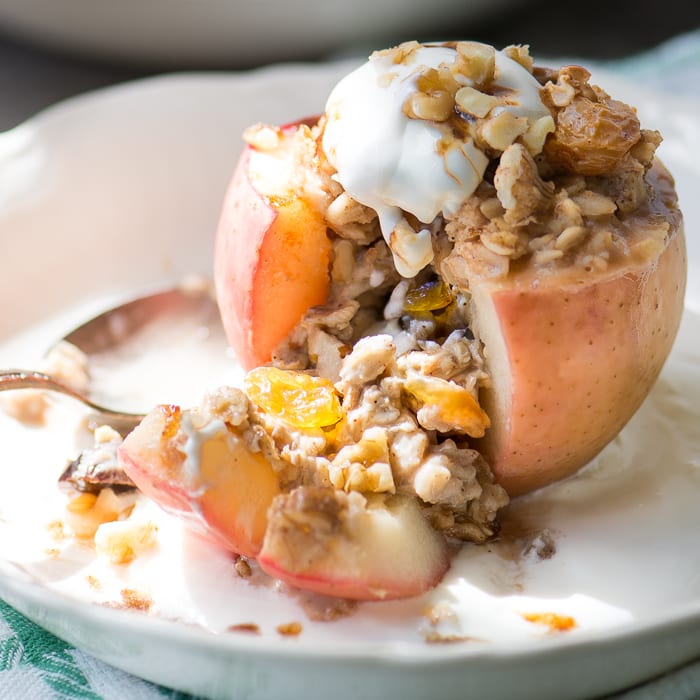 The classic fall dessert has gotten a breakfast makeover! This recipe for Baked Breakfast Apples by The View from Great Island features an oat, raisin, and walnut filling and can be made with any variety of apples you have on hand.
Apple Cinnamon Baked Oatmeal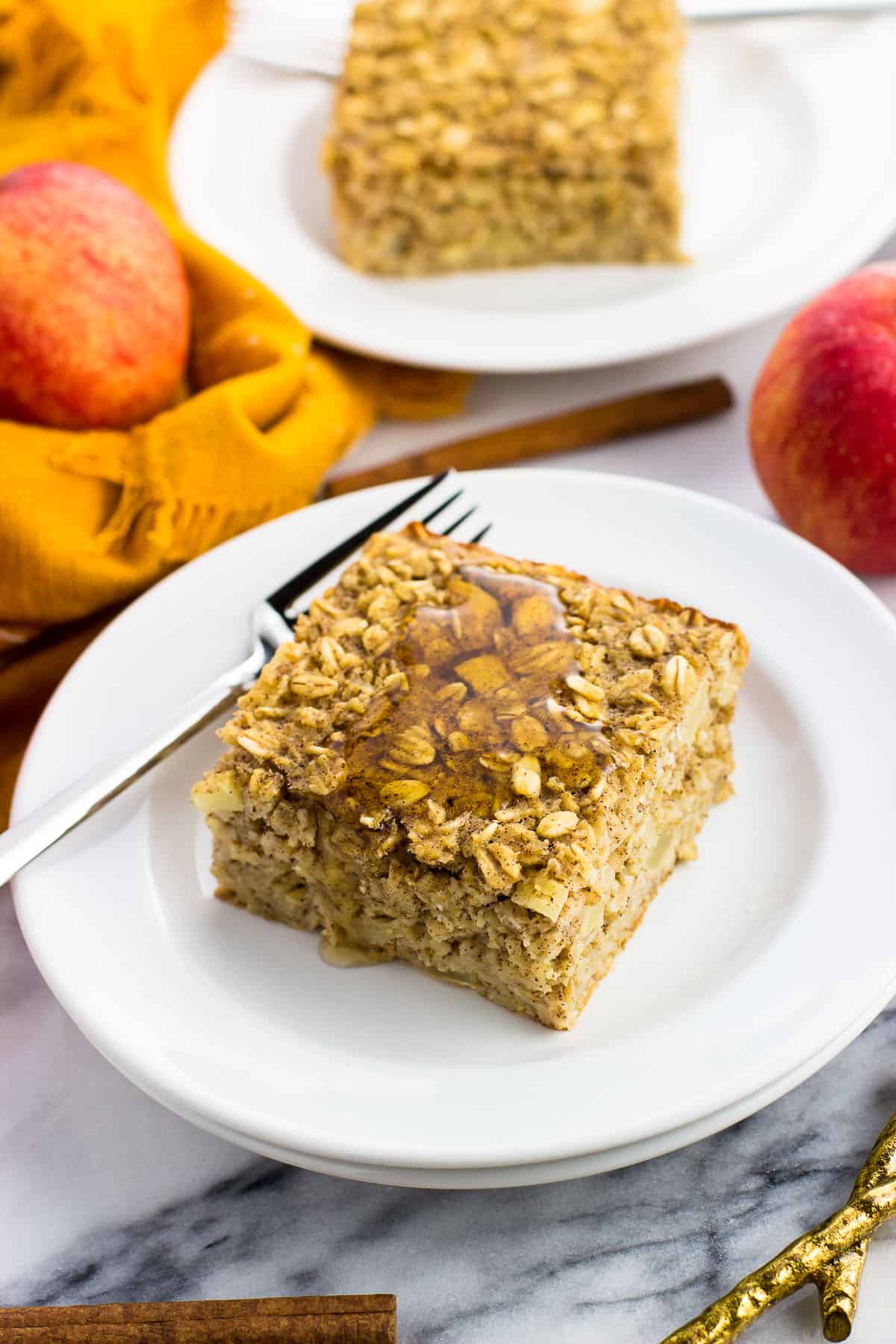 Sweetened with maple syrup and made with applesauce instead of oil, this Apple Cinnamon Baked Oatmeal by My Sequined Life is a simple but delicious fall breakfast idea.
Pumpkin Apple Muffins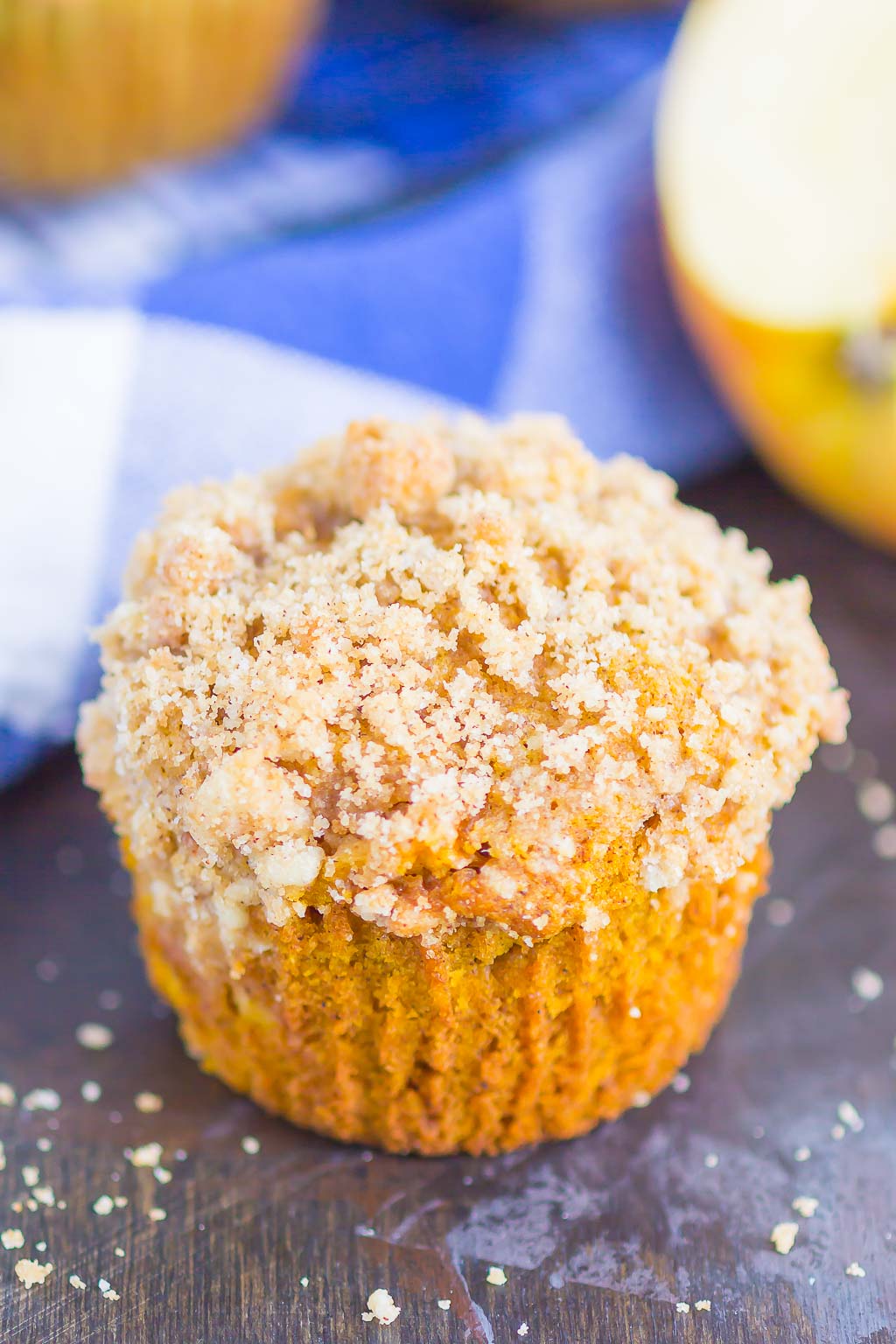 Why choose between pumpkin and apple recipes when you could enjoy both? These Pumpkin Apple Muffins are topped with a crunchy cinnamon streusel to take things over the top.
Apple Cinnamon Oatmeal Cups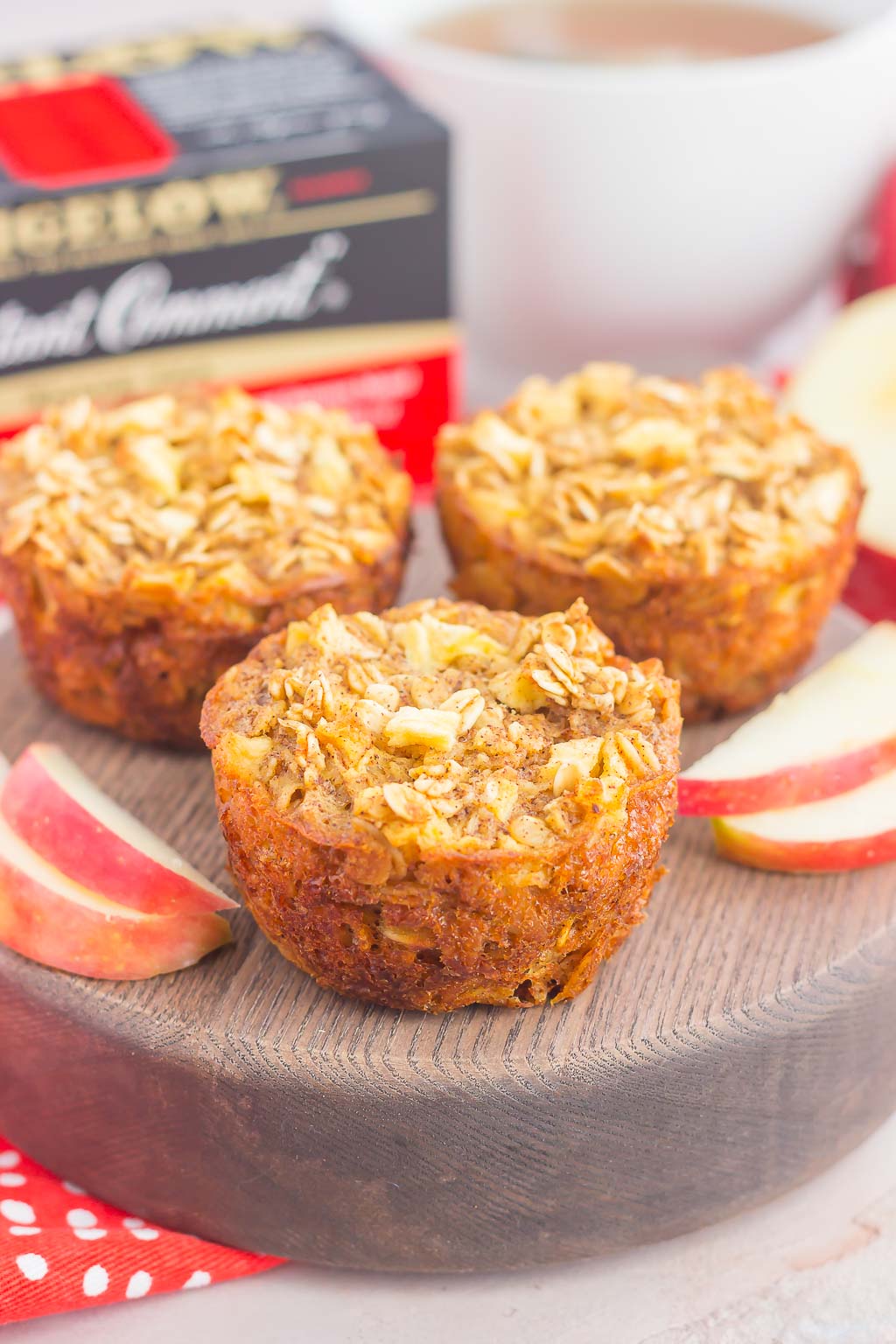 Fall is a busy time for many, so you can never have enough grab-and-go breakfast ideas tucked up your sleeve! These Apple Cinnamon Baked Oatmeal Cups can be leisurely enjoyed with your morning cup or tea or coffee, but they're just as easy to pack in your bag before heading to work in the morning.
Even More Fall Breakfast Recipes
Apple and pumpkin get all the breakfast love in the fall, but there are many more ingredients in season to take advantage of. Below are even more easy fall breakfast recipes that use underrated ingredients like pear, maple, and — yes! — bacon.
Cinnamon Roll Bread Pudding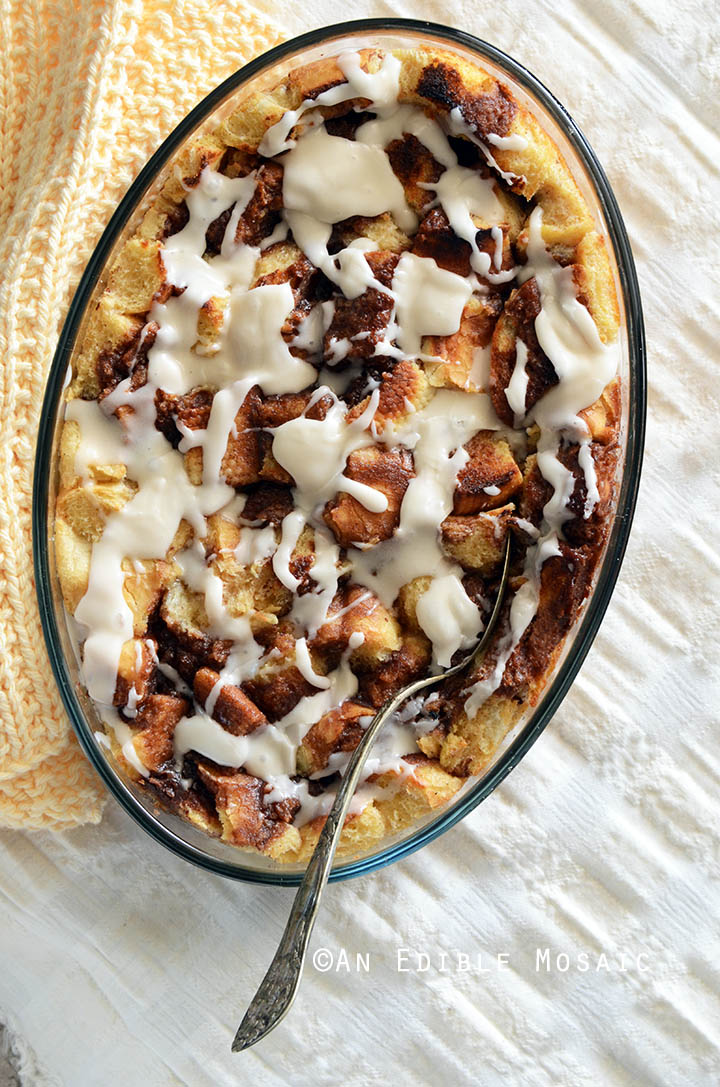 An Edible Mosaic's Cinnamon Roll Bread Pudding tastes like one giant cinnamon roll! Custardy bread pudding is swirled with a cinnamon syrup and topped with vanilla frosting. Enjoy as a weekend breakfast or a special occasion brunch!
Maple Cinnamon Oatmeal Breakfast Bars
These Maple Cinnamon Oatmeal Breakfast Bars by Iowa Girl Eats taste like a cross between cinnamon baked oatmeal and a breakfast cake. The bars are hearty and refined sugar-free.

Baked Maple Bacon Donuts
Sweet and salty never tasted so good! A Latte Food's Baked Maple Bacon Donuts feature a spiced donut topped with maple glaze and sprinkle with crumbled bacon. I'll take two, please!
Healthy Banana Bread
There's no bad time to make banana bread, but fall is especially perfect for making this Healthy Banana Bread from Kristine's Kitchen. Honey replaces granulated sugar in this recipe, and white whole wheat flour is used instead of all-purpose flour.
Spiced Pear Pudding
If you're feeling burnt out on apple-everything this fall, make a batch of Spiced Pear Oatmeal from Running to the Kitchen for a change of pace. The blend of cinnamon, cardamom, and nutmeg elevate the chunks of pear and make the oatmeal feel extra cozy!
Happy Eating, Friends!
There are many more fall recipes I plan on making, but seeing as breakfast is the most important meal of the day I wanted to give you some recipe ideas for those cooler mornings. If you make any of the fall breakfast ideas I've shared in this post, please leave me a comment below letting me know how they turned out.
I hope you enjoy a slightly more decadent start to your fall day!