Flourless Chocolate Cake
This post contains affiliate links.
Flourless Chocolate Cake is an easy dessert that's rich, fudgy and decadent. Made with just five ingredients, this smooth and gluten-free cake is will become a favorite all year long!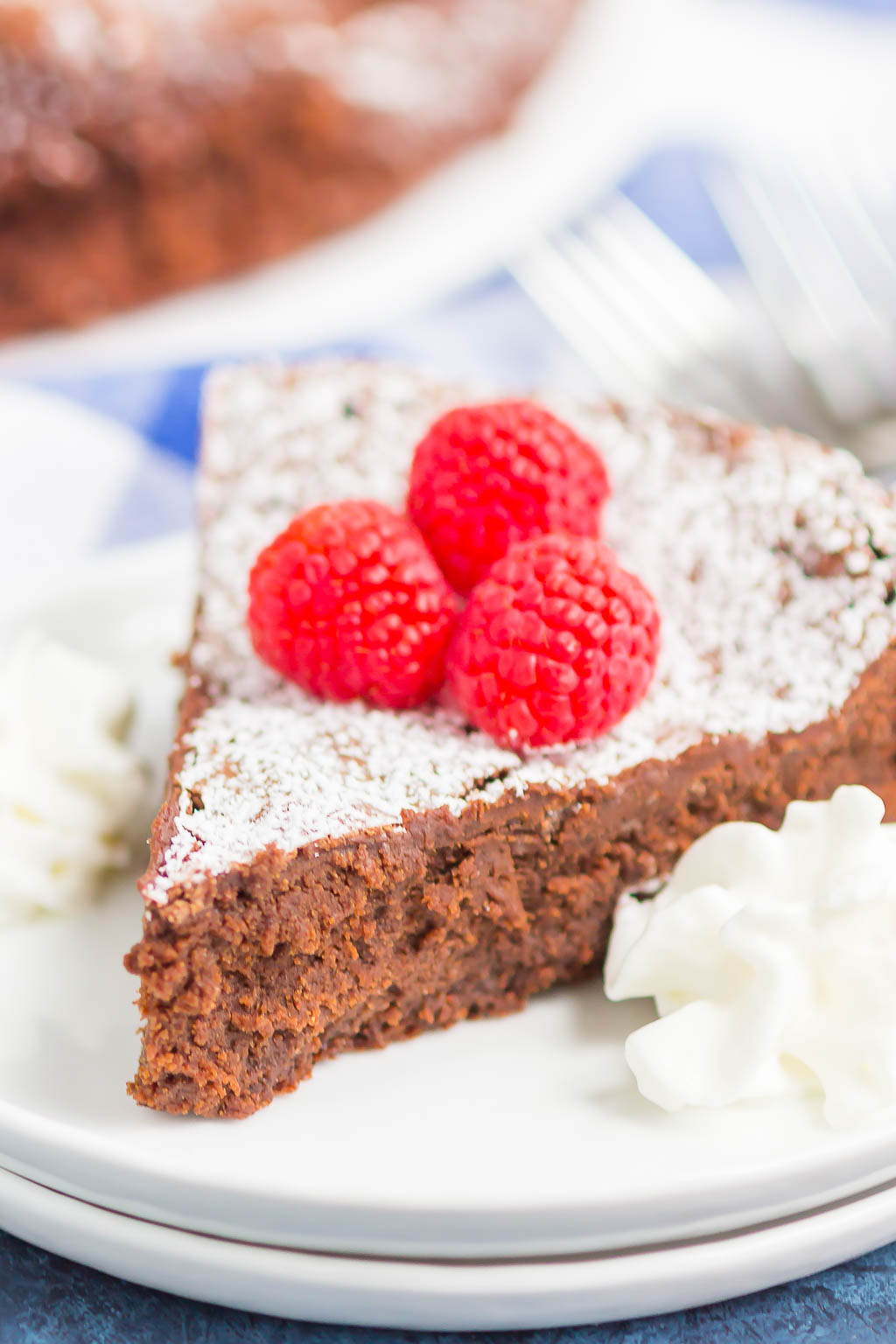 Rich and fudgy cakes are my weakness.
You know, the kind of cake with that molten, chocolate lava-like center that is just over-the-top decadently delicious. Remember this chocolate lava mug cake from a few weeks ago?
And that's saying a lot, as I'm not a big cake person.
But, flourless chocolate cake? It's my absolute favorite. If I order dessert when I'm out, it's almost a sure bet that I'll pick a flourless torte if it's on the menu.
An easy flourless chocolate cake has been on my recipe list to make for years. And I finally did it!
Not only is this flourless chocolate cake recipe simple to make, but it just happens to be gluten-free and made with just a handful of ingredients. How about that for an impressive dessert?
By using quality chocolate, a little time with your stand mixer and a chill in the fridge, this decadent dessert quickly became my new favorite. And it's sure to be yours, too!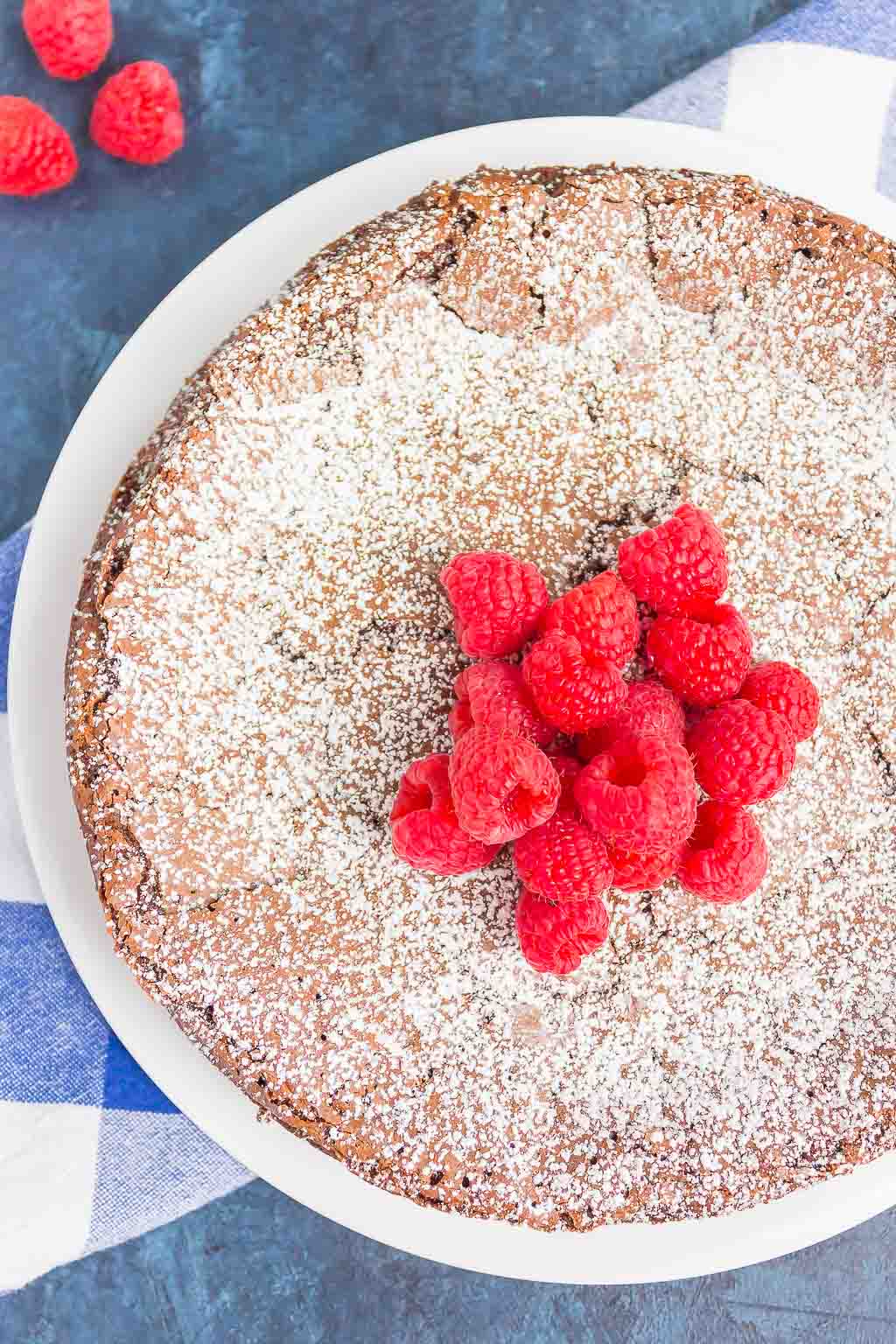 How to make Flourless Chocolate Cake:
While this cake may seem intimidating at first glance, it really is incredibly simple to make. Just five ingredients and you're ready for a bite of chocolate heaven!
To start, you'll want to melt some good quality chocolate (either bittersweet or semi-sweet) and unsalted butter. I used the microwave for convenience, but you could melt the two over a doubler boiler, if desired.
Next, it's time to beat some eggs, sugar and vanilla until light and pale yellow. It's best to use a stand mixer with a fitted paddle attachment, as it will take roughly 8-10 minutes until the mixture becomes light and pale in color.
Fold in the melted chocolate and then pour the batter into a springform pan. Then its time to let the oven work its magic.
What to serve with Flourless Chocolate Cake:
This cake is insanely decadent, so nothing else is really needed. However, a sprinkling of powdered sugar, a few raspberries, strawberries, a dollop of whipped cream or vanilla ice cream pair perfectly with this cake!
Do you need to refrigerate Flourless Chocolate Cake?
It's up to you! While I do refrigerate the cake after it has cooled to help it set, it is not necessary to do so. Just be sure to let the cake cool completely before serving (otherwise it might become a chocolate mess when slicing).
If refrigerating the cake, be sure to cover and then let sit at room temperature (pop a slice in the microwave) for about an hour to regain that fudgy, softer texture. However, I love eating the cake straight from the fridge, so either way, you can't go wrong!
How long will Flourless Chocolate Cake keep?
This flourless cake will keep covered in the refrigerator for up to five days, or at room temperature for up to three days.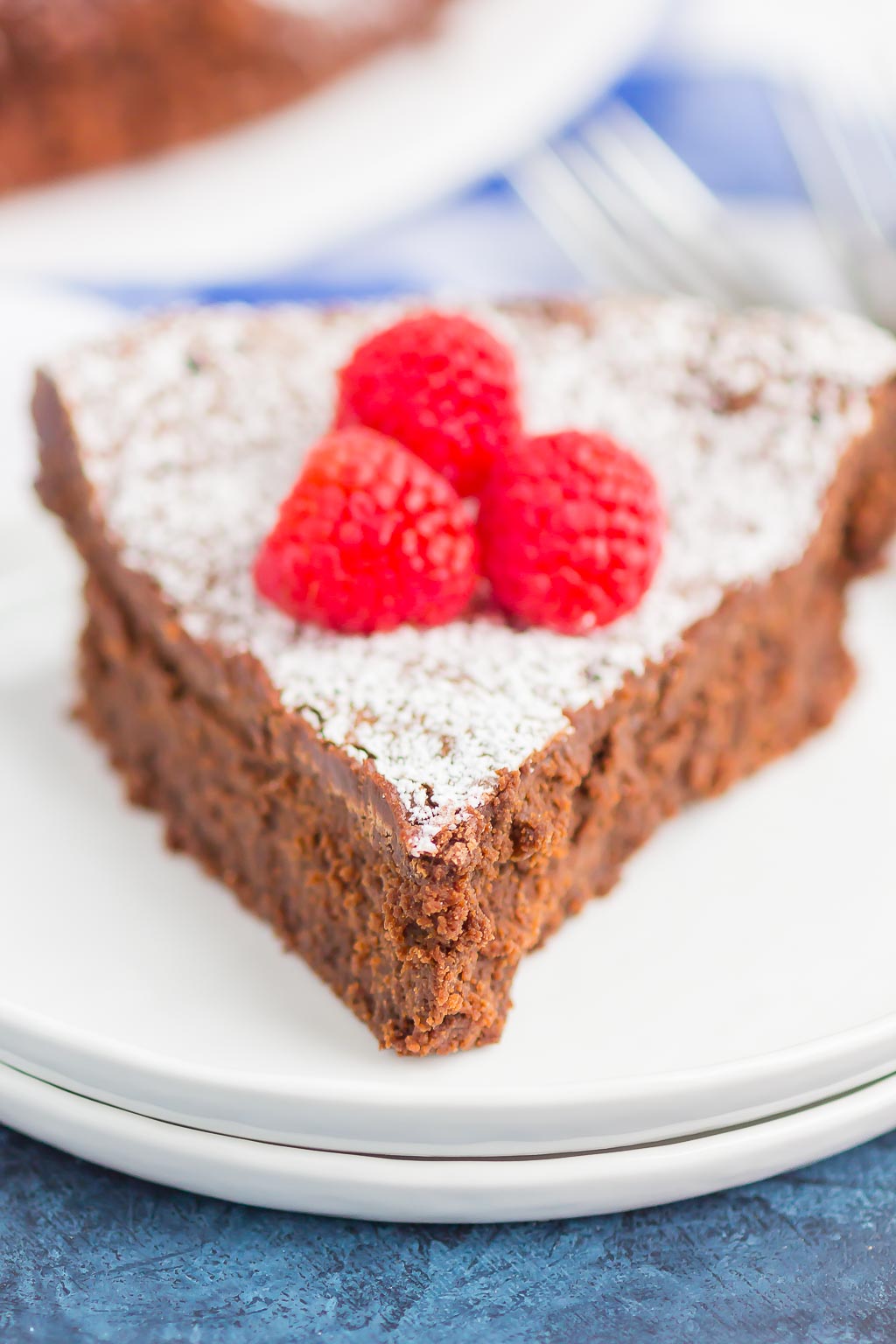 Does Flourless Chocolate Cake freeze well?
Yes! Simply make sure to that you wrap the cake completely and then place in a freezer-safe container or ziploc bag. Cake will last up to three months frozen.
Tips for making the best Flourless Chocolate Cake:
Be sure to use good quality chocolate! I used bittersweet chocolate that I chopped and melted. Semisweet will work just as well.
Make sure you have a stand mixer or hand mixer ready to go! While it's much easier to use a stand mixer for this recipe (the eggs and sugar need to be beaten for about 8-10 minutes) and hand mixer will work. You'll just get a great arm workout!
The chocolate torte needs some time to rest after it comes out of the oven. I like to let it cool to room temperature and then refrigerate until almost ready to serve. However, if you want to serve this warm, let cool for at least 15 minutes before slicing.
So, are you ready to indulge in the best easy flourless cake? You'll fall in love with that fudgy, rich and oh-so chocolatey cake….I guarantee it!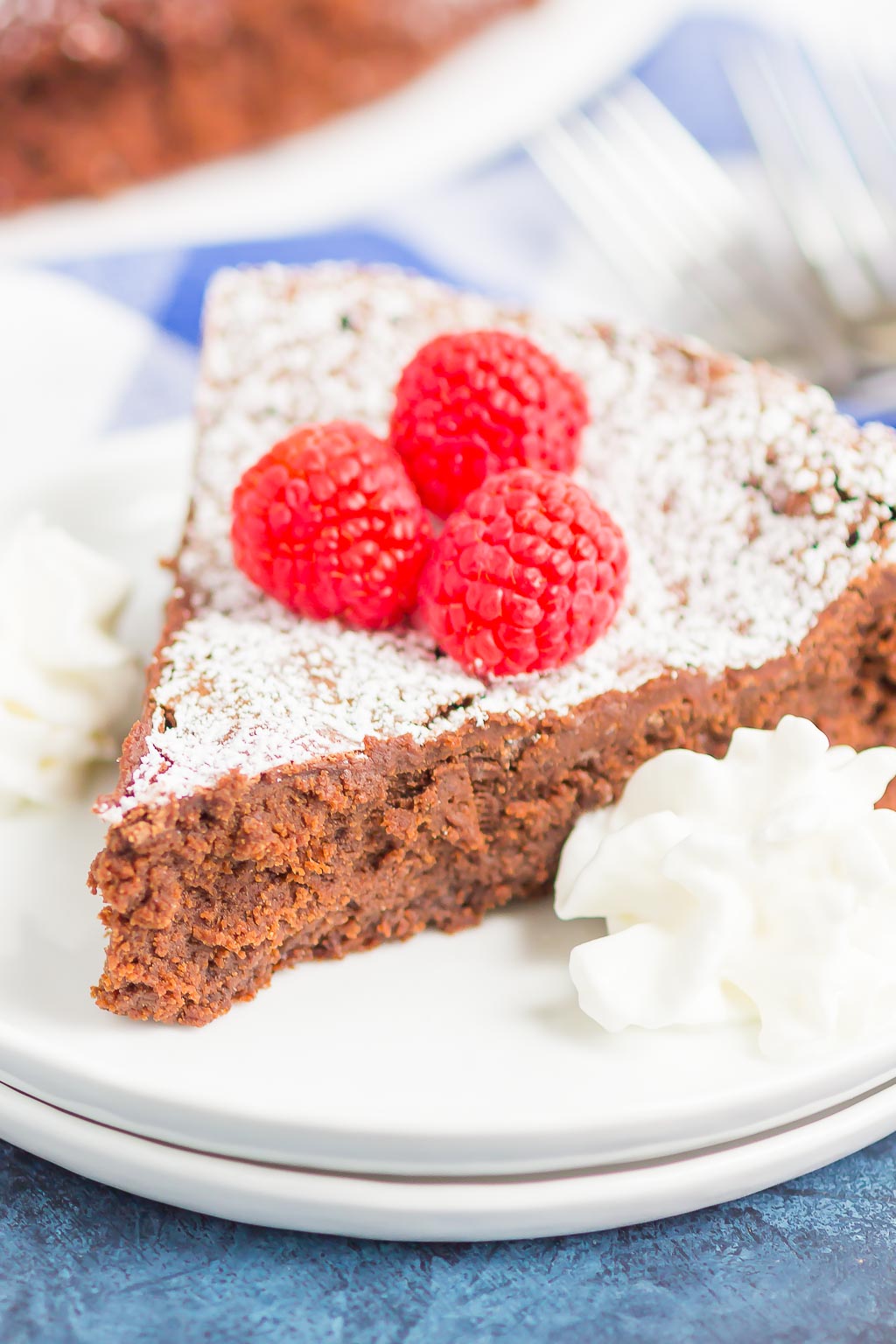 Looking for more chocolate desserts? I've got you covered!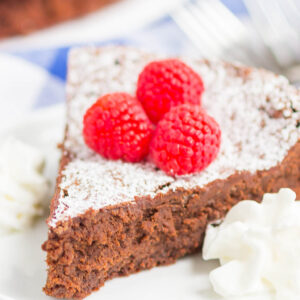 Flourless Chocolate Cake
Flourless Chocolate Cake is an easy dessert that's rich, fudgy and decadent. Made with just five ingredients, this smooth and gluten-free cake is will become a favorite all year long!
Ingredients
12 ounces bittersweet or semi-sweet chocolate, chopped
¾ cup unsalted butter
1¼ cup granulated sugar
6 eggs
2 teaspoons vanilla bean paste, or vanilla extract
1 teaspoon salt
Instructions
Preheat oven to 325°F. Generously spray a 9-inch springform pan with cooking spray. It also helps to line with parchment paper and then spray the paper with cooking spray for easy removal.

In a medium bowl, add chocolate and unsalted butter. Microwave on medium power for about 3 minutes or until melted, stirring every 30 seconds so chocolate doesn't burn. Alternately, you could melt chocolate and butter over a double boiler. Once melted, set aside to cool slightly.

Beat sugar, eggs, vanilla bean paste/extract and salt with a stand mixer with fitted paddle attachment or hand mixer until light, fluffy, and pale in color, about 8-10 minutes. You want the mixture to double in volume.

Fold melted chocolate into sugar mixture and stir until just combined.

Pour batter into prepared pan and bake for 45-60 minutes, or until slightly jiggly in center. Be sure not to over-bake cake, the edges should be baked and hardened, but center should remain slightly jiggly.

Let cool for at least 15-20 minutes if serving warm. Otherwise, let come to room temperature and then refrigerate until ready to serve. Once ready, let cake sit at room temperature for about an hour or microwave for a rich and fudgy treat.
Notes
For best result, use a good quality chocolate (I used Godiva bittersweet bars). See my tips and tricks for making this Flourless Chocolate Cake above the recipe box.
Serving: 1g, Calories: 458kcal, Carbohydrates: 44g, Protein: 6g, Fat: 29g, Saturated Fat: 17g, Cholesterol: 137mg, Sodium: 276mg, Potassium: 233mg, Fiber: 3g, Sugar: 38g, Vitamin A: 585IU, Calcium: 40mg, Iron: 3mg