With juicy peaches, spices, and peach yogurt for extra taste and texture, this Fresh Peach Cake bakes up light, moist and delicious!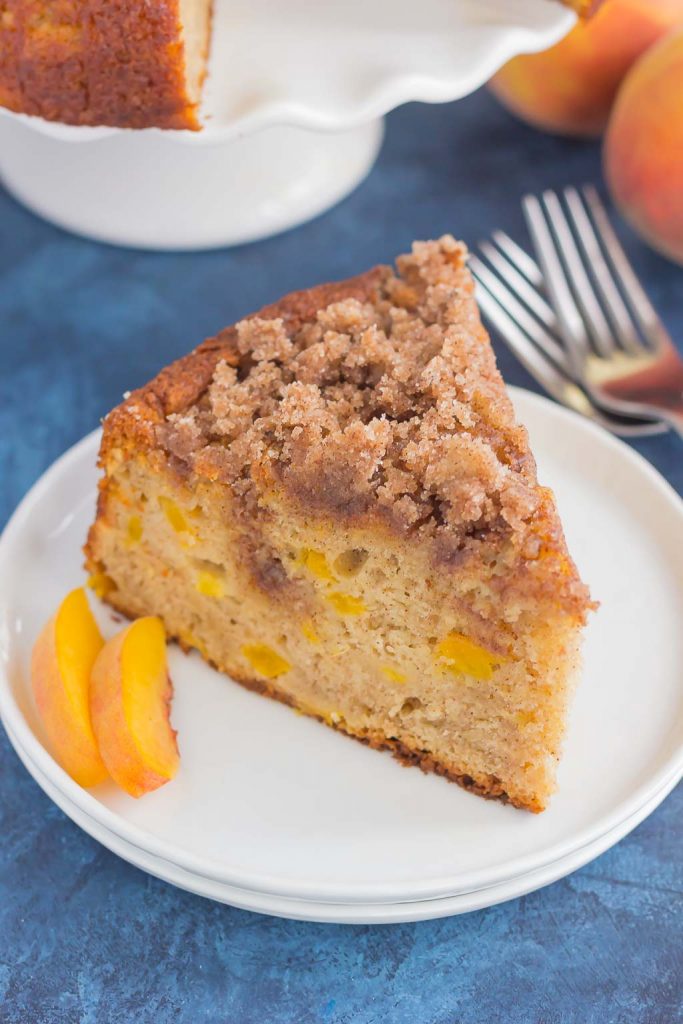 **May 2017 Update!** This recipe was originally posted in July 2014. I decided that the photos desperately needed updating, so I reshot the recipe (but still kept the ingredient list and directions the same). I also kept the original post/story below that I wrote three summers ago!**
Growing up, my parents let my brother and I choose what kind of dessert we wanted for our birthdays. While my brother always chose an oreo ice cream cake or chocolate cake, I often declined those desserts. I wasn't a fan of cake, mainly because of the frosting. It was just too sweet and tasted not-so good to me. I often would scrape it off the top and throw it away.
Stop shaking your head at me, frosting-lovers! Instead, I often chose a peach pie as my birthday dessert. With it buttery crust and juicy peaches, I would eat the entire piece, and have nothing to scrape off! Peach pie has been (and will always be) my favorite type of pie.
Nowadays, I do like cake more than I used to, but I still end up scraping the frosting off. So when I wanted to bake with peaches last weekend, I had a brilliant idea…Fresh Peach Cake!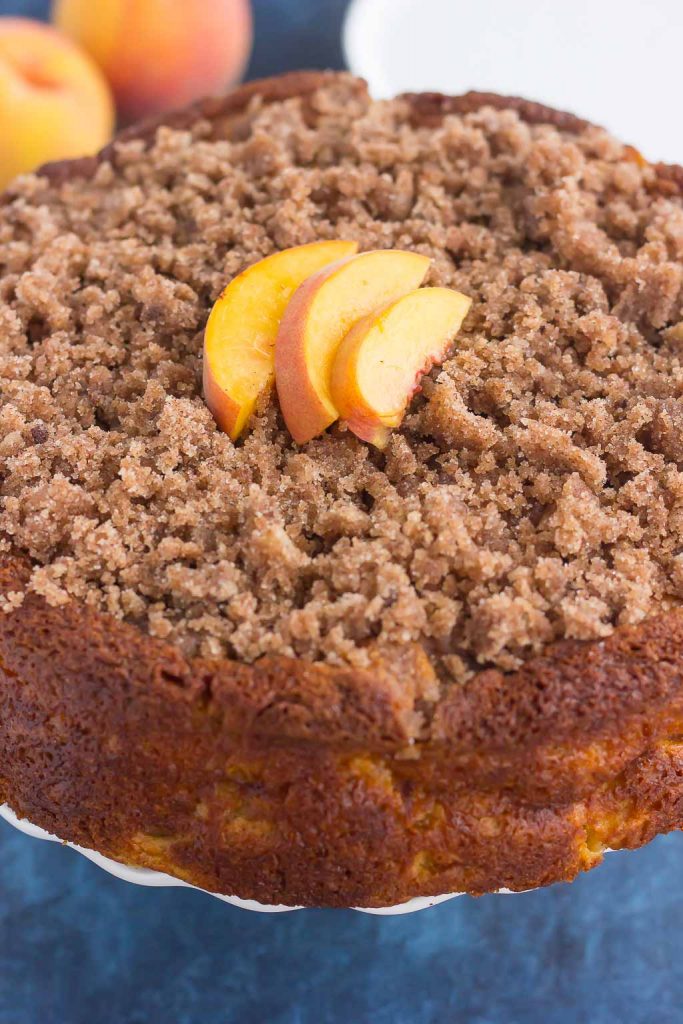 Not quite a "cakey" cake, and not quite a coffee cake, this Fresh Peach Cake combines the best of both worlds. With juicy peaches, spices, and peach yogurt for extra taste and texture, this Fresh Peach Cake bakes up light, moist and delicious. If you're a peach-lover, you will simply adore this cake!
When making this cake, it is important that you have ripe peaches handy. This can also be made with canned peaches, but it's summer, so I definitely had to go with the fresh ones! When your peaches are ripe, the juices will add extra moisture and a peachy flavor to the cake.
If you're peaches aren't quite juicy, add in some peach yogurt. It will lend moisture and flavor to the cake. And the best part? The batter is made in one bowl, and one bowl only! Hardly any mess to clean up, which is a winner in my book!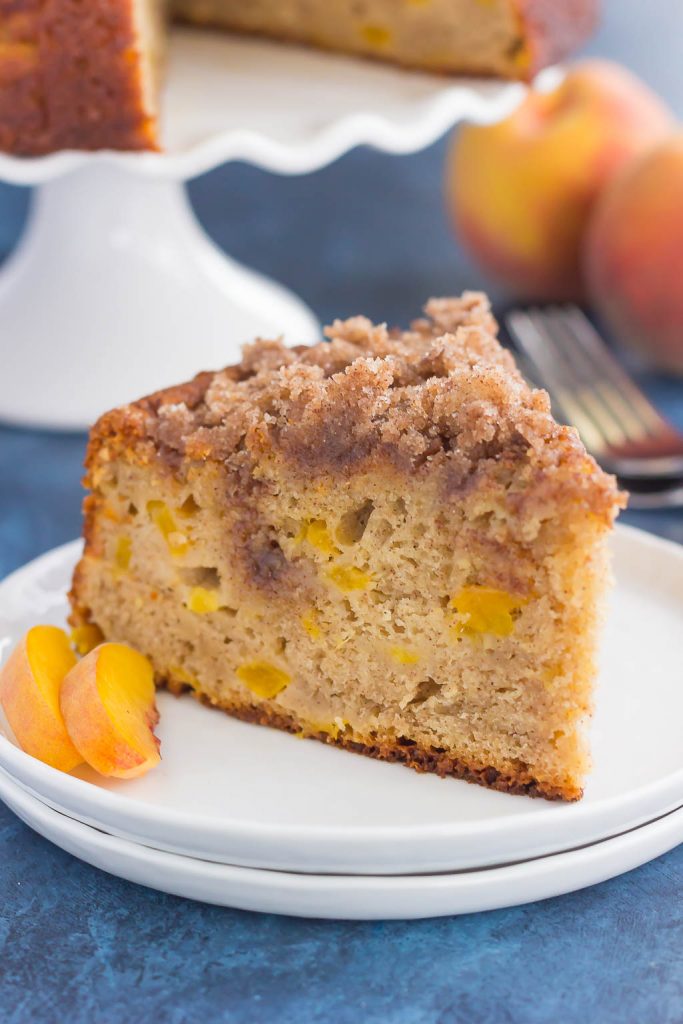 Just wait until you smell this Fresh Peach Cake baking…the aroma is simply peachy! Get it? Peachy? As soon as I cut myself a slice (or two), I knew I had found a winner. This cake reminds me of summer, with the flavors of cinnamon and peaches enveloped together.
So if you're looking for a birthday dessert to make, or simply love peaches, give this Fresh Peach Cake a try! I promise you'll love it just as much as me!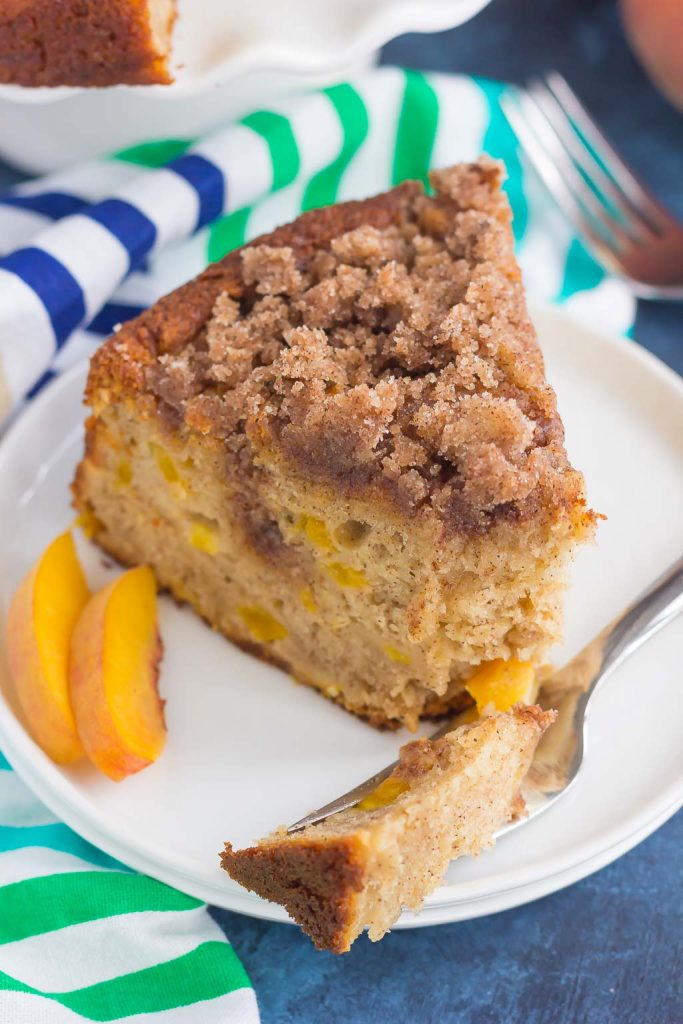 Looking for more cake recipes? I've got you covered!
Yields 8 slices
Fresh Peach Cake
With juicy peaches, spices, and peach yogurt for extra taste and texture, this Fresh Peach Cake bakes up light, moist and delicious.
15 minPrep Time
55 minCook Time
1 hr, 10 Total Time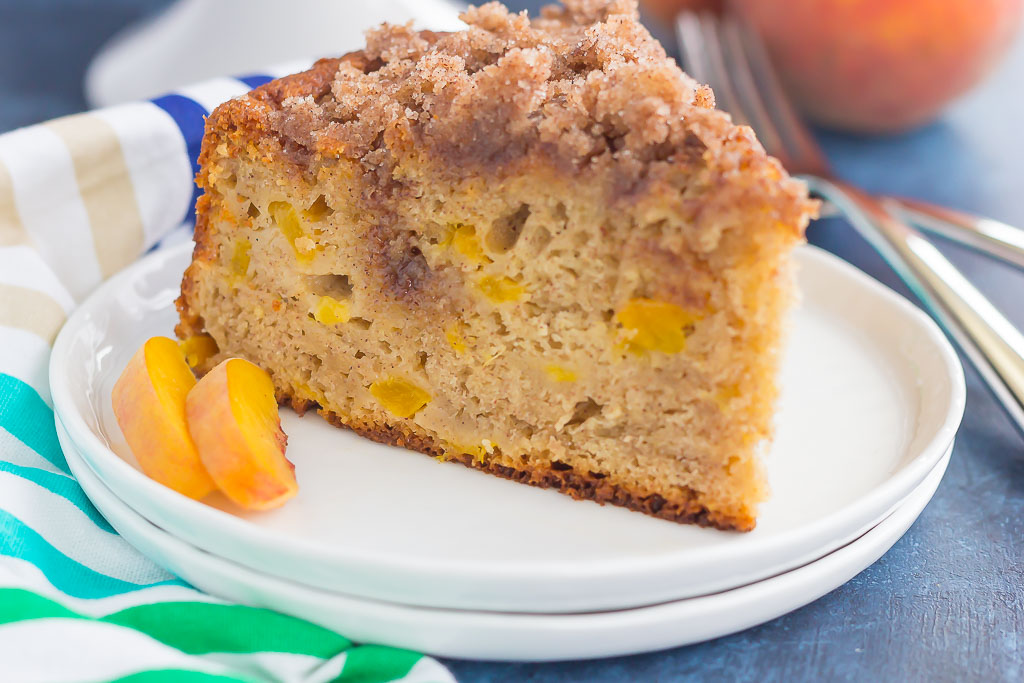 Ingredients
For the cake:

2 cups all-purpose flour
1 3/4 cups white sugar
3 eggs
1 cup vegetable oil (or 3/4 cup of peach or plain yogurt - see note below)
1 teaspoon baking soda
1 teaspoon salt
2 teaspoons cinnamon
2 cups diced, fresh peaches

For the streusel topping:

2 tablespoons all-purpose flour
1/4 cup white sugar
1 1/2 teaspoons cinnamon
4 teaspoons vegetable oil
Instructions
Preheat oven to 375F. Lightly grease a 9 inch springform pan with non-stick cooking spray. Set aside. (see note below)
In a large bowl, combine the flour, sugar, eggs, vegetable oil, baking soda, salt, and cinnamon.Using an electric hand mixer or whisk, mix until thoroughly combined.
Fold in peaches.
Spread batter in prepared cake pan.
To make the streusel topping, whisk together the flour, cinnamon, and sugar in a small bowl.
Add in the oil and mix until fully combined and resembles a course mixture.
Sprinkle over top of cake batter.
Bake for 45-50 minutes, or until cake is golden brown and toothpick inserted into batter comes out clean.
Remove from oven and let cool in pan for ten minutes, then place onto wire rack to cool completely.
Enjoy!
Notes
This cake tastes best using ripe peaches. The juice from the peaches will result in a peachy flavor.
**If your peaches are not ripe enough to emit juices, you can add peach yogurt to the batter to result in a peachy flavor.
**You can also use canned peaches, which will result in a great peach flavor.
**If you are concerned about the batter overflowing when baking, use a 9 inch springform pan instead.
Lightly adapted from Barbara Bakes .
7.8.1.2
41
https://www.pumpkinnspice.com/fresh-peach-cake/