Grilled Peaches with Cinnamon and Brown Sugar
Not sure what to do with the fresh peaches you just bought? Try these Grilled Peaches with Cinnamon and Brown Sugar! With just four ingredients and hardly any prep time, you can have this easy dish ready in minutes.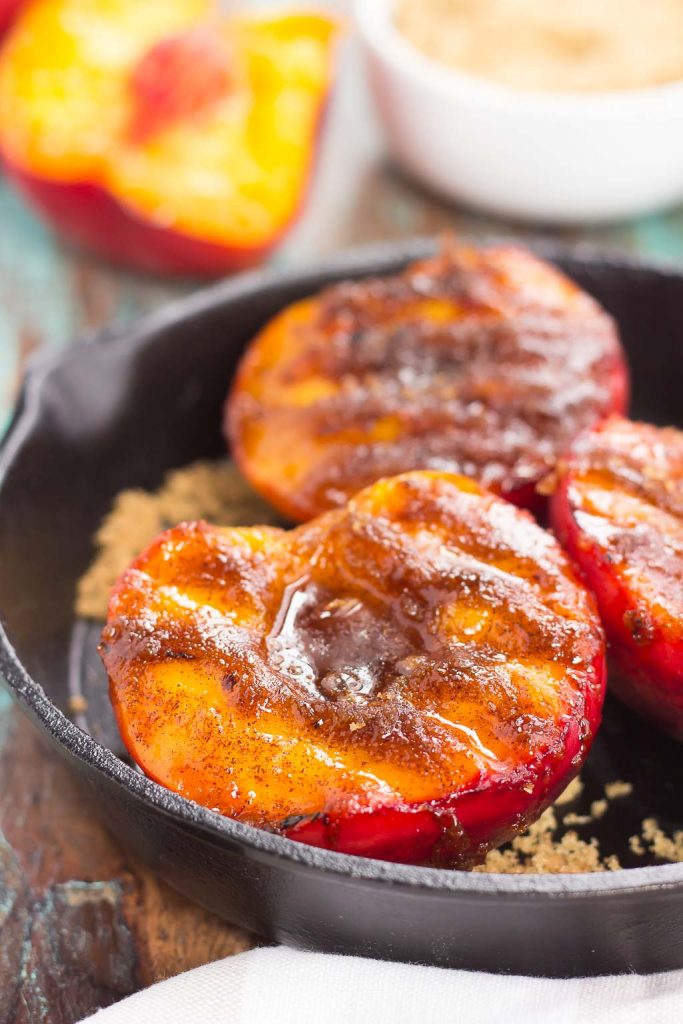 If you haven't tried grilled peaches before, you need to run. Right now. To your grill and fire it up.
What makes these peaches so darn good is the cinnamon and brown sugar topping. As it heats, it caramelizes and creates a crispy crust. Once you dig into that peach, it oozes with flavor. Mmmm….it is SO good, guys!
I know grilled peaches aren't anything new, but I got the idea from this Caramelized Brown Sugar Grapefruit that I shared last year. It's still one of my favorite recipes, and it's the brown sugar topping that makes the fruit taste out-of-this-world good.
So, of course, I had to do it again, but with peaches for the summer!
You know what makes these caramelized peaches crazy delicious? A big 'ole scoop of vanilla ice cream, along with some caramel syrup and a sprinkling of brown sugar on top.
Is there anything better than grilled peaches and ice cream? Now that's how you do an easy summer dessert!
Of course, you could also skip the ice cream and add some Greek yogurt on top of these peaches, too. Doesn't that sound like the perfect breakfast?
So grab those peaches and get grillin' to make this easy and oh-so fresh summer dessert or breakfast!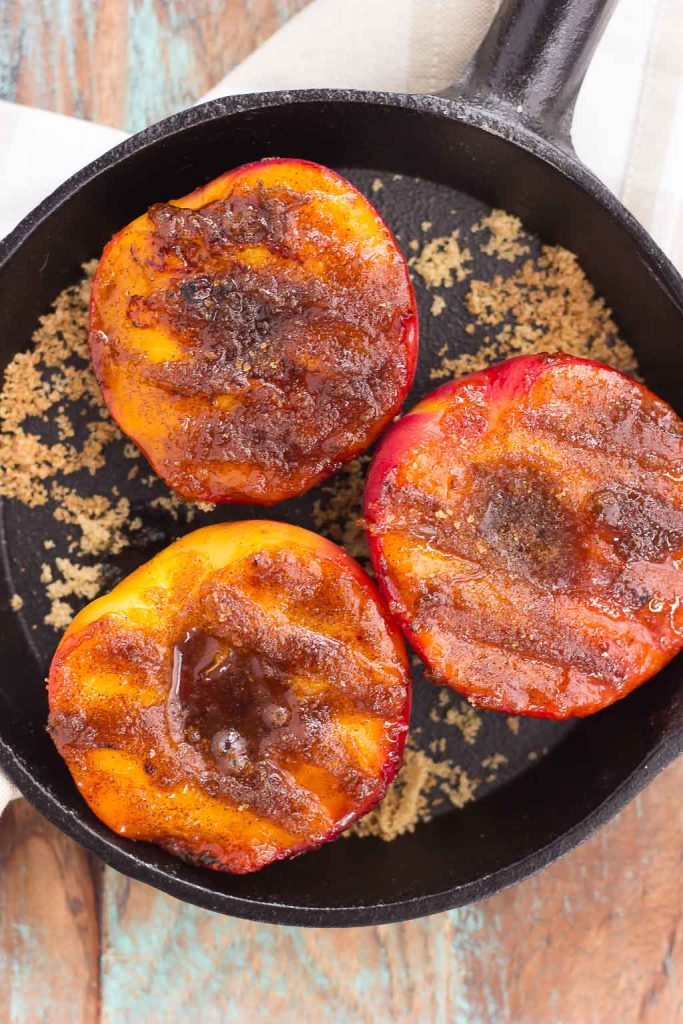 Ingredients for Grilled Peaches
Wondering what to do with fresh peaches this summer? Make this grilled peaches dessert, duh!
Here's what you'll need to make caramelized peaches on the grill:
Light brown sugar
Ground cinnamon
Fresh peaches
Unsalted butter
Can I Use Regular Sugar?
Perhaps, but brown sugar sticks to the peaches a little better and imparts more of a caramel-y flavor.
Can I Use a Sugar Substitute?
I've only made this recipe with regular brown sugar, so I'm not sure if a sugar-free substitute would work here. If you use a sugar-free substitute, leave me a comment below letting me know how the peaches turn out!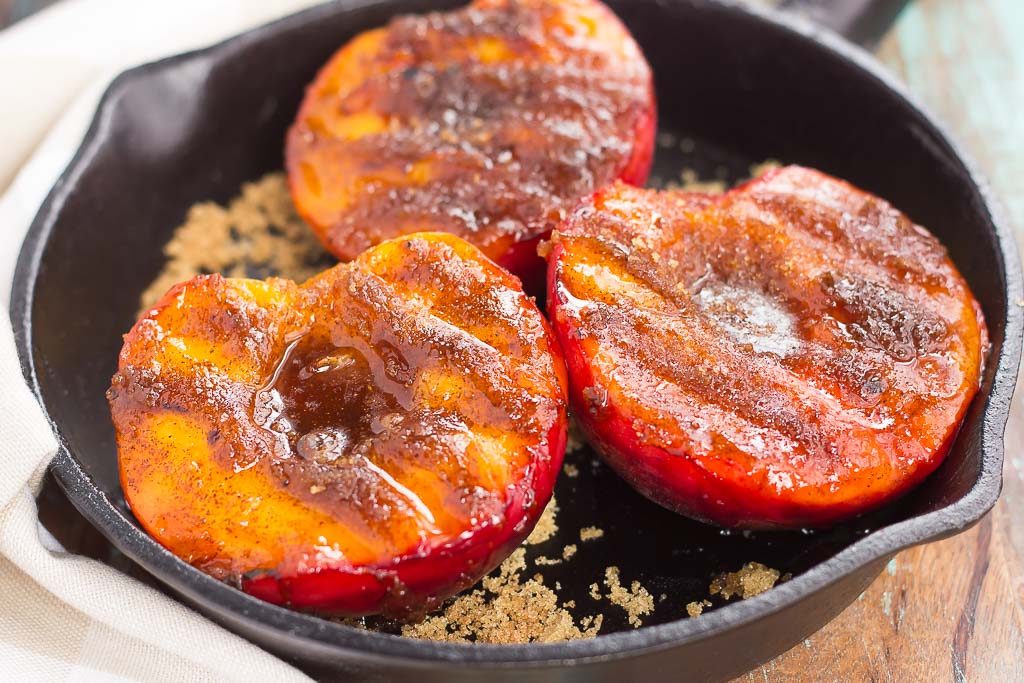 How to Grill Peaches
Did I mention how easy this grilled peaches dessert is to make? So easy! But you knew that was coming, right?
This is one of the easiest peach dessert recipes! There's almost no prep involved and the grilled peaches are done in under 10 minutes.
Preheat grill to medium heat.
Mix together brown sugar and cinnamon.
Brush the cut side of the peaches with butter. Grill cut side down for 3 minutes.
Flip the peaches over and sprinkle with cinnamon sugar.
Continue grilling the peaches until the sugar starts to caramelize.
How Long to Grill Peaches?
I used regular yellow peaches to make this grilled peach recipe, and they took about 5 minutes total on the grill. However, the variety of peach and its level of ripeness will determine how long it needs to grill to soften it up.
Use your best judgement when grilling peaches! Take them off the grill once they've softened and the cinnamon sugar on top starts to caramelize.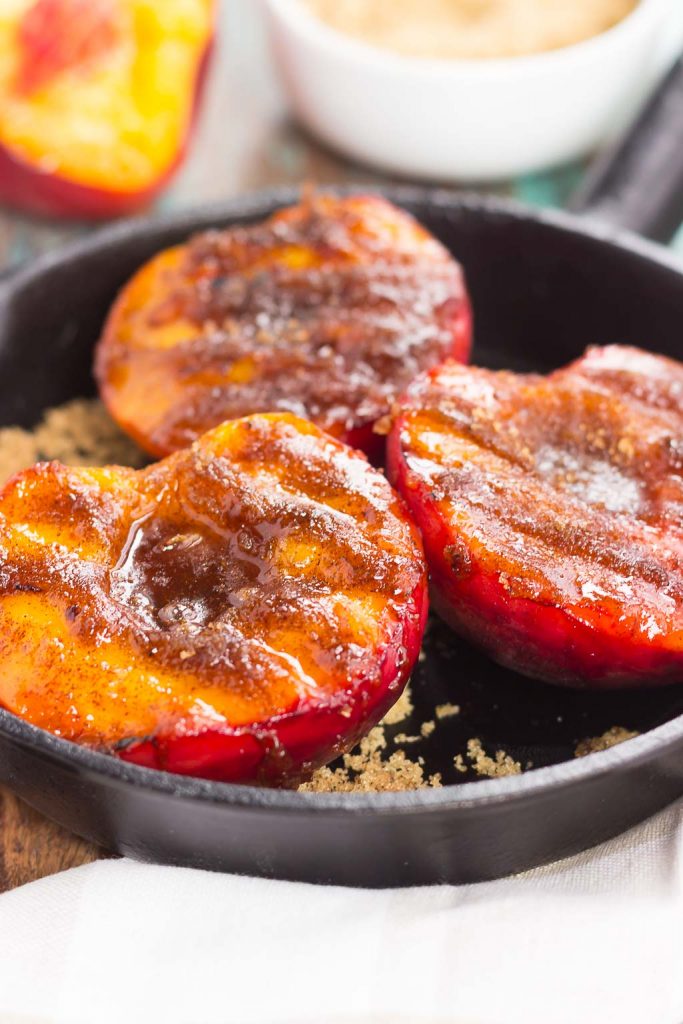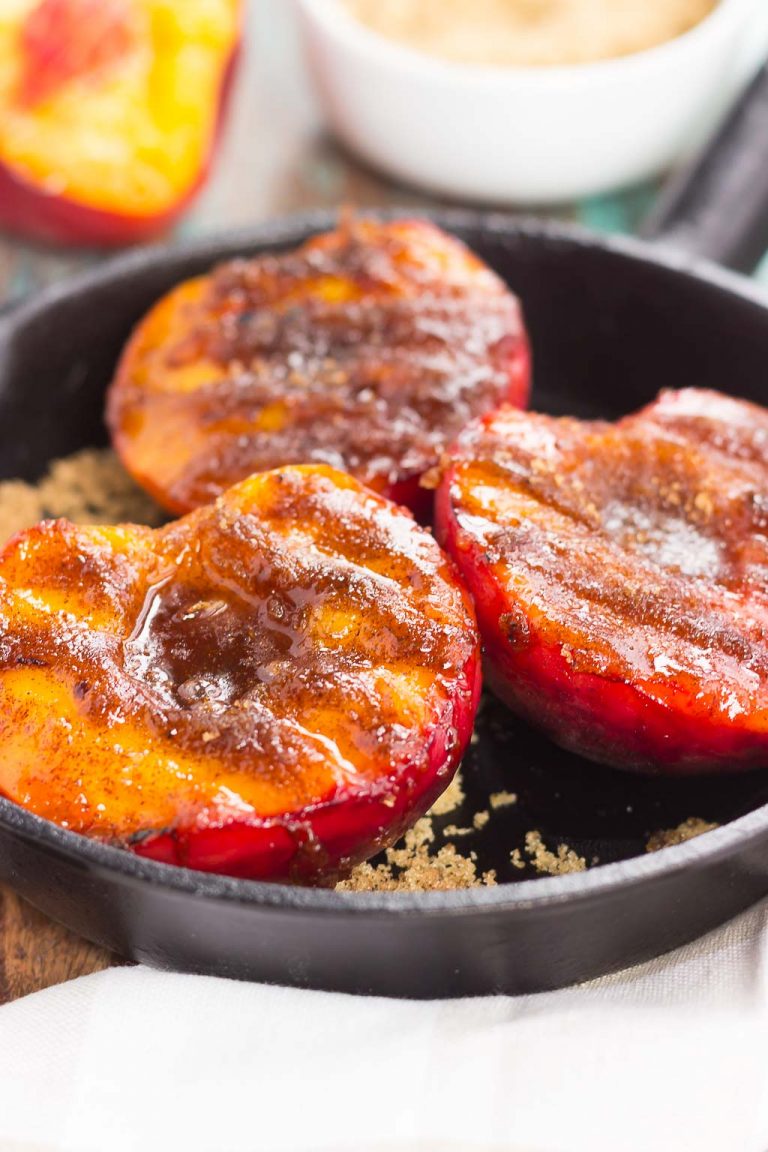 Should I Peel the Peaches?
Nope! You can grill the peaches with the skin on. Just be sure to thoroughly wash and dry the peaches before cutting them in half.
How Ripe Should the Peaches Be?
You want to use ripe peaches when cooking peaches on the grill. When you press your thumb gently into the top of the peach, the flesh should give way fairly easily under your thumb. The peaches should also smell fragrant.
If you try grilling peaches that are unripe and still very hard, the final product won't be as juicy and sweet.
Can I Make This Recipe Dairy-Free?
Very easily! Brush the bbq peaches with your favorite non-dairy butter instead of regular butter.
Do I Have to Use a Grill?
No, I actually used a grill pan for this recipe, which still creates those beautiful, dark grill marks on the peaches.
But, if you don't own a grill pan, or prefer to use an actual grill, go for it! Since the hubster is the grill master around here (and I'm forbidding myself to touch a regular grill), I went with my trusty grill pan.
Can I Grill Peaches in Advance?
Of course! If you'd like to cook a few peaches on the grill to enjoy cold throughout the week atop your oatmeal, yogurt, or salads, you're welcome to grill them en masse.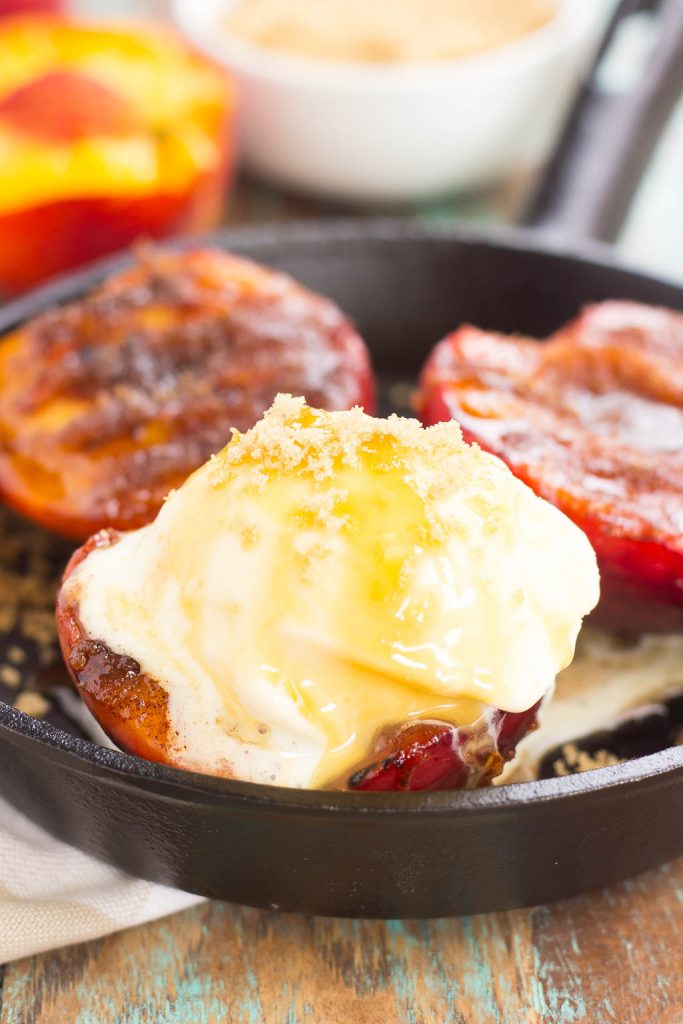 What to Serve with Grilled Peaches
For me, grilled peaches and ice cream is the perfect combination. However, you can also top these bbq peaches with additional sugar or cinnamon, salted caramel sauce, and / or whipped cream.
You can even grill the peaches to enjoy in your morning yogurt bowl. No matter how you top the caramelized peaches, you're bound to love them!
Tips for Making Grilled Peaches
I kept this grilled peaches recipe simple by using just cinnamon and brown sugar. But you're welcome to play around with other sugar and spice combinations to find variations you love.
When grilling the peaches, you're not looking for them to become super soft. The peaches should certainly soften, but the insides shouldn't be mushy when you serve them.
Note that fresh peaches are a must when making grilled peaches. Frozen peaches just won't work with this recipe.
Looking for more peach dessert recipes?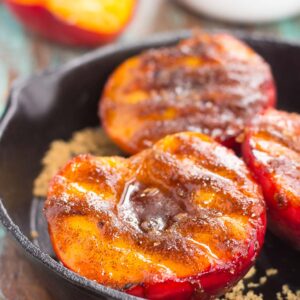 Grilled Peaches with Cinnamon and Brown Sugar
These Grilled Peaches with Cinnamon and Brown Sugar are a delicious, healthier dessert. With just 4 ingredients and hardly any prep time, you can have this easy dish ready in minutes!
Ingredients
3 tablespoons packed light brown sugar
½ tablespoon ground cinnamon
3 peaches, , halved and pits removed
1 tablespoon unsalted butter, , melted
Optional toppings:
Yogurt
Vanilla ice cream
Caramel syrup
Instructions
Preheat grill (or a grill pan) to medium heat. Mix brown sugar and cinnamon in a small bowl. Set aside.

Lightly brush the cut side of peaches with melted butter.

Place peaches, cut side down, onto grill pan. Grill for about 3 minutes, or until peaches start to soften just a little and grill marks form. Flip peaches over and sprinkle tops with cinnamon brown sugar mixture.

Grill for an additional 2-3 minutes, or until sugar mixture begins to caramelize. Remove peaches from grill pan. Serve immediately with yogurt or ice cream, if desired.
Serving: 1g, Calories: 70kcal, Carbohydrates: 14g, Protein: 1g, Fat: 2g, Saturated Fat: 1g, Cholesterol: 5mg, Sodium: 2mg, Potassium: 150mg, Fiber: 1g, Sugar: 12g, Vitamin A: 303IU, Vitamin C: 5mg, Calcium: 16mg, Iron: 1mg