Frozen Strawberry Lemonade
This post contains affiliate links.
This Frozen Strawberry Lemonade is a refreshing blend of sweet strawberries and fresh lemonade. The sweet and tangy flavor is blended to perfection, which results in a cool treat that's made for those hot, summer days!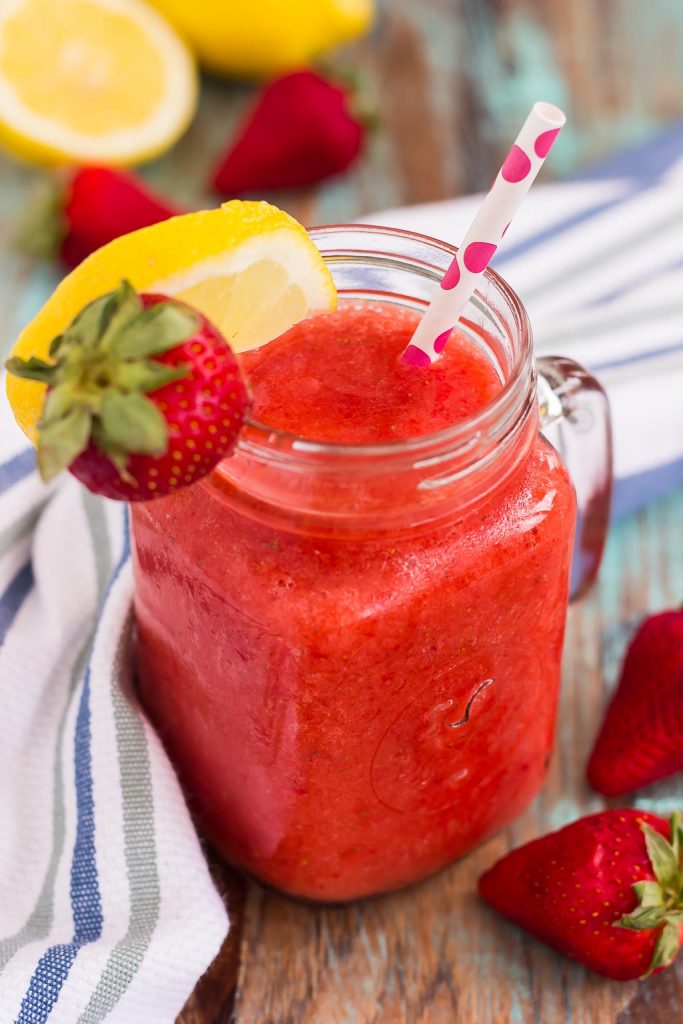 When I was little, my parents, brother, and I would often ride our bikes together during the summer. We would hop on the prairie path, which is a paved hiking and bike trail that extends over 61 miles throughout Illinois, and head in one direction.
The prairie path was less than a quarter mile away from my childhood home, and is still very close to my parents' house today. We spent a lot of time on that path, whether it be for biking, walking, or running. Well, not so much me running, but you get the point.
Have you seen the movie 'Lucas' with Corey Haim and Charlie Sheen? It's one of my all-time favorites, partly because it took place at a high school that was not too far from where I grew up. My dad, brother, and I would often ride our bikes to that school, and then my dad would run on the track. I was star struck whenever we went there, even though 'Lucas' was long gone after I got there.
I still want to actually go inside of the high school one day, even though it's been redone since that movie came out in the mid 80's. But since I love that kind of stuff, that school will always hold a special place in my heart.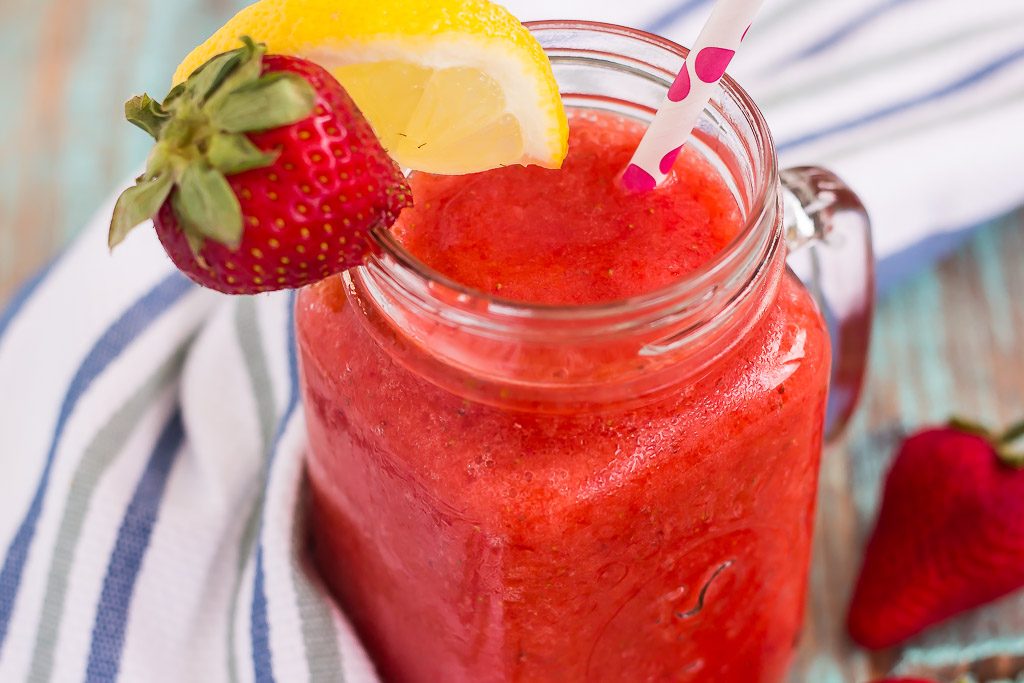 So I bet you're wondering how in the world my 'Lucas' story relates to this Frozen Strawberry Lemonade? Am I right? Well, it doesn't really, but it does remind me of all the times that my family and I would stop at 7-Eleven on one of our bike trips for a slurpee.
Back in my younger years, they didn't have all of the crazy flavors they have today. I actually can't even remember the last time I was in a 7-Eleven or even had a slurpee! But, anyways, I got to reminiscing about those frozen treats, which gave me the brilliant idea to make my own Frozen Strawberry Lemonade. And I have to say, it's definitely better than a slurpee!
And since we're just gearing up for summer, I thought it was time to share my latest (and greatest) frozen drink with you. This slurp-able drink is made from just four ingredients and has the perfect balance of flavor. It's not too tart, and it's not too sweet, which is a winner in my book.
And let's face it, strawberry lemonade is just a little more delicious than regular lemonade, so why not have even more fun and create it in frozen form?
So, grab that blender and whip up this Frozen Strawberry Lemonade today. It's the perfect drink to sip on poolside, with a good book, or after you've taken a long bike ride!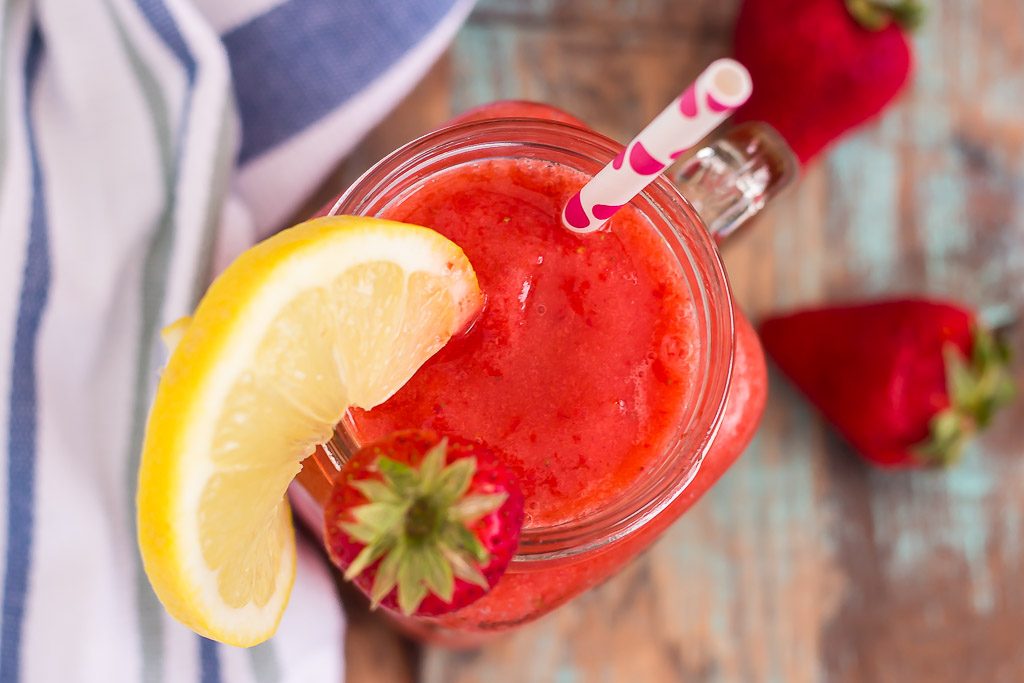 Ingredients for Frozen Strawberry Lemonade
This blended strawberry lemonade recipe requires just four basic ingredients:
Frozen strawberries
Lemon juice
Granulated sugar
Water
Can I Use Fresh Strawberries?
No, you need to use frozen strawberries otherwise your blended strawberry lemonade won't achieve the right consistency. You could certainly freeze fresh berries and make this frozen lemonade later, though!
Can I Use a Sugar-Free Sweetener?
Most likely, but having only made this recipe with granulated sugar I can't offer advice on using a sugar-free sweetener.
How to Make Frozen Strawberry Lemonade
This frozen lemonade recipe couldn't be any simpler! Just add all the ingredients to the canister of a blender and blend until it reaches your desired consistency.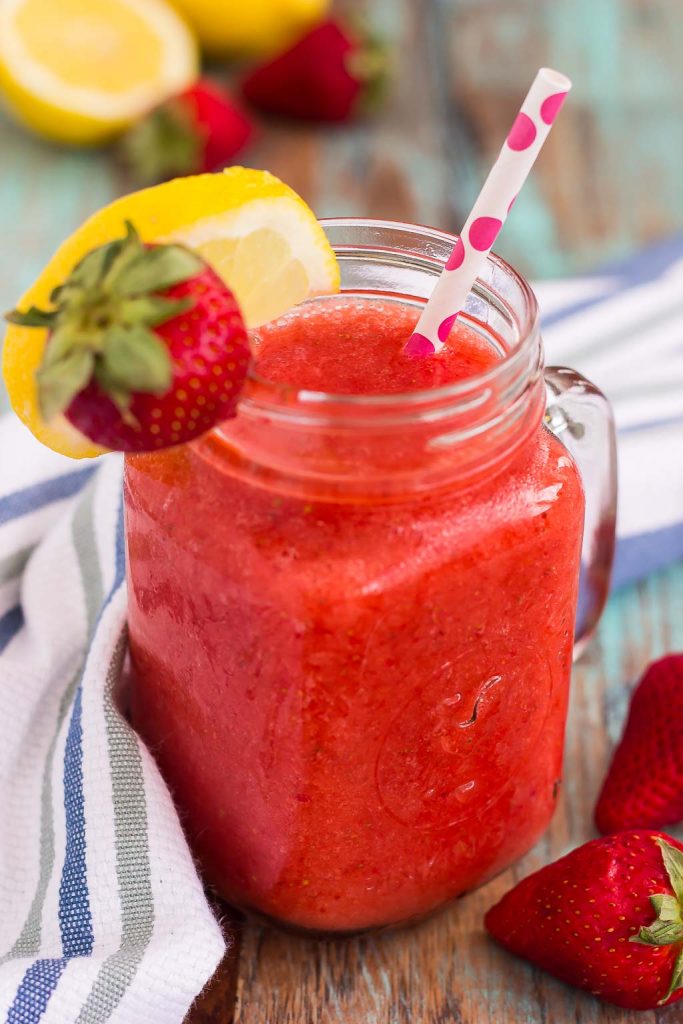 Can I Prep Frozen Lemonade in Advance?
Not really, no. You can juice the lemons in advance, but otherwise this frozen strawberry lemonade is best enjoyed immediately.
Can I Use Another Frozen Berry?
Most definitely! Frozen blueberries or raspberries would be delicious when made into blended lemonade.
Recipe Variations to Try
This is a quick and simple frozen strawberry lemonade recipe, so feel free to tweak it as you see fit.
Add more or less sugar. Everyone has different tastes, so make the blended lemonade as sweet or tart as you like.
Use fresh lime juice. It would no longer be lemonade, but rather strawberry limeade!
Use different berries. You could make frozen blueberry lemonade, frozen raspberry lemonade, or a frozen mixed berry lemonade.
Add crushed ice. For a frostier, slurpee-like texture, add a handful of crushed ice to the blender.
Subscribe to my YouTube Channel to see how easy this Frozen Strawberry Lemonade is to make!
Tips for Making Frozen Strawberry Lemonade
I used frozen strawberries, but I'm sure you could use a frozen berry blend if desired.
For the best flavor, use freshly squeezed lemon juice rather than the bottled stuff.
I've only made this recipe using granulated sugar, so I'm not sure what adjustments you'd need to make if using an alternative sweetener.
Looking for more frozen drinks? I've got you covered!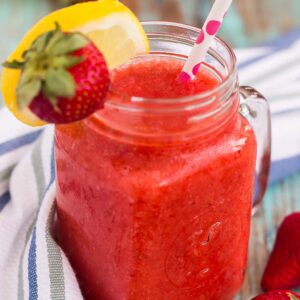 Frozen Strawberry Lemonade
This Frozen Strawberry Lemonade is a refreshing blend of sweet strawberries and fresh lemonade. The sweet and tangy flavor is blended to perfection, which results in a cool treat that's made for those hot, summer days!
Ingredients
2 cups frozen strawberries
Juice of 3 lemons
¼ cup granulated sugar
1¼ cups water
Instructions
In the canister of a blender, add the strawberries, lemon juice, sugar, and water. Blend until lemonade reaches desired consistency.

Pour into two glasses and garnish with a strawberry and lemon slice, if desired.
Serving: 1g, Calories: 143kcal, Carbohydrates: 36g, Protein: 1g, Fat: 1g, Saturated Fat: 1g, Sodium: 10mg, Potassium: 220mg, Fiber: 3g, Sugar: 32g, Vitamin C: 85mg, Calcium: 23mg, Iron: 1mg