Funfetti Cake Batter Milkshake
This post contains affiliate links.
Creamy vanilla ice cream, swirled with funfetti cake batter mix creates this smooth and indulgent Funfetti Cake Batter Shake!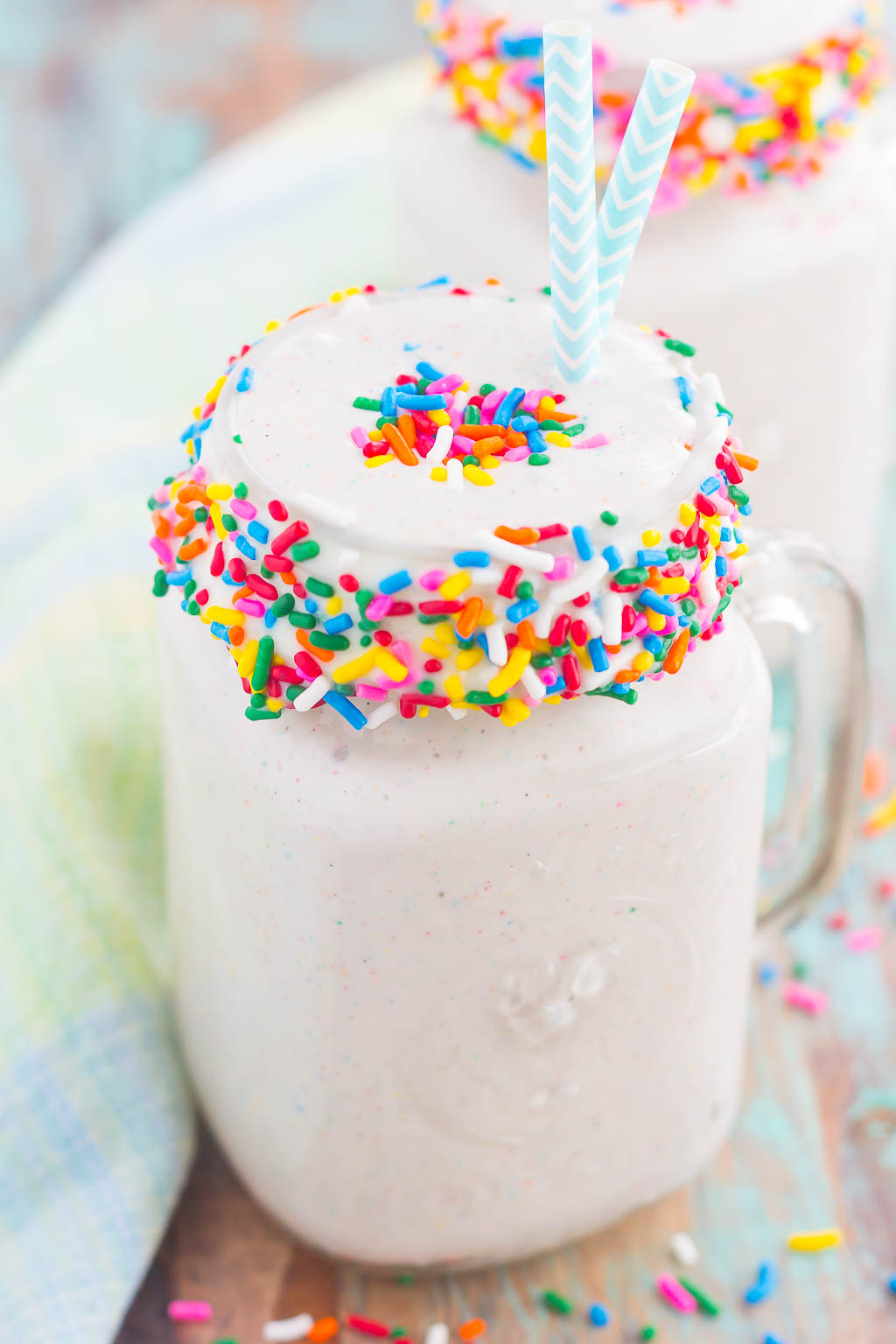 Last week, the hubster and I ventured out to Dairy Queen. We both had a craving for ice cream…well, more so the hubster, (he practically eats some every night), so we decided it was a DQ kinda night.
We both usually get the same thing…a French silk pie blizzard for the hubster, and either the brownie batter blizzard or some other type of cake-filled one for me. But when we walked in the door, I immediately spotted a colorful poster advertising a funfetti cake batter blizzard. Funfetti? In a blizzard? Well, sign me up!
As we settled down at a table outside to enjoy our frozen treats, I eagerly took a bite of my blizzard.
"Whoa…frosting overload!" was the first thing that came out of my mouth. Vanilla ice cream was blended with sprinkles and frosting, lots of frosting! A little too sweet for me, seeing as I'm not really a frosting kind of gal. I'm the type that usually scrapes the frosting off the tops of cakes and cupcakes because it's just too much sweetness for me.
Don't judge, guys…I much prefer to eat the actual cake instead! But back to the blizzard…while I was able to eat most of it, I decided that this would not be my new favorite treat from DQ. Sigh…I had such high hopes for this blizzard!
A few days later, I was still thinking about that funfetti blizzard and how it just wasn't what I expected.
So the idea popped into my head. I bet I could create my own frozen treat, tone down the sweetness a bit, but still maintain that funfetti cake-batter goodness. Yep, I was on a mission. So, let me introduce you to this deliciously, sweet (but not too sweet), Funfetti Cake Batter Shake!
Creamy vanilla ice cream, swirled with funfetti cake batter mix creates this smooth and indulgent birthday cake milkshake!
Unlike my Dairy Queen fiasco, this cake batter shake has just the right about of cake batter sweetness to it. I was so impressed with how this turned out, that I quickly whipped up another one for the hubster. After all, he's the true ice cream expert in our house!
Just three simple ingredients is all it takes to create this delicious milkshake. And don't forget the sprinkles! I added extra sprinkles into the milkshake to give it a pretty pop of color. After all, what would a Funfetti Cake Batter Milkshake be without sprinkles?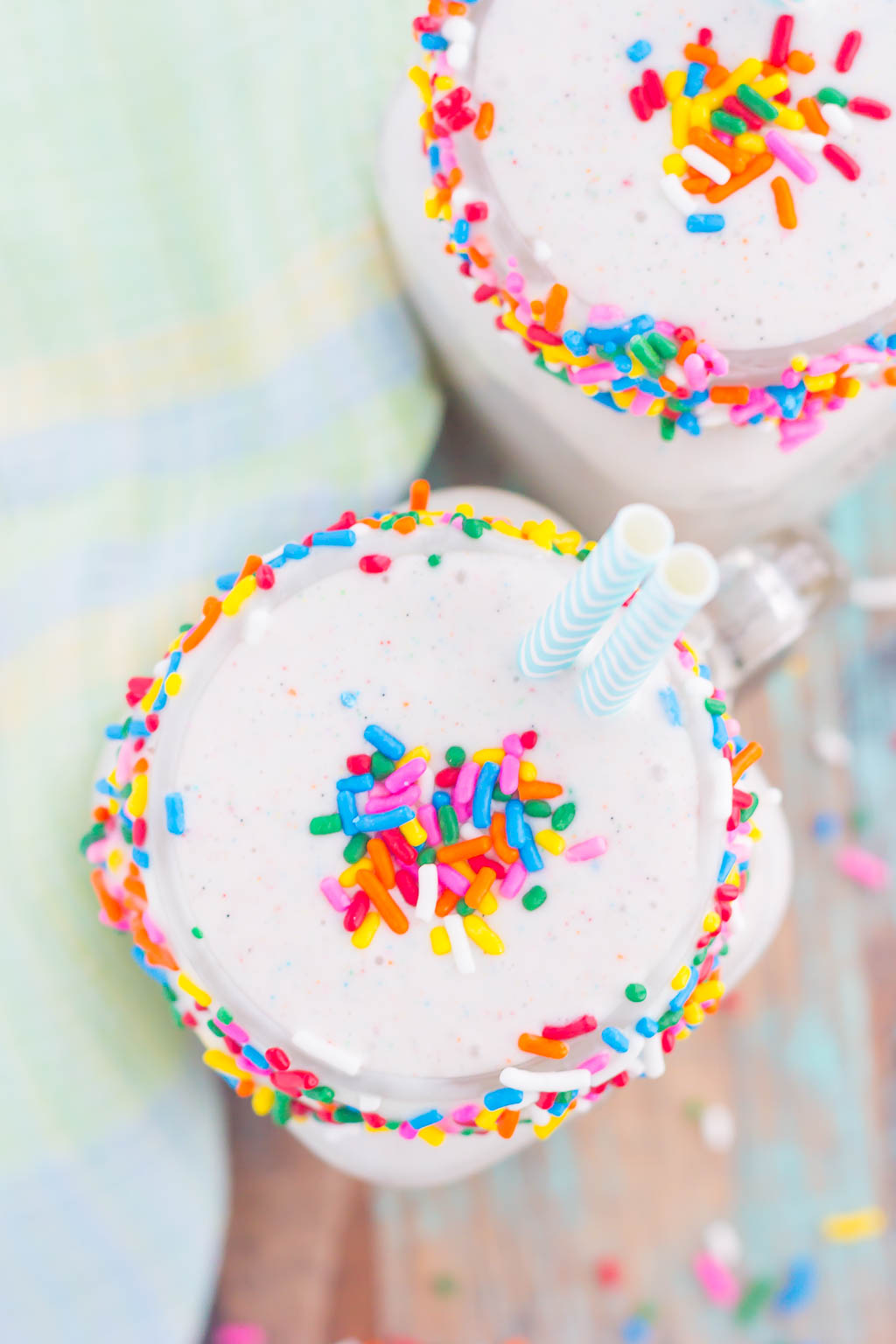 Cake Batter Shake Ingredients
This better-then-Dairy Queen cake shake can be made with a handful of ingredients:
Vanilla ice cream
Funfetti cake mix
Milk
Sprinkles
How to Make a Cake Batter Shake
Add all the ingredients to a blender and blend until smooth.
Pour into two glasses and garnish with whipped cream and extra sprinkles.
What Type of Milk Should I Use?
You can use any milk you'd like in this birthday cake milkshake! I used 2% milk, but you're welcome to use whole or skim, or even a non-dairy milk.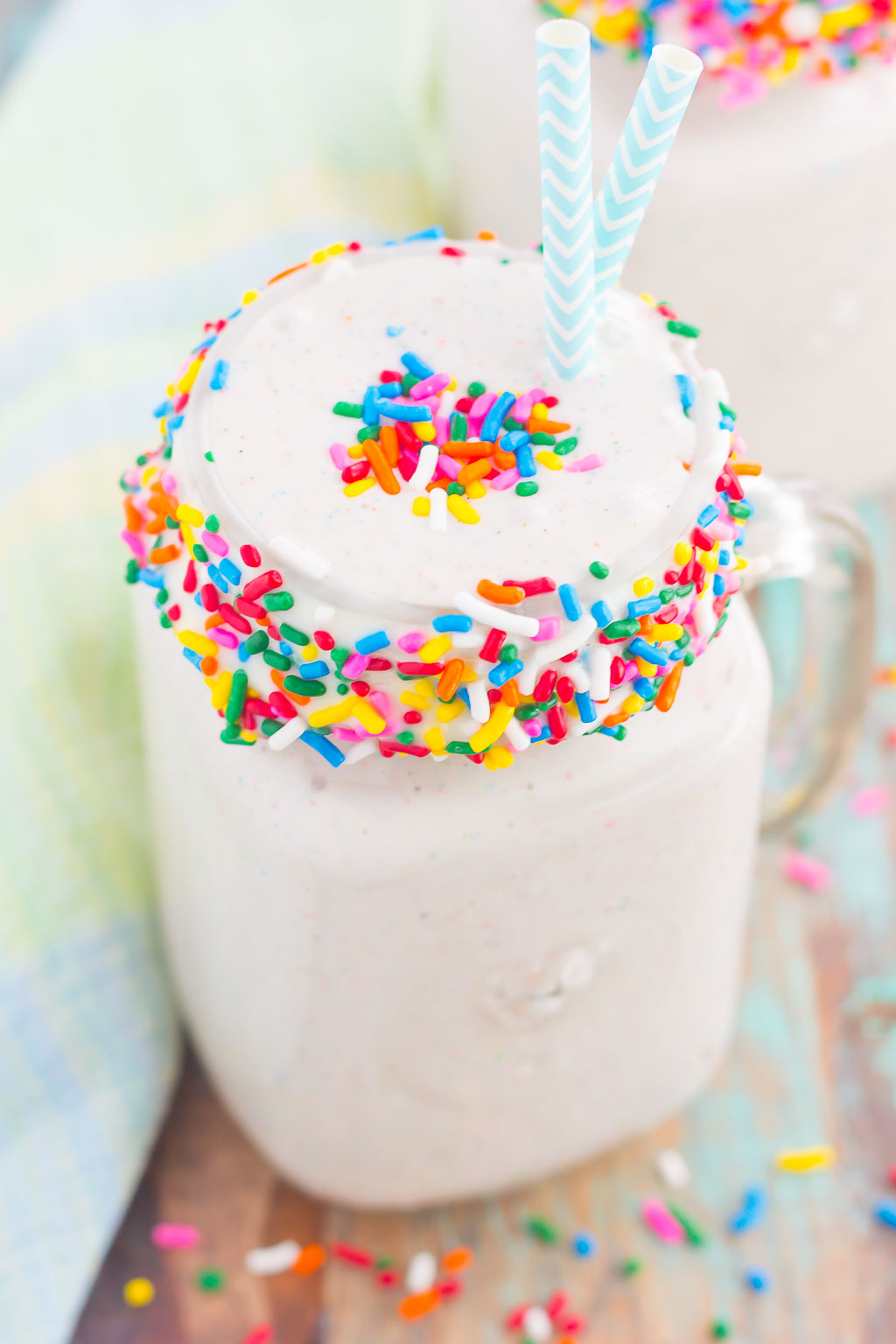 Tips for Making Cake Batter Shakes
To switch up this cake batter milkshake, try using another favorite cake mix instead of Funfetti!
Note that you add the cake mix to the shake as a dry ingredient. You're not adding raw (wet) cake batter here!
For a thicker birthday cake milkshake, add less milk. For a thinner shake, add more milk.
Looking for more frozen desserts? I've got you covered!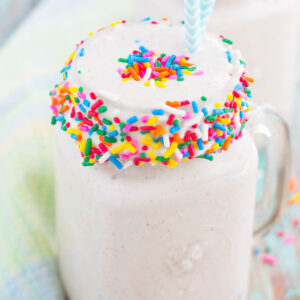 Funfetti Cake Batter Milkshake
Creamy vanilla ice cream, swirled with funfetti cake batter mix creates this smooth and indulgent Funfetti Cake Batter Milkshake!
Ingredients
6 scoops vanilla ice cream
1 cup dry Funfetti cake mix
¾ cup milk, , any kind (I used 2%)
2 tablespoons sprinkles, , plus extra for garnish (if desired)
Instructions
In the canister of a blender, combine the ice cream, cake mix, milk, and sprinkles. Blend until it reaches desired consistency.

Pour into two glasses and top with sprinkles and whipped cream, if desired. Serve immediately.
Serving: 1serving, Calories: 603kcal, Carbohydrates: 124g, Protein: 9g, Fat: 8g, Saturated Fat: 5g, Cholesterol: 13mg, Sodium: 1008mg, Potassium: 223mg, Fiber: 2g, Sugar: 72g, Vitamin A: 198IU, Calcium: 414mg, Iron: 3mg