You can definitely tell that it's fall in my house. Apples are overtaking my kitchen counters and countless cans of pumpkin are falling out of my pantry. My living room is filled with scented fall candles and my seasonal decorations are in full swing. Not only does it look and smell like fall around here, but it tastes like it, too. And you know what? I wouldn't have it any other way.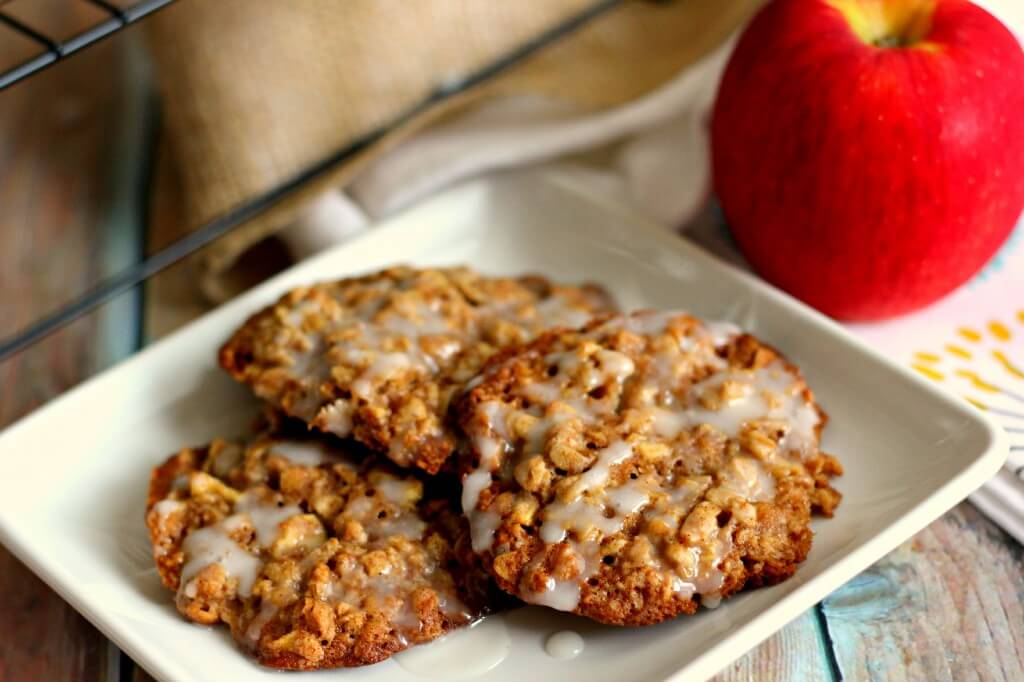 While apple and pumpkin goodies are acceptable year round, it's a necessity for me during the fall months. I eagerly count down the days until I can buy pumpkin English muffins, apple bread, and pumpkin butter. I scour the grocery store aisles looking for the fall treats and happily squeal in excitement when I find what I'm looking for. If you're trying to find a new seasonal item, chances are it's already stocked in my fridge or pantry.
So to help reduce the amount of apples that are always hanging around, I decided to whip up some Glazed Apple Oatmeal Cookies. The name says it all, guys! These chewy oatmeal cookies are filled with apple chunks and spices, topped with a deliciously sweet glaze. This treat is sure to use up those leftover apples!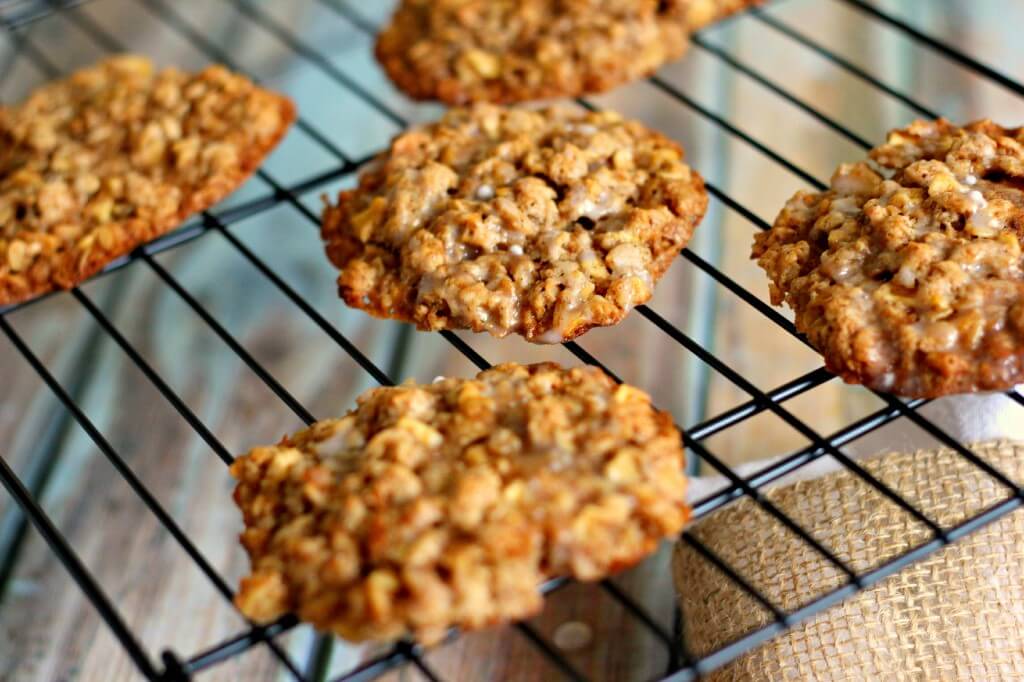 I love baking with oats! Can't you tell from my Pumpkin Pie Bites, Peanut Butter Apple Pie Overnight Oats,and Pumpkin Spice Granola? But as much as I like them, I've never actually made oatmeal cookies before. Shocker, I know! So when I was thinking of what to create next with my apples, I immediately thought of these Glazed Apple Oatmeal Cookies. Besides being a breeze to whip up, they're filled with chunks of apples that just scream fall. What could be better than that?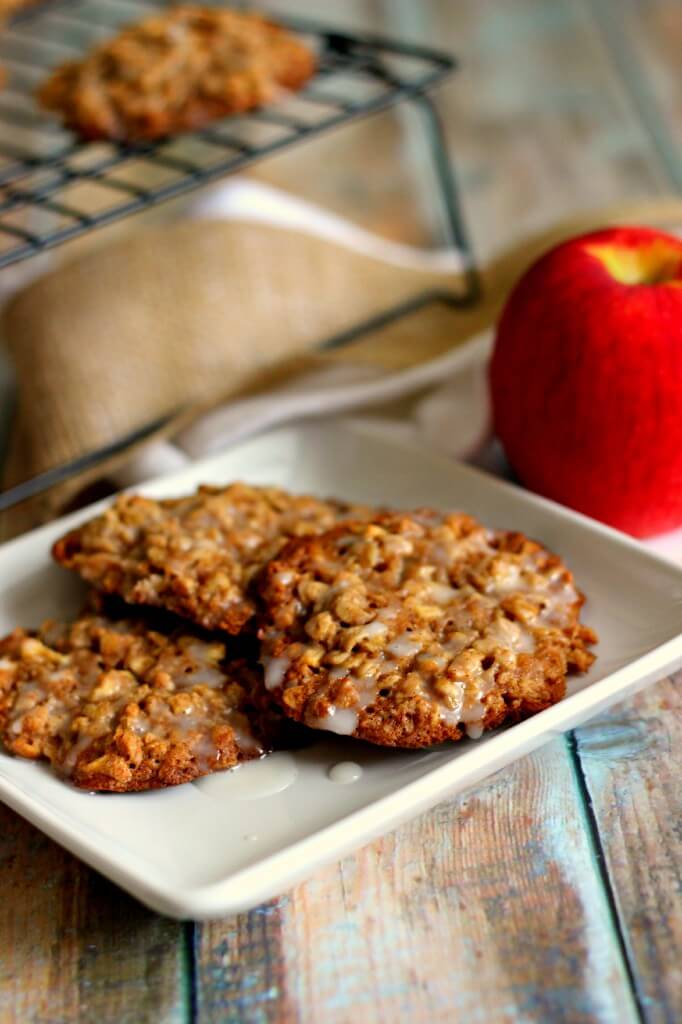 I made these cookies slightly larger than normal, as I love big, soft, and chewy cookies. And the bigger the cookie means the more glaze you can drizzle on, right? See, I'm always thinking!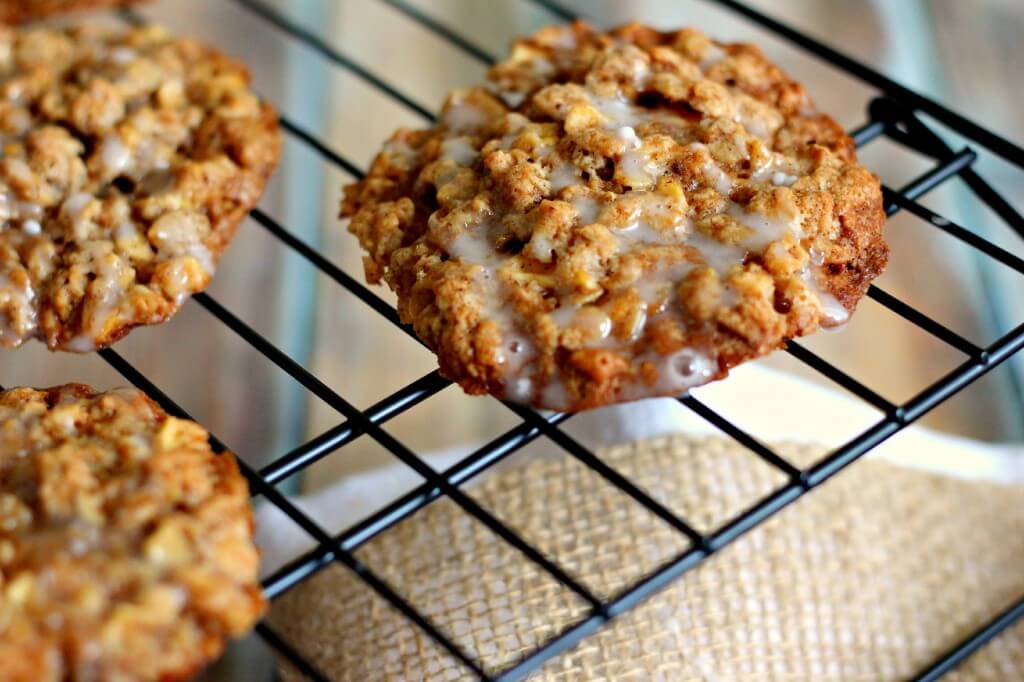 So if you're in the mood for a delicious treat, why not whip up a batch of these Glazed Apple Oatmeal Cookies? So easy to make and even better to eat. Your apple cravings will be satisfied in no time!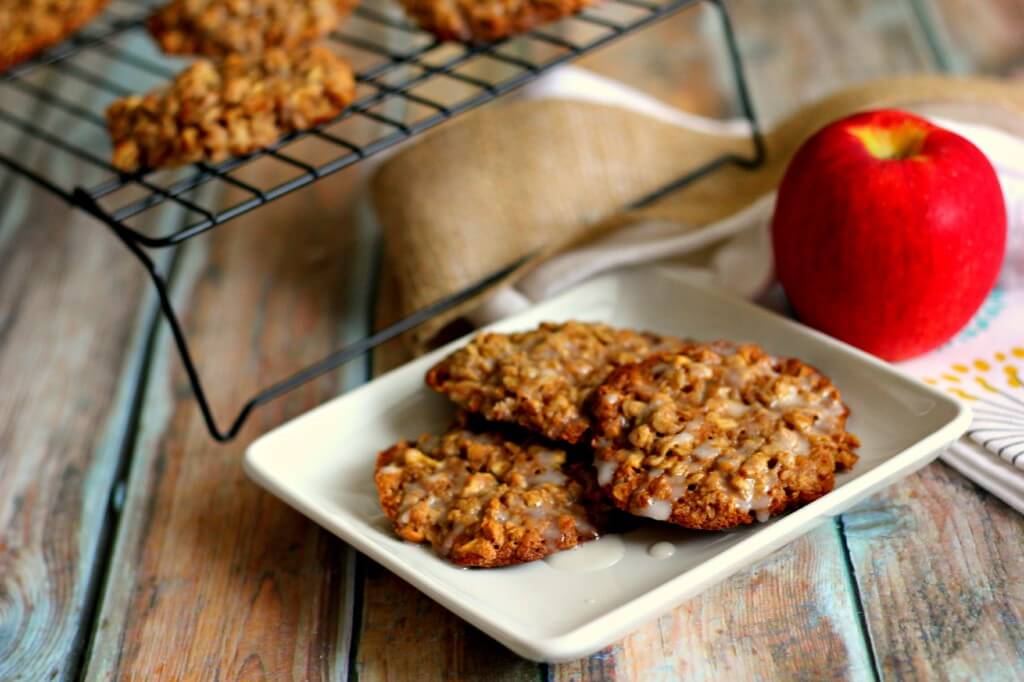 Yields 3 dozen
Glazed Apple Oatmeal Cookies
These Glazed Apple Oatmeal Cookies are filled with apple chunks, spices, and topped with a deliciously sweet glaze.
15 minPrep Time
15 minCook Time
30 minTotal Time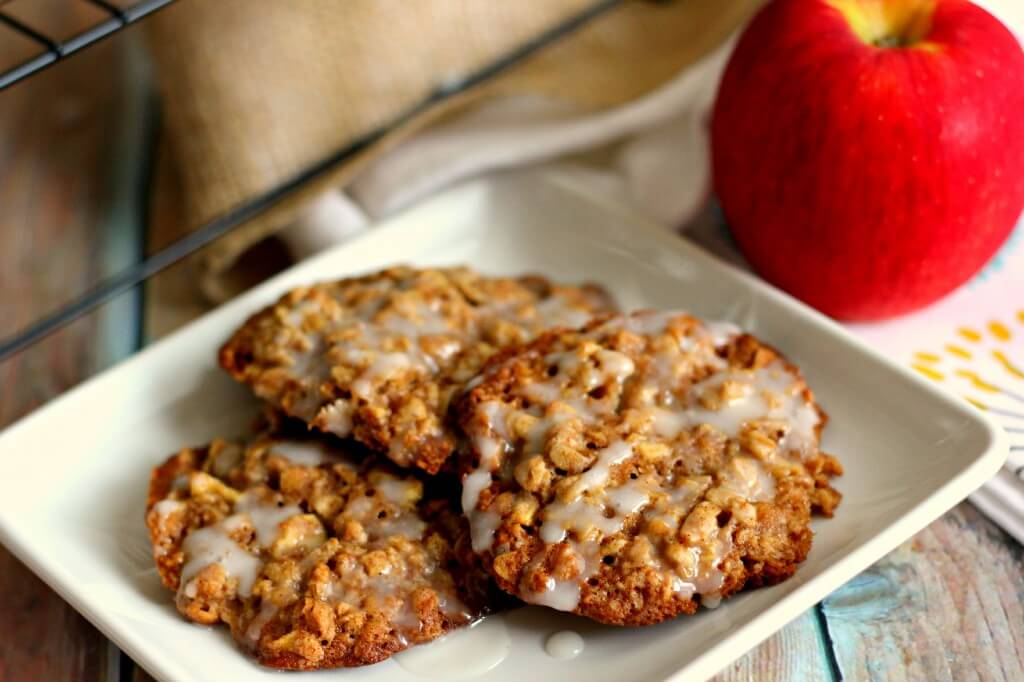 Ingredients
2 3/4 cups old-fashioned oats
1 1/4 cups all-purpose flour
1 1/2 teaspoons apple pie spice
1/2 teaspoon salt
1/4 teaspoon baking soda
3/4 cups butter, softened
1 1/4 cups brown sugar, firmly packed
1 egg
1/4 cups plus 2 tablespoons milk
2 teaspoons vanilla extract
1 cup diced apple (about 2 apples)
1 1/2 cups confectioner's sugar
Instructions
Preheat oven to 350F. Line baking trays with silpat mat or parchment paper. Set aside.
In a medium bowl, mix together the oats, flour, apple pie spice, salt, and baking soda. Set aside.
In a large bowl, cream together the butter and brown sugar with a hand mixer until fluffy.
Beat in egg, 1/4 cup milk, and vanilla.
Gently fold in apples and oat mixture until combined.
Drop spoonfuls on baking trays, two inches apart.
Bake for 15-18 minutes, or until golden brown.
Remove from oven and let cool for 5 minutes, then move to wire racks to cool completely.
While cookies are cooling, prepare glaze.
In a small bowl, whisk together the confectioner's sugar and 2 tablespoons milk.
Drizzle over cooled cookies.
Enjoy!
Notes
Adapted from Paula Deen's Fall Baking
7.6.5
77
https://www.pumpkinnspice.com/glazed-apple-oatmeal-cookies/